Recommendations for Foam Exercise Mats
By Lisa Hobbie Created: June, 2020 - Modified: June, 2021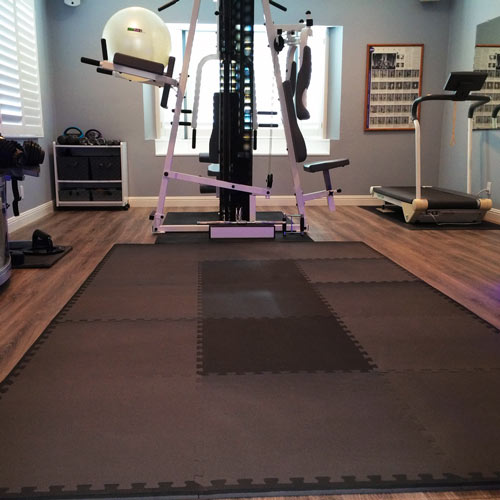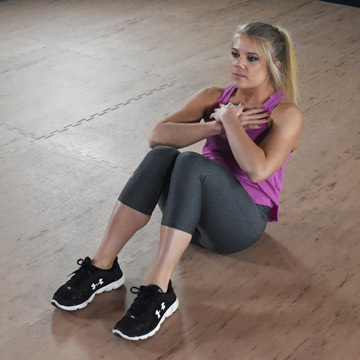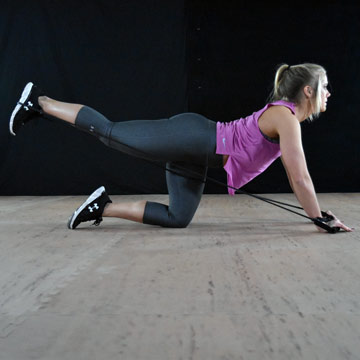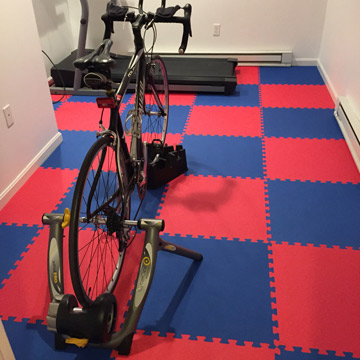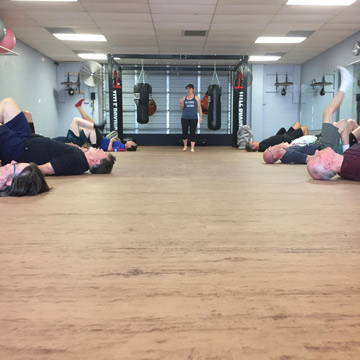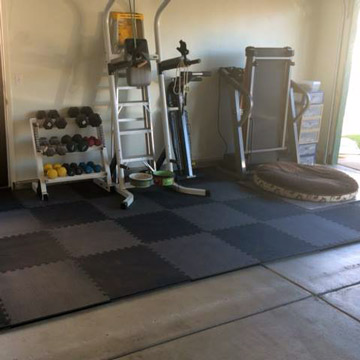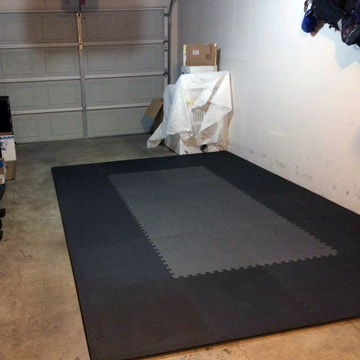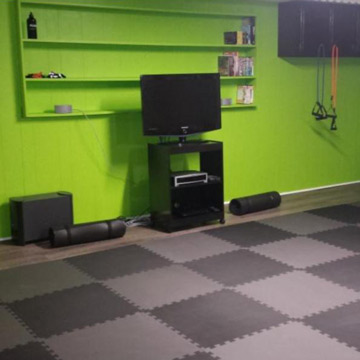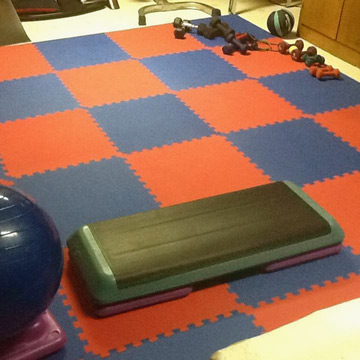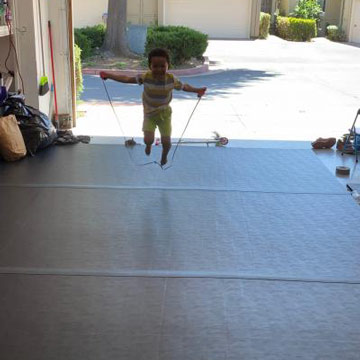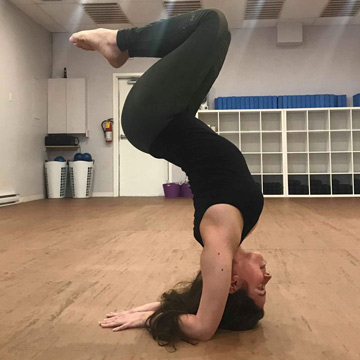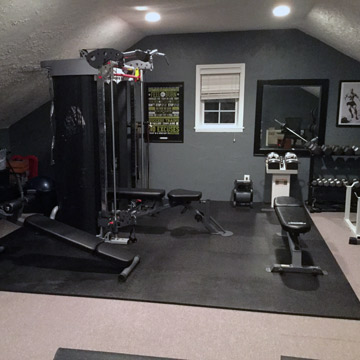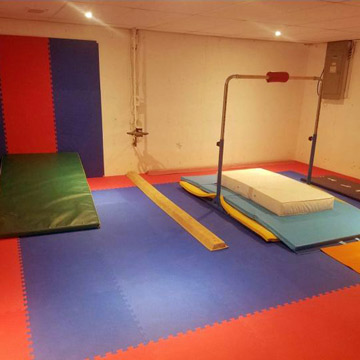 Having a good exercise mat can really make a workout safer, more effective, and more fun. It can also protect your floor from workout equipment, water damage, and extra wear and tear.
An exercise mat provides a cushioned surface on which to perform a number of exercise routines, from crunches and yoga to pilates and HIIT movements. Foam exercise mats are often popular, because they come in many forms, all of which are easy to assemble and provide a great area on which to practice fitness movements or to place exercise equipment.
Greatmats offers an excellent selection of soft exercise floor mats from which to choose - from high end to economical, to small and portable or more permanent solutions.
Foam Mats for Exercise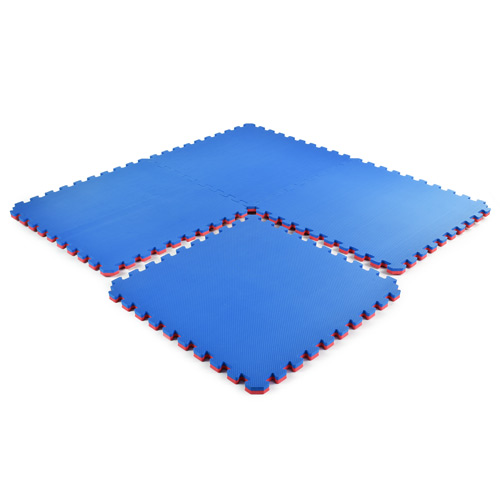 The
Home Sport and Play Foam Mat
is the best colorful interlocking foam fitness mat systems. These mats are made of thick EVA foam, which provides a flexible consistency similar to a soft rubber while providing more cushion. They work great in nearly any setting or environment, as they are waterproof and stain resistant. (This is especially important if your workout space duals as a playroom.
These mats provide anti-fatigue properties, taking pressure off of your ankles and knee joints - allowing you to train and work out longer and harder. They work great for everything from an interlocking yoga mat system to providing cushioning for home gymnastics training.
Also, the puzzle exercise mat absorbs shock extremely well and also have a firmness that allows for quick and easy movement. They are also reversible and feature a tough top surface that is scuff resistant.
Installation of the interlocking puzzle mat system is a breeze, and when it needs to be cleaned, this flooring can be vacuumed or damp mopped with common household floor cleaners. Or, if a piece of the system becomes damaged, simply flip it over or remove it and replace it in no time!
Home Gym Foam Exercise Mats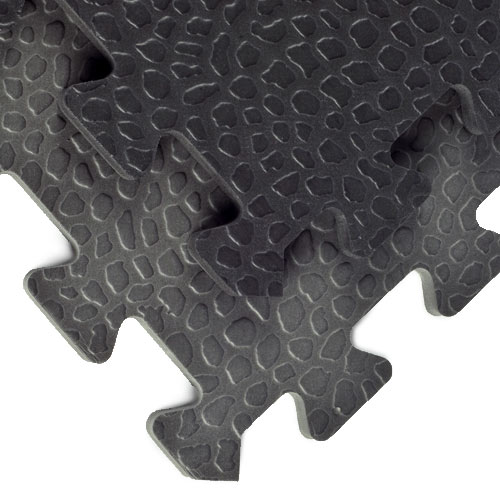 For a foam exercise equipment mat system that performs equality as well for ground based workouts, the
Home Gym Flooring Tiles
are great for home gyms. Made from super high density EVA foam material, these 10mm tiles are durable enough for use under heavy fitness equipment.
The athletic floor tiles are latex and lead free, and they feature a durable surface top texture in a pebble design. The interlock design of this product provides for an easy DIY installation, and these mats are very lightweight and portable. This product includes 2 borders per tile, and it comes with a 1-year limited warranty.
The EVA foam interlocking tiles are are non-absorbent, so they will not soak up sweat or water bottle spills, or sweat odors.
Roll Out Exercise Mats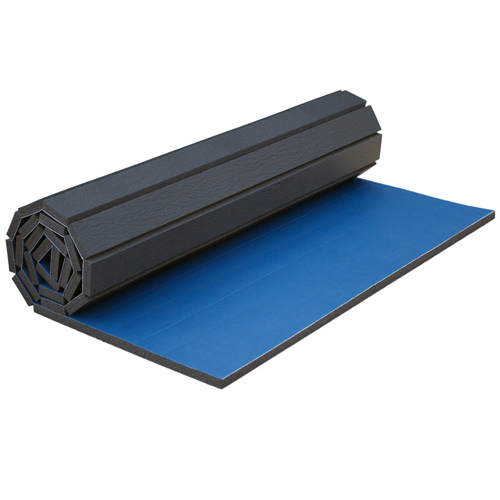 5x10
Rollout Workout mats
are popular extra thick foam exercise mats. These mats can quickly and easily be rolled out when needed and quickly put away when finished. Not only can you carry these with you easily, but they resist curling or rolling back once you roll them out flat!
These high quality mats are made of durable, professional quality, PE foam material and feature a vinyl top in smooth non-slip surface. They work with a variety of shoes, and are highly durable for a variety of mma and aerobic exercises.
These mats are available in numerous colors, and they are designed to last for years of professional use. The quality control standards on these mats are among the industry's highest, and the mats feature a year warranty against manufacturer and material defects. Easily clean this mat with common household floor cleaners and a damp mop.
There are professional options available in any roll length, with full size roll outs being 6 feet wide and cut to any length over 18 feet per roll. And some offer a tatami surface and up to a 5 year warranty.
Karate Mats for Exercise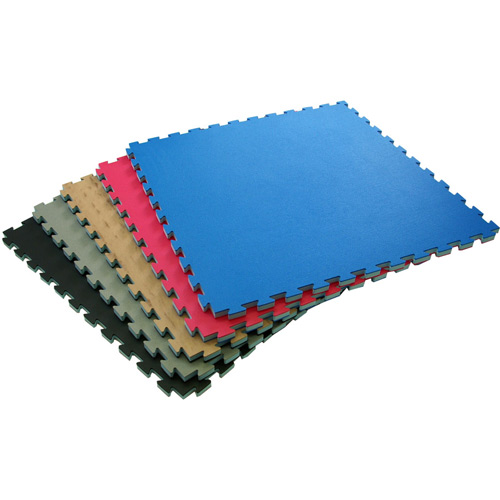 Large puzzle mats
can also make great foam exercise mats. Greatmats 1 inch thick interlocking gym mats are made of high density EVA foam, and provide plenty of padding for everything from martial arts to aerobics, cardio, yoga and floor exercises.
The 1x1 meter mats have a smooth surface finish that works well for bare feet or soft shoes, and will also allow for just enough traction for most common exercises. These closed cell foam mats prevent moisture absorption, odor, mold, and mildew.
They are a versatile option with outstanding durability, and their interlocking design makes for fast installation. They look and perform well and are very durable and double sided.
PVC Fitness Flooring
If you're looking for a home gym flooring with cushioning like foam but more durability - like rubber flooring, you 'll want to look into Greatmats StayLock line of fitness flooring. Available with either an
orange peel like surface texture
or
ergonomic bump top design
, these snap together floor tiles can be installed over virtually any existing flooring, including carpet and concrete. They are great for aerobics and some weight training.
Tri-Fold Gym Mats
When affordable cushioning in easy to lay out and store package is of the utmost importance, you may want to consider a
folding exercise mat
. Commonly referred to as a gymnastics mat, a 4x8 folding mat features a tri-fold design that allows the four 2-foot wide panels to stack up for easy transportation and storage.
Greatmats - One Stop Flooring Shop
When you're ready to invest in foam exercise mats, Greatmats has these and numerous options to choose from. With unbeatable pricing, quality, and service, you can feel confident when you choose Greatmats for your flooring needs.
For more on this topic please review our
Exercise Mats
product page.