What Are the Pros and Cons of Vinyl Plank Flooring?
By Kyle Schurman Created: March, 2021 - Modified: May, 2023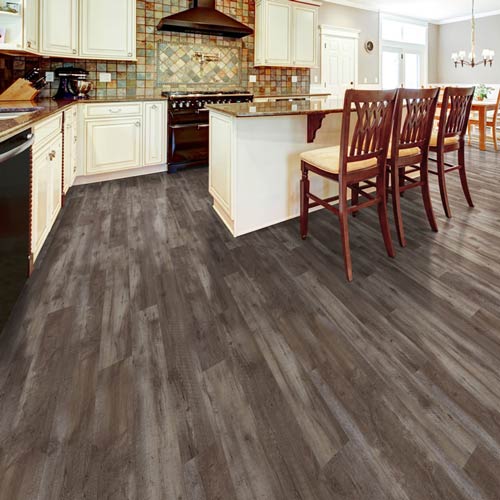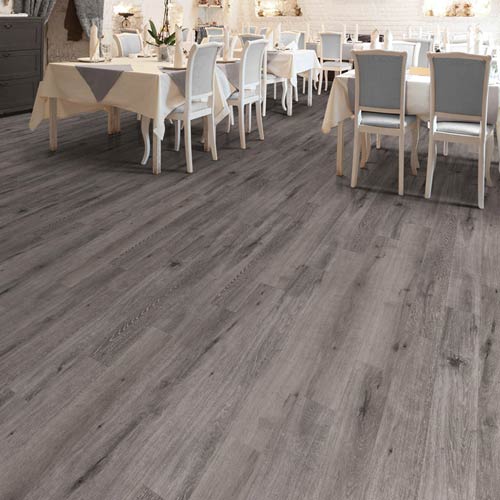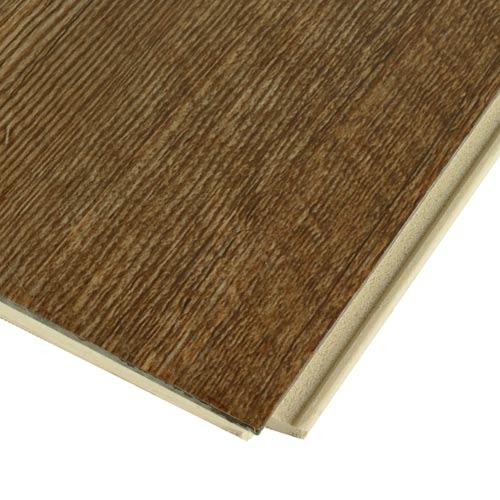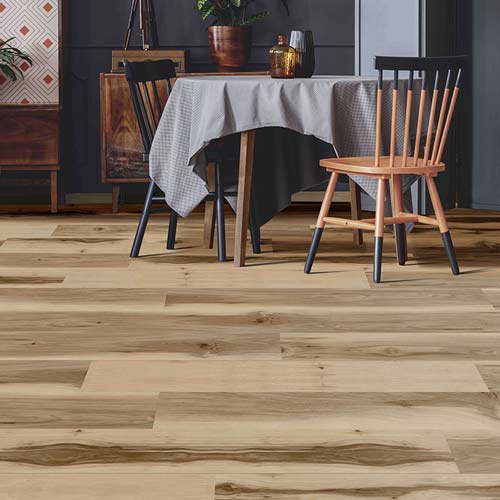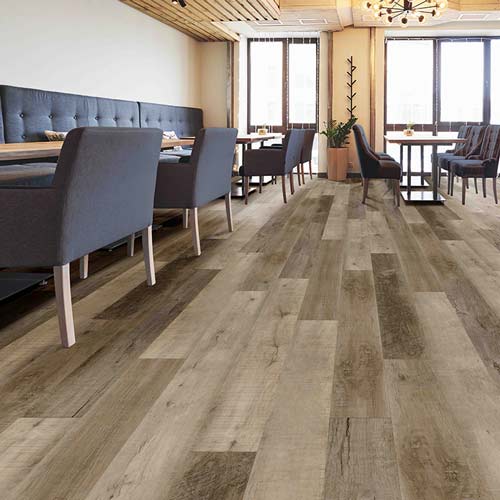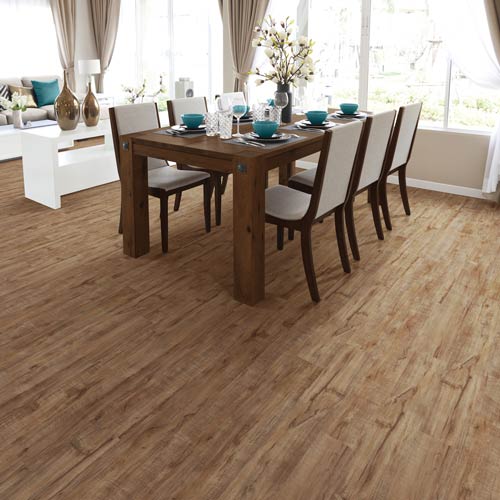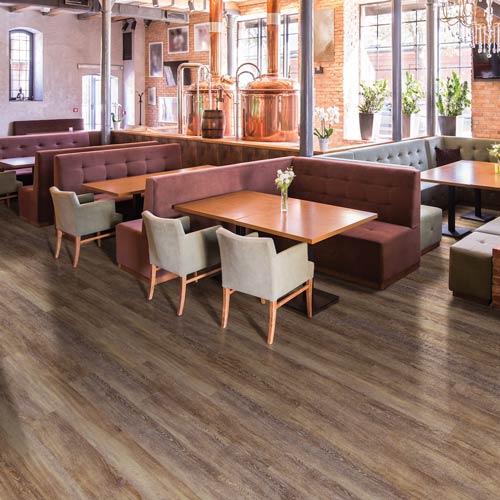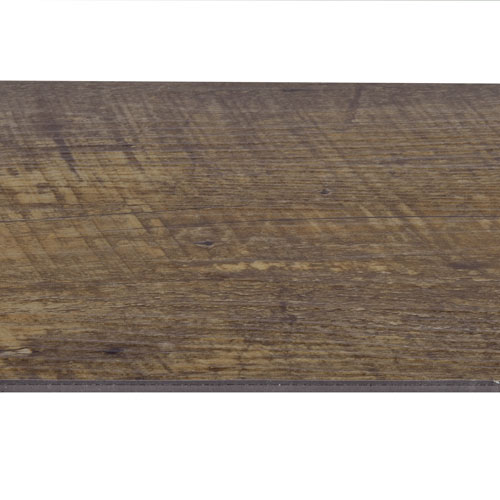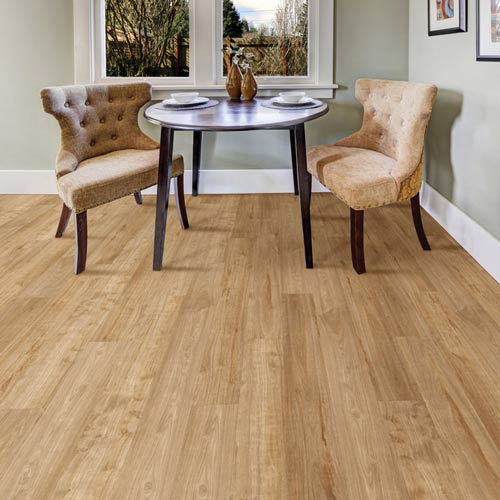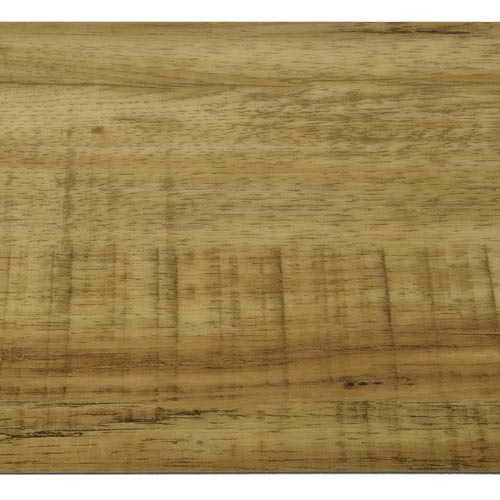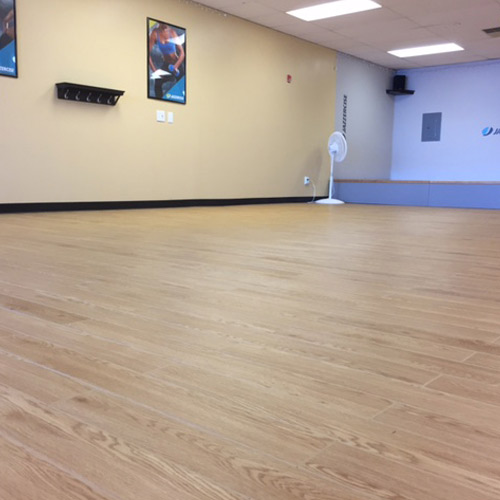 Vinyl plank flooring is a common type of floor for installations at the home or at a business. It works nicely for a variety of situations, as it has many advantages, along with a few disadvantages.
Here is a quick list of eight pros of vinyl plank flooring, including:
Ease of installation with a click together design

Trim planks to fit with a utility knife

Extreme durability

Simulates the look of real wood

Doesn't necessarily need glue for install

Has a feeling of luxury at a reasonable price

Offers waterproof designs

Requires little to no regular maintenance
Here is a quick list of three cons of vinyl plank flooring, including:
May not have full UV resistance when used in sunlit rooms

Dents and gouges are possible over time

No matter how great it looks, it's still not real hardwood
What Are Advantages of Vinyl Plank Flooring?
1. Ease of Installation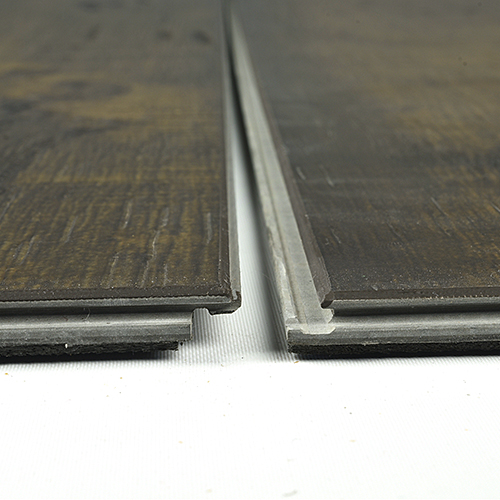 One of the best advantages of this style of flooring is the ease of installation. Some planks require a glue down installation. For an easier install process, though, some models will use a click together process that eliminates the mess of adhesives. Others have a peel and stick design that's extremely easy to put down too.
The Stock House SPC Flooring Planks product has a click together plank design that's ideal for people looking to perform a DIY install. The Stock House model does not require any underlay, and it's a product that truly looks like real hardwood.
2. Trim the Planks Easily
Vinyl plank flooring is not thick, usually measuring less than 1/2 inch in thickness. Some are closer to 1/4 inch in thickness. This means installers can cut them to fit with a utility knife and a straight edge with a minimal amount of effort. In some cases a power saw or tile cutter works best.
3. Extremely Durable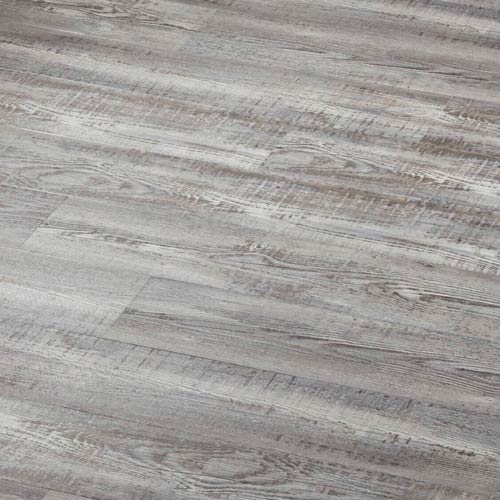 With planks of vinyl, customers receive a long lasting product, meaning it has a good value for the cost. The wear layer maintains the hardwood look of the vinyl, even in high traffic areas, for many years.
The Envee Rigid Core Luxury Vinyl Planks product is one of the most durable options available. Customers can count on the materials and ingredients used in the Northern Retreat product as it carries a 25-year residential manufacturer warranty and a 10-year commercial warranty.
4. Simulates Hardwood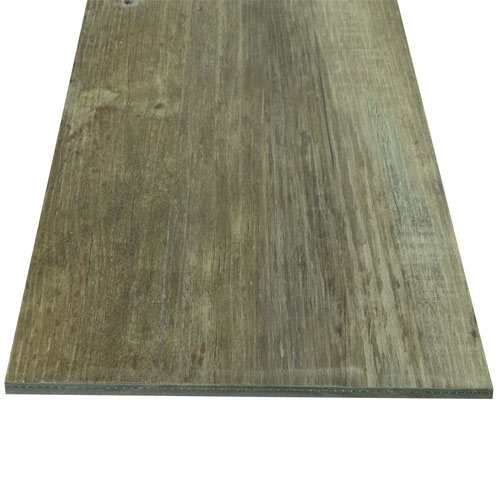 Because the design simulates real hardwood, it works for installation in almost any location where customers want to warm up the space.
One of the most realistic hardwood designs appears in the Magnitude Premium Vinyl Flooring Planks, which sport eight different colors and design patterns that simulate stained hardwoods, including:
Barnwood

Estate Oak

Hampton Oak

Restoration

Sherwood Oak

Southern Heritage

Toasted Hickory

Vintage Pine
5. Glue Down Installs Aren't Always Necessary
Laying out the planks goes fast because there's often no adhesive required. In the future, should the customer choose to pick up the planks for a new installation, the old vinyl planks come up quickly.
Certain types of vinyl plank tiles connect to each other with an interlocking loop and tab design, which further simplifies creating a free float installation without glue.
6. Delivers a Luxurious Feeling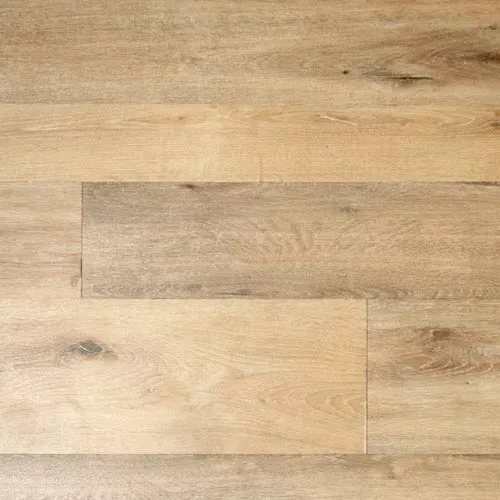 The rich look of hardwoods creates warmth in any location. However, installing real hardwood can be expensive and difficult.
Selecting vinyls that simulate hardwood instead gives the luxurious look of hardwood at a fraction of the price. For an especially luxurious look in vinyl planks, consider the Mediterranean Scene SPC Flooring Planks, which have several different types of faux hardwoods available.
7. Waterproof Designs
In areas where people will be tracking rainwater or snow into the house or business, having a
waterproof design
in the flooring is a must. Vinyl planks are naturally water resistant in an
entryway
.
Customers often choose to install this type of flooring in a kitchen or bathroom too, areas where spills are common, making installation of waterproof flooring important.
The water resistant nature of planks of vinyl gives them a big advantage over
laminate
, which may absorb excessive moisture, resulting in warping.
8. Needs Minimal Maintenance
When it's time to clean these planks, just use a broom to remove dry debris. For mopping the vinyl, don't use an excessive amount of water. Use a mild detergent and warm water on a damp mop or cloth to remove most common soils.
The wear layer on the planks protects them against gouges or scratches. No waxing or refinishing ever occurs with this style of flooring.
What Are Disadvantages of Vinyl Plank Flooring?
1. Some Planks Lack UV Protection
In areas exposed to excessive sunlight, some vinyl planks may fade over time. Stick with a high quality type of vinyl, and it should deliver the resistance to UV rays required to avoid fading.
2. May Dent Under Heavy Furniture
When people drop sharp objects onto some types of cheap vinyl, the flooring may end up with gouges. Legs on heavy furniture also could create a dent in the vinyl. Stick with vinyl products that have a thick, high quality wear layer, and it will better resist this type of damage.
3. It's Not Real Hardwood
Even though these planks look like actual hardwoods, they aren't. Before installing these planks, review your thoughts about how others will accept the space.
If faux wood vinyl planks appear in a luxury home where potential buyers will be expecting real hardwood to justify the selling price, for example, buyers may look elsewhere. Vinyl planks have a lot of advantages, but they are not the perfect flooring choice in every situation.
What Is LVP Flooring?
LVP flooring is another name for vinyl plank flooring, delivering a style of floor that imitates real hardwoods. It will be replicating the grain of the wood, replicating multiple stain colors, and replicating wood textures and natural colors. LVP, short for luxury vinyl plank, often has pieces that resemble long and narrow pieces of wood, just like real hardwood planks.
LVP flooring consists of multiple layers of synthetic materials, ensuring the flooring can stand up to rough conditions and continue to look like new.
Many of these tiles have a urethane coating across the top that protects them from spills and other types of soils, helping to maintain the look of real wood. The urethane layer also simplifies cleaning and limits the amount of maintenance owners must perform on the floor.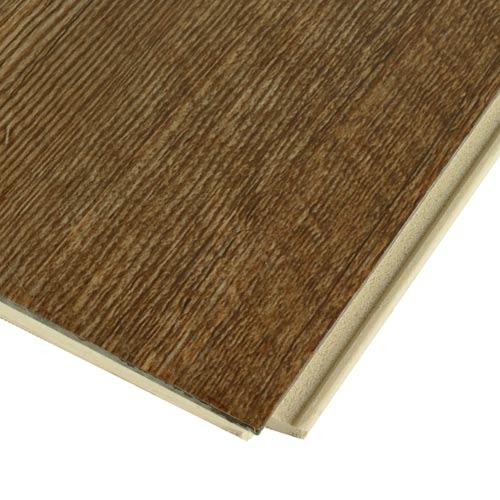 Installers can put together an LVP flooring layout in almost any location. It is appropriate for use in all kinds of residential settings, including in entryways, kitchens, and bathrooms. It works equally well in a commercial installation, where installers are attempting to create a high end look and a feeling of warmth in the room.
Some types of engineered vinyl planks will include a slight texture in the top surface of the planks. These textures attempt to simulate what a real hardwood surface looks and feels like, sometimes with a simulated hand scraped texture.
How Do Faux Wood Planks Simulate the Wood Grain?
With vinyl planks that have a look like actual wood, manufacturers create the wood grain look through a printing process.
Manufacturers often start with photographs of real hardwood floors. Each photograph will feature a particular type of hardwood and a particular
stain color
, allowing manufacturers to precisely recreate the look of the actual hardwood.
From the photographs, the manufacturers create a thin printed layer that resembles the wood. They then attach the printed layer to the top of the vinyl faux wood plank, which replicates the look of the actual hardwood. The urethane coating protects the printed layer on the vinyl, ensuring it doesn't fade under heavy foot traffic.
Manufacturers adjust the printed layer from piece to piece throughout the entire manufacturing run, ensuring installers don't see a pattern in the faux wood grain that repeats, which would reduce the realistic look in this type of flooring.
Installers do not have to worry about installing the planks in a certain order, as the manufacturing process ensures variability in the wood grain pattern on the planks, resulting in the desired look.
Is LVP Flooring Difficult to Install?
Luxury vinyl planks are available in a number of different configurations, all of which are easy to install. The synthetic materials used in the layers of this style of flooring give the individual planks a rigid design that simplifies laying them out.
When laying out vinyl planks, installers will need to go over the top of a flat surface. As long as the subfloor is primarily flat, installation will go smoothly. Planks with a greater level of rigidity and thickness will be a better choice over subfloors that have slight imperfections.
Commonly, installers will place these planks over the top of subfloor materials including:
Plywood

Tile

Radiant heat subfloors
Some of these models will have an attached underlayment layer consisting of a foam material, which provides a little bit of cushioning for those walking across the vinyl.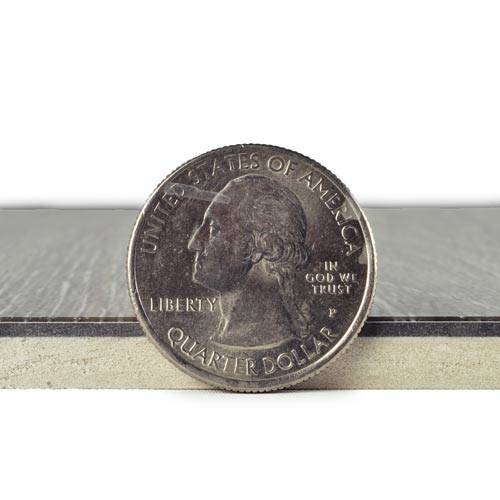 How Does LVP Flooring Compare to LVT Flooring?
Some manufacturers will use the terms
LVP and LVT flooring
interchangeably. LVT is short for luxury vinyl tile, meaning these vinyl flooring products attempt to provide the look of stone or ceramic flooring tiles - or they are square in shape, rather than the faux hardwood planks typically found with LVP flooring.
LVT
offers a level of durability and an ease of installation that is similar to LVP. Both styles of flooring follow a similar manufacturing process and may have similar types of synthetic materials in them, which is another reason why so many people use these two terms interchangeably.