Raised Garage Floor Tiles Installation Video
By Greatmats Staff Created: July, 2017 - Modified: July, 2021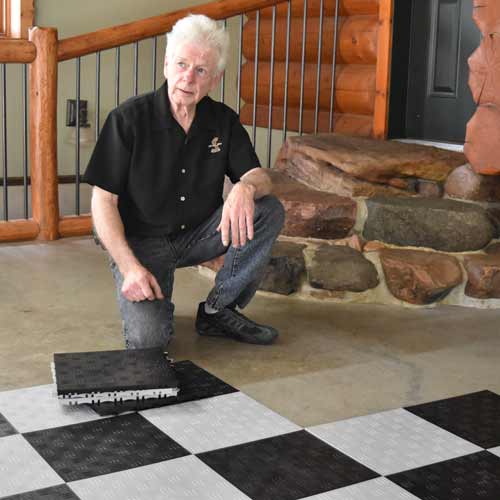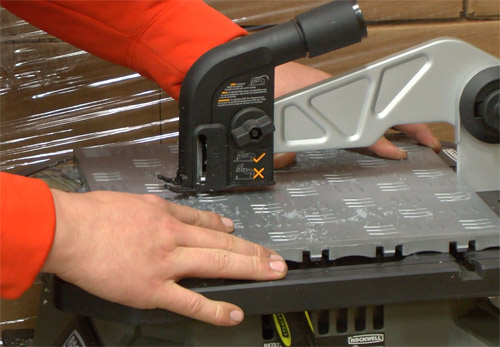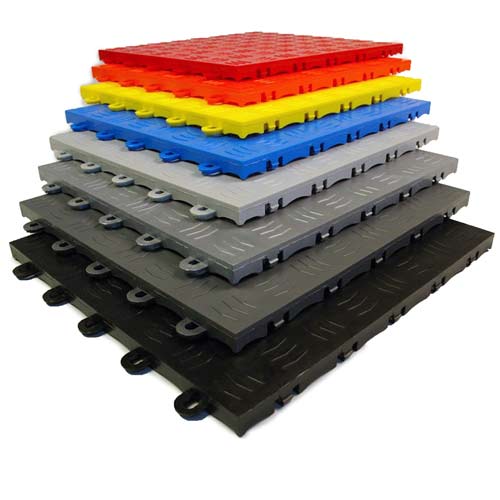 Greatmats Garage Floor Tiles are raised modular floor tiles popular for garage, event and trade show flooring installations. Made in the USA of no-break polypropylene plastic, these garage tiles have been computer tested to handle 20,000 pounds per square foot static weight loads.
Installation of Greatmats Garage Floor tiles is simple. In fact, no tools are needed for island installations. For wall-to-wall installations you'll want to have a tape measure, straight edge, pen and possibly sharp utility knife on hand. Power saws can also be used to cut the tiles.
Greatmats Garage Floor Tiles can be laid over any hard flat surface, as well as carpeting.
Begin in a corner with the loop sides of the tile facing outward. Keeping each additional tile facing in the same direction, place the nubs of the new tiles over the loops of the already laid tiles and tap the new tile into place using your foot until you hear a snap.
Work your way out from the corner, always keeping the loops facing out. Once you can no longer lay full tiles, measure the distance between your existing tiles and the wall. Mark that distance on the tile you'd like to cut, keeping in mind you'll be cutting off a loop side of the tile.
At this point you can either score the tile using a sharp utility knife - alongside your straight edge - until you are able to bend the tile to its breaking point, or cut the tile with a power saw. The utility knife method will require significantly more effort.
Snap your cut tiles in place to complete your wall-to-wall installation.
For island installations or exposed edges, you may want a ramped border. Greatmats sells ramped border edges separately. These click tile border ramps are available in black only and are available with both nub connectors and loop connectors.
Greatmats Garage Floor Tiles are available in eight color options, including black, and a diamond pattern surface texture.
Enjoy your new Greatmats Garage Floor!