How to Choose Garage Floor Tiles
By Paige Cerulli Created: February, 2018 - Modified: May, 2020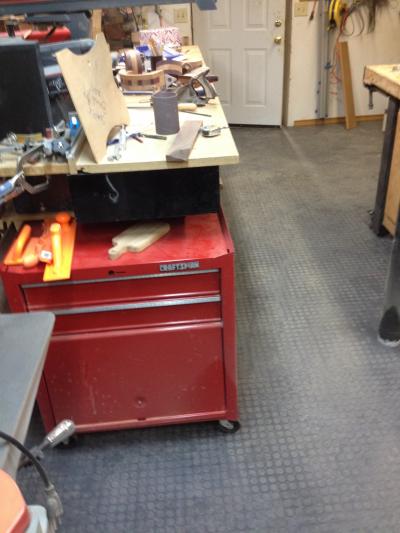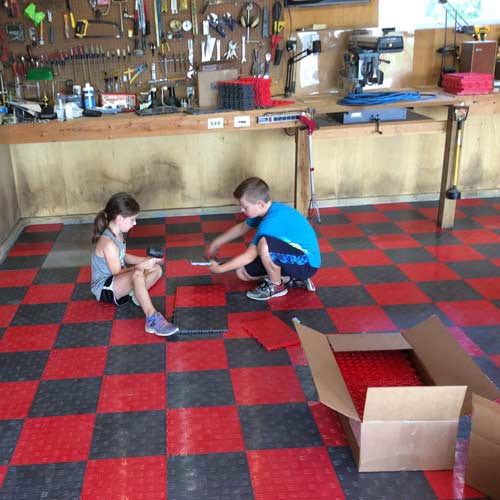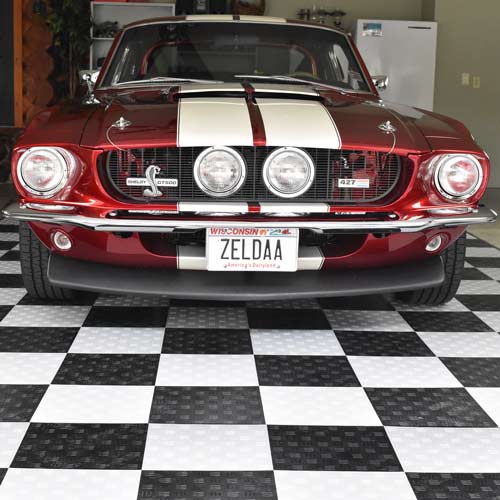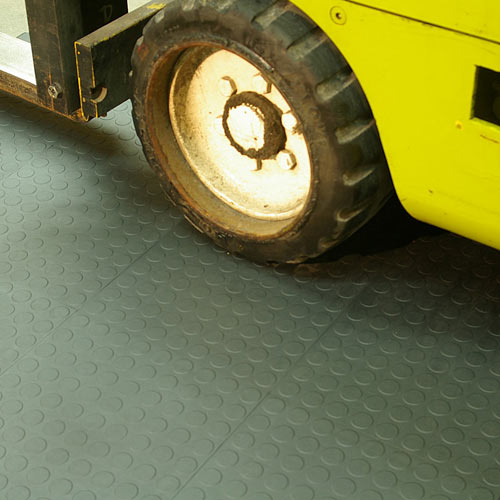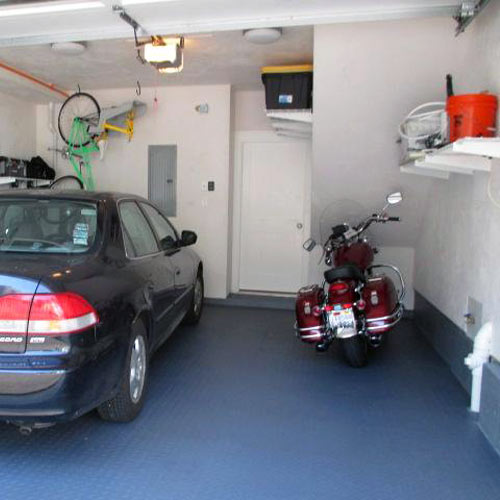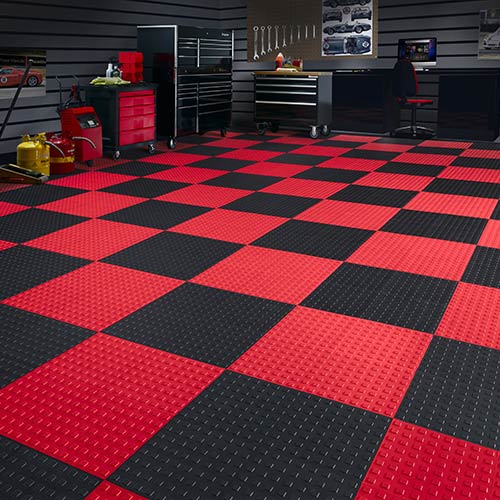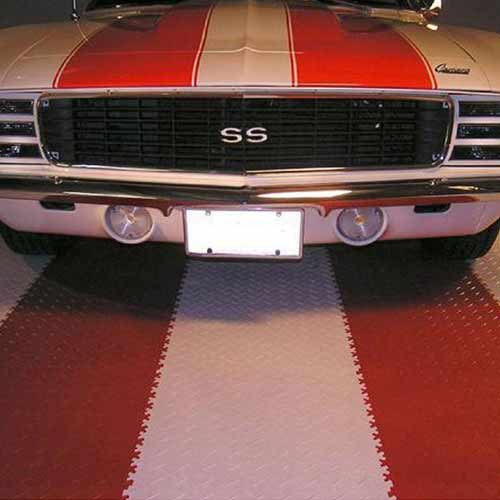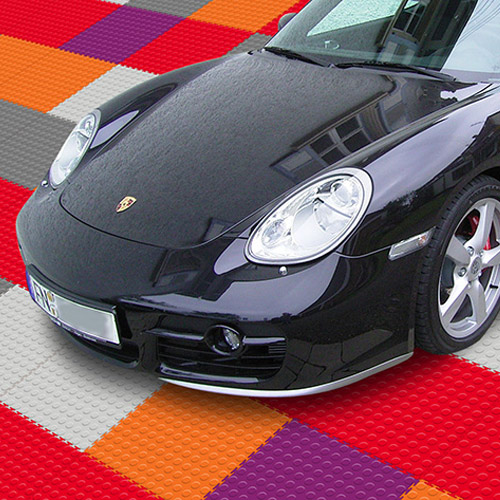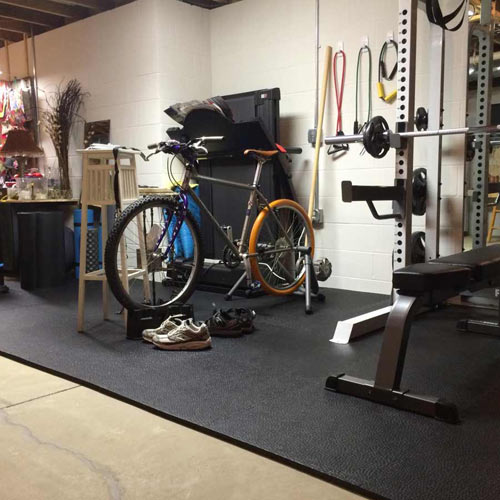 Is your garage floor looking worn and tired? Are you tired of looking at the unsightly floor, or dealing with a space that isn't comfortable enough to work in? Garage floor tiles can transform your garage, making it into an attractive, useable space again - at a fraction of what you would pay to remove and renovate the floor.
Benefits of Flooring Tiles for Garages
Garages don't always make the ideal space. If you're trying to work in your garage or want to use it for another purpose, like as a gym, you may find that the cold, hard floor and the dark, damp area just doesn't work for your needs.
Installing flooring tiles for garage is an economical, easy, and fast way to dramatically transform the space. Consider the benefits of renovating your garage with tiles:
- Protect your garage floor from wear and tear, and save on costly repairs and replacements
- Make your garage a cleaner, more comfortable space
- Add traction, making the floor a safer area
- Dampen reverberation, so it's quieter both in the garage and in the house when you're working
- Transform your garage into a garage show floor
- Create a multi-purpose space, such as a gym or workspace in your garage
- Easily and economically perform the installation yourself and transform your garage
With a new floor, the possible uses for your garage are endless. Make it into a gym, a workshop, a man cave, or an automotive show room. And if you're planning to sell your house, a new floor in your garage will leave the space looking refreshed, well-cared for, and up-to-date.
How to Choose the Right Tiles for Your Garage
When planning to purchase flooring for your garage, you'll have plenty of choices. Greatmats carries a wide range of garage tiles available in a variety of designs, thicknesses, colors and materials. The advantage of this is that we have tiles suitable for a wide range of uses. The downside? You'll have some decision-making to do.
The below questions can help you through the process. If you follow and answer the questions in order, you'll soon have a better idea of what you're looking for and which products are most likely to suit your needs.
What Types of Activities Will You Use Your Garage For?
Start by making a list of all of the activities that you'll want to use your garage for. Here are some considerations for a few of the most common uses:
- Vehicle storage or maintenance - You'll need a tile that is very strong (some tiles aren't strong enough to support vehicle weight). You'll also want a flooring option that is resistant to the oils and chemicals it may be exposed to when you work on a vehicle.
- Workshop - Your garage workshop flooring needs to be comfortable and forgiving, and if you can find flooring that offers anti-fatigue properties, it will help to keep you comfortable. Choose a flooring that offers both sound and thermal dampening properties to make for a more comfortable workshop.
- Gym - For gym flooring, look for something that's comfortable, yet also strong enough to absorb the shock of dropped weights and to support workout equipment. Look for a flooring that's easy to clean and that provides some insulation from the cold garage floor.
At Greatmats, we have plenty of options suitable for all of the above activities.
Will You Be Storing Vehicles in Your Garage?
If you're going to store vehicles in your garage, you'll need to be selective as you choose your garage floor tiles. Your flooring needs to be strong enough to withstand the weight of the vehicle without being damaged. Our Garage Floor Tile Diamond is a popular option, since it can withstand up to a 10,000-pound load, meaning it can support both cars and trucks.
The SupraTile 7mm Hidden Leather tile is another great option for garages. These incredibly heavy-duty tiles can withstand 20,000 pounds of pressure per square foot. Additionally, they're oil and chemical resistant, which are important qualities if you'll be performing any sort of maintenance on your vehicles while they're in the garage.
What Properties Are Important for Your Floor?
Spend some time thinking about the properties that you want your flooring to have. The exact properties and features that are important will depend on your personal preferences, your garage, and how you'll be using the flooring.
If you intend to create a workspace, then a floor tile that offers some anti-fatigue and cushioning properties will be valuable. Many of our tiles are designed with your comfort in mind, and those that are equipped with anti-fatigue properties can help to minimize or even prevent the pain you feel in your knees and back after spending long hours on your feet.
Traction is another important consideration, especially if you'll be working on vehicles or otherwise moving around in the garage. Our tiles are available with different surface textures to offer differing degrees of traction.
You'll also want to consider the types of substances that will be used in your garage. For instance, motor oil and other vehicle fluids can damage flooring. In a case like this, you would want to opt for one of our PVC tiles, which are resistant to oil and chemicals when sealed.
Are you planning on converting your garage to a home gym or workout space? If you'll be lifting free weights, then it's important to choose a flooring that is both strong and durable enough to absorb the impact of dropped weights. A dropped weight can easily crack your concrete foundation, which would lead to a costly repair. Rubber mats are dense and strong, and they're able to help absorb the shock of a dropped weight so that it doesn't damage your subfloor. Always opt for a thicker mat when possible - the thicker the rubber, the greater the impact it can absorb.
Is it Likely that Your Garage Will Flood or Have Moisture Issues?
Many garages have moisture issues, whether it's just a buildup of condensation or actual leaks or floods. While moisture problems can destroy some types of flooring, we've taken this into consideration with the garage flooring options we offer.
If your garage is likely to have a moisture issue, then you'll want to choose one of our tile options that have raised bases. The advantage of this is that the tile's surface is raised up off of the floor, and air and water can circulate freely beneath the surface. This circulation helps to promote faster drying, which can help prevent mold and mildew growth. Ultimately, this means less maintenance for you, which saves you both time and money.
Our raised base tiles are built so that moisture won't damage or harm the material and small amounts of moisture under the tiles can actually air dry on its own, but you can also remove the tiles if you ever need to completely dry the floor beneath them.
How Often Will You Want to Remove the Flooring?
Before you purchase your flooring, think about how often you may want to remove the flooring. Removable garage flooring can easily be taken up and pulled out, so you can clean or dry out the subfloor. It's convenient, especially if you need access to the subfloor and don't have multiple people to help remove the flooring.
Removable garage flooring typically consists of our interlocking floor tiles. The tiles fit together tightly, but you can also separate them to pull up one tile at a time. If a single tile gets damaged or worn, you can replace that one tile, rather than needing to replace the entire floor. It can save you significant money, and is one of the reasons why removable garage flooring is so popular.
What Overall Look Do You Want Your Garage To Have?
With so many flooring options, you can choose the overall look that you create for your garage. Garage show floor tiles can transform your garage into an essential showroom, while more modest tiles may be suitable for a garage that you intend to use as a workshop.
As you explore the range of removable garage flooring available, you'll quickly see that there's a wide range of surface finishes and colors for you to choose from. Consider brightly colored tiles, which you can use to create fun patterns to liven up the space. Alternatively, perhaps a black garage tile is a better choice, as it helps to conceal dirt for spaces that are used for work and maintenance.
Regardless of what you want your finished garage to look like, it's safe to say that Greatmats has a product to bring your vision to life.
Ordering Your Garage Floor Tiles
Once you've decided which garage tile is right for you, our customer service experts would be happy to help you with your order. Please contact us if you have questions about a product, would like a product sample, or need a quote.
With our wide selection of garage flooring, we're sure to have the perfect product to revitalize and transform your garage floor.