What Are The Pros And Cons Of Foam Play Mats?
By Paige Cerulli Created: September, 2021 - Modified: February, 2022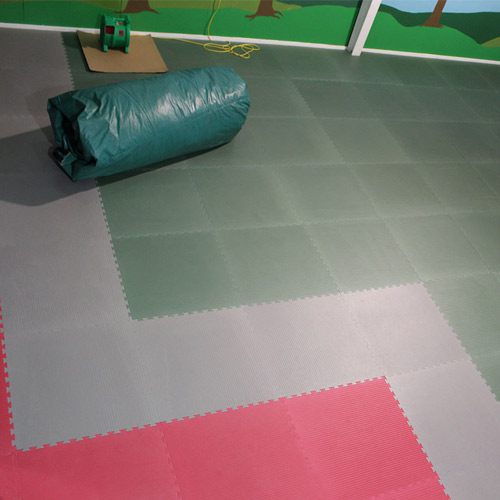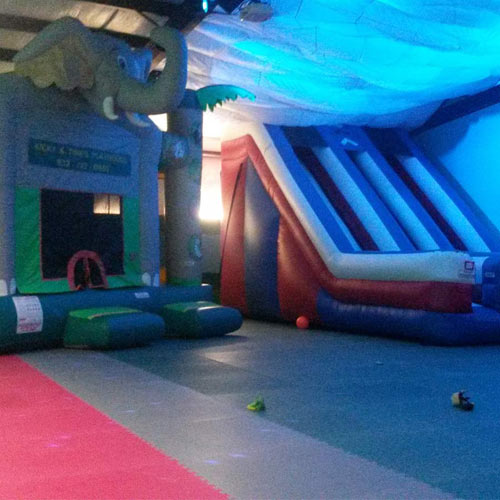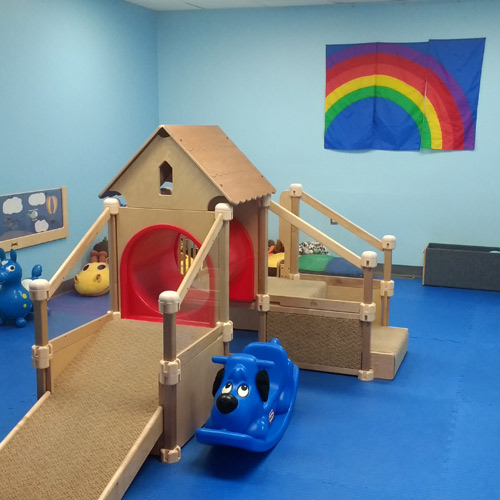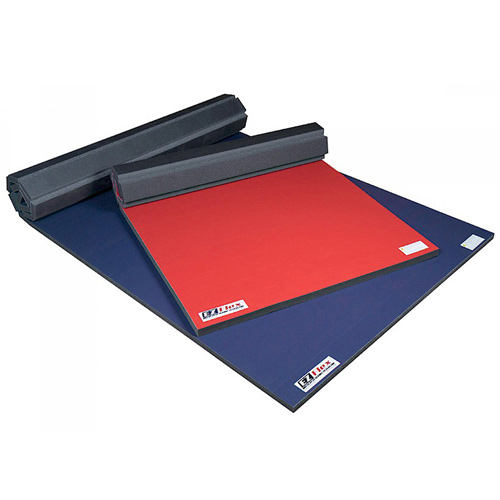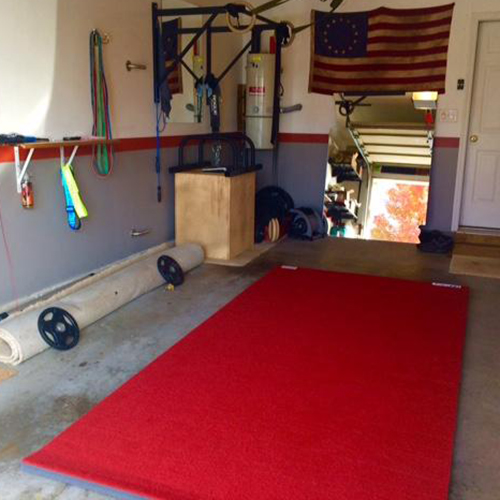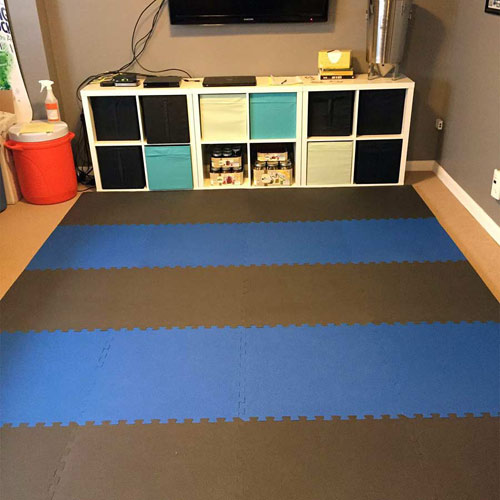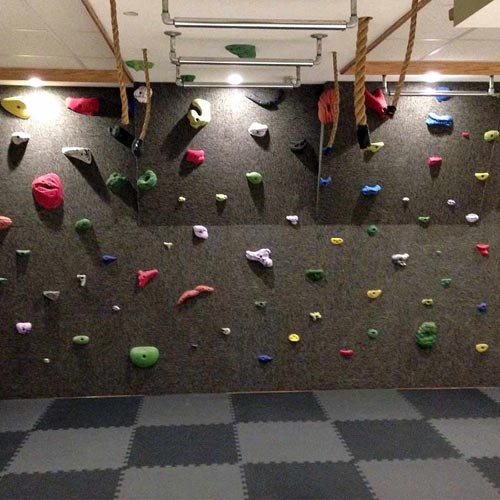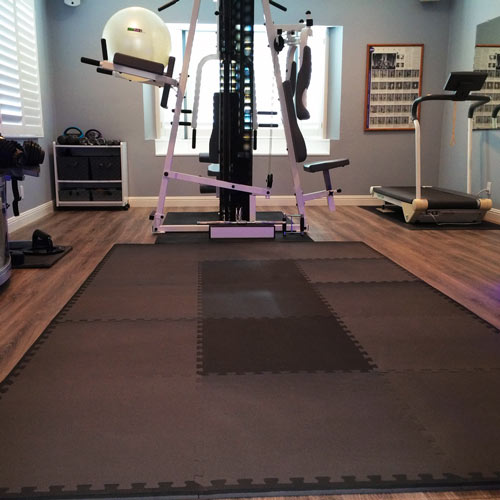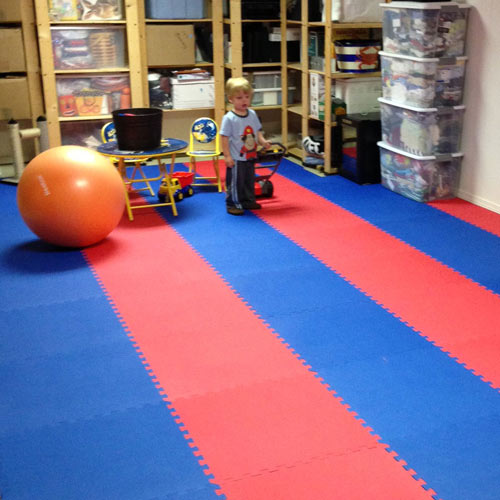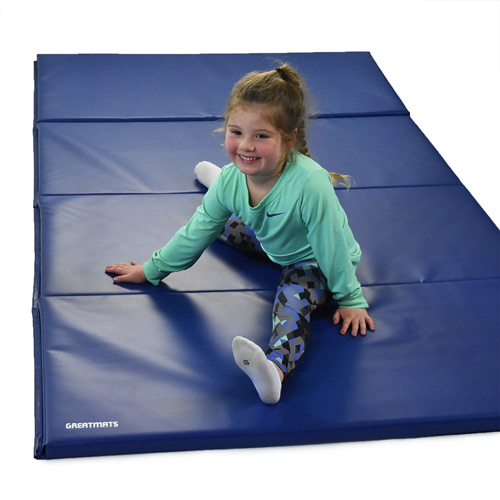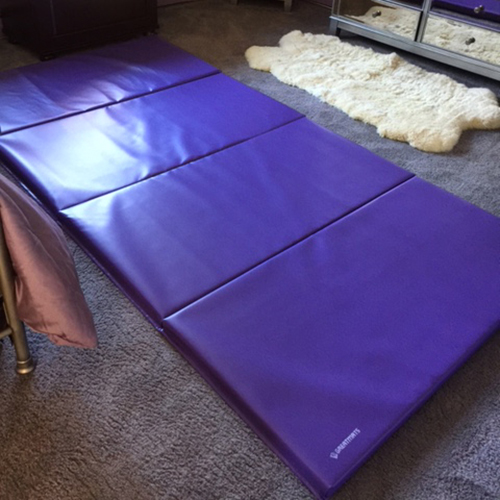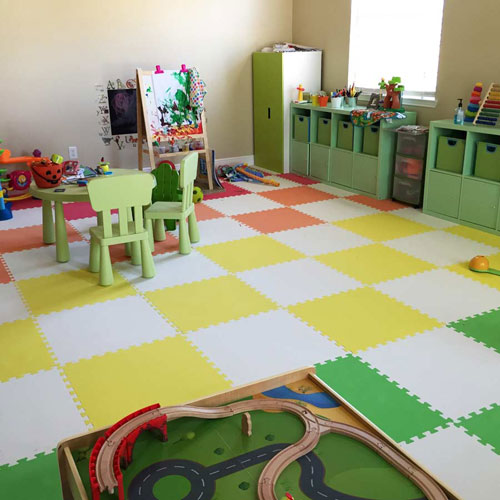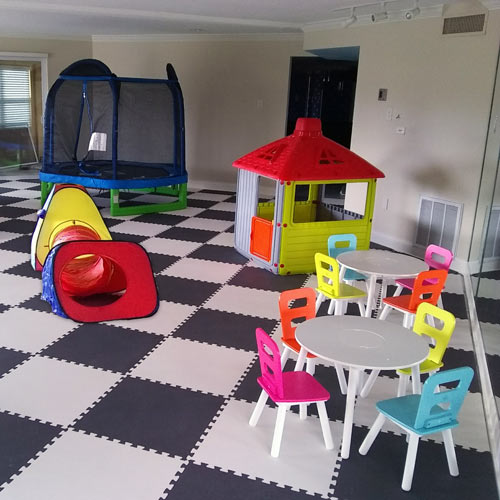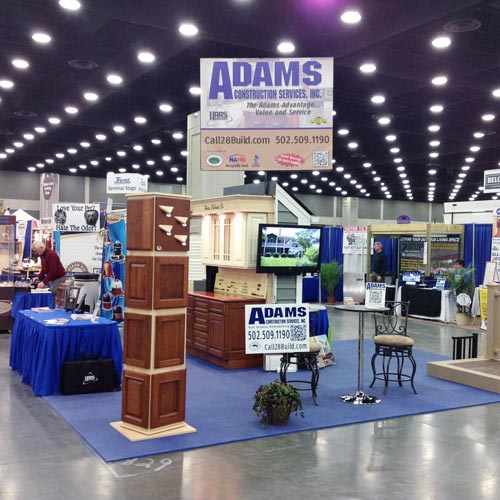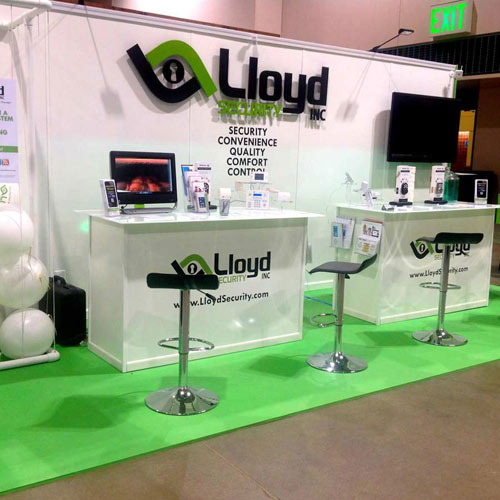 Foam play mats are versatile and popular choices for everything from kids play spaces and toddler rooms to home gyms and workout spaces. These mats tend to be soft and forgiving, but when choosing the right flooring for your project, it's important to understand the pros and cons of foam play mats.
Pros and Cons of Foam Play Mats
Foam play mats have many pros and cons, depending on the product you're considering and how you plan to use it.
Cushion and Safety
Foam mats tend to be forgiving and add cushion to your flooring. They're comfortable underfoot and make great spaces for kids to crawl and play.
Some mats offer ASTM fall height ratings, meaning they've been proven to help reduce injuries when falls occur from certain heights. They can add safety to a space and are ideal for kids and for athletes, too.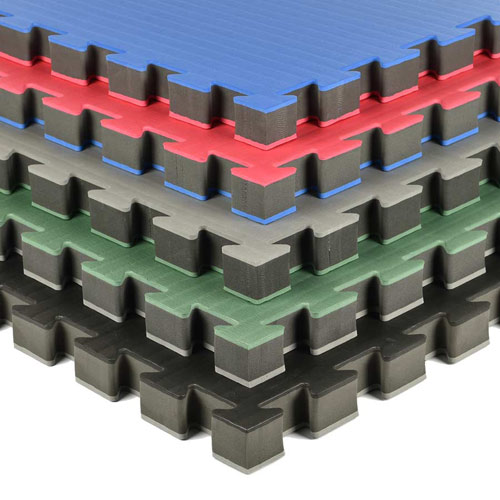 Our
Indoor Playground Flooring Tiles
offer a 4-foot ASTM fall height rating, making them ideal for indoor playgrounds. Our
Home Cheer Mat
is an excellent example of a foam mat designed to provide the shock absorption that athletes need.
Some foam play mats also feature specialized surface textures that won't burn skin when you fall or crawl on them. They're safer and help to keep users comfortable, whether they're tumbling or playing on the mats.
Many mats that we sell at Greatmats are made of non toxic EVA foam. The EVA mats are waterproof and stain resistant, and are free of lead and latex, so they're safe choices for use with kids.
Greatmats also offers several play mats made of cross-linked polyethylene foam and/or polyurethane foam. These mats are generally covered or wrapped with a vinyl or carpet material.
Installation
Most foam play mat products are designed for a very easy DIY installation. Some larger mats can be laid on top of your existing flooring, so they install in just seconds.
Interlocking puzzle tiles are available in a variety of foams and designs, most of which are EVA foam based. These tiles fit together quickly and easily, and most don't require adhesive.
It's also easy to cut foam tiles to fit a space, allowing for a wall-to-wall or island installation. Many of these products come with border pieces that create a clean, finished edge.
Because these tiles fit together and don't require adhesive, they can be easily removed and relocated as needed. If a tile is worn or damaged, you can replace that one tile, rather than having to replace a large section or entire room of flooring. This can amount to valuable savings.
Portability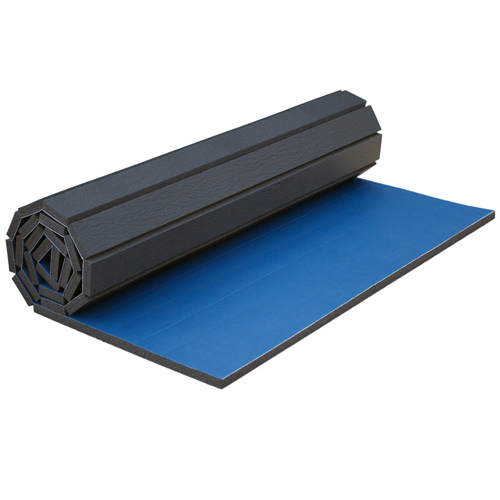 Most foam play mats are designed to be easily portable, adding versatility to your space. Options like fold-up or roll-up large floor mats are easy to store away when not in use.
Many of these larger mats can be laid down over existing flooring, adding extra protection to that floor for exercises and training. When you're done using the mats, you can remove them, so your space can retain its typical purpose.
This is ideal when you're working with limited space and need to add versatility to your home or business. Our
Roll Out Wrestling MMA Mats
are one example of mats that are highly portable and easy to store away.
Durability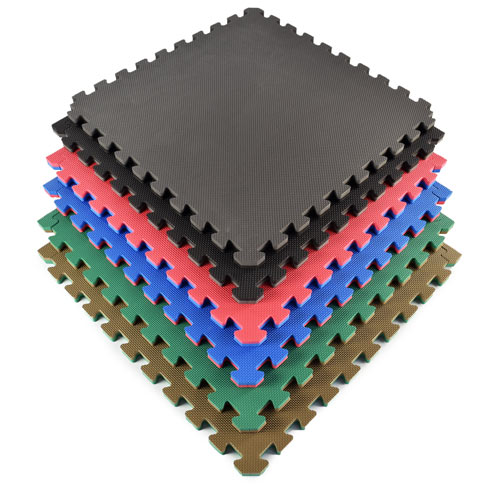 Durability can vary when you're using a foam product. Some softer foams lack durability and all can be easily damaged by dog nails or high heels.
Products made of firmer foams can withstand increased use, and some are designed to withstand shoe traffic and to support furniture. Even so, it's best to use a furniture coaster over the foam.
It's important to consider the different foam products available and how you'll be using the flooring when choosing the product that's best for your project.
Many foam tiles, like our
Home Sport and Play Mats
, are reversible, so if some minor damage does occur, you may be able to flip the tile over and continue using it. This can extend the tile's lifespan. It can also be helpful in your flooring design process as many offer a different color on the flip side. Most tiles are also backed by warranties.
Affordability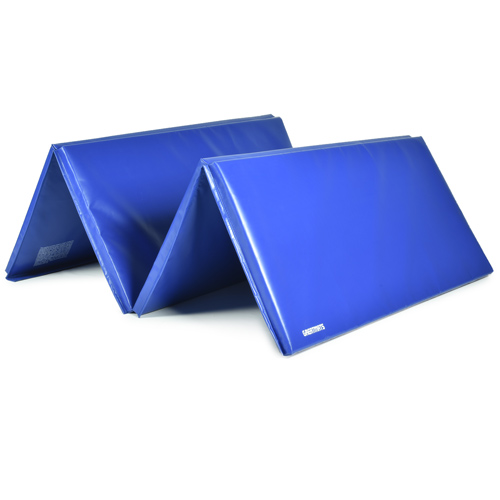 Foam tiles can be highly affordable, but their price will depend on their size, their thickness, and the type of foam used to create them. Some very affordable options exist, and they're ideal for basements, kids rooms, and more.
As you move up in price range, you'll start to explore specialty foam mats, like our Folding
Gym Mats
. These products can be more expensive to buy than thin tiles, but they're also highly durable as they are wrapped in a quality vinyl material.
Style Options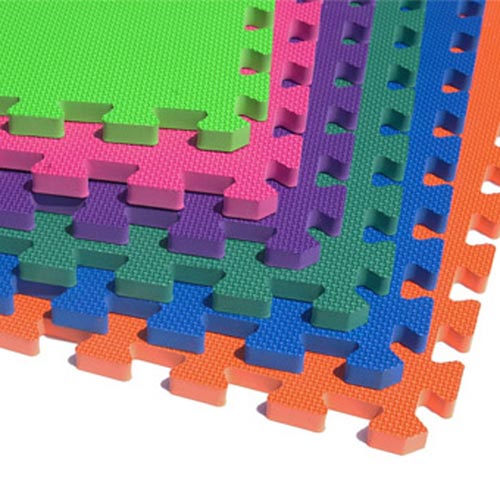 One major benefit of a foam play mat is that you'll be able to choose from a wide array of designs and styles. Our foam mats come in many different colors, including woodgrain finishes, bright and brilliant colors that will appeal to kids, and even colors that reflect your gym's or school's branding. Just take a look at our
Foam Kids and Gym Mats
to get a sense of the wide assortment of colors you can choose from.
With so many styles to choose from, you can pick the option that best matches the decor in a certain room. These foam mats are versatile options and when you shop at Greatmats, you'll have plenty of quality products to choose from.