Portable Dance Floor Seamless Wood Grain Cam Lock 1/2 Inch x 3x3 Ft.
High quality 3x3 ft panels
Commercial grade portable dance flooring
Vinyl top surface
Handling Time Estimate: Call for Availability of Lead Times

American Plank

Dark Oak

Dark Walnut

Elegant Oak

Stone Pine

Tropical Beech

Warm Cherry
How Much Flooring Do I Need?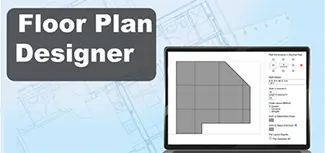 High quality 3x3 ft panels
Commercial grade portable dance flooring
Vinyl top surface
Long lasting durable surface
Fast and easy installation
Cam-lock technology, strongest locking mechanism
Only one tool needed for assembly
Best pricing available
Portable Dance Floors, Banquet Dance Floors, Dance Floor Rental, Event Center Dance Flooring
NOTE: This item is a custom order and is not returnable.
Portable Dance Floor Seamless Wood Grain Cam Lock 1/2 Inch x 3x3 Ft.
Convenient and totally secure Cam-Lock fastening is a breakthrough improvement to the Portable Dance Floor Seamless Wood Grain Cam Lock 1/2 Inch x 3x3 Ft.. Cam-Locks are easy to engage and eliminate the problem of dance floor panels separating while in use. The EventXpress Cam-Lock fasteners replace traditional set-screws so there are no longer any small parts to lose. With no lost parts, there are fewer headaches for the floors owner. Please call for current availability.
Dance floor panel is 3 x 3 ft x 1/2 inch and has a solid plywood base with a vinyl dancing surface. Panel surface is one full vinyl seamless sheet. Our portable dance floor fits together easily for quick and safe set-up. It also features, optional soft corners and silver aluminum trim, with 11 degree slope for easy access. These panels are available in a variety of wood grains.

Seamless design
Solid plywood core
Premium vinyl sheet surface
11 degree silver trim
Polyurethane coated back
Secure Cam-Lock fastening

SPECIFICATION, MAINTENANCE & CLEANING
The top surface of a Palmer Snyder Seamless wood grain dance floor panel is made up of:
- A highly compressed homogeneous vinyl wear layer with a high performance urethane top coat.
- A glass fiber interlayer to ensure dimensional stability
- A calendared CDF backing support.
The panels are shipped in a semi gloss finish, but can be waxed and buffed to a gloss finish if desired. Panels delivered directly from the factory are ready for:
- Use as is
- Polishing with a (150 to 350 RPM) floor polisher and soft polishing pad
- Wax (procedure noted below)
GENERAL CLEANING and MAINTENANCE
The regular cleaning of your dance floor panels is important to the overall life of your floor.
- The panels should be regularly swept clean with a soft push broom or dry mop.
- To remove dust, it is better to use a dry mop instead of a vacuum.
- Any materials that might potentially stain the panel should be removed immediately (see chart below).
- To remove difficult stains, spills, or gummy residue from floor tape, apply all purpose cleaner full strength to a soft cloth, rubbing the cloth on the stain or build up. Afterwards, rinse the area with clean water and let dry.
- For heavier duty cleaning, panels may be cleaned with a solution of all-purpose floor cleaner and water. Use floor cleaner manufacturer's recommendations for dilution and soak time. Dilution and soak time are based on the cleaning level required.
- Apply the cleaning solution with a mop then scrub with a (150 to 1725 RPM) floor polisher equipped with a low-abrasive scrubbing or polishing pad. If not using an automatic polisher, use a scrubbing brush. DO NOT use scouring pads, steel wool or other abrasive pads.
- After a complete scouring of the panel, remove the soiled water with a mop or vacuum.
- Lightly rinse the floor thoroughly with clear, cold water.
- Let dry.
After cleaning the panels are ready for:
- Use as is
- Polishing with a low RPM polisher and soft polishing pad
- Wax (procedure noted below)
WAXING
- The panels are 'ready for wax application' when delivered from the factory.
- We successfully trialed the following wax finishes;
ZEP-Wet Look Floor Finish, Desco-Encore Floor Finish, California Portable Party Sales-High Image Floor Finish
- Waxing Procedure:
Thoroughly rinse a clean rayon mop head in clean water then wring out mop as dry as possible.
Soak the mop head into the finish then wring out. A thin coat must be applied so the moisture level in the mop head must be at the level required to apply a thin coat. Take care not to agitate the finish solution.
Apply a thin coat of wax using a figure eight (8) mopping pattern slightly overlapping the previous area.
Allow panels to dry between coats, follow manufacturer's recommendations (typically 30 minutes). Do not use fans to expedite drying.
Return to step number 2 until (2 - 4) thin coats of wax have been applied.
Each successive coat should be applied 90 degrees to the previous coat.
WAX MAINTENANCE
- Once the panels have been used to the point where regular cleaning and maintenance will not provide the desired look, wax stripping is required.
- We successfully trialed the following wax strippers; ZEP-Heavy Duty Floor Stripper, Desco-Floor Stripper, California Portable Party Sales-Impact Floor Stripper
- Follow wax stripper manufacturer's recommendations.
- The use of brown, green or black stripping pads is NOT recommended.
- Continue regular General Cleaning and Maintenance as noted above.
SPILLS
Spot clean spills as soon as possible. If necessary, rinse the area with clean cool water and allow the floor to dry thoroughly before permitting traffic. In addition to the possibility of damage or staining of the floor covering when spills occur, safety is also a concern. Make sure all floor care personnel are aware of the potential liability associated with spills, as well as theneed for immediate attention.
HEEL MARKS
Black heel marks can be removed by using a clean white cloth dampened with mineral spirits. Rinse thoroughly with a clean cloth and water. Allow to dry.
CIGARETTE BURNS
The heat of the cigarette will often melt the material and may leave a permanent mark on the floor.
GUM
Gum can be removed with a smooth putty knife and mineral spirits.
PHYSICAL DAMAGE
All resilient floor covering materials are susceptible to certain types of physical damage. Any furniture placed on the panels should have adequate floor protectors. If the pressure exerted by an object on the floor covering exceeds the floor coverings rated capacity, permanent indentations may occur. Care must be taken when moving furniture or other heavy objects over the panels. Do not slide or wheel heavy objects across the floor. Failure to use adequate precautions may result in scratches, cuts, or other severe damage to the floor covering. Avoid rolling equipment across panels.
PROPER USE OF FLOOR CARE CHEMICALS
The improper use of high pH cleaners and strippers may damage resilient flooring products. Frequent treatment or inadequate rinsing may cause cracking, shrinking, and/or discoloration.
Abrasive powders or cleansers should not be used.
FLOOR CARE EQUIPMENT
Keep all equipment clean and in good repair. Wash and rinse mops, pads, applicators, and brushes after each use. Use a dedicated mop for each procedure, i.e. one only used for cleaning, one only used for rinsing and another only used for finish application.
CLEANING MACHINE PADS
The Color Codes indicating grades of pads will vary depending on the manufacturer, and also according to the type of machine that is used, i.e. standard, high speed or ultra high speed. For example: 3M Johnson/Diversey
- Fine grade, for dry burnishing non- buffable polishes - White Mint
- For medium grade, spray cleaning - Red Mint
- For heavy duty cleaning - Blue Purple
- Course grade, for stripping - Blue Purple NOTE: The use of a green or black stripping pad is not recommended. Misuse can cause damage to the flooring material.
PRODUCT PERFORMANCE AND TECHNICAL DATA
Reference Specification:
Meets or exceeds all technical requirements as set forth in ASTM F 1303, Standard Specification for Vinyl Sheet Floor Covering With Backing Type 1, Grade 1, Class B Backing
Static Load Limit:
700 pounds per square inch when tested in accordance with ASTM F 970-00, Standard Test Method for Static Load Limit.
Slip Resistance:
Meets or exceeds A.D.A. recommendation of 0.6 for flat surfaces when tested in accordance with ASTM D 2047, Standard Test Method for Static Coefficient of Friction.
Seamless wood grain dance floor panel
Chemical Resistance:
(Exposure Time: One Hour)
Acetic Acid (5 ) No Effect
Isopropyl Alcohol No Effect
Sodium Hydroxide (5 ) No Effect
Hydrochloric Acid (5 ) No Effect
Sulfuric Acid No Effect
Ammonia (5) No Effect
Bleach No Effect
Phenol (5) No Effect
Gasoline No Effect
Kerosene No Effect
Mineral Oil No Effect
Olive Oil No Effect
Tested in accordance with ASTM F 925, Standard Test Method for Resistance to Chemicals of Resilient Flooring.
STORAGE
It is recommended that panels are stored and transported in a vertical cart, stacked face to face
If panels are stored flat, follow the following guidelines:
- Stack Fifty (50) high maximum
- Stack neatly and square
- Stack face to face
- A cloth or packaging material must be placed in between the faces
Shipping
Ships shrink wrapped on pallets.
This Product Ships Freight Only.
Please review our shipping disclaimer.
| | |
| --- | --- |
| SKU# | 3DFPANEL-CAM |
| In Stock | Yes |
| Product Type | Panel |
| Material Type | Vinyl |
| Product Edging | Straight |
| Thickness | 1/2 inch |
| Width | 3.00 feet |
| Length | 3.00 feet |
| SF per Item | 9.00 |
| Weight | 36.00 lbs |
| Packaging | Shrink Wrapped on Pallets |
| Number of Pieces per Package Type | 40 |
| Non Absorbent | No |
| Special Adhesives | No |
| Interlock Loss | 0.00 feet |
| Interlocking Connections | Yes |
| Made In | USA |
| Surface Finish | Smooth |
| Surface Design | Wood grain |
| Installation Method | Cam lock |
| UV Treated | No |
| Reversible | No |
| Border Strips Included | No |
| Floor Score | No |
| Green Label | No |
| Manufacturer Warranty | 5 Year Limited, 1 Year Rental Companies |
Product Questions:
Q: Can this be put over carpet? I am looking for a portable dance floor for my daughters that can go on the basement floor.
A: These panels are for commercial installations, I would recommend our Max Tile for your home installation over carpeting.
Q: I'm a breakdancer looking to install a dance floor in my home basement. How noticeable are the seams between panels. I often put my hands and other body parts on the floor and don't want to be pinched.
A: The panels interlock very tightly. However, A more economical option would be our Max Tile for home break dancing.
RELATED PRODUCTS