Do You Need Dance Flooring for an Online Ballet Class?
By Kyle Schurman Created: April, 2021 - Modified: September, 2023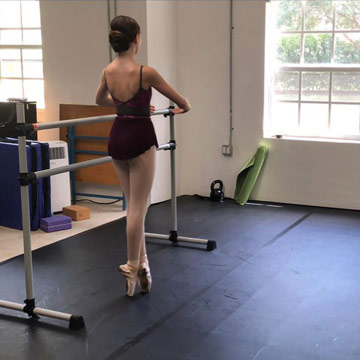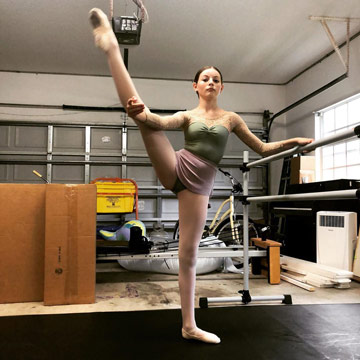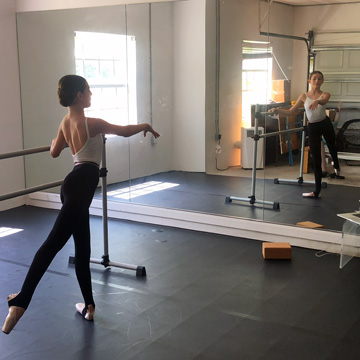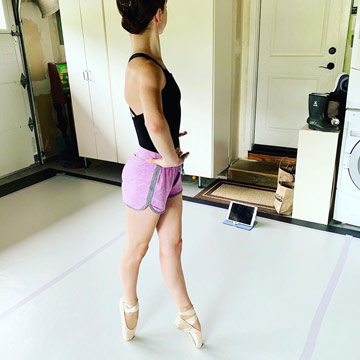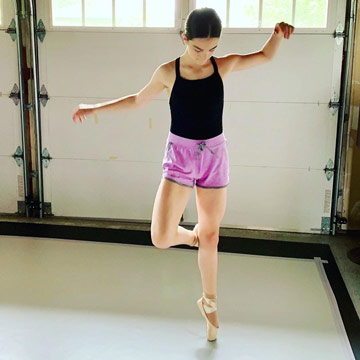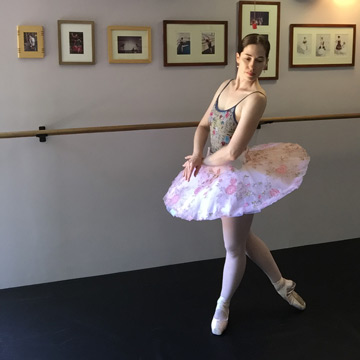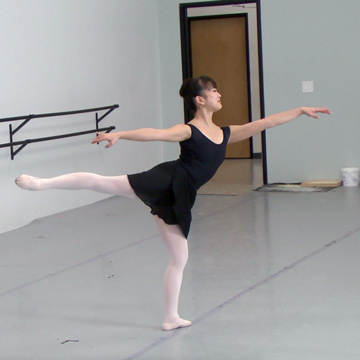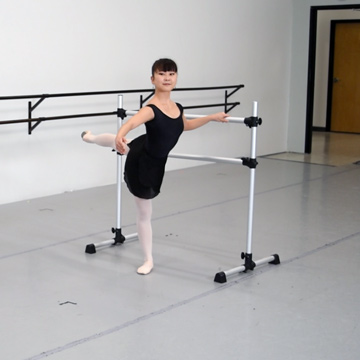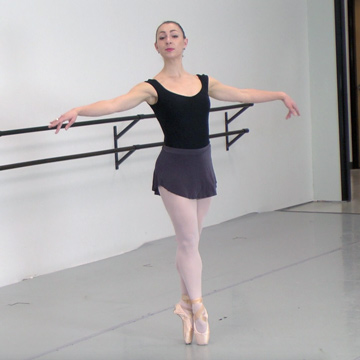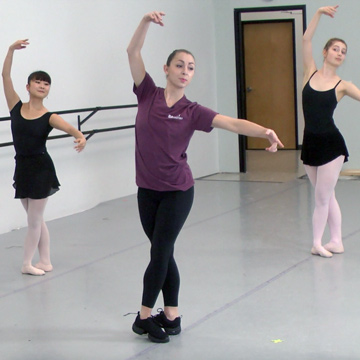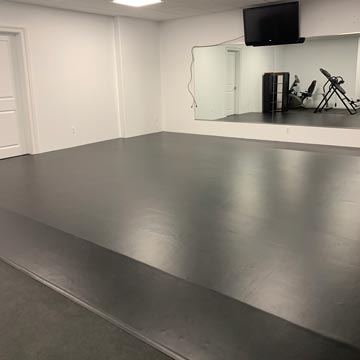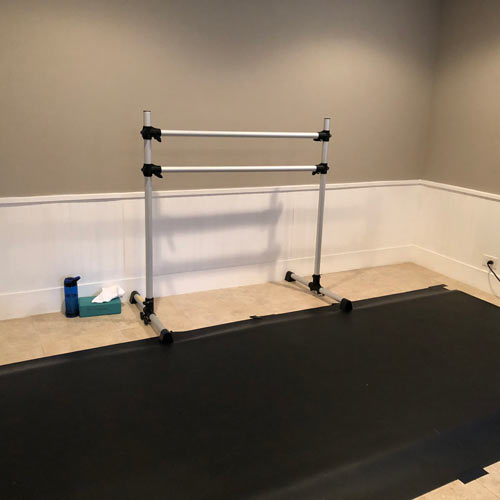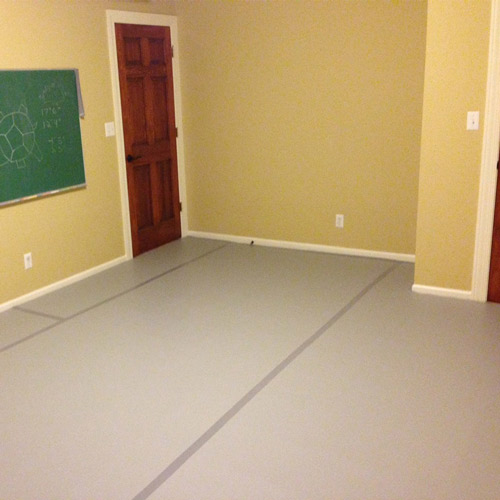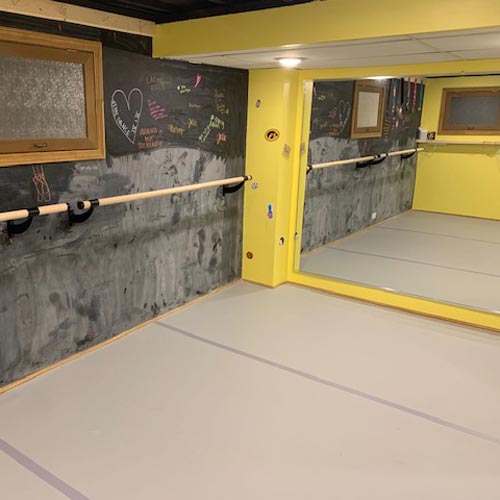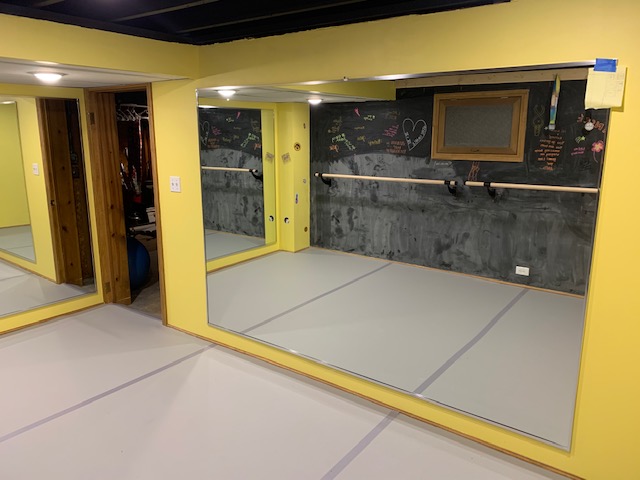 If taking an online ballet class, having the right style of flooring is important, both for the safety of the dancer and for having the best chance at success in the classes. Setting up a space for a virtual ballet class requires having the right level of padding underneath the thin ballet flooring for comfort too.
Whether beginners, intermediate, or advanced dancers are looking to take a virtual ballet class, having the best training setup at home is important to make progress in the discipline.
For those who have multiple kids taking classes in the summer or during the school year, giving everyone the training time they need at the studio can be a challenge. It can involve spending hours away from home.
Keeping a space in the home set up and open for ballet simplifies setting up the practice schedule for all of the kids. Even if the kids can practice at the ballet's city school whenever they want, sometimes it's just easier to practice at home, and having the right floor is vital.
What Are the Best Dance Floors for a Virtual Ballet Class at Home?
To set up a ballet practice area at the house that also will work for taking a live online ballet class or for watching a free teaching video, finding just the right dance surface will allow for a higher level of success. Some of the best ballet and dance surfaces for learning at home include:
Rosco Adagio Marley Rolls

Rosco Dance Floor Reversible Full Roll

Vario 2.0 Marley Dance Flooring Rolls

Reversible Greatmats Marley Roll
Installing a proper floor, rather than relying on an old, worn surface, allows the adult, teenager, child, or toddler student to work out on a flooring that resembles the same surface that's found in a professional dance studio. Matching the flooring at home to the same pro level of flooring at the studio allows the student to master and transfer the key aspects of the remote class into the in-person class at the city studio later.
What Rolls of Flooring Are Best for an Online Ballet Class?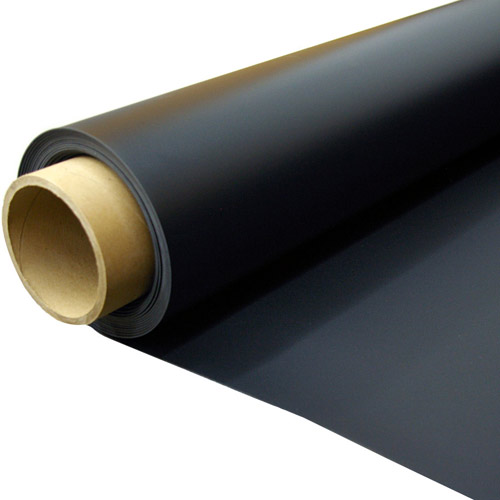 When creating a large space for practicing at home for a remote class for ballet, the Rosco Adagio Marley Roll delivers a reasonable cost per square foot. It is a studio quality type of flooring that still has a mid-range price point, making it ideal for use at the house.
It works for all dance types, so students aren't limited to taking a virtual ballet class after installing this roll. Each roll covers up to 534 square feet, which allows for creating a large space for dance practice with a tape down or glue down installation.
As shown in the customer review and profile videos for these rolls, some people choose to create more than one room for dance practice at home. When multiple kids will be practicing different dance styles with different music, having separation in their dance practice areas works nicely.
When ordering this roll, customers can select the exact linear length they want, ordering a size to match the practice space (with a minimum order of 15 linear feet). Each roll measures 5.25 feet in width.
This Rosco roll has a non-skid surface, so ballet students will have the ideal slip resistance they need to improve their skills. It has durability levels to accommodate both hard sole and soft sole shoes, meaning it will work for multiple types of dance practices at home.
The roll weighs 2.7 pounds per linear foot, so a 20-foot roll that would cover a little more than 100 square feet would weigh a little more than 50 pounds. Installation requires either a tape down or a glue down method. Those who need portability in the roll will choose a tape down installation.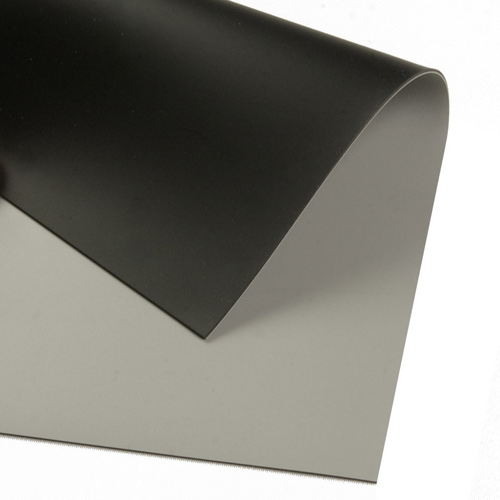 For a slightly higher end roll, consider the Rosco Dance Floor Reversible Full Roll, which is ideal for taking an online ballet class. This roll is great for soft shoe dancing, so it works well for ballet practice.
It ships in rolls that cover about 689.3 square feet and works for a tape down installation at home, which is convenient and easy.
This product also works well for touring performance companies. It has different colors on either side of the ballet floor, as it's available in a black/gray configuration.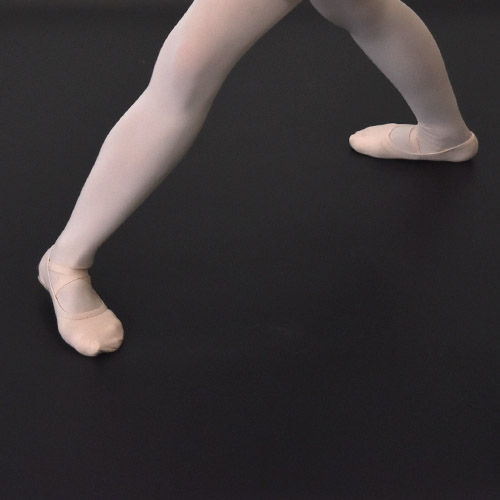 As a slightly thicker option, some customers appreciate the added durability they receive from the Vario 2.0 Marley Dance Flooring Roll. This roll will cover about 258.30 square feet and offers 2 mm of thickness, versus 1.5 mm of thickness in the other two products listed earlier.
It has a matte surface that's a bit more stable than other options, meaning it's usable for any type or style of dance. It also works for use on a stage for theatrical productions. Touring companies appreciate the durability they receive with this product. Installation goes quickly, as installers can dry lay it or use a tape down install method.
Are There Smaller Ballet Floors for Use at Home?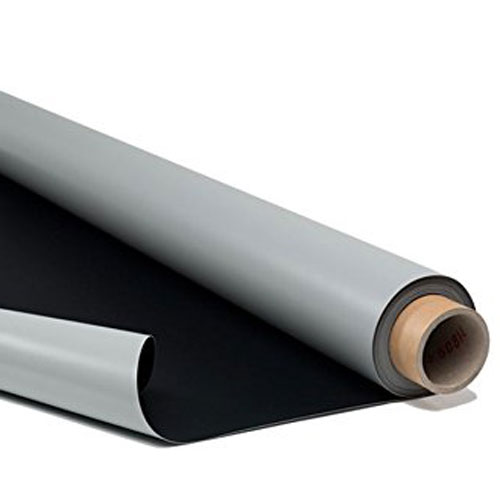 For those who would prefer a smaller roll of flooring for taking an online ballet class at home, the Reversible Greatmats Marley Roll is a popular selection. This marley dance floor works well for ballet and soft shoe types of dance, as well as for barefoot dancing.
It measures 5.25 feet in width and 8 feet in length. In a 10-by-10-foot room, an installer could lay 3 of these rolls side by side for full coverage plus some extra. Each roll has straight edges on all four sides, which simplifies laying out the rolls adjacent to each other.
At only 16 pounds, this partial roll is ideal for use at home or for those who need to set up a room for a virtual ballet class. Later, after the class, pull up the vinyl roll and return the room to its original flooring for another purpose.
What Kinds of Accessories Do You Need for a Virtual Ballet Class Flooring Installation at Home?
When laying out these ballet dance floors, students often need a few accessories beyond the actual roll of flooring to ensure a comfortable space that works perfectly for practice and remote classes. Padding materials that go underneath the ballet floors are especially important.
Because typical ballet flooring is so thin, usually 2 mm (around 1/16 inches) or thinner, it will show any imperfections in the floor. It also doesn't provide padding, which can be stressful on the lower body joints of the students, especially if installed over a hard surface such as concrete. For long practice sessions and virtual classes, this can lead to repetitive stress injuries.
Multiple types of padding are available.
Padding and Marley Floor Kit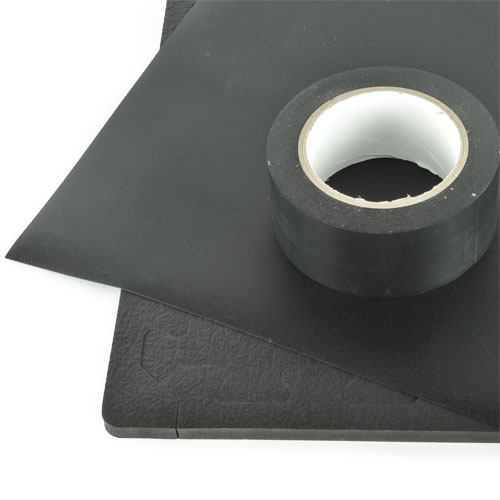 For a kit that contains foam tiles and the marley dance floor, the Home Dance Floor Package offers enough materials to provide a padded layer and a marley dance floor to cover a little more than 100 square feet.
Use the tape inside the package to adhere the marley layer to the 25-piece puzzle edge foam layer. If desired, installers can use a tape down installation to adhere the foam layer to the subflooring.
Subfloor Padding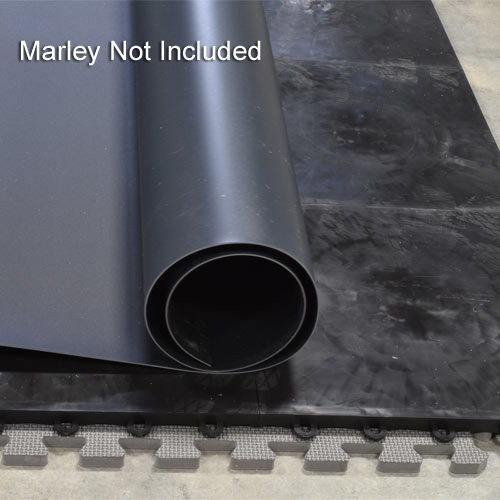 For those who already have the roll of ballet floor, use the Home Dance Subfloor product to create a padded layer underneath the marley.
This kit includes a layer of interlocking foam tiles as the base layer and a firm plastic layer of tiles over the top. Then lay the marley roll over the plastic tiles.
The foam delivers the desired level of cushioning for dancers, while the plastic layer provides the stability dancers need to perform at the highest possible level. The foam layer measures 1/2 inches in thickness, while the polypropylene plastic tiles measure 5/8 inches in thickness.
Foam Tile Padding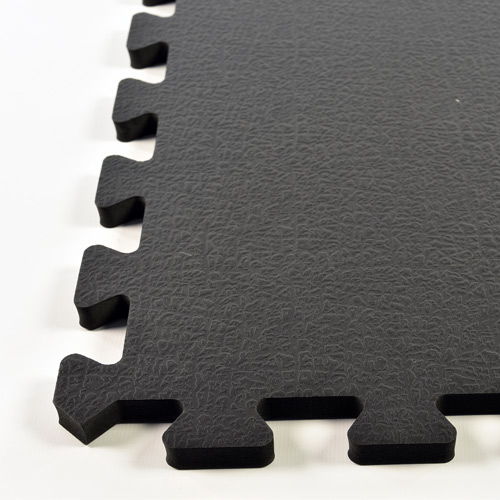 For an inexpensive option for creating a padding layer underneath the marley floor, consider the Sport Plus Designer Foam Tile. This product only offers the foam layer, as customers should have their own ballet floor roll.
These interlocking 2-by-2-foot tiles use a puzzle edge design, which ensures a secure fit without the need for glue. The tiles pop apart quickly, so installers can place them in storage when the dance practice finishes.
What Should I Use Over an Uneven Subfloor for Dance Practice?
Adding the Sprung Dance Floor Full Panel product over the top of the subfloor eliminates any soft spots or hard spots in the subfloor. This creates a far safer space for dancers versus placing the roll or the padding directly over the uneven subfloor.
Once the sprung floor panels sit over the top of the subfloor, the installer can lay out a padding layer and a ballet floor layer over the top.
These panels provide just the right amount of bounce and spring for dancers. Each panel measures 42 by 42 inches, so installing the floating dance floor doesn't take much time.
Can I Install a Ballet Barre at Home?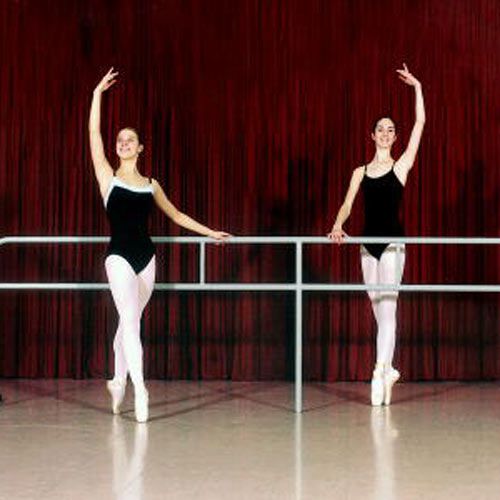 Having a barre available for at-home practices and remote classes can be a significant advantage for improving skills. The PortaBarre with Case product gives customers a portable barre for use anywhere.
It measures 4.5 feet in width, which is perfect for one student to use. The higher barre measures 43 inches from the ground, while the lower barre measures 32 inches.
This aluminum barre kit weighs 20 pounds with a carrying case. When practice comes to an end, it pops apart for easy storage. Assembly does not require tools or locking keys, which simplifies and speeds up the process.