The Best Kids Puzzle Play Mats For Hardwood Floors
By Kim Butler Created: July, 2017 - Modified: August, 2023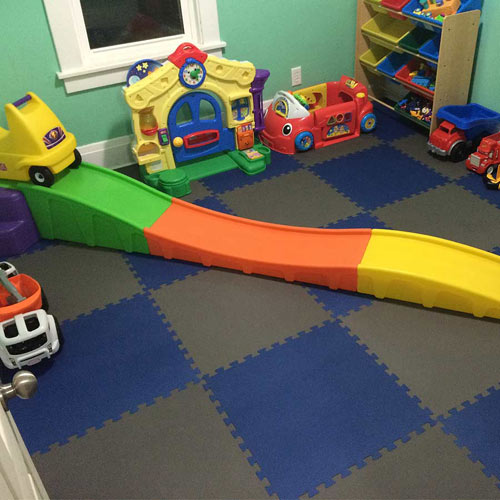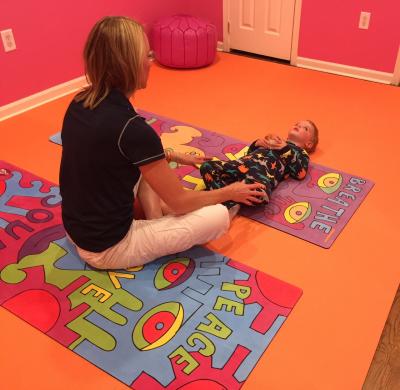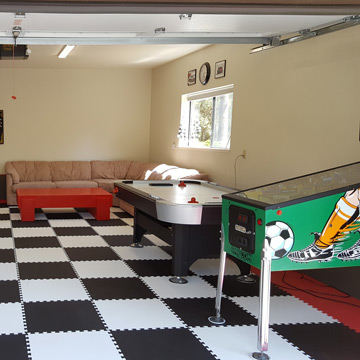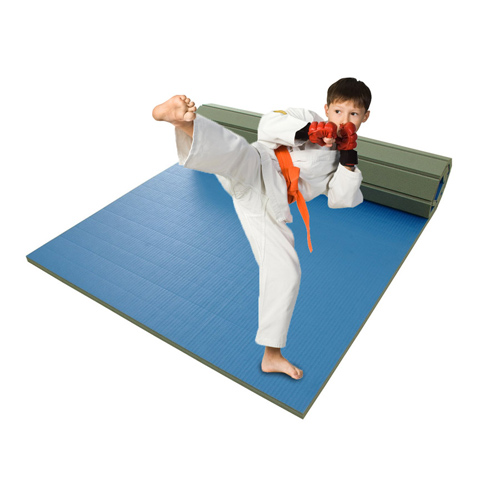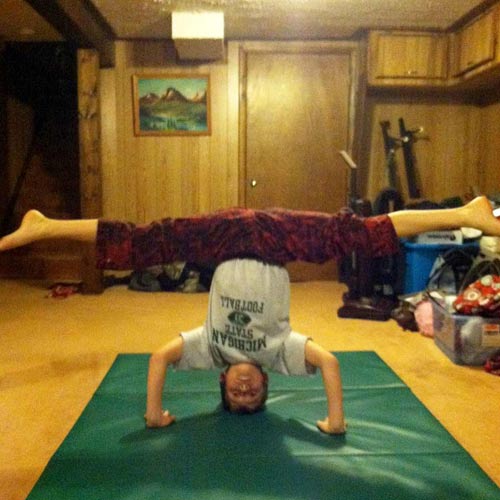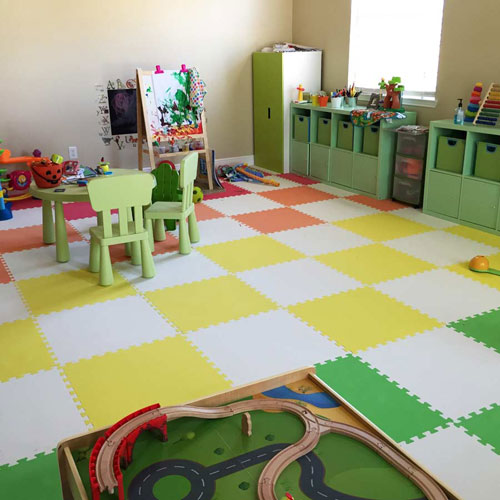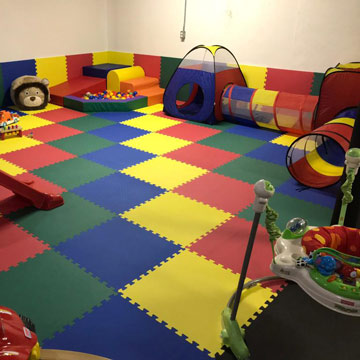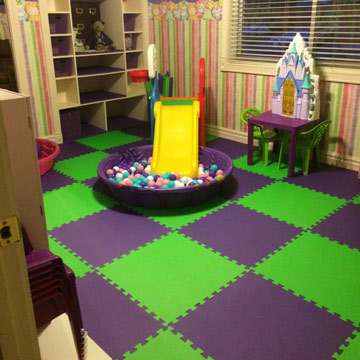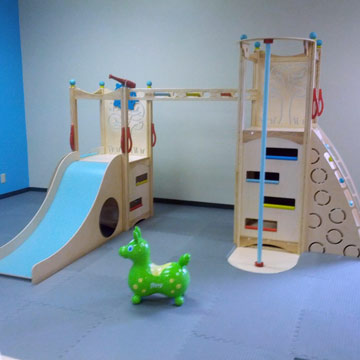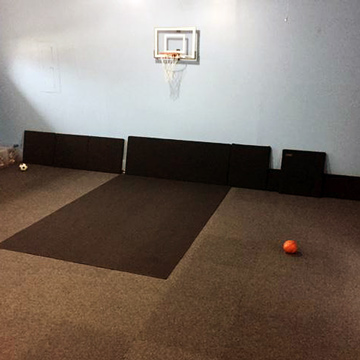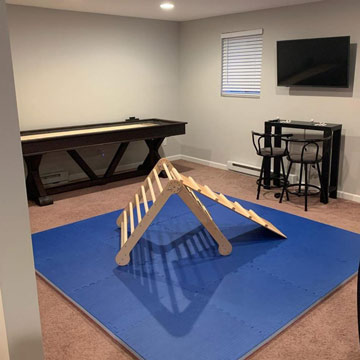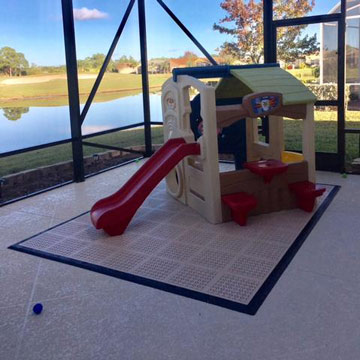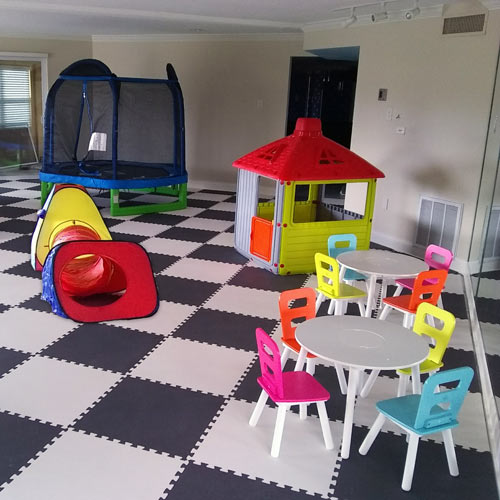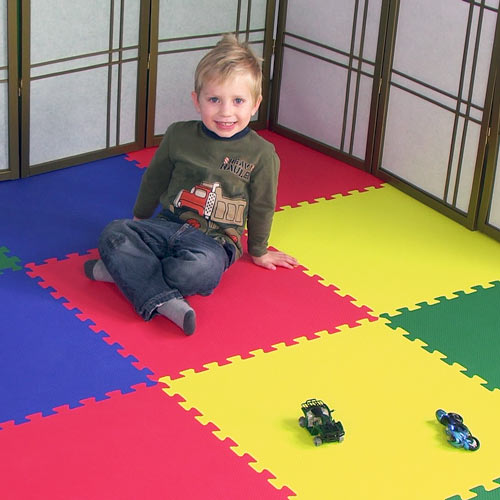 When my first child was starting to crawl, I baby-proofed our house against every potential accident or injury. The coffee table edges were padded; the outlets were plugged; the glass vases were put away, etc. etc. You get the idea.
Foam Play Mats
You can imagine how happy I was when my husband brought home a stack of brightly colored soft PVC foam puzzle mats. We covered our family room with them. I didn't even care that they clashed with my decor. I was happy to know that my precious little one's head wouldn't be having a nasty impact with our hardwood floors.
Those puzzle mats, and more to come, would cover parts of our house for years. I loved that I could hose them down, bring them to the back yard for a play session or picnic, or even get a quick yoga session in while the kids napped.
Our children learned to crawl, then walk, on those mats, and they served as a great play surface. Now that the kids are in high school, we use them mainly for camping, exercise, and our dogs, but they were a lifesaver.
When we got around to covering our whole basement, I loved how I could pull one up and wash it if some finger paint spilled. If someone got a little creative and jabbed divots in another one with a piece of Lego, I could easily replace it. Since the time my kids were little, a host of other mats have now become available that will suit your kids' unique needs.
Back to my favorite puzzle mats for just a bit. We learned that the cheaper, thinner mats available at big box stores just didn't offer the same cushy feel or bright colors as the mats we bought online. The cheaper mats didn't hold up as well, and frankly, I didn't really want big parts of my house covered by red, blue and green primary color mats.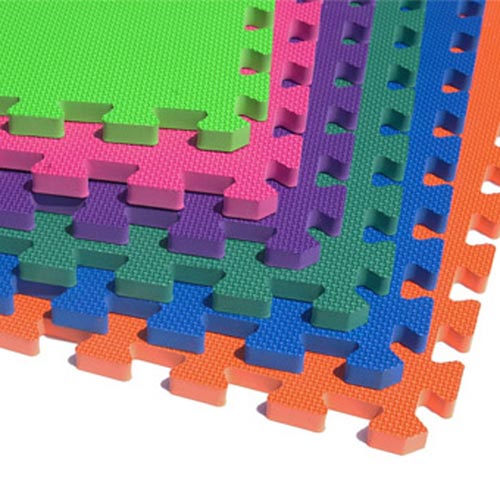 By Kid #2, I started caring about aesthetics again, and appreciated that online specialty mat company, Greatmats.com offered soft EVA foam mats in a boatload of colors, 15 to be exact.
I could mix and match colors and create patterns. Our daughter could have the bright pink she adored in her room, while my son chose a floor of blue and grey to match his camo bedding.
These mats are lead and latex free, which is so important if you have little ones crawling on them. They fit together easily, and have a soft surface on one side, and a textured, non slip surface on the other.
While I prefer the feel of the soft surface, the textured side proved to be more durable, and I didn't have to worry about anyone slipping. Plus, they added a layer of warmth to our basement, meaning that I could move the toys out of the family room and set up a safe play space downstairs.
Whenever we had playdates or birthday parties down there, I always got compliments on our our foam floors.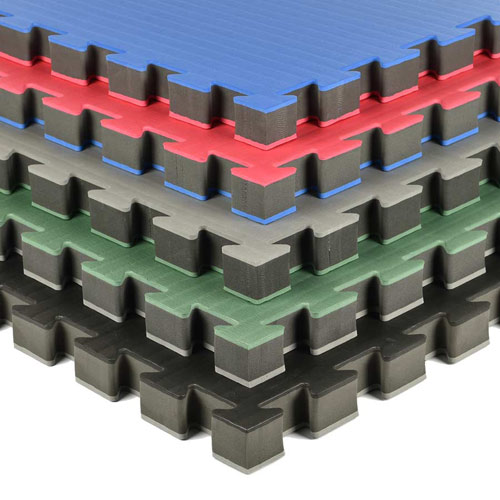 Greatmats has several types of foam mats of different thickness. One even has enough cushion that a
raw egg will not break if you drop it on the mat from 68 feet
! That will make a worried parent rest easy. Other mats are suitable for especially active or athletic kids.
Soft Plastic Play Flooring Tiles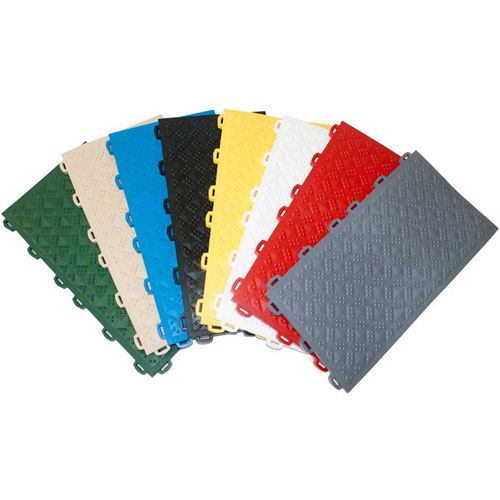 As much as I love foam mats, they may not work for you. For example, in a high traffic area, a better option would be a raised tile like the
Ergo Matta CushionTred
, available in a variety of solid colors.
These rubber and PVC tiles are durable, but still soft, and supportive for your little ones. They are non slip and even dampen sound - definitely a bonus to any parent.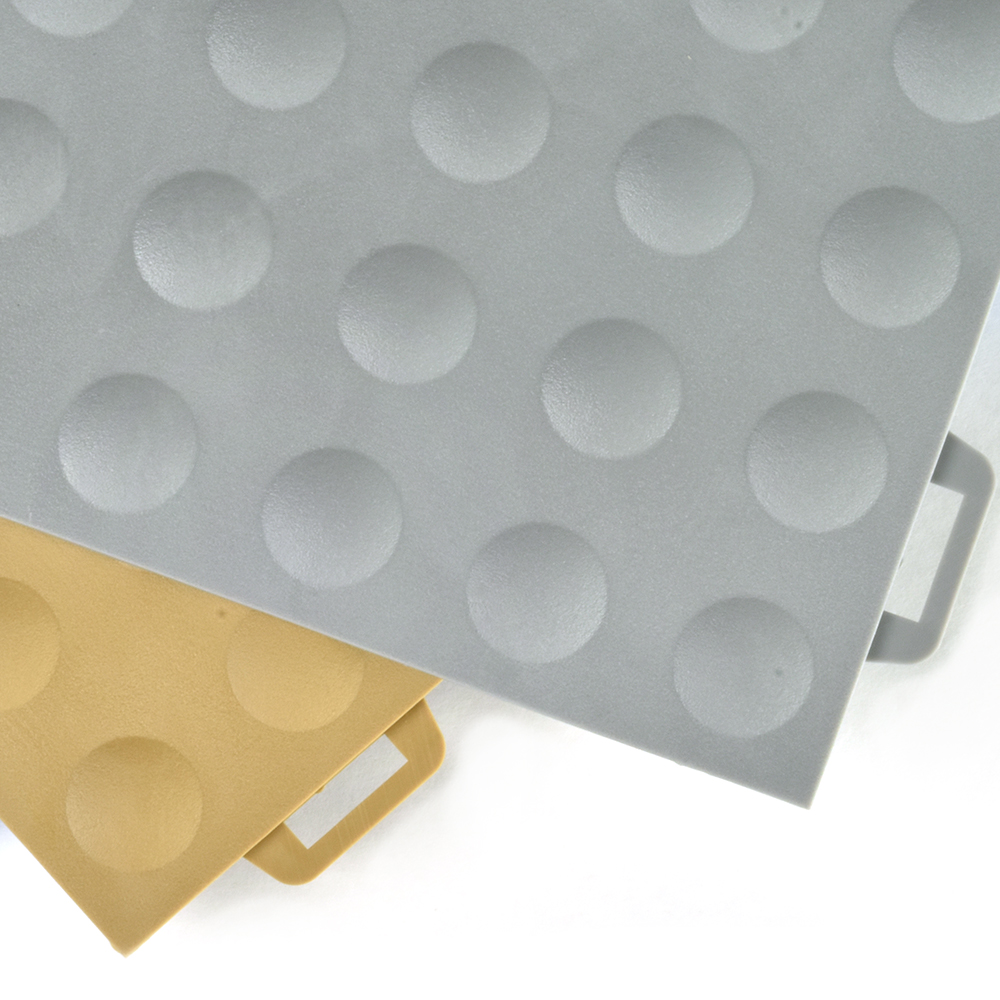 Even more cushy are solid StayLock PVC tiles, available with Bump Top or Orange Peel surfaces in a selection of colors. These tiles have the durability of rubber with the cushioning of foam.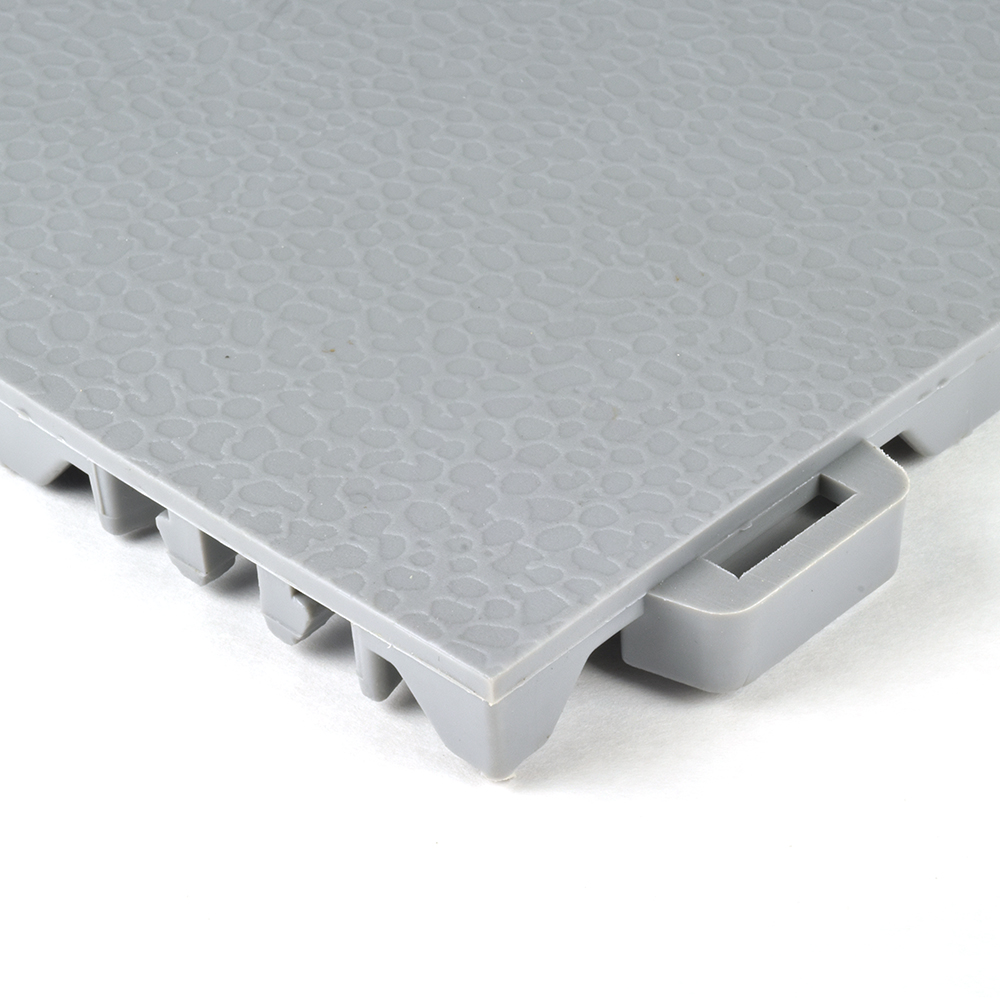 Both the ErgoMatta and StayLock tiles are easy to clean - important with kids, and both can stand up to exercise equipment in case that play room is destined to become an exercise room someday.
Perhaps you just want a temporary mat, or your toddler or preschooler is showing signs of becoming the next Simone Biles or John Cena. You might want to consider a
fold out
or
rollout cheer
, gymnastics or exercise mat.
These mats can be rolled or folded up when not in use, and easily moved from room to room.
They are great for rough housing and tumbling, as well as martial arts and cheerleading.
Covered in vinyl or carpet, these foam core mats are easy to clean and stash in a corner or closet, meaning they can be moved around your home, or even to grandma's house for the weekend.
They are the same mats you'll see at gymnastics centers, martial arts studios and cheerleading gyms, so you know your little one will be protected when they take a tumble.
Whatever mat you choose, it is never too early to start protecting your child. Most mats are versatile and portable, and can go with you if you move to a new home or apartment. Mats can be repurposed when your children are grown, or passed on to relatives or preschools.
Another benefit of mats is they protect your floors, whether hardwood or carpet, from the everyday spills and accidents that are part and parcel of life with children.
Take a moment to think about your family's unique needs and get some advice from a knowledgeable customer service rep at Greatmats.com.