Sundance Horse Stall Mat Kit Black 3/4 Inch x 10x10 Ft.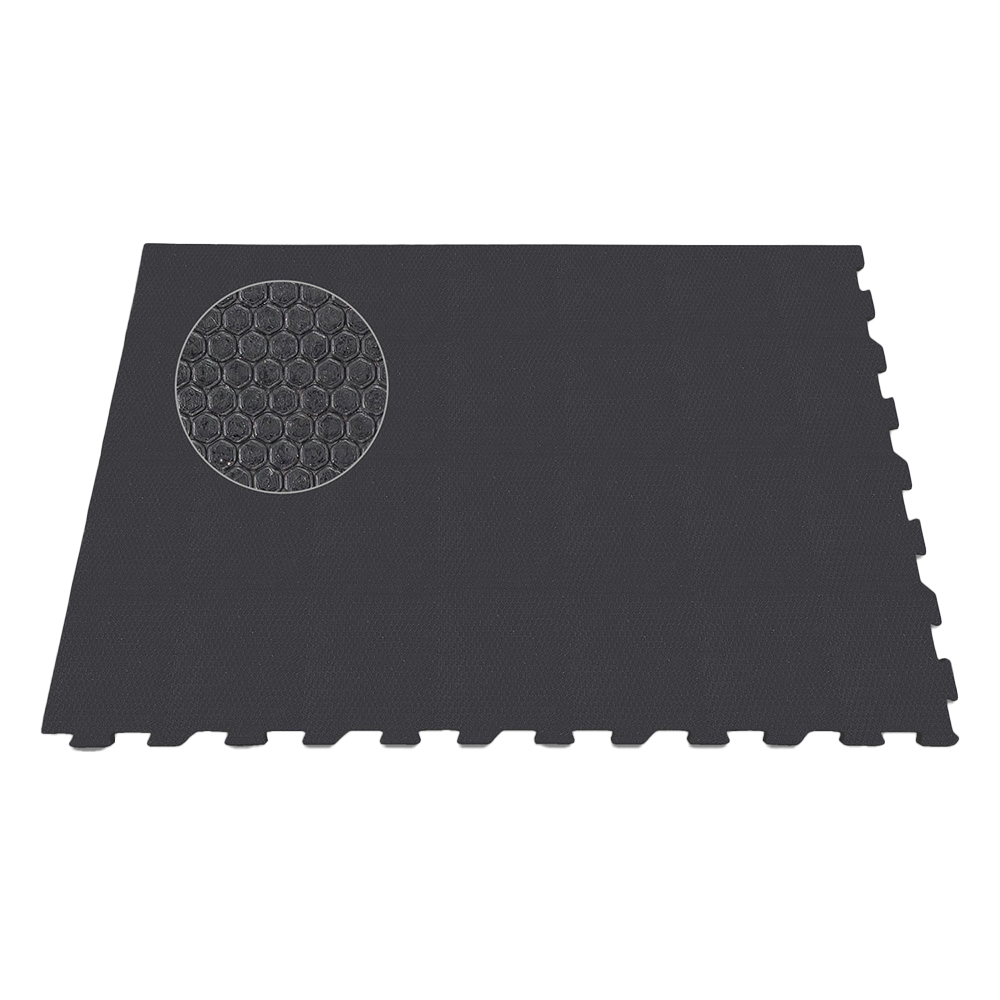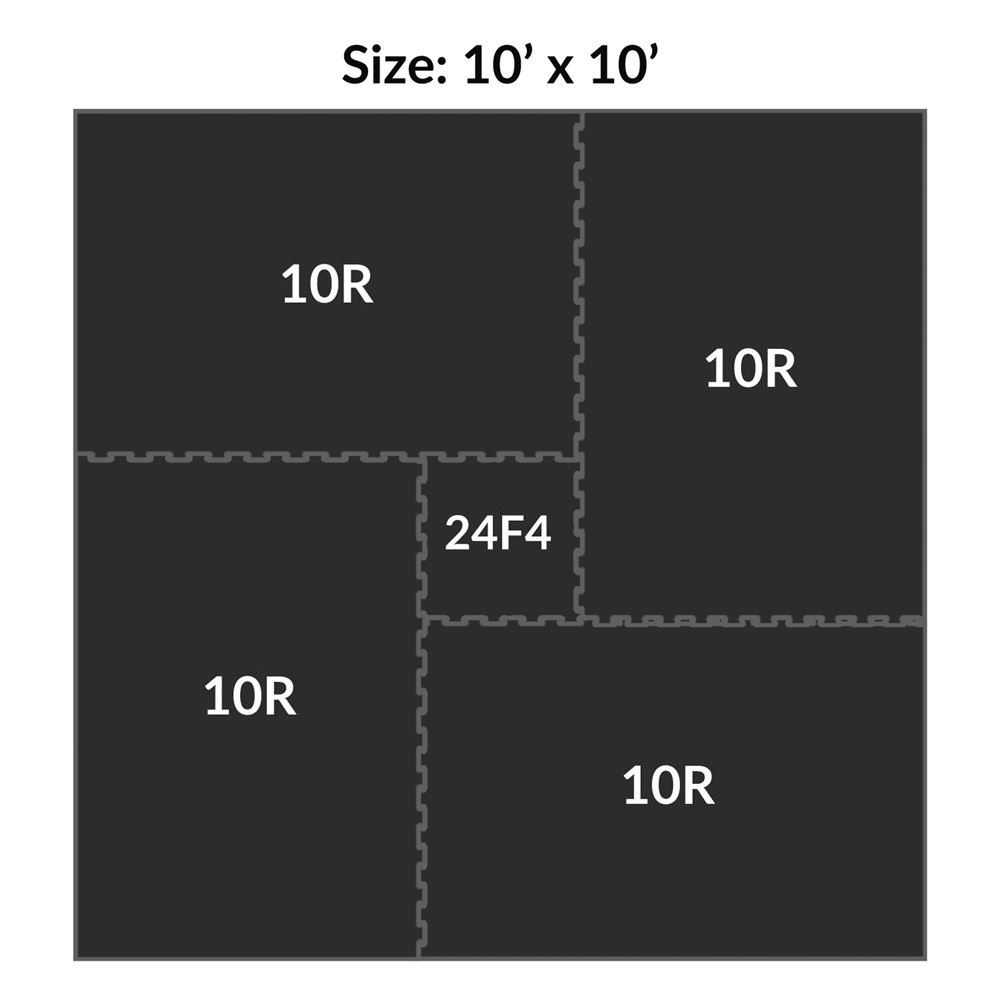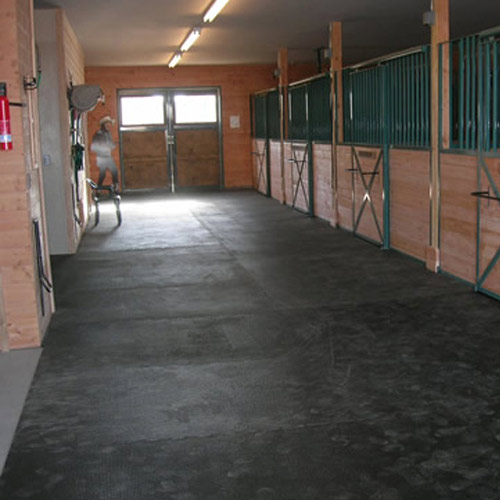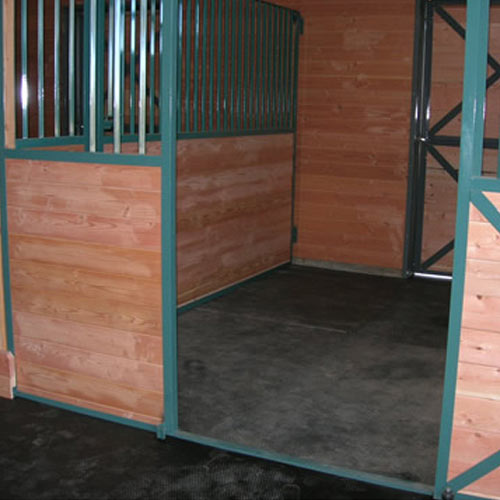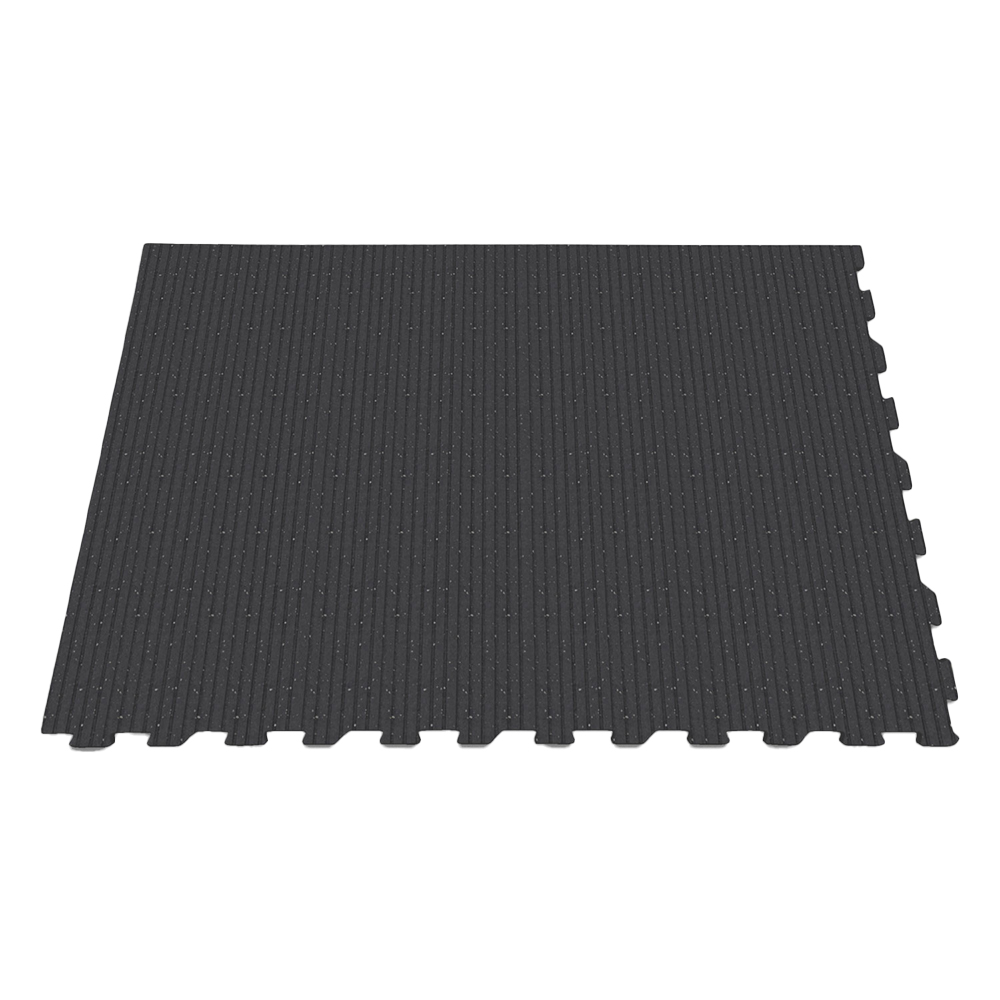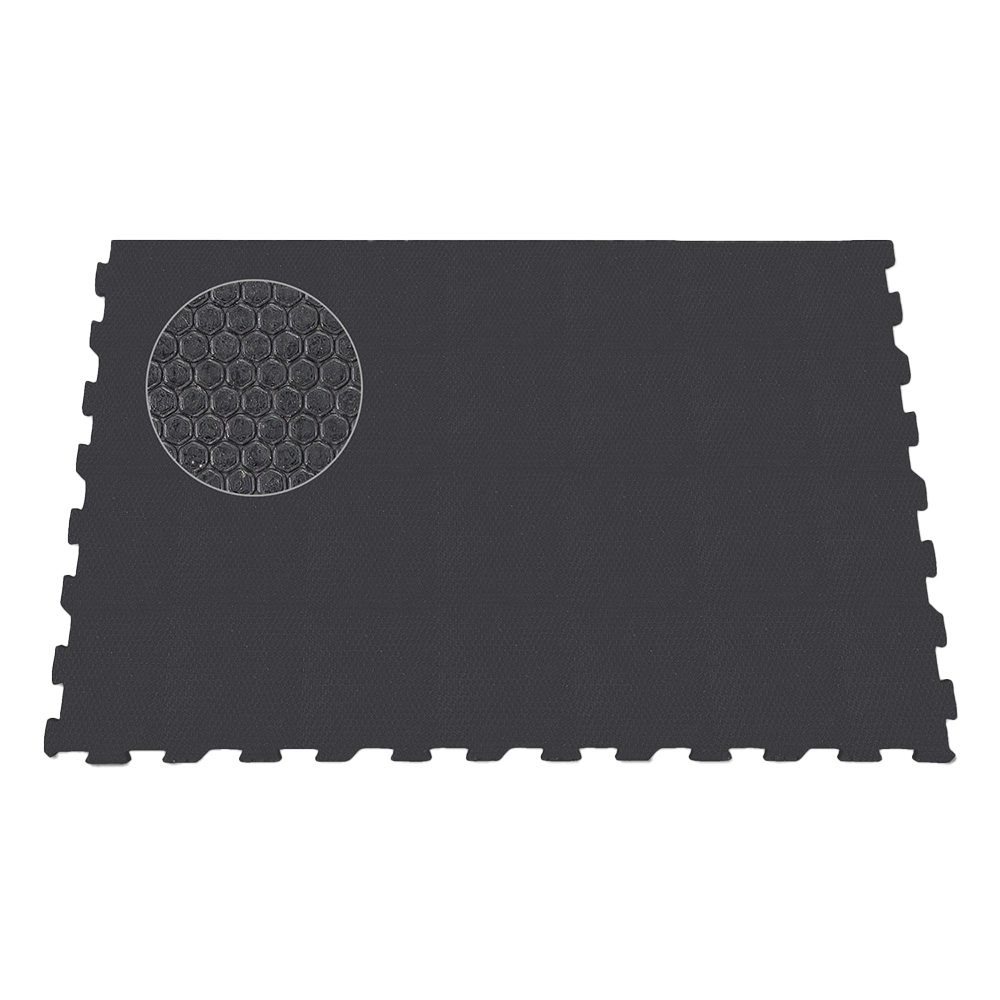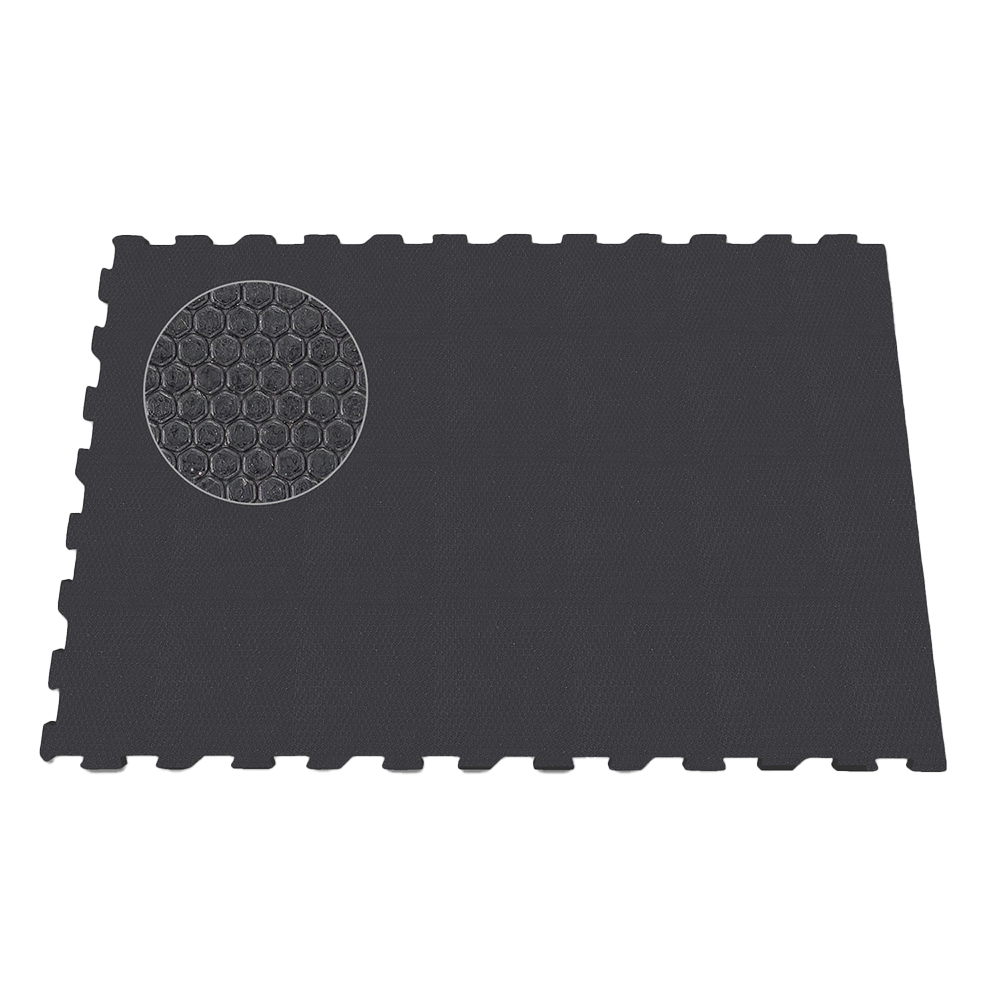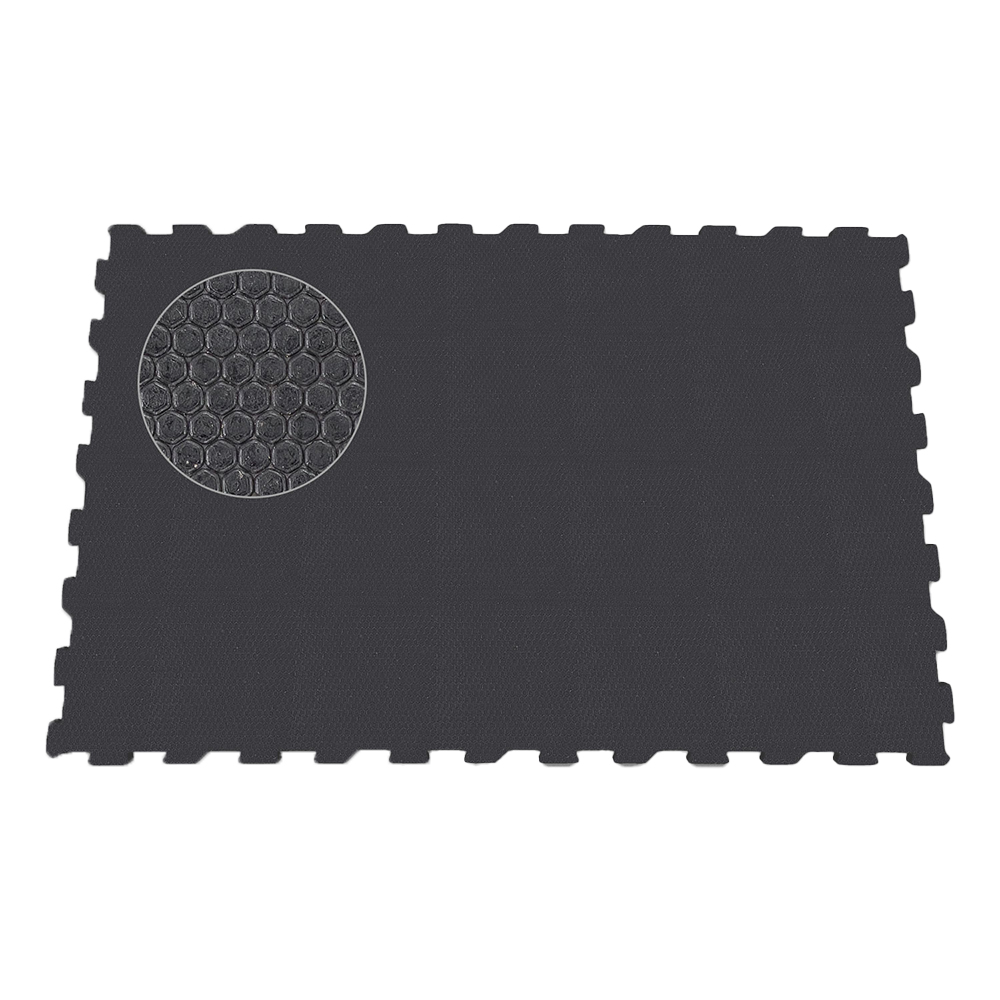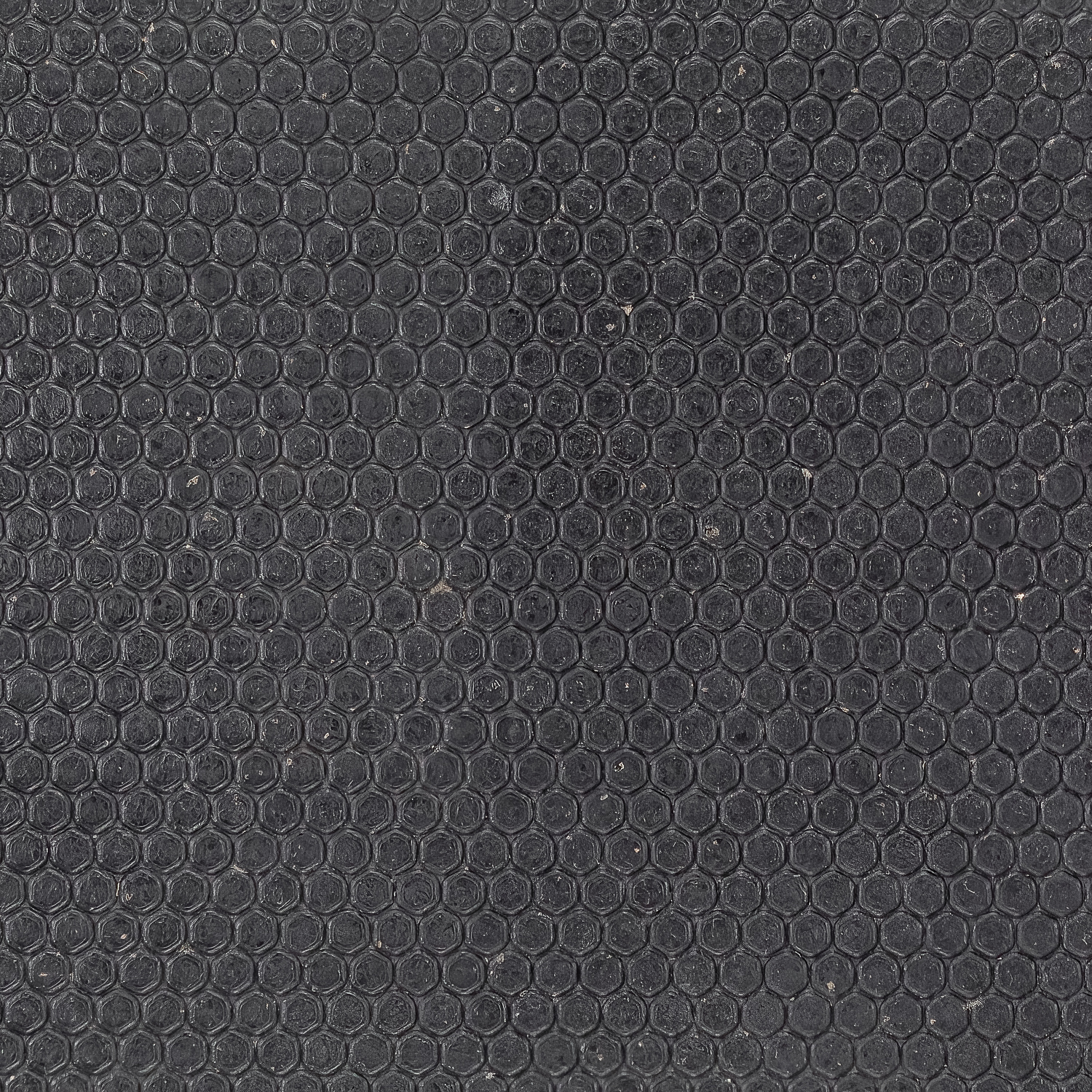 Affordable horse stall kits
Made from 100% recycled rubber material
Kit includes five interlocking mats
Handling Time Estimate: 3-4 Weeks on Average

Black
Affordable horse stall kits
Made from 100% recycled rubber material
Kit includes five interlocking mats
No adhesive needed
Hexagon surface texture
Durable rubber stall mats
Interlocking tiles makes for easy cleaning
Assembled size 9 ft 7 in x 9 ft 7 in
Horse Stall Mats, Stall Aisle Ways, Commercial Gym, Functional Training, Fitness Center, Weightlifting, Gym Floors
NOTE: This item is a custom order and is not returnable.
10x10 Stall Mats, 10x10 Horse Stall Mats, Rubber Stall Mats 10x10
When you need to cover a large area with rubber flooring, but you also want to be able to handle this heavy flooring material more easily, the Sundance Horse Stall Mat Kit Black 3/4 Inch x 10x10 Ft. product works perfectly. This rubber mat kit consists of five pieces that interlock, ensuring you have smaller pieces you can carry. These deliver a high level of durability and performance once they're connected.
This rubber stall floor kit works great in horse stalls, as it has a 3/4 inch thickness measurement that will stand up to the weight of the horse. Additionally, these 10x10 stall mats have the ability to give your sub-floor protection in areas like weight rooms or athletic gyms for cross-fitness.

Understand that these 10x10 horse stall mats will have a strong rubber odor, so you will want a large area for ventilation when using this rubber mat kit indoors.


Horse Stall Mat Easy Installation

Our rubber stall mats 10x10 product will be easier to install than some other rubber stall floor kit options. To create the full size of the 10x10 stall mats, you will put together four mats, each 4x6 feet in size, and a mat that fits in the middle of 2x2 feet to complete the rubber stall mats 10x10 size.

The net size of a standard 4x6 interlocking mat is 46.5 inches wide by 69.5 inches in length which covers 22.44 square feet per tile. After interlocking, the assembled size of this Sundance 10x10 Horse Stall Mat Kit is 9 feet 7 inches x 9 feet 7 inches.

Because of the interlocking edges on the pieces that make up the 10x10 stall mats, you'll end up with an actual size of about 9.58 x 9.58 feet when the installation is completed.

As each of the pieces for the 10x10 horse stall mats features interlocking edges on the interior and flat edges on the exterior, you'll have a finished look on this rubber flooring, which makes it perfect for use in a customer-facing environment at your gym.

Our 3/4-inch rubber product is heavy, as the final weight of installed 10x10 horse stall mats will be 416 pounds in all. So you can see the advantage of having multiple pieces in this kit, as the smaller pieces will be easier to carry and maneuver into place during the installation process than one huge piece. The 4x6 foot size mats are heavy and having at least two people will be needed to carry and install these mats.
High Quality Stall Mat Materials
Because our rubber stall mats 10x10 size is a Made in Canada product, you can count on the quality and safety of the materials that go into the tiles. These rubber 10x10 stall mats have a Shore A 65 material hardness rating, which ensures they will stand up to rough treatment well. This product is made from 100% recycled rubber material. You're going to receive a 10-year prorated manufacturer warranty with the 10x10 horse stall mats, which results in great value over time.
You're also going to love the hexagon-like top texture on the rubber stall mats 10x10 product, which will give you added traction and grip while using your flooring, which can be especially important when your 10x10 horse stall mats become wet.
Please contact our customer service team when you're ready to order the Sundance Horse Stall Mat Kit 10x10 Ft Black product. Because of the large amount of weight included in the pieces of this kit, we will help you determine the best warehouse to use for the lowest shipping rate.
This 10x10 ft Horse Stall Mat Kit with a hexagon top is stocked in the following locations nationwide. Please contact us for the best possible shipping rate.
North Haven, CT.
Atlanta, GA.
LaGrange, KY.
Orlando, FL.
Denver, CO.
Colton, CA.
Straight edge 4x6 ft tiles of the same product are also available at a cost savings. Interlocking pre-designed kits in standard sizes are available.
The surface pattern has changed from Pebble to Hexagon as of March 2023.
Shipping
Freight shipping only on pallets only.
This Product Ships Freight Only.
Please review our shipping disclaimer.
| | |
| --- | --- |
| SKU# | RSMHVV4-10x10KITB |
| In Stock | Yes |
| Product Type | Mat |
| Material Type | Rubber |
| Product Edging | Straight |
| Thickness | 3/4 inch |
| Width | 9.70 feet |
| Length | 9.70 feet |
| SF per Item | 100.00 |
| Weight | 395.50 lbs |
| Packaging | Shrink Wrapped on Pallets |
| Number of Pieces per Package Type | 5 |
| Non Absorbent | Yes |
| Special Adhesives | No |
| Universal Interlock | No |
| Interlock Loss | 0.00 feet |
| Material Hardness | Shore A 65 |
| Interlocking Connections | Yes |
| Made In | Canada |
| Surface Finish | Hexagon top |
| Surface Design | Solid color |
| Installation Method | Dry lay, interlocking |
| UV Treated | No |
| Reversible | No |
| Border Strips Included | No |
| Manufacturer Warranty | 10 Year Prorated |
Product Questions:
Q: Can you put these over concrete floor
A: Yes. Over concrete is the best application.
Q: Is this product vulcanized?
Q: What are the differences between the Sundance Horse Stall Mat Kit 10 x 10 Ft Black and the Horse Stall Mats 10x10 Ft Kit black?
A: The main differences are the surface textures and undersides. The Sundance version has more of a hexagon type surface instead of a low profile diamond texture. The Sundance version also has a channeled underside rather than a flat bottom to the mats.
Q: Hello Our stall area is 9'5'' x 10'0''. Can the 10'0'' x 10'0'' mat be cut or can mats be special ordered? Chuck
Q: How much is the shipping to Crownsville, maryland?
A: Shipping rates are based on order volume and the delivery address. Please call 877-822-6622 to obtain a quote from one of our sales reps.