Home Gym Flooring Options over Concrete, Carpet and more!
By Paige Cerulli Created: July, 2018 - Modified: September, 2023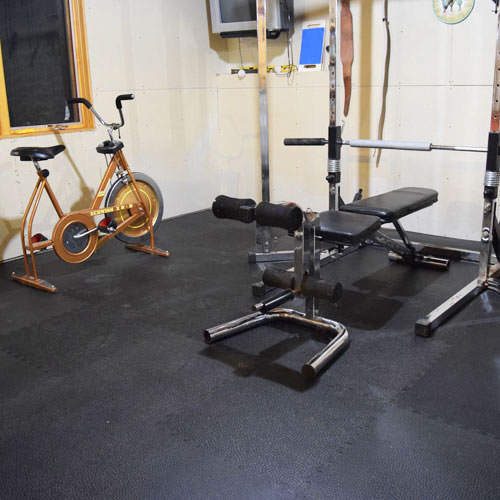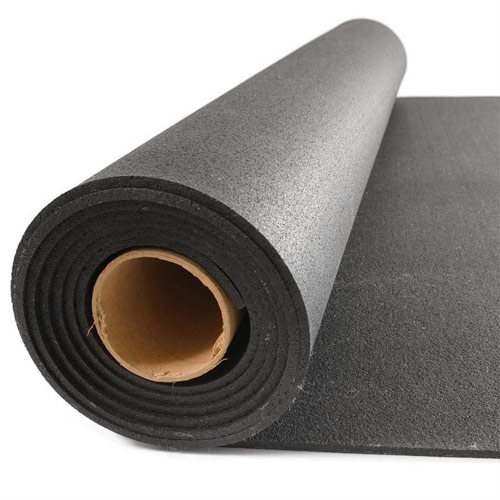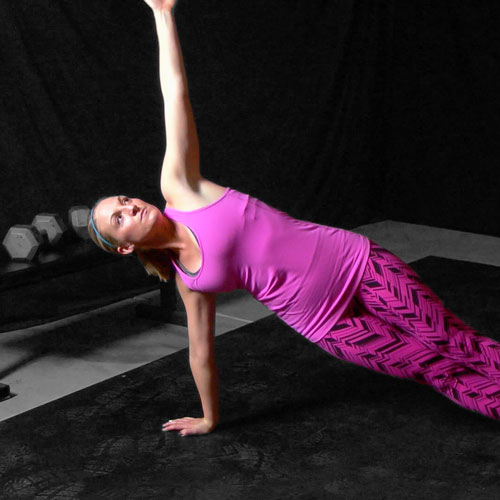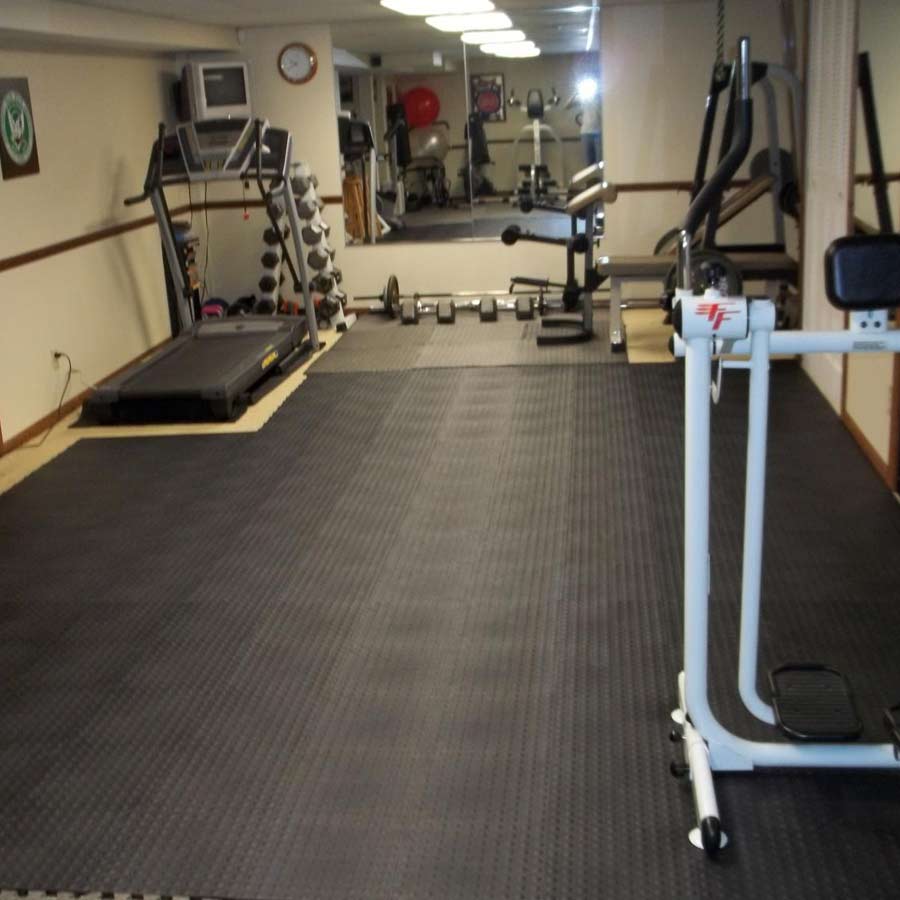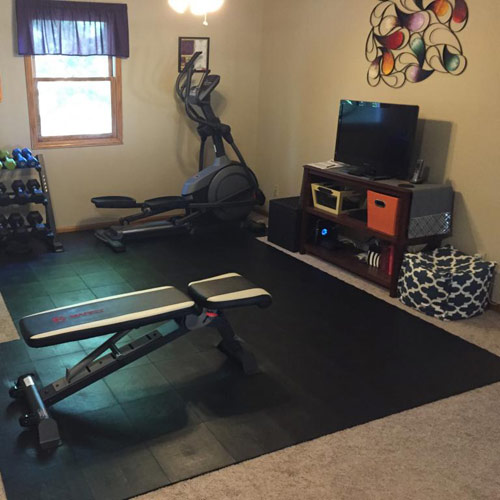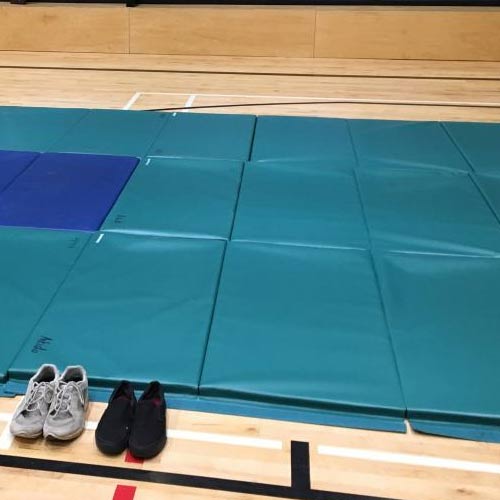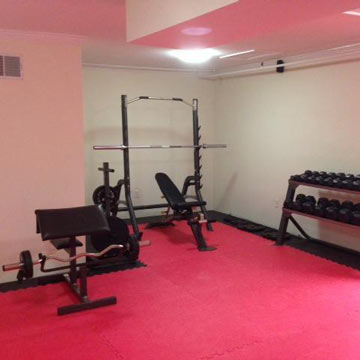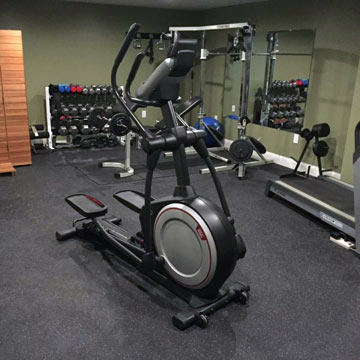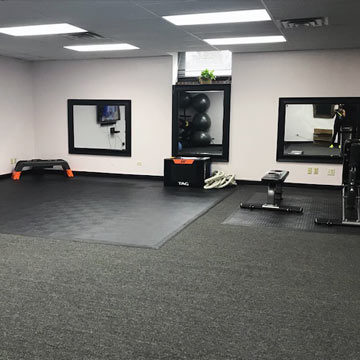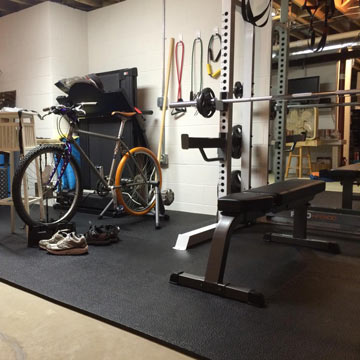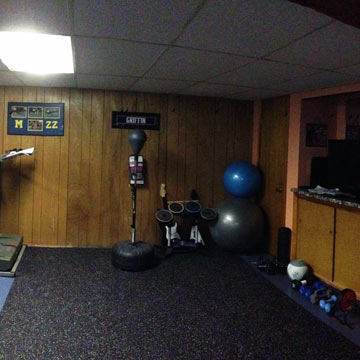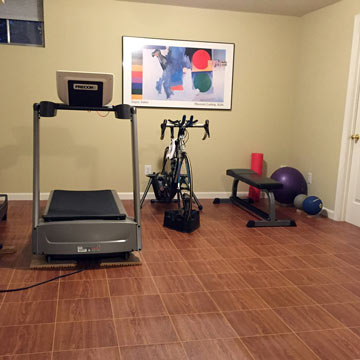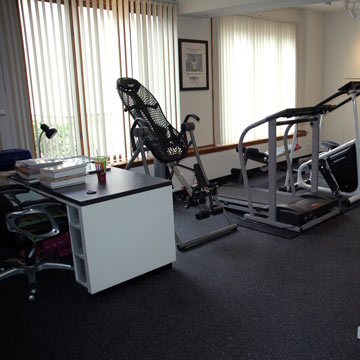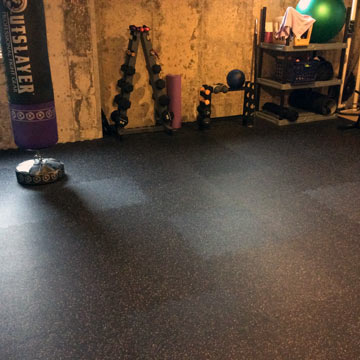 Do you want the convenience of a gym right in the comfort of your own home? Thanks to the many home gym flooring options available, it's easy to convert an existing space, such as a basement or a garage, into a gym of your very own. Never miss a workout again because you're too tired to drive to the gym or just don't have time to fit a workout in.
At Greatmats, we offer a wide selection of home gym flooring options suitable for use over concrete and carpet. These six home gym flooring ideas will help you to get started in planning your project.
Interlocking Home Gym Mats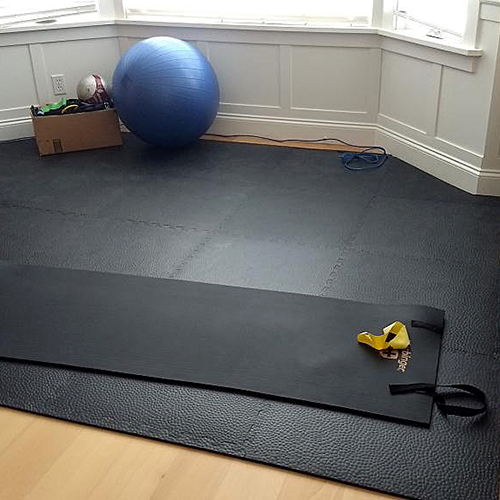 Install over: Concrete
If you're looking for a comfortable and forgiving surface for your home gym, these Home Gym Mats will fit the bill. The high-density EVA foam is strong enough to withstand the weight of exercise equipment, and the top texture pebble design provides just the right amount of traction. The tiles are non-absorbent and lead and latex-free, so they're easy to clean and safe to have in your home, even with kids around.
These tiles are lightweight and portable, and their interlocking design makes installing your floor a breeze. Each tile includes two border pieces, so you can create finished edges for both wall-to-wall and island installations.
Rubber Flooring Rolls 1/4 Inch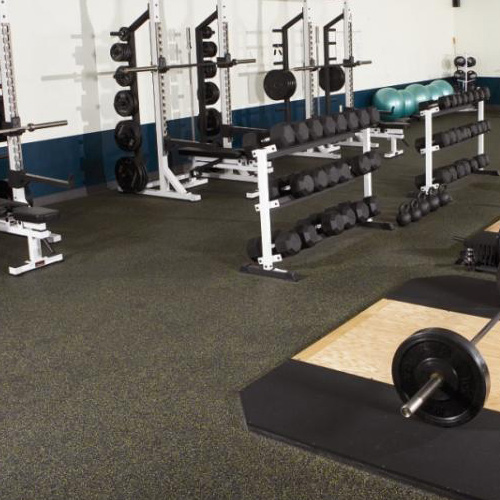 Install over: Concrete
If you're looking for durable rubber flooring for home gym use, consider our Rubber Flooring Rolls Geneva 1/4 inch Regrind. This rubber flooring is suitable for use as a home gym flooring over concrete, and you can simply unroll the flooring and begin your workout - there's no adhesive required. You can even roll up and store this flooring away if you need to use the space for other purposes.
This rolled rubber is an economical flooring option, costing just over $2.50 per square foot. It's durable enough to support significant weight, such as that of heavy gym equipment, and also offers a thermal buffer from cold cement.
Vibration Reducing Rubber Tiles
Install over: Concrete
When it comes to home gym flooring ideas that can withstand heavy-duty use, our UltraTile Rubber Weight Floor Tiles are a favorite option. These commercial-grade recycled rubber tiles measure a full 1 inch thick and bring incredible strength and durability to your home gym. Their special design helps to reduce noise and vibration, which is ideal for any home environment. These home gym mats will not harbor or promote bacteria growth, and they're completely non-absorbent for easy cleanup.
You can install this home gym flooring over concrete without worrying about the edges curling up or the tiles shifting. Their smooth pattern top surface provides plenty of traction, and the tiles use a Quad Blok install system to make a tight-fitting, secure connection.
Fatigue Relieving Modular Gym Flooring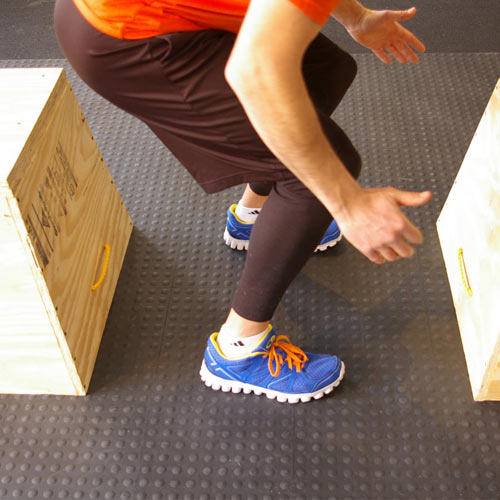 Install over: Carpet or cement
Versatile and durable, Staylock Tiles are a great option for any home gym. You can install this home gym flooring over carpet or cement floors, allowing you to convert a finished basement or a spare bedroom into your gym. An active locking connector system means there's no adhesive needed, and you can even remove the tiles in the future if you choose.
Made of a durable PVC material, these tiles offer superior cushion and bounce, and they're perfect for intense aerobic workouts. They're strong enough to be used in both professional gyms and in-home settings, and they're available in beautiful designer colors. The bump top surface offers ideal traction to help prevent slips and falls.
Cushioned PVC Gym Flooring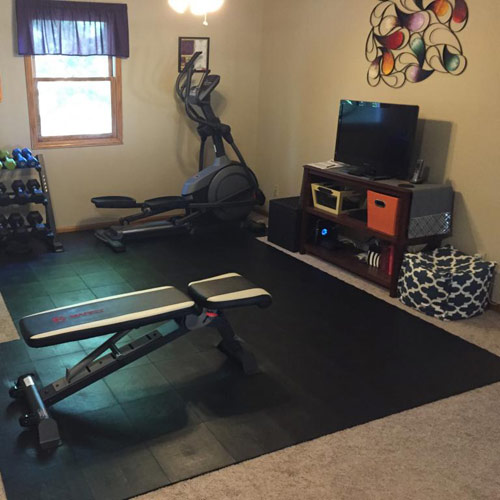 Install over: Carpet or Concrete
For superior durability, consider our StayLock Tile Orange Peel. These home gym mats offer the same extreme durability that you would expect from rubber flooring but with additional benefits. These tiles are waterproof and require no waxing or finishing. They offer superior cushion and are ASTM fall height rated at 20 inches. They're suitable for use with high-impact workouts like aerobics, P90X, and more.
You can install this home gym flooring over concrete, carpet, or any other hard, flat surface, so there's plenty of versatility in terms of where you locate your gym. The hidden connector lock design keeps the tiles from pulling apart during use but allows you to separate them in the future if you wish. These tiles have a typical lifespan of an incredible 20 years.
Folding Gym Mats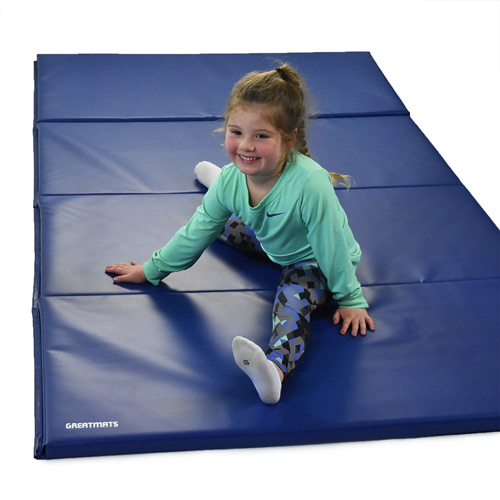 Install over: Most Flooring Surfaces
Looking to add a cushion to an existing space? Our Gym Mats can be laid on top of any flat surface and will instantly make a comfortable, forgiving gym floor. These home gym mats can be temporarily installed simply by unfolding them. When you're done with your workout, just fold the mats up again and store them away. They're ideal for home use when you don't want to sacrifice a space to use as a gym full-time, or when you need a little extra cushion in your home gym.
These home gym mats feature a durable inner PE foam core and are capable of absorbing shock to reduce the risk of injury to cheerleaders or martial arts athletes. They also make your floor comfortable enough for floor exercises. Their durable vinyl shell can withstand rough treatment, and the mats have a 1-year limited warranty.
Choosing Your Home Gym Mats
At Greatmats, we have many different home gym flooring options. Look for a product that meets your needs in terms of budget, type of exercise, the weight of equipment to be stored in your gym, installation method, and the type of subfloor that you're working with.
If you still have questions about which product is just right for you, please contact our customer service team. We would be happy to send you product samples, provide shipping quotes, and help you find the right product for your home gym.