Is EVA Foam Good For A Gym Floor?
By Lisa Hobbie Created: July, 2020 - Modified: September, 2022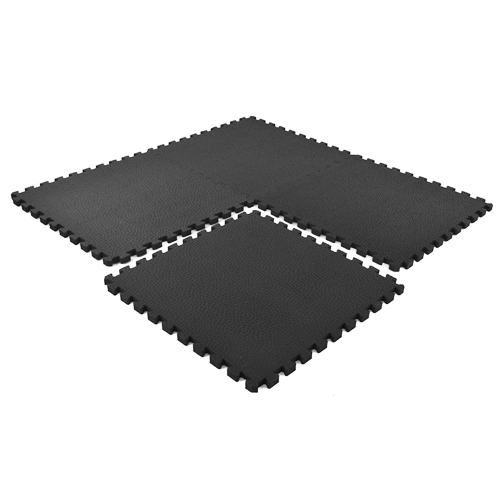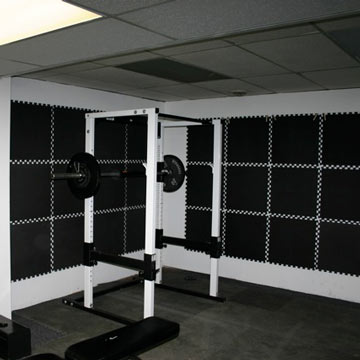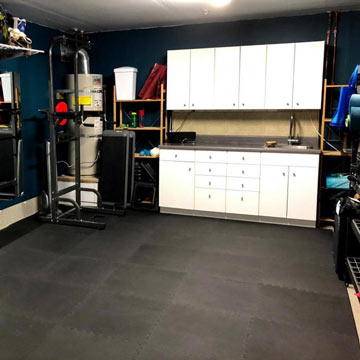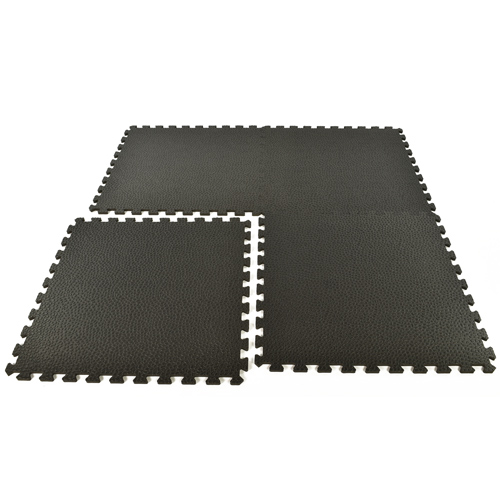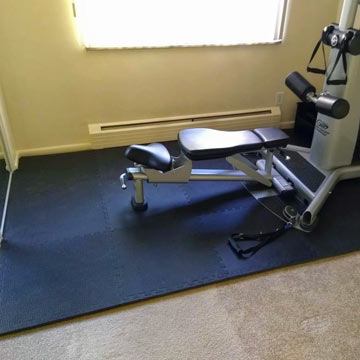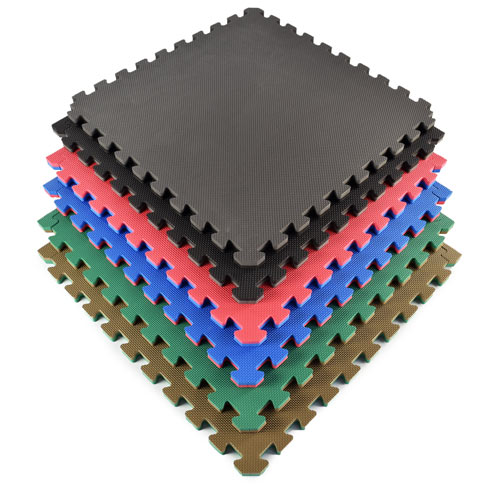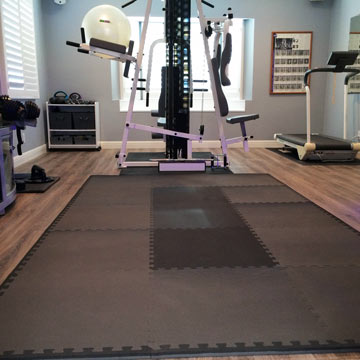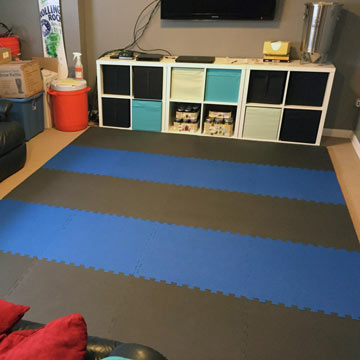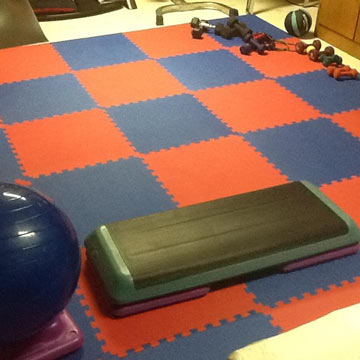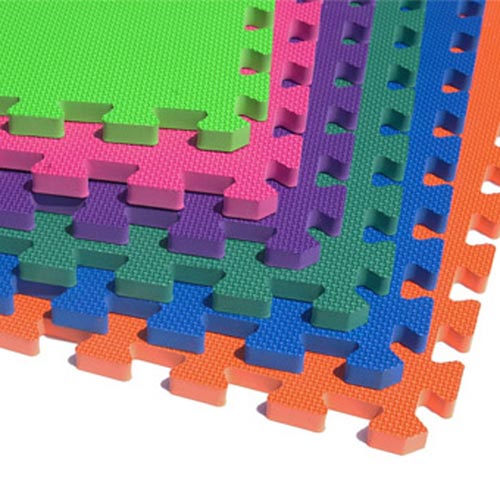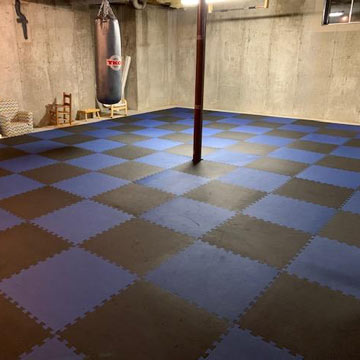 EVA foam is an excellent option for a gym floor where heavy weights will not be used.
When thinking of gym flooring materials, wood, rubber, or even concrete may come to mind. An EVA foam gym floor is another viable option for just about any setting - except for an area where heavy weights will constantly be dropped. 
There are many benefits to EVA foam, such as its anti fatigue benefits, ease of maintenance, comfort, and affordability. EVA is an elasticized, closed-cell foam with a rubber-like softness and flexibility that makes it a great option for a gym or exercise space, and Greatmats has a great selection of EVA foam gym floor products. 
EVA Foam Gym Floor Tiles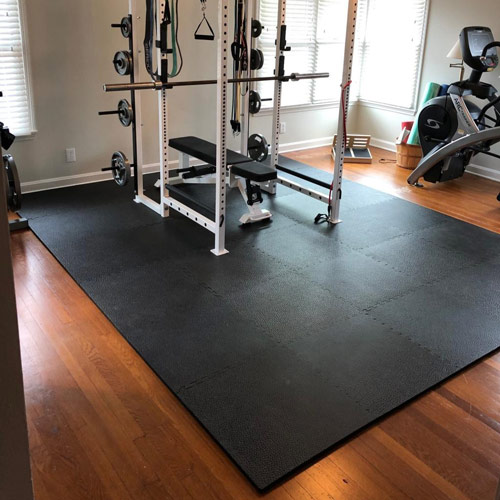 An excellent EVA foam gym floor is the
Gym Floor Workout Fitness Tile
with pebble surface. These mats are among the best designed specifically for use in home gyms and weight rooms and are made of super high density and durable foam. 
They are made to withstand the use and abuse from heavy exercise equipment. It is also waterproof and free of lead and latex. This flooring is extremely versatile. It can be installed wall-to-wall, or, as an island installation to go under exercise machines or weights. The pebble top tiles each measure 2x2 feet, creating almost 4 square feet of coverage area per tile. The interlocking jigsaw puzzle-style edges simplify installation and hold each mat tightly in place, even when they're subject to stress. It is easy to keep clean by sweeping or using a gentle vacuum to remove debris, as needed. 
Foam Tiles for Home Gym Flooring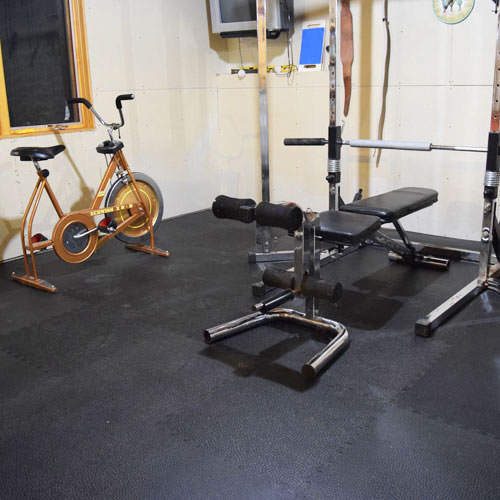 For an EVA foam gym floor that is great for lower impact home gyms, the
Home Gym Flooring Tile
is among the best options. Also made from super high density material, these 10mm tiles are durable enough for use under heavy exercise equipment. They are latex and lead free, and they feature a durable surface top texture in a pebble design identical to the previously mentioned tiles. 
The interlock design of this product provides for an easy DIY installation, and these mats are very lightweight and portable. This product includes 2 borders per tile, and it comes with a 1-year limited warranty. The tile is non-absorbent, so it will not soak up sweat or water bottle spills, or sweat odors.
Home Gym Mats Made From EVA Foam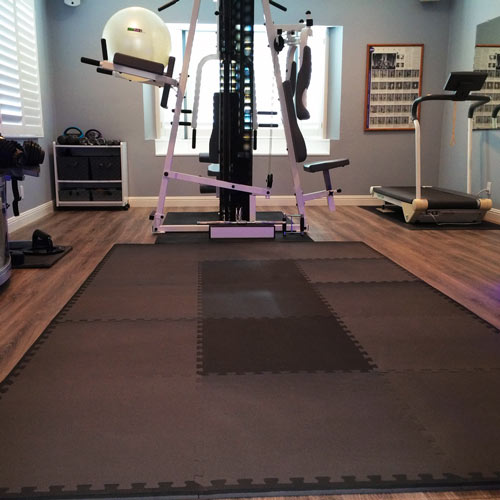 The
Home Sport and Play Mat
is a great choice if you're looking for an EVA foam gym floor that accommodates quick movements with athletic shoes. These mats are made of ¾ inch thick EVA foam, which provides a flexible consistency similar to a soft rubber while providing more cushion. 
They work great in nearly any setting or environment, as they are waterproof, stain resistant and scuff resistant. These mats reduce anti-fatigue during aerobic style or floor exercises. Also, the foam exercise mats absorb shock extremely well and also have a firmness that allows for quick and easy movement including jumping and spinning. 
They are also reversible and feature a tough thatch surface texture. Installation of the interlock puzzle mat system is a breeze, and when it needs to be cleaned, this EVA floor can be vacuumed or damp mopped with common household floor cleaners. 
EVA Foam Kids and Gym Mats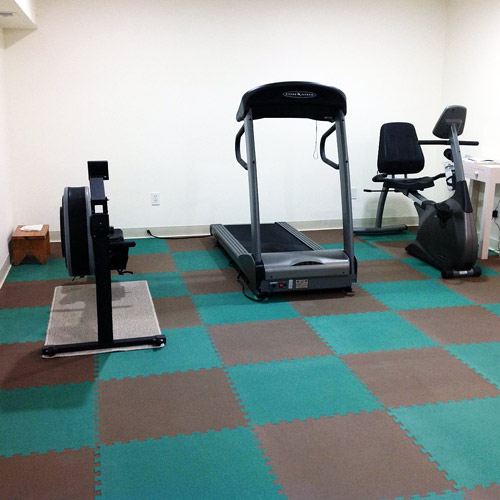 Finally,
Foam Kids and Gym Mats
can be used to transform a space into one that provides a vibrant look and a cushioned layer of safety for kids to play on. This foam gym floor option is an excellent economical choice for an area needing some thermal insulation, noise suppression, and/or waterproof properties. 
The mats are also stain resistant, which comes in handy if kids are eating or drinking in the play area. 
This option comes in 15 brilliant colors, so you can choose one, two, or many colors to create a custom design. The top quality EVA foam flooring in ⅝ inch thickness helps children avoid injuries like bumps and bruises from falls with outstanding shock absorption. It also features a thatch surface as the texture on these mats, so they will stand up to constant use while resisting scuffing. They also include a 1-year warranty against product defects, but you can expect them to last for 10 years or more under normal use. They even have border strips for finished edges.
Greatmats - for the best EVA Foam Gym Floor products available!
Depending on the space you're working with, your budget, and other factors such as portability and other fitness activities you're seeking to accommodate, the EVA foam gym floor product you choose may combine one or more of the options listed. 
Allow Greatmats to send samples and offer advice and suggestions to help you determine the right mat for you. If your priorities are quality flooring combined with the safety of your participants, Greatmats has what you're looking for.
| Gym Floor Workout Fitness Tile | Home Gym Flooring Tile Pebble | Home Sport and Play Mats | Foam Kids and Gym Mats |
| --- | --- | --- | --- |
| High Density EVA Foam | High Density EVA Foam | EVA Foam | EVA Foam |
| Pebble Texture | Pebble Texture | Thatch Texture | Thatch Texture |
| 3/4 Inch Thick | 3/8 Inch Thick | 3/4 Inch Thick | 5/8 Inch Thick |
| Best for Exercise Equipment | Good for Exercise Equipment | Best for Floor Exercises | Best Color Selection |