Gym, Treadmill & Exercise Equipment Mats: Choosing Athletic Flooring
By Paige Cerulli Created: April, 2018 - Modified: February, 2021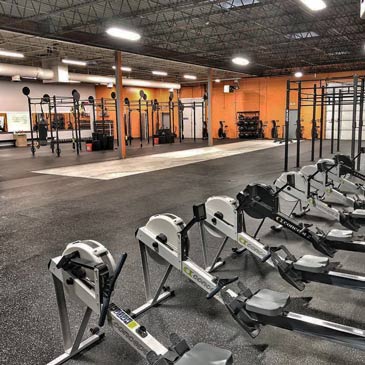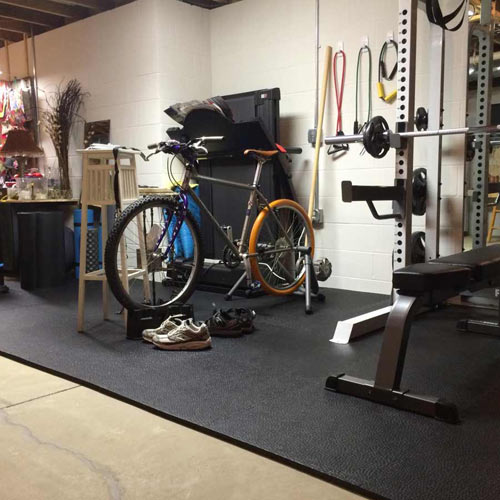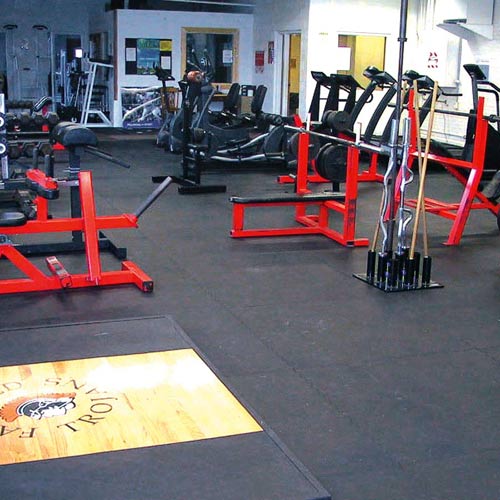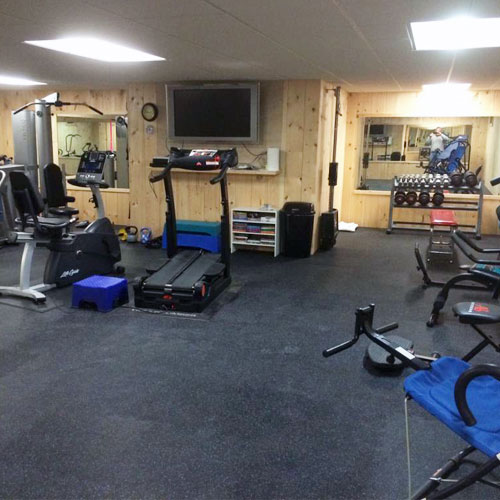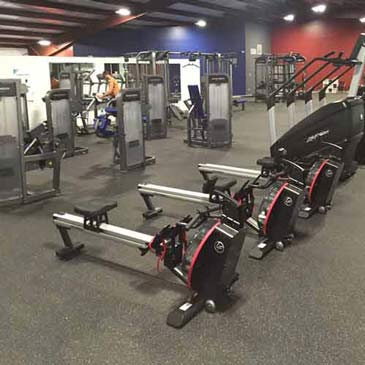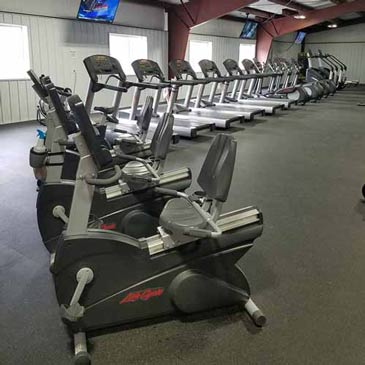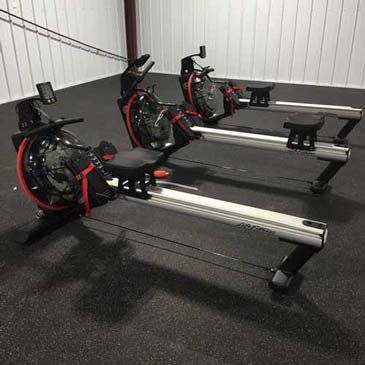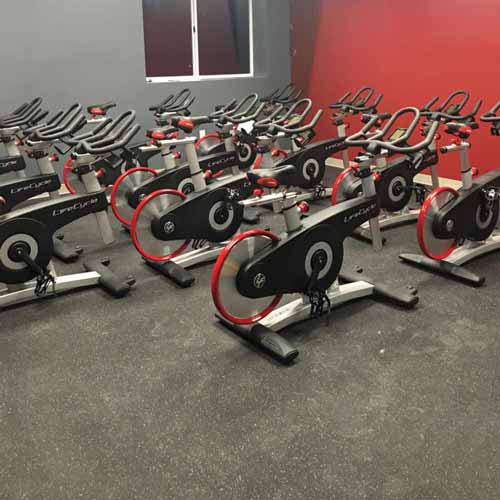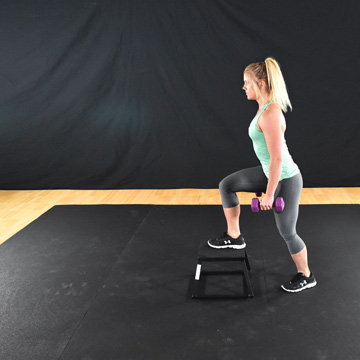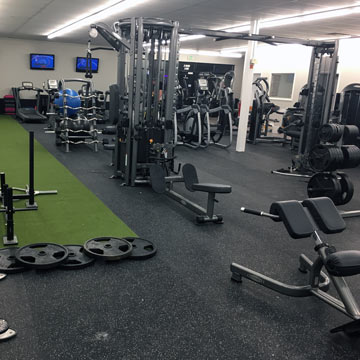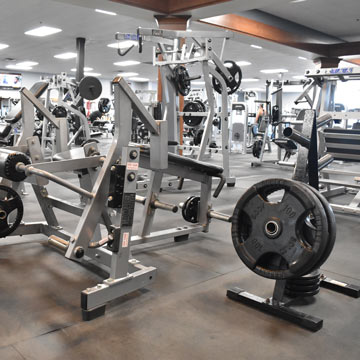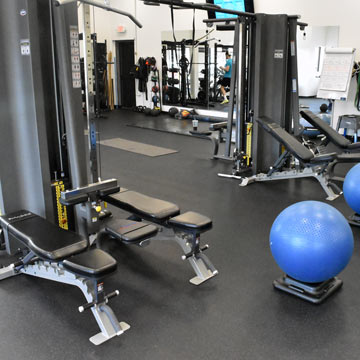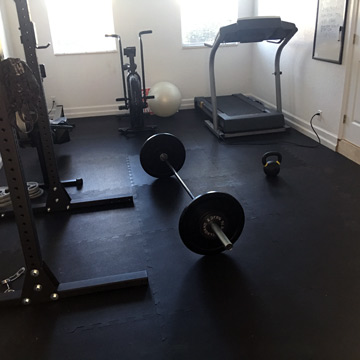 Quality gym equipment mats will make all the difference in athlete comfort and safety in any gym. Whether you're creating a home gym or need to outfit a professional commercial gym, you'll want to invest in the best flooring that you can afford. But it's important that the flooring you choose can also support the equipment in your gym, and that may be a little more complicated than you think.
Why You Need to Carefully Choose Your Gym Equipment Mats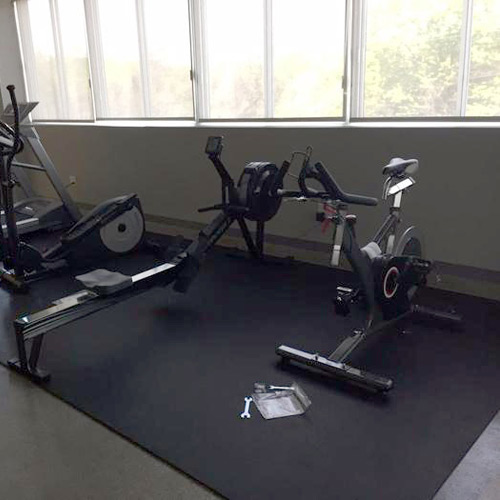 You can put a lot of thought into finding the perfect flooring for your athletes, but that doesn't mean that it will also be the perfect flooring for your gym equipment, like
treadmills
, ellipticals and other heavy machinery. Gym flooring for athletes is often cushioned, shock absorbing and forgiving. It helps to minimize the impact on their bodies, especially from repetitive exercise. It's safe, comfortable and preferred by many athletes.
The problem is that this
softer gym flooring
- particularly foam flooring - isn't always rigid enough to support the significant weight of gym equipment. When you put a heavy piece of equipment on this softer flooring, the equipment can cause indentations. If the equipment is left in place for long periods of time, the indentations can become permanent.
But there are solutions to this issue, and Greatmats offers a variety of gym equipment mats that are designed to not only offer the forgiving surface that athletes love, but that are also strong enough to withstand the weight of gym equipment.
If you need a flooring that can support treadmills,
ellipticals
, fitness machines and other common gym equipment, consider one of these great options.
Foam Gym Equipment Mats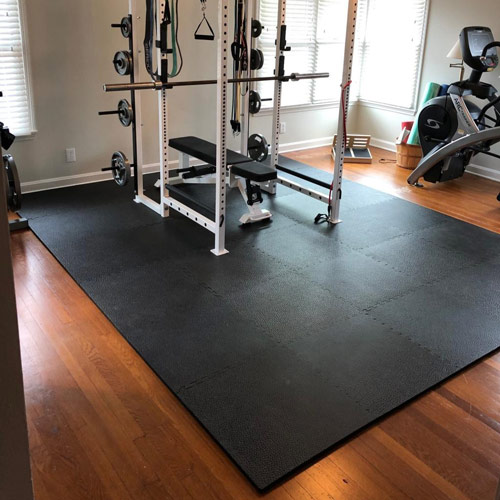 Most foam mats are too soft to support the weight of exercise equipment without being damaged, but our Gym Floor Foam Tiles are an exception. These tiles are made of a super high density EVA foam that can support the weight of gym equipment. The pebble top surface texture helps to maximize traction, keeping athletes safe while preventing slips. The tiles themselves are lightweight, but they're highly durable and are suitable for use both in home gyms and in commercial spaces that see high traffic. In fact, these mats are so strong that they can double as horse stall mats.
Double sided for longer life and easy to install, each mat comes with two border strips for a clean, finished exterior edge. The mats are waterproof and easy to clean, and make a great treadmill mat, elliptical mat, or mats for any other space where you need a forgiving yet durable surface.
Rubber/Cork Flooring for Weightlifting Equipment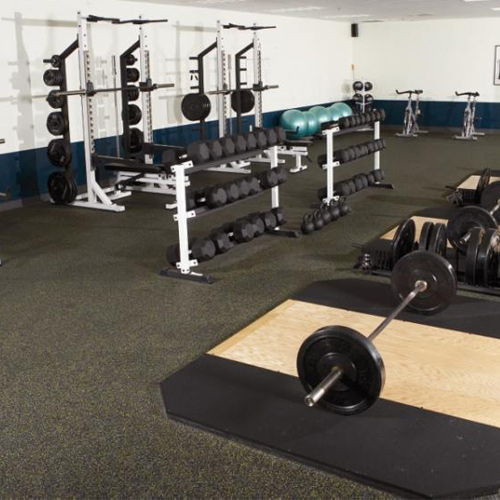 Cork offers a number of benefits that make it a great option for gym. It's forgiving and comfortable, thanks to its honeycomb-like construction. It's also highly durable and even offers thermal and acoustic insulation, so it can make your gym a more comfortable place to be.
Cork
is eco-friendly; when cork is harvested, it is taken from live trees, which then continue to produce more cork bark.
FlexeCork Interlocking Cork Rubber Tiles offer all of these benefits of cork, combined with the strength and durability of rubber. Made of a cork and rubber mix made of recycled materials, the interlocking tiles have a low odor and are suitable for gym use. They can withstand extreme use and abuse, which includes the weight they'd need to support when used as a stationary bike mat, stair climber mat, or mat used to support other heavy gym equipment.
These tiles are available in various thicknesses, patterns and colors, so you can choose the tiles that work best for your specific needs. The tiles interlock together, so there's no adhesive needed for installation. They're shock absorbing, non-skid and wear resistant - all of the features that you want in a quality flooring for your gym.
Rubber Exercise Machine Mats and Flooring
When it comes to fitness machine mats, rubber flooring products offer you the most options. Rubber gym flooring is highly strong and durable, and most rubber products can easily support the weight of heavy equipment without incurring any damage.
Rubber is often used in gym flooring because while it does offer some shock absorption, it also makes for an incredibly long-lasting floor that can withstand the high traffic of commercial gyms. It's an economical choice, and is available in tiles, mats, and rolls, so you can choose the product that's just right for your needs. Additionally, rubber offers thermal and sound insulation, which helps to make your gym a more enjoyable atmosphere for everyone.
If you need fitness machine mats that will cover a large area, such as an entire room, then rubber flooring rolls may be the way to go. Our rubber flooring rolls are available in a variety of
thicknesses
ranging from 1/4 inch up to 1/2 inch. This highly durable rubber has the strength needed to serve as a treadmill mat, elliptical mat, or as flooring beneath any other gym equipment you may have.
When choosing the rubber roll that's right for you, keep in mind that the thicker the rubber, the more shock absorption it offers, and the more protection it can give to your subfloor in turn. These flooring rolls have a non-slip surface that makes them ideal for gym settings, and are even available in custom colors if you're looking for something specific for your gym. You can purchase these rolls in custom cut lengths.
Rolled rubber is an economical option, but you'll need the help of multiple people to install it. For installations over 1,000 square feet, we recommend a glue-down installation.
If you're looking for something that's a little more manageable, then consider rubber interlocking tiles. These tiles are more conveniently sized, so transporting and installing them is a bit simpler. Tiles are preferred for smaller installations, as well as DIY at-home projects.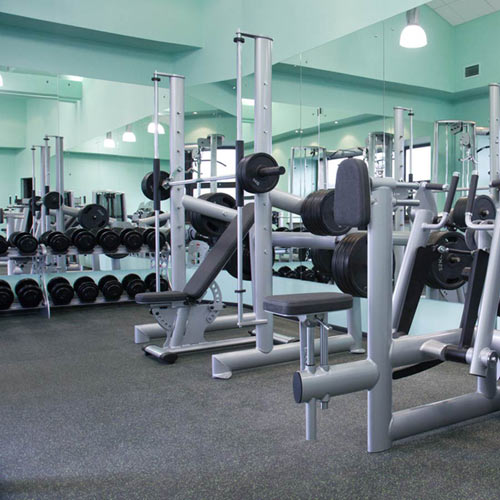 Geneva Interlocking Rubber Tiles measure 3x3 feet and make an economical solution for gym equipment mats. Thanks to the tiles' interlocking design, there's no adhesive needed for installation, and they're a favorite option for commercial gym flooring because of their extreme durability and low odor. Because the tiles are larger than the 1x1 foot tiles, they result in fewer seams in your finished floor.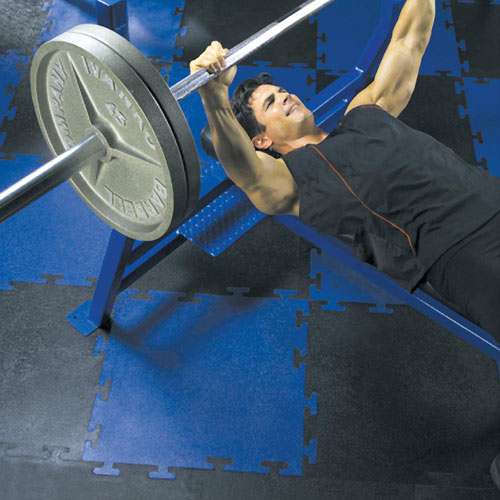 Looking for colors that will make a powerful visual impact? Our Color Plus Rubber Tiles are available in 9 brilliant colors, so you can create striking patterns with your flooring. These tiles have extreme wear resistance, so they're suitable for commercial gym settings. The top texture design of these tiles is unique, and is four times stronger than most other rubber products on the market. These tiles are truly designed to withstand heavy use, and is suitable for weight rooms, flooring beneath gym equipment, and any other highly demanding job that you see in a gym.
The interlocking design means that you don't need adhesive for the installation, and the tiles result in a flooring that looks seamless. The corner and border tiles are even equipped with edges that ramp down, making for a smooth and safe transition onto and off of the tiles.
Additionally, we offer a number of rubber mat options that can be used independently, without connecting them to other flooring. Our durable rubber gym floor mats can be dry laid on top of existing flooring to provide additional protection and shock absorption to the floor beneath. These gym mats are flat on one side, and feature an anti-skid, wire mesh texture on the opposite side. These mats help to give athletes the traction that they need. Both sides are non-porous, and the mats can be cleaned with a neutral pH cleanser. They're economical, easy to install, and are a great way to get the extra protection you need under gym equipment that sees heavy use. They're suitable for use as a treadmill mat, an elliptical mat and more.
Our rubber gym floor mats feature smooth sides and can be laid independently, or laid up against additional mats to create a larger surface.
Choosing Your Gym Equipment Mats
When it comes to choosing the mats that are right for your facility, consider the following factors:
- Size of the area to be covered: Consider the area that you want to use the flooring in. If you just need flooring beneath a machine or two, a singular mat may be appropriate. If you want to floor an entire room, then a rolled flooring or larger tile may be a better choice.
- Installation method: Our gym flooring can be installed in many different methods, some of which you can handle on your own without professional help. Consider whether you want a temporary or permanent installation, and whether you're willing to invest in a professional installer for permanent flooring.
- Ideal features of your flooring: Think about the features that are most valuable in your flooring, such as traction, ease of maintenance, shock absorption, comfort and more. Not only should the flooring be strong enough to support gym equipment, but it needs to be safe and appropriate for athletes, too.
If you have any questions about which flooring may be right for your gym, please contact our customer service representatives. We're always happy to help you choose the product that's right for your needs.