Mat-Pak Ground Protection VersaMat Clear 1/2 Inch x 3x8 Ft.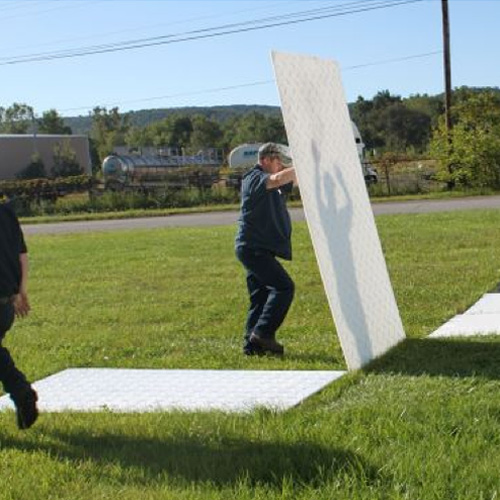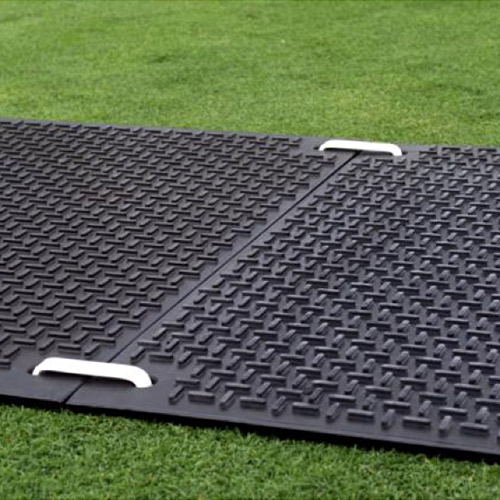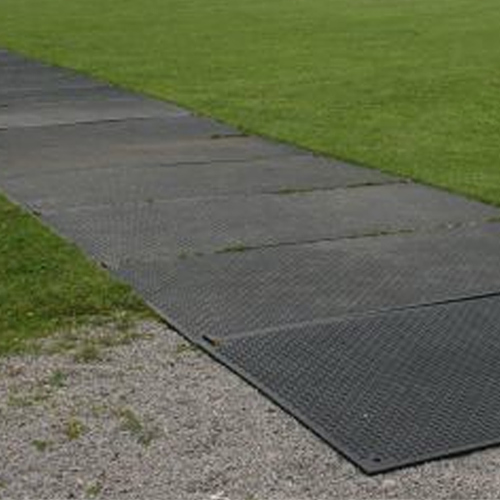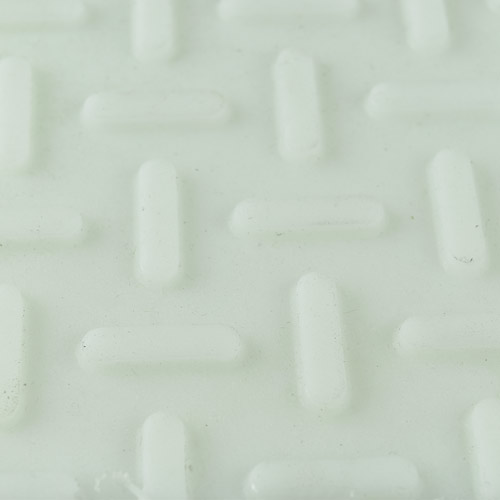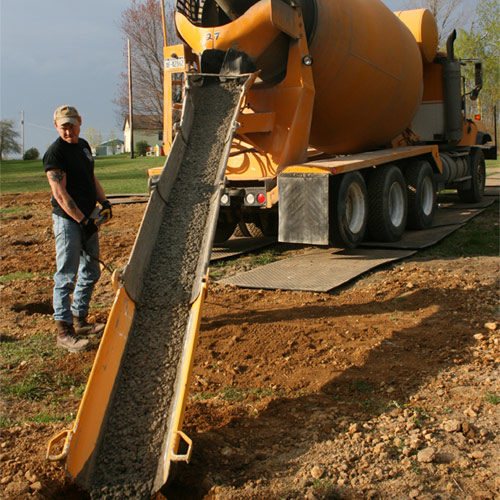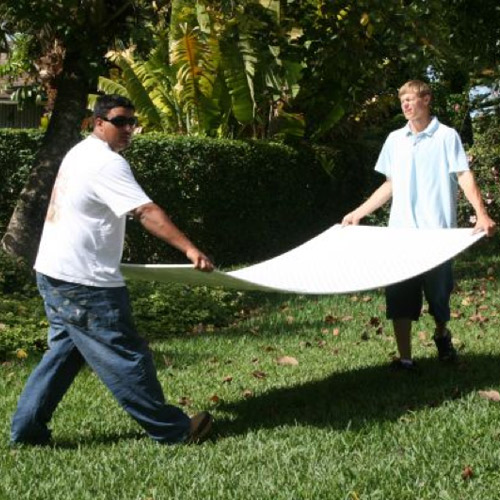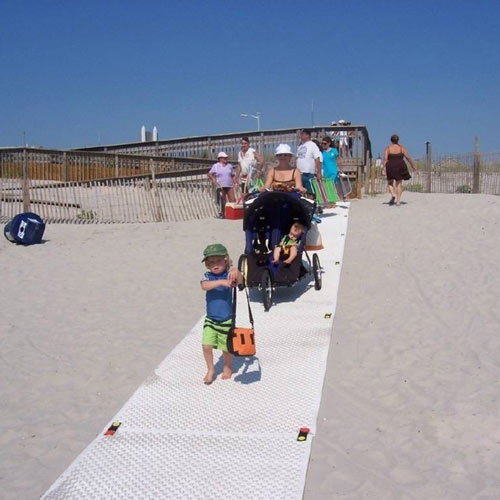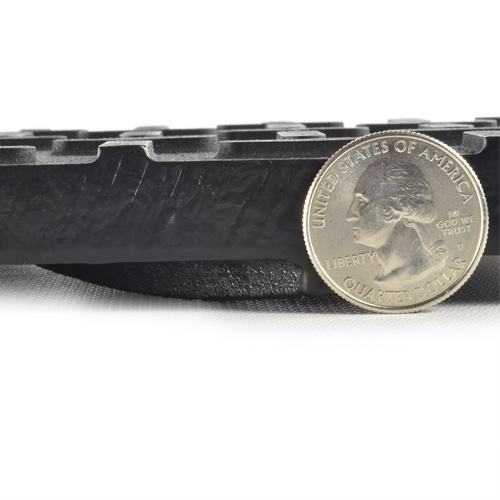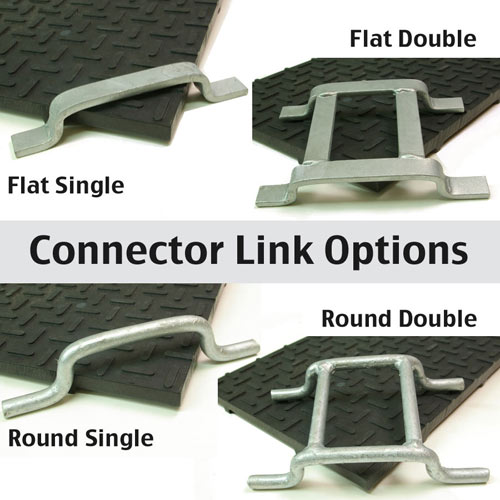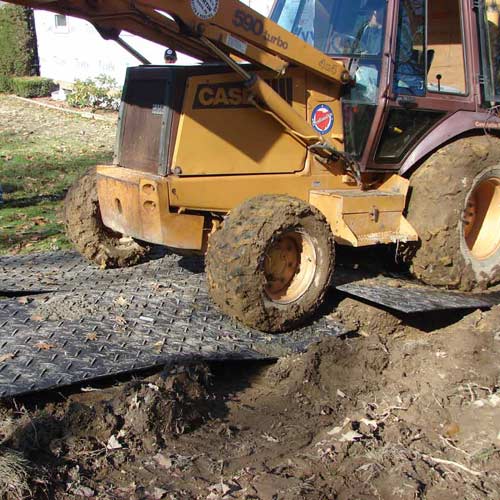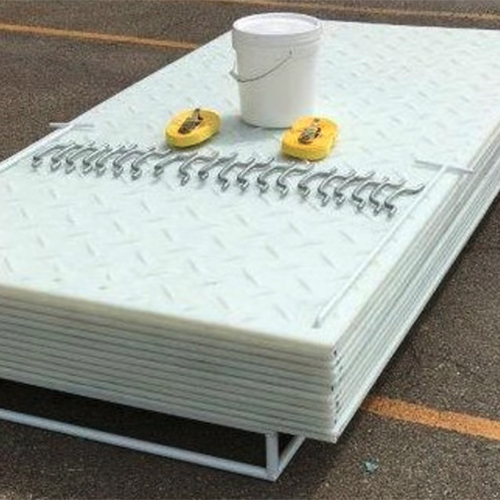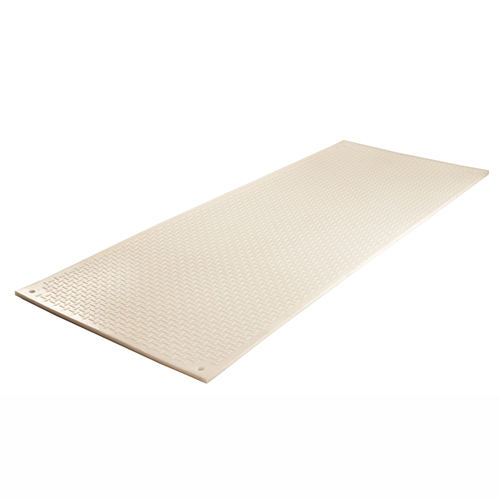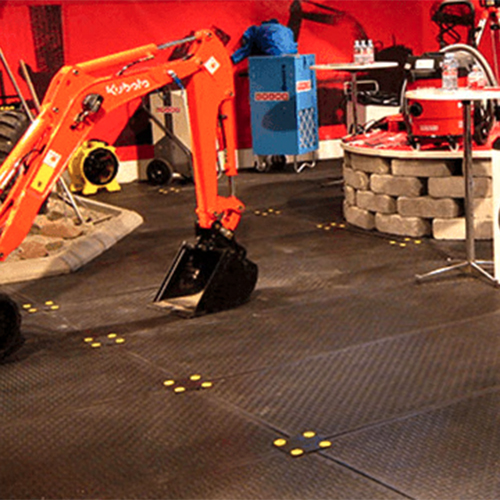 12 mat pack with rack, connectors and hooks
Rugged 1/2 inch thick recycled polyethylene
Easily supports 120-ton loads
Ships Out: Estimate Call for Availability of Lead Times

Diamond-Versa Tread Clear

Smooth-Versa Tread Clear
VIDEOS
TOP FEATURES
12 mat pack with rack, connectors and hooks
Rugged 1/2 inch thick recycled polyethylene
Easily supports 120-ton loads
Bold cleat design for great traction
Build a roadway or working platform in minutes
Leave turf smooth, even in soft conditions
No more splintered, warped, water logged plywood
Available in both black or clear mats in a variety of sizes
Use Types
Ground Protection, Heavy Equipment Mats, Skid Steer Mats, Grass Protection Mats, Temporary Roadways
NOTE: This item is a custom order and is not returnable.
Mat-Pak Ground Protection VersaMat Clear 1/2 Inch x 3x8 Ft.
Protect the lawn from everything form foot traffic to heavy construction equipment. Mat-Pak Ground Protection VersaMat Clear 1/2 Inch x 3x8 Ft. kit provides and easy and safe surface to walk on as well as drive on with the slip resistant tread design.
Mat-Pak Ground Protection VersaMat 3x8 Ft. Clear - Top Notch Construction Mats

Protect a grass lawn from everything from foot traffic to heavy construction equipment with the Mat-Pak VersaMat 3x8 feet clear ground protection construction mats.

With its slip resistant tread design, the Mat-Pak Ground Protection VersaMat kit provides an easy and safe surface to walk and drive on, while protecting the turf or natural yard beneath from damaging ruts, mud, and more.

Each Mat-Pak Ground Protection VersaMat 3x8 Ft. Clear Mat-Pak kit includes 12 mats, 2 ratchet straps, 20 single links, and 2 handi hooks. Once in place, the clear mats let the sun shine through, which will help keep the grass greener. They also feature one smooth side to protect grass, concrete, and asphalt.

These flexible mats provide superior traction in wet or muddy areas, offering sturdy and reliable access to an event or work site. They will support the weight of construction vehicles and equipment, offering protective and durable temporary roadways. They feature a low-profile, slip-resistant traction surface making it ideal for pedestrian applications, as well.

Simply the best made ground protection mats in a convenient pack of 12 mats, these ground protection mats are the best on the market - hands down - a claim which is backed-up by a Lifetime Warranty.
Rugged, Durable, & Reliable
These alturnamats are construction mats that are made of rugged, ½ inch thick recycled polyethylene. They can easily support 120-ton loads, with no more splintered, warped, waterlogged plywood platforms across a lawn or yard. They are guaranteed to leave turf smooth, even in the softest conditions, and they offer a bold, cleat design for outstanding traction.
With these mats, you can easily build a roadway or working platform in a matter of minutes. They can be used for ground protection, as heavy equipment mats, skid steer mats, grass protection mats, or temporary roadways. Or, they can be used as a vehicle track way, vehicle parking area, or staging area for supplies and equipment.
This is the only ground protection mat pack product on the market that is made in-house with extensive testing to backup its Lifetime Warranty. Competing products may claim to be better, but they don't have the Lifetime Warranty to backup the claims. In addition, this pack's pricing is competitive to other products on the market, and volume discounts are available.
Individual mats can be locked together with
Turn-A-Links
forming a continuous roadway or workable platform. They contour to different ground conditions due to their flexible design.
Weighing just 86 lbs (39 kg) at its maximum size, these construction mats can be easily deployed by hand. This product is manufactured from 100% recycled high-density polyethylene, making it durable and resistant to all weather conditions. It has a flexible construction, meaning that it will follow the contours of the ground - delivering a highly effective access solution on sloping or undulating ground conditions.
Unmatched Warranty
These construction mats come with a lifetime warranty. The warranty covers specific defects created during the manufacturing process that become evident during normal use for the Lifetime of the product. The mats, being made from HDPE, can be punctured from sharp rocks and/or falling objects. Should this happen, the punctures would not be covered by the lifetime warranty.
These Mat-Pak Mats are warranted against, but not limited to: cracking, breaking, splintering and chipping. They pass through a series of strict inspection guidelines during an in-house manufacturing process. Every mat that leaves the manufacturing plant has passed strict quality control and has been accepted as a product that has met approval for use. Although rare, occasionally there are things that are not detectable during a visual inspection, and those things would be covered under the lifetime warranty.
Worth The Investment
These construction mats are a wise investment, and with their unmatched lifetime warranty, it's an investment you can be confident in. So much money will be saved when the mats are deployed. Think of the savings you'll realize in terms of resurfacing and reseeding, for example. Additionally, these mats can help to minimize client frustration and disappointment in your work or the damage left behind when work is complete.
When you use these mats, clients understand that you're invested in your work, and that you take pride in every detail - including in protecting their lawn. You may get more client referrals and repeat business based on the great performance that these mats allow you to put into each job.
If you have questions about the construction mats or need some help deciding if this product is the right option for your team or project, please give our customer service team a call.
Maintenance
Clean using a pressure washer or garden hose and non-metal scrub brush.
Shipping
Ships via freight delivery, shrink wrapped on pallets. Customer must unload at delivery location, Lift Gate service is not available for this product.
This Product Ships Freight Only.
Please review our shipping disclaimer.
WARNING: This product can expose you to chemicals including Lead and/or Phthalates, which are known to the State of California to cause cancer and birth defects or other reproductive harm. For more information go to www.P65Warnings.ca.gov.
SPECIFICATIONS
| | |
| --- | --- |
| SKU# | CVCP3 |
| In Stock | Yes |
| Product Type | Mat |
| Material Type | Polyethylene Plastic |
| Product Edging | Straight |
| Thickness | 1/2 inch |
| Width | 3.00 feet |
| Length | 8.00 feet |
| SF per Item | 288.00 |
| Weight | 868.00 lbs |
| Packaging | Shrink Wrapped on Pallets |
| Number of Pieces per Package Type | 1 |
| Non Absorbent | Yes |
| Special Adhesives | No |
| Interlock Loss | 0.00 feet |
| Material Hardness | Shore A 100 |
| Interlocking Connections | No |
| Made In | USA |
| Surface Finish | Diamond or Smooth |
| Surface Design | Solid color |
| Installation Method | Dry lay, connector pins |
| UV Treated | Yes |
| Reversible | Yes |
| Border Strips Included | No |
| Manufacturer Warranty | Limited lifetime |
HOW TO'S
RELATED PRODUCTS
RELATED BLOGS