VersaMats Diamond Foot Black 1/2 Inch x 3x8 Ft.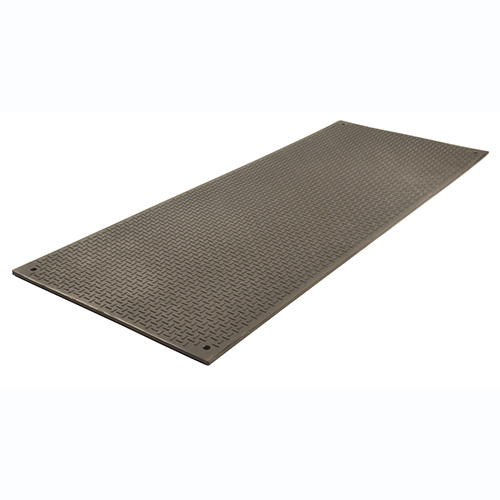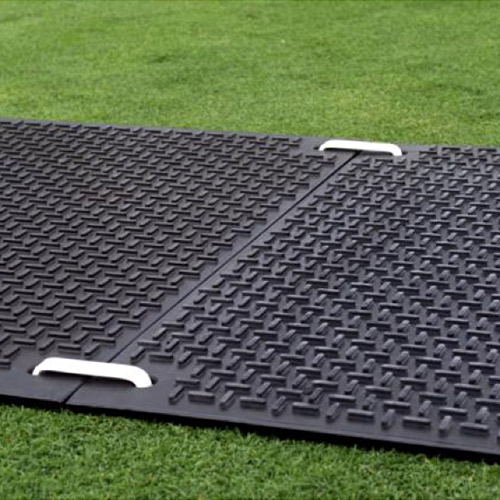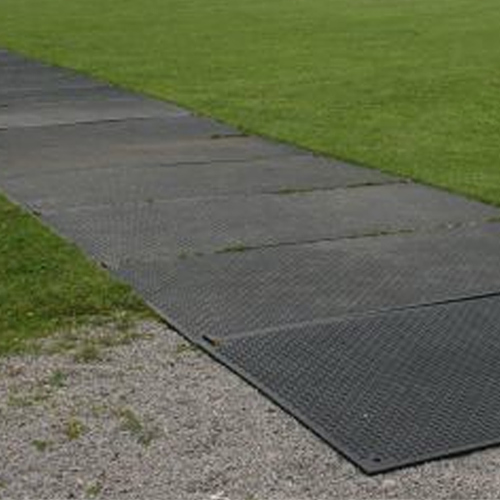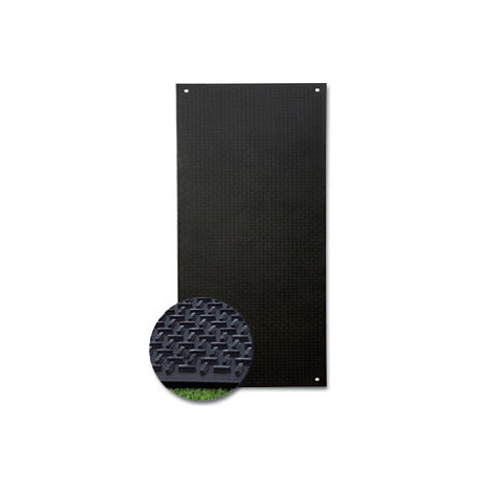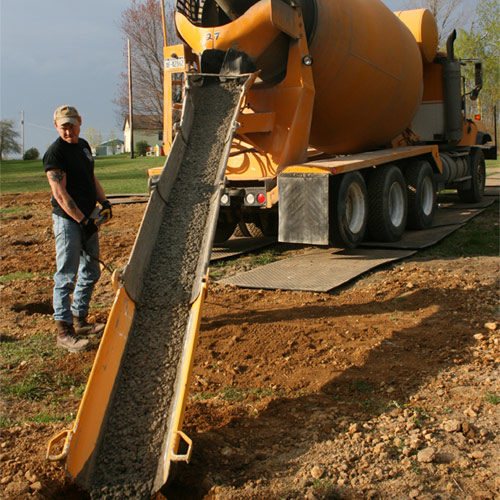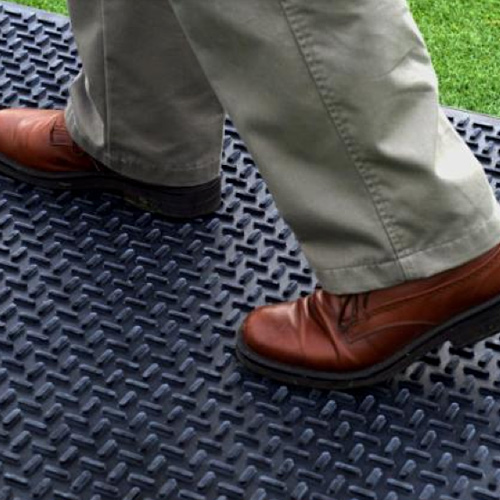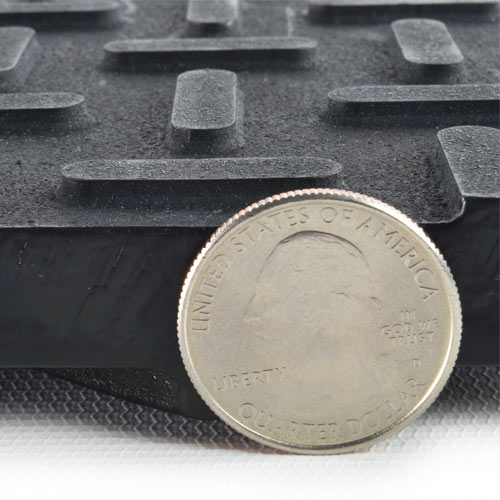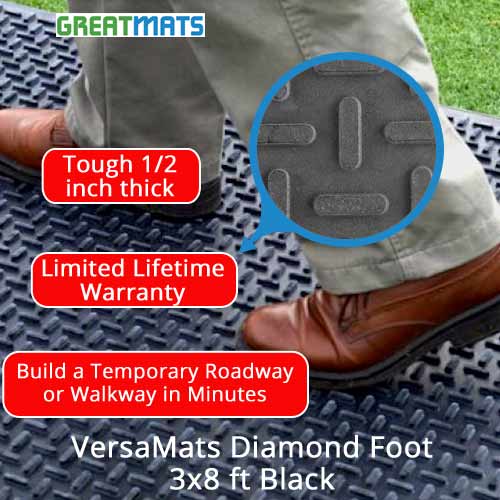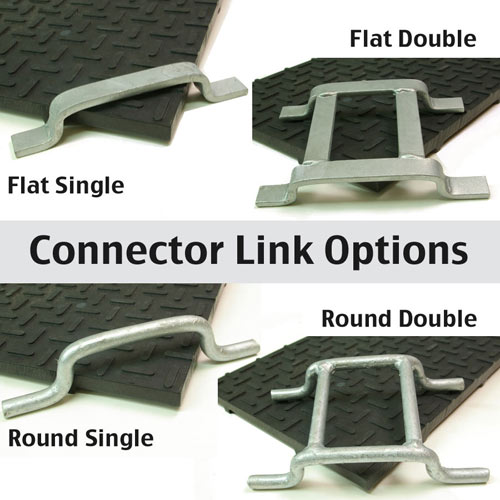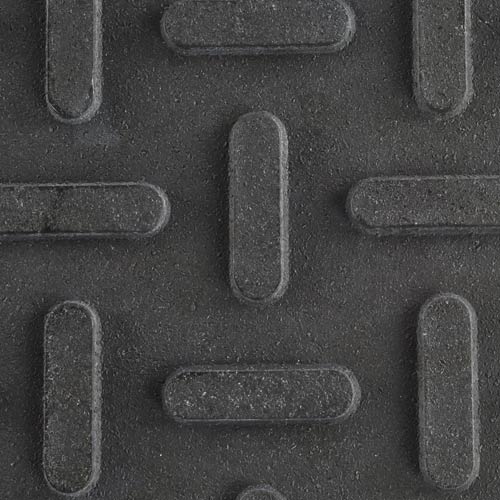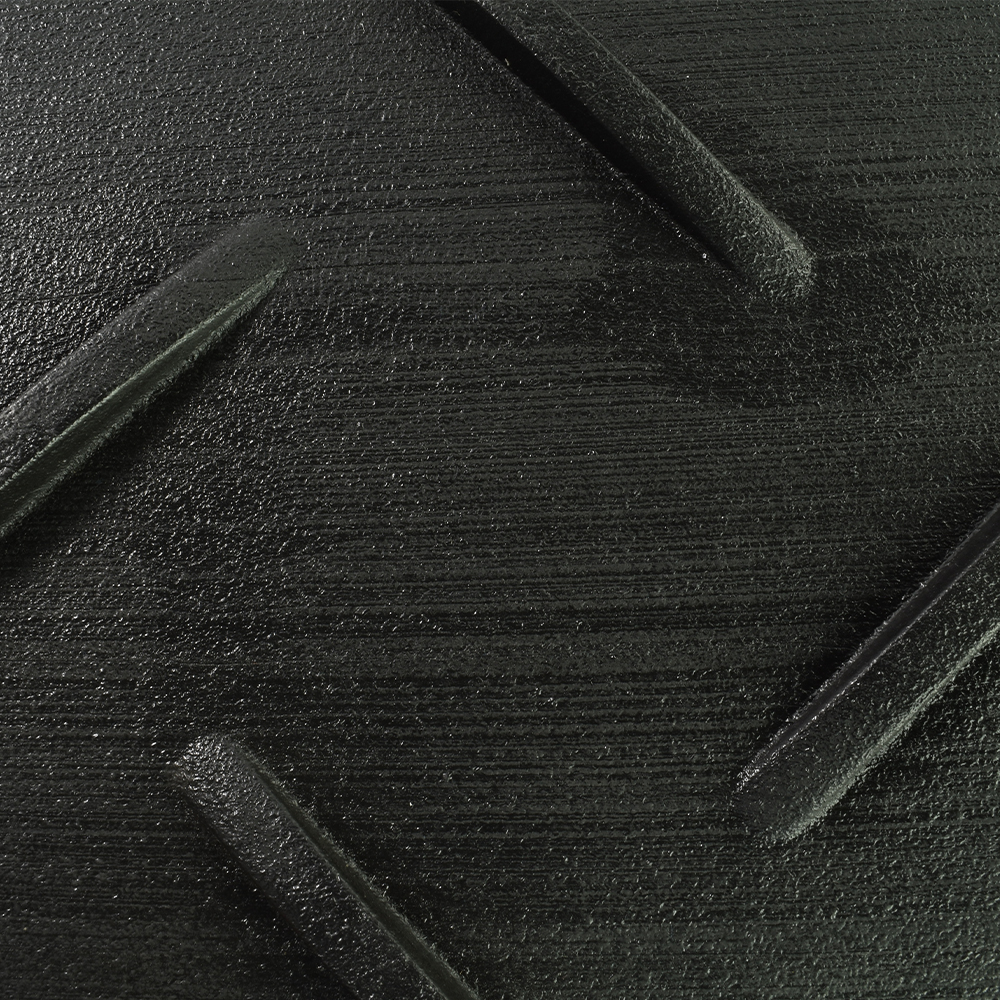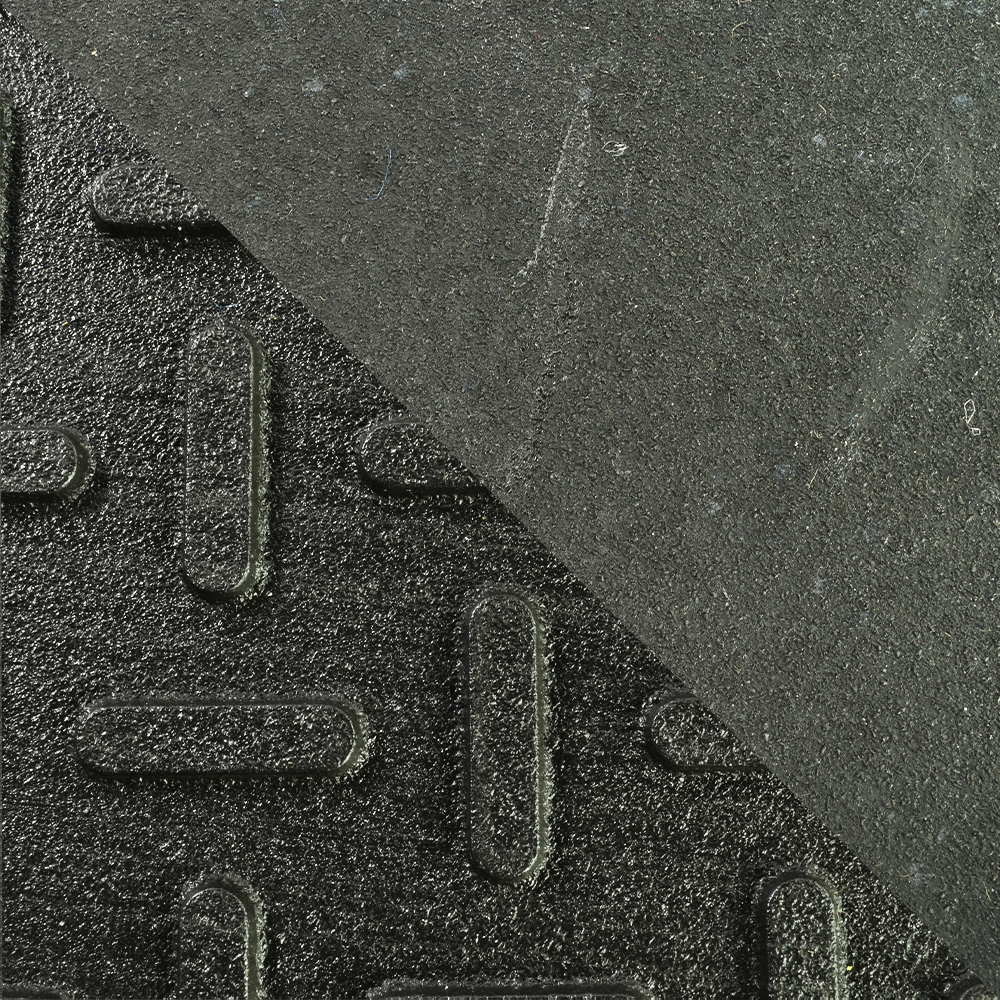 Leaves turf smooth even in soft soil conditions
Tough 1/2 inch thick recycled polyethylene
Two practical cleat designs, for walking and vehicle traffic
Handling Time Estimate: Call for Availability of Lead Times

Versa-Diamond

Versa-Smooth
Leaves turf smooth even in soft soil conditions
Tough 1/2 inch thick recycled polyethylene
Two practical cleat designs, for walking and vehicle traffic
Withstand 120-ton loads
Build a temporary roadway or walkway in minutes
Lock together with Turn-A-Links or EZ links
Limited Lifetime Warranty
Available in both black or clear mats in a variety of sizes

Temporary Roadways Mats, Ground Protection, Heavy Equipment Mats, Skid Steer Mats, Grass Protection Mats
NOTE: This item is a custom order and is not returnable.
Temporary Sidewalk Mats - VersaMats Diamond Foot Black 1/2 Inch x 3x8 Ft.
When you need protection for landscape or turf from vehicles or foot traffic during a temporary construction job, our VersaMats Diamond Foot Black 1/2 Inch x 3x8 Ft. mats will give you the toughness you need. These temporary walkway mats are the perfect solution, providing an easy to walk on, safe to work on, and great to drive on surface, featuring an exclusive VersaMats slip-resistant tread design.
If you're looking for temporary sidewalk ideas, these pieces offer the most versatility in the industry. The slip-resistant tread allows pedestrians to walk safely on the mats, yet they are extremely rugged. The reverse side of the mat has a diamond plate tread that yields great traction for vehicles.

Without question, our temporary walkways are the best available in the market. Every ground protection mat that we offer carries a limited lifetime manufacturer's warranty. These walkways mats include the highest quality material, the most tested material, and the longest lasting temporary roadway and walkway product on the market.

Construction
The rugged temporary walkways and roadways consist of 1/2-inch thick recycled polyethylene plastic material, making them virtually indestructible. They can withstand vehicles weighing up to 60 tons. The temporary walkway parts will bend under heavy weights, but they will not break, thanks to the Shore A 100 density rated material.
The mats have been tested in record cold and heat, allowing you to use them at any time during the year and in any kind of weather conditions. Additionally, the temporary walkways pieces are all Made-in-the-USA products, ensuring a high quality of material and engineering.
With the polyethylene plastic material included in our VersaMats Diamond Foot 3x8 Foot Black mats, you don't have to worry about the mats absorbing moisture. So if you're using them in wet conditions or during a rainy day, the temporary walkaway mats won't become water-logged, causing a loss of integrity.
Some people will use sheets of plywood to attempt to accomplish many of the same usage cases, including providing temporary walkways. However, plywood will crack under severe weight and will absorb water over time, causing it to rot, and requiring frequent replacement costs. So although the upfront cost of the mats is higher than plywood, you will receive better quality, better performance, and a guarantee of a long lifespan with the manufacturer's warranty with the product.
Surface Texture
The Versamats are available in two different types of mats which both feature the Versa tread style on one side. The Versa tread is a flat, oblong style tread. The Versa-Diamond type features the Versa tread on one side and a diamond plate texture on the other side. The Versa-Smooth type features the Versa tread on one side and a smooth, but slightly textured surface on the other.
Usage Ideas
These temporary walkways have a large number of potential uses, especially in areas where you'll be running heavy equipment or having people move around in a location where the ground is soft or needs to be protected.
Base for Ladder or Scaffolding:
If you need to use a ladder or scaffolding in an area of muddy ground, the ladder's feet will grip tightly to the VersaMats, preventing you from sinking the ladder or scaffolding into the ground, creating a falling hazard.
Moving Day:
If you have a lot of heavy objects that must be moved across a grassy area, lay down these temporary walkway parts, and you can drag or wheel the objects without becoming caught in the turf. Additionally, the people walking will have a sturdy footing.
Pouring Cement:
When backing a heavy vehicle into area of dirt to pour a driveway or sidewalk, lay these mats on the dirt and allow the cement truck to drive on the mats. This will give the truck's tires a sturdy surface with a raised diamond pattern on which to gain traction.
Protection for a Track:
If you need to move a lot of people or a heavy vehicle across a track and field surface or another slightly soft surface, laying our temporary walkways mats across the surface of the track prevents the vehicle or foot traffic from digging into the surface. Our mats work especially well at schools where football or soccer players may need to walk across a track surface in cleated shoes to reach the football or soccer field in the center of the track. Our mats prevent damage from the cleats.
Roadway for Power Equipment:
Everyone needs to employ power equipment at a home or business from time to time, whether it's for new construction, tree trimming or repairs. Don't let the power equipment's wheels or treads tear up your grass by laying out our temporary roadway pieces.
Sidewalk to the Water:
Use these walkway mats to create a temporary sidewalk that leads from your cabin across sand, gravel, or mud to the lake.
Switch from Vehicle to Foot:
Because our VersaMats are reversible, you can lay them down with the diamond plate tread upward, allowing vehicles to gain some traction as they move across the mats. Then if you later need to have people walk across the mats, you can reverse them to leave the smooth side of the mat upward for pedestrians. People can walk across the diamond plate tread surface too, but it is less comfortable on the feet than the smooth surface.
Walking on New Grass:
If you just laid sod, you can use these mats to walk across the wet sod without sinking into the ground. Just don't leave the mats on the sod very long or you could damage the new grass.
Really, anywhere you need a temporary walkway or driveway that can handle heavy weight on top of it and a soft ground beneath it, the VersaMats Diamond Foot 3x8 Foot Black mats represent the perfect solution.
Benefits for Vehicles
Not only can our mats help to protect the ground from damage from the wheels or treads on heavy equipment, but they can give the equipment a trustworthy surface for maintaining traction on soft ground. Nothing is worse than driving a heavy piece of equipment into an area where you need to work, only to have the equipment become stuck in mud, meaning you cannot finish the work ... and you have to pay someone to come and tow the vehicle out of the mud.
By using the temporary roadways mats, you'll be able to finish the job far more quickly too. The vehicle will be able to move more quickly across these mats versus having to drive slowly on soft ground. And you won't have to worry about the equipment sinking into the soft ground as you're working, making it far more difficult to drive the vehicle back out of the area.
Allowing mud to become stuck on the tires of the equipment or to splash up onto the undercarriage of the equipment can cause damage over time. By providing temporary roadways with our mats, you won't have to worry about mud and grass sticking to your equipment.
Connection
All of our temporary walkway parts have precise straight edges on all four sides, meaning you easily can fit the mats tightly together side by side and end to end. Each mat weighs 65 pounds, meaning you will want to have multiple people available to help move and lay out the mats in the proper position.
When connecting the mats together, you have four options.
Flat Single
Flat Double
Round Single
Round Double
Each connector fits into holes at the corners of each mat. The arms of the connectors slide into holes on the adjacent mats, with the bar of the connector visible across the top of the temporary walkways.
If you're connecting two mats, the single connectors will work well. If you'd like to link four VersaMats Diamond Foot 3x8 Foot Black mats together, you will want to use the double connectors.
You don't have to use the connectors to link the mats together, as their flat edges allow them to lay side by side tightly. However, if you plan to drive or move extremely heavy objects across the mats, they will bend, which will cause the edges of the mats to stick up into the air, potentially causing a tripping hazard. The connectors won't completely prevent buckling and raising up of the edges of the temporary walkways, but they will limit the buckling and ensure the mats don't slide out of place.
Maintenance and Storage
These temporary walkway parts can be stacked when not in use. Because they are not water absorbent and because they have UV treatment, you can store the pieces outdoors until they're needed again. Indoor storage works well too.
Because water will sit on top of the mats, you may want to allow the mats to dry in the sun before storing them, just to ensure the area between the mats is dry. You also can store the mats under a tarp to keep water from collecting on the mats while stored outdoors.
Should you want to clean the mats before storing them, you can clean them with a damp mop, hot water, and common household floor cleaner. Allow them to air dry after cleaning and before stacking them.
Ordering Options
Our VersaMats Diamond Foot 3x8 Foot Black mats each will cover 24 square feet. If you would like other sizes, we also offers 2x8 and 4x8 foot panels. White colored panels are available too.
If you have any questions regarding our temporary walkway products, please contact our knowledgeable customer service team, where we can help you figure out how many mats you need and the best delivery options for you, all at the most competitive pricing.
When using truck outriggers, allows use a block of wood or an outrigger protection pad between the outrigger and a ground protection mat.
Maintenance
Clean using a pressure washer or garden hose and non-metal scrub brush.
Shipping
Ships via freight delivery, shrink wrapped on pallets. Customer must unload at delivery location, Lift Gate service is not available for this product.
This Product Ships Freight Only.
Please review our shipping disclaimer.
WARNING: This product can expose you to chemicals including Lead and/or Phthalates, which are known to the State of California to cause cancer and birth defects or other reproductive harm. For more information go to www.P65Warnings.ca.gov.
| | |
| --- | --- |
| SKU# | VM38 |
| In Stock | Yes |
| Product Type | Mat |
| Material Type | Polyethylene Plastic |
| Product Edging | Straight |
| Thickness | 1/2 inch |
| Width | 3.00 feet |
| Length | 8.00 feet |
| SF per Item | 24.00 |
| Weight | 64.50 lbs |
| Packaging | Shrink Wrapped on Pallets |
| Number of Pieces per Package Type | 20 |
| Non Absorbent | Yes |
| Special Adhesives | No |
| Interlock Loss | 0.00 feet |
| Material Hardness | Shore A 100 |
| Interlocking Connections | No |
| Made In | USA |
| Surface Finish | Non slip cross / diamond |
| Surface Design | Solid color |
| Installation Method | Dry lay, connectors |
| UV Treated | Yes |
| Reversible | Yes |
| Border Strips Included | No |
| Manufacturer Warranty | Lifetime limited |
RELATED PRODUCTS