Mat-Pak Ground Protection Black - 12 Mats Kit 1/2 Inch x 3x8 Ft.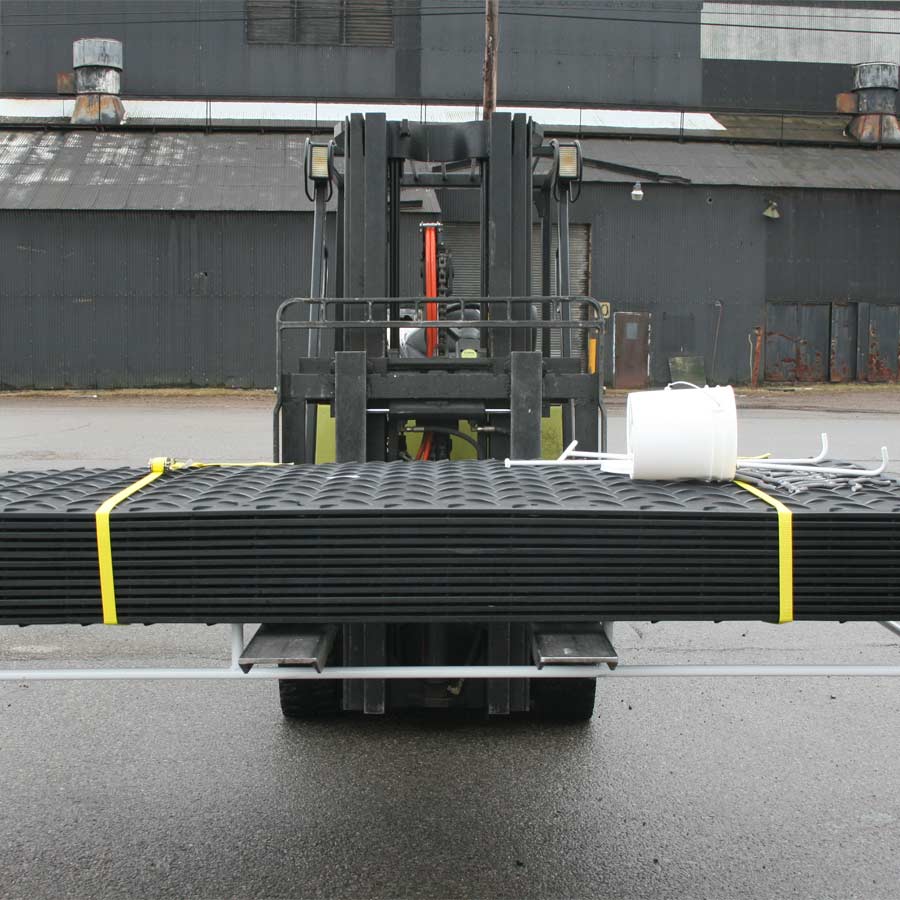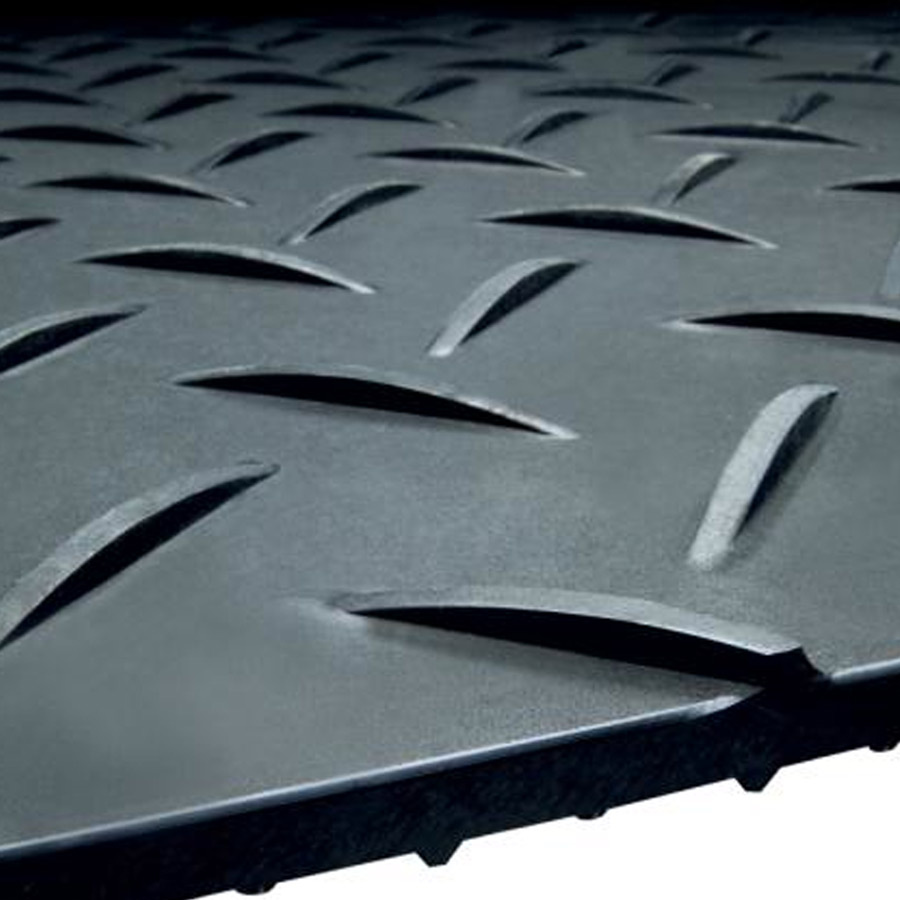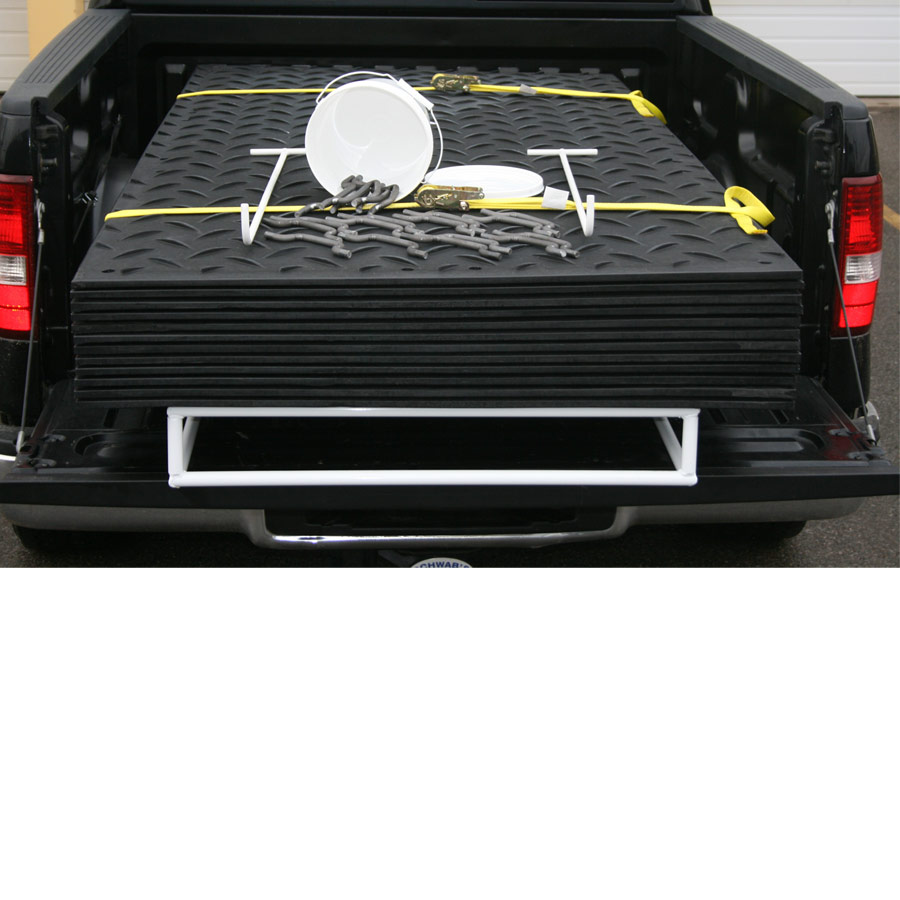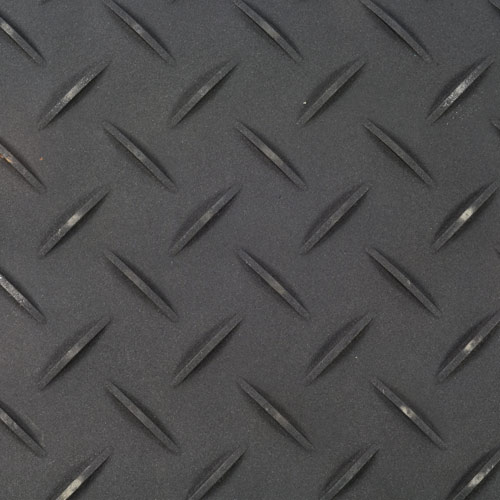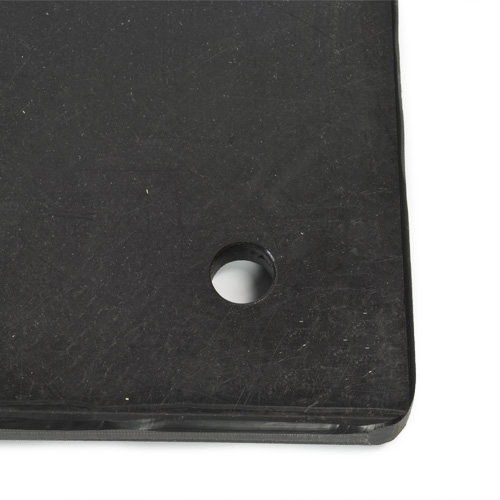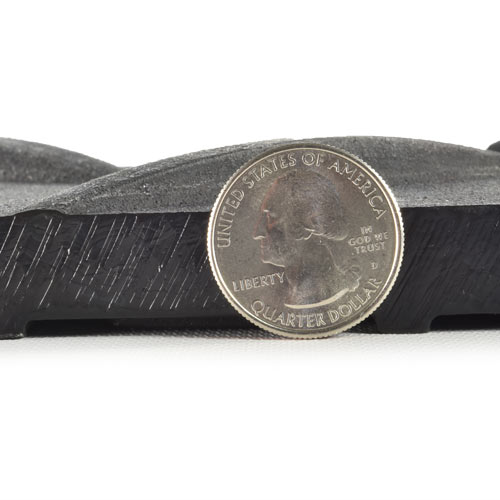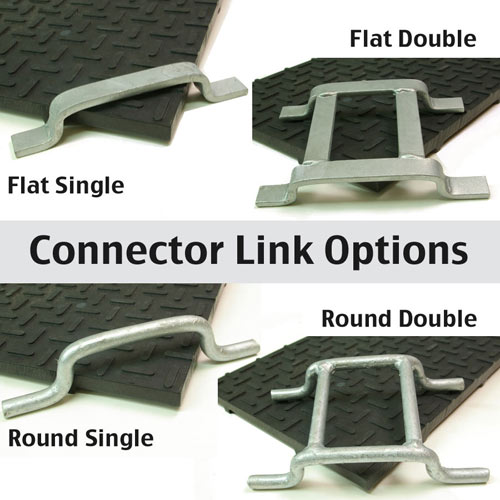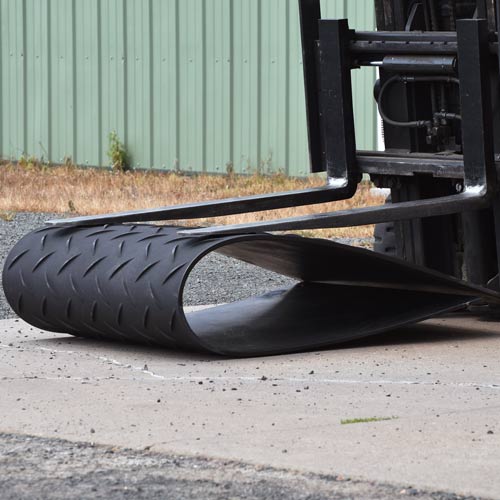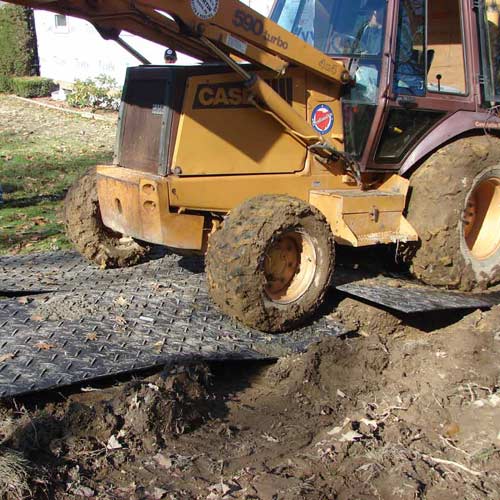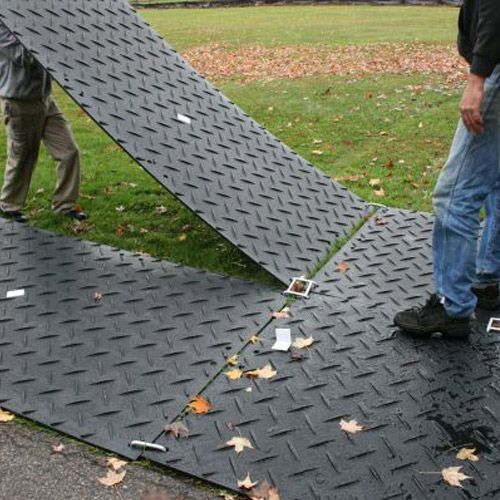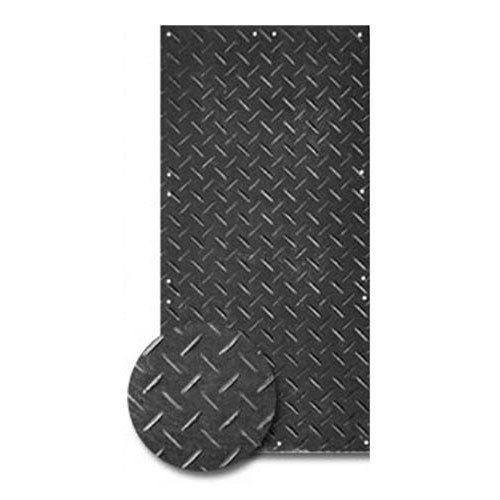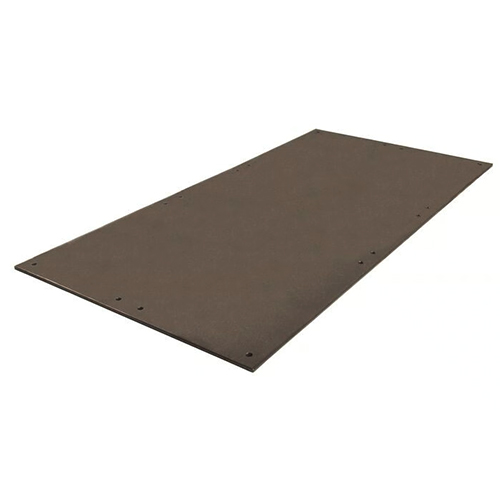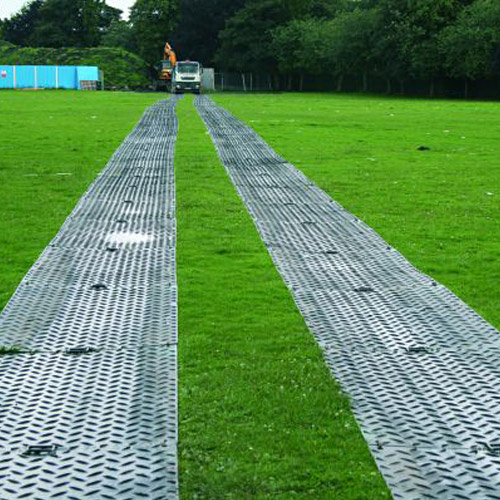 12 mat pack with rack, connectors and hooks
Rugged 1/2 inch thick recycled polyethylene
Easily supports 120-ton loads
Handling Time Estimate: Call for Availability of Lead Times

Diamond-Diamond

Diamond-Smooth
Please Call for Sample Options
12 mat pack with rack, connectors and hooks
Rugged 1/2 inch thick recycled polyethylene
Easily supports 120-ton loads
Bold cleat design for great traction
Build a roadway or working platform in minutes
Leave turf smooth, even in soft conditions
Made from 100% recycled high-density polyethylene (HDPE)
Available in both black or clear mats in a variety of sizes

Ground Protection, Heavy Equipment Mats, Skid Steer Mats, Grass Protection Mats, Temporary Roadways
NOTE: This item is a custom order and is not returnable.
Mat-Pak Ground Protection Black - 12 Mats Kit 1/2 Inch x 3x8 Ft.
The original Mat-Pak Ground Protection Black - 12 Mats Kit 1/2 Inch x 3x8 Ft. that features maximum traction with a diamond plate tread or smooth surface mat design.
AlturnaMats 3x8 Ground Protection Tiles, Black

Construction sites can be difficult to navigate for people walking or driving vehicles. Count on the quality of our AlturnaMats 3x8 Ground Protection Tiles to create a safe road at the site, simplifying the movement of vehicles, large power tools, and people around the site.

With the exposure of raw earth in a housing development or at a new retail building site, problems with vehicles being stuck in the mud or with people being unable to walk safely are common. Our AlturnaMats 3x8-sized mats for sale will create a temporary driveway that prevents these issues.

Because they often have extra sheets of plywood available at the site, some construction or civil engineering teams will simply lay these sheets across the ground to create a temporary road. However, plywood splinters and rots when exposed to this kind of usage.

Our mats will stand up to the roughest conditions day after day. The polyethylene plastic is ideal for this use case, as it can support loads up to 120 tons. The manufacturer offers a limited lifetime warranty on these mats. This product is made from 100% recycled high-density polyethylene (HDPE).
Sensitive Ground Protection Mats
Our AlturnaMats 3x8 model will deliver outstanding quality and performance in all use cases. In addition to providing protection over muddy ground at the worksite, these mats also can protect existing turf and grass from damage related to foot traffic or vehicular traffic.
When doing an addition to a building or needing to use a scissors lift or a wheeled lift to paint a home or make window repairs on an upper floor, the lawn at the site may already be in place and established.
Workers can lay out these AlturnaMats 3x8 tiles over the grass. They will protect even soft ground from seeing ruts and tire tracks from vehicles and heavy equipment.
Rather than tearing up the existing sod, making use of our durable tiles is the better option for creating a temporary walkway or roadway for moving people and vehicles across an existing site.
For special events, these tiles will work to deliver a temporary path that's safer than having people walk across the grass. At an outdoor wedding, for example, having a safe walking path for people of all ages, as well as those using a walker or wheelchair, can be extremely important.
On a large acreage, some customers choose to create a walking path or bike path using these tiles. These mats will support a golf cart or 4-wheeler as well.
At a school, some people use these mats to protect the track surface. As football or soccer players move across the track to reach the playing field inside the oval, the spikes on their shoes could damage the asphalt. Our mats prevent this from happening.
Providing Traction for Temp Roads
The surface of these tiles has a diamond tread pattern available that works nicely for delivering traction to wheeled vehicles. As people use these mats along a wet construction site, mud and plants will end up on the surface of the mats.
Without the raised texture pattern on the surface of the tiles, those driving may notice their wheels slipping slightly in the soil on the mats.
The manufacturer also offers a smooth surface mat for those who don't need the raised pattern for traction. In a location where people will be walking, for example, using a smooth surface eliminates a possible tripping hazard from the textured surface.
One model of this mat has a diamond tread on both sides, while another model has a diamond tread on one side and a smooth surface on the other side.
To lay out a long roadway or a wide roadway, the manufacturer offers a connector pin system that connects the mats securely to each other. For light vehicle or pedestrian traffic over flat ground, the connector pins may not be necessary.
Ground Mats for Heavy Equipment Specifications
Width: 3 feet

Length: 8 feet

Thickness: 1/2 inch

Coverage: 24 square feet

Coverage per 12-pack: 288 square feet

Weight: 74.8 pounds

Weight per 12-pack: 898 pounds

Colors: Black

Texture: Diamond tread pattern or smooth
Maintenance and Care
One of the reasons our AlturnaMats 3x8 tiles are so popular is because of the long-lasting performance they deliver without the need for specialized maintenance or cleaning techniques.
Customers can create the temp road and leave it in place without the need for daily cleaning. If gravel, mud, clumps of dirt, or grasses end up on the mats, these soils will not affect the mats' performance and longevity. Customers can leave these soils in place while using the roadway.
Some customers still will want to clean the ground cover mats after putting them in place. If so, just rinse them with a hose or a pressure washer.
When it's time to pick up the mats and move them to a new location or return them to storage, customers also will want to rinse the mats.
Do not use the mats to try to create a makeshift bridge. These mats only deliver the desired results when they are flat to the ground. If you try to use the mats to span a ditch, they will not be able to hold the weight of vehicles.
Maintenance
Clean using a pressure washer or garden hose and non-metal scrub brush.
Shipping
Ships via freight delivery, shrink wrapped on pallets. Customer must unload at delivery location, Lift Gate service is not available for this product.
This Product Ships Freight Only.
Please review our shipping disclaimer.
WARNING: This product can expose you to chemicals including Lead and/or Phthalates, which are known to the State of California to cause cancer and birth defects or other reproductive harm. For more information go to www.P65Warnings.ca.gov.
| | |
| --- | --- |
| SKU# | AMCP3 |
| In Stock | Yes |
| Product Type | Mat |
| Material Type | Polyethylene Plastic |
| Product Edging | Straight |
| Thickness | 1/2 inch |
| Width | 3.00 feet |
| Length | 8.00 feet |
| SF per Item | 288.00 |
| Weight | 868.00 lbs |
| Packaging | Shrink Wrapped on Pallets |
| Number of Pieces per Package Type | 1 |
| Non Absorbent | Yes |
| Special Adhesives | No |
| Interlock Loss | 0.00 feet |
| Material Hardness | Shore A 100 |
| Interlocking Connections | No |
| Made In | USA |
| Surface Finish | Diamond or Smooth |
| Surface Design | Solid color |
| Installation Method | Dry lay, connector pins |
| UV Treated | Yes |
| Reversible | Yes |
| Border Strips Included | No |
| Manufacturer Warranty | Lifetime limited |
RELATED PRODUCTS