Temporary Walkway Over Mud or Grass - Temporary Sidewalk Ideas
By Julia Nass Created: May, 2018 - Modified: October, 2023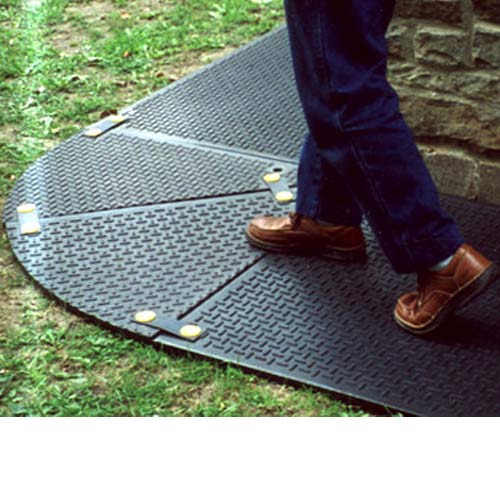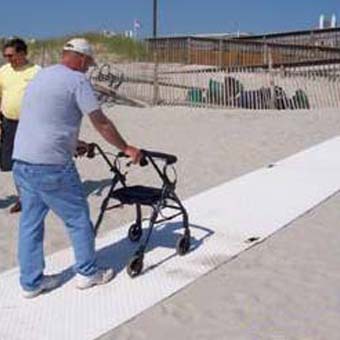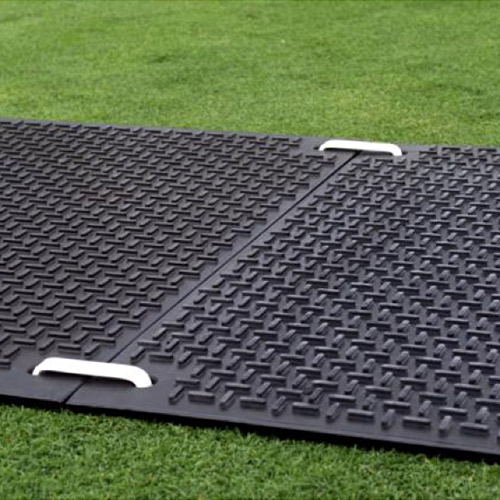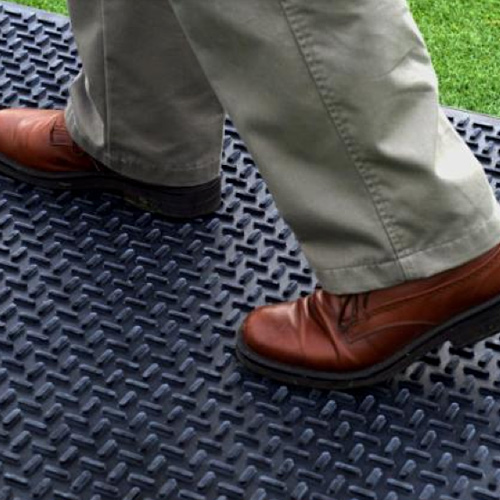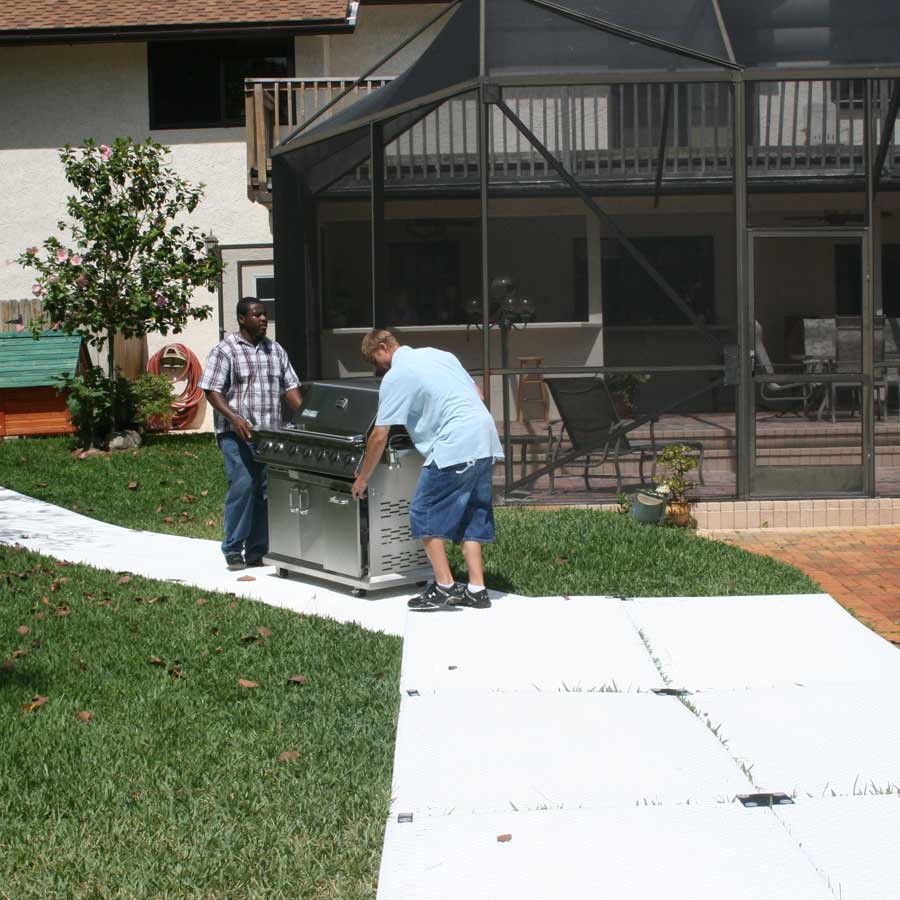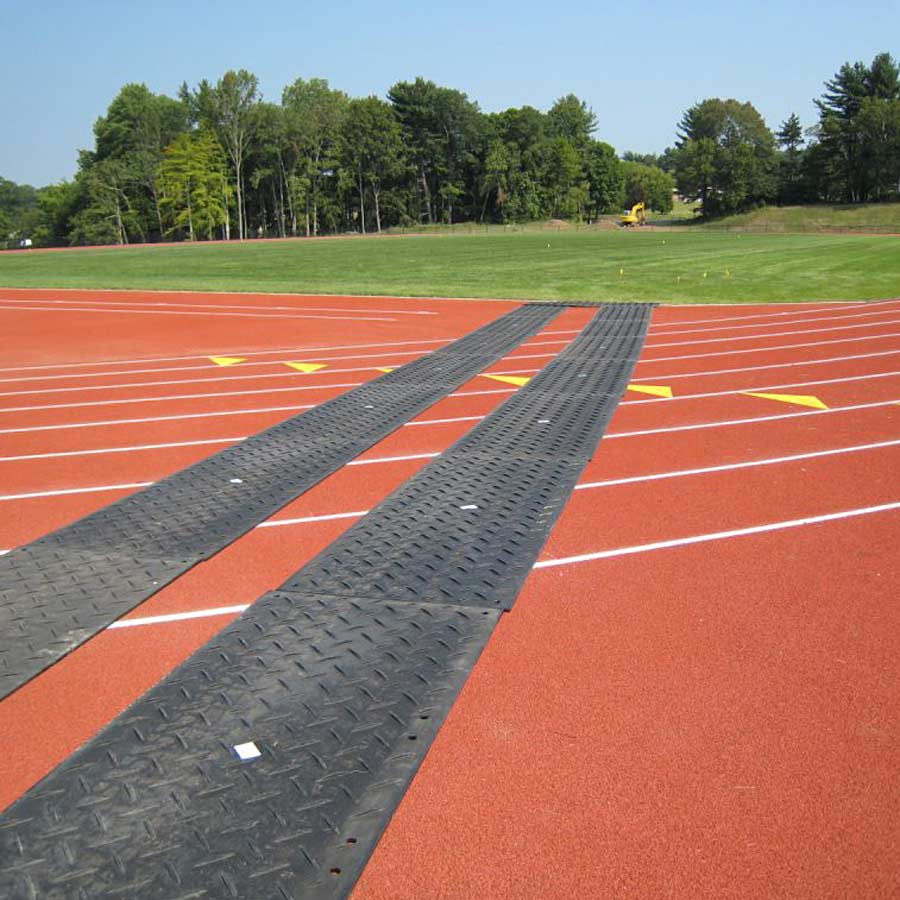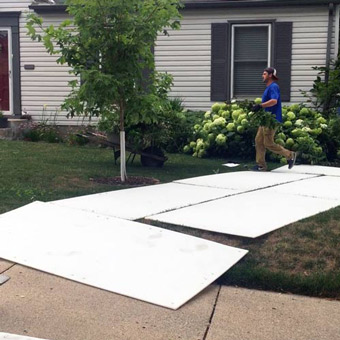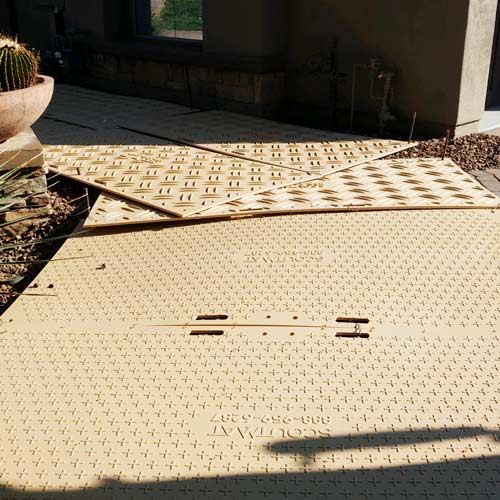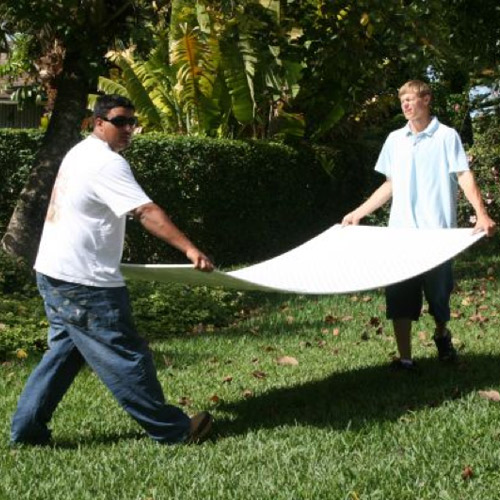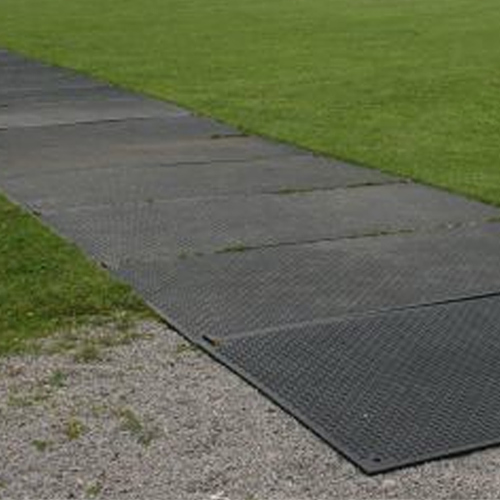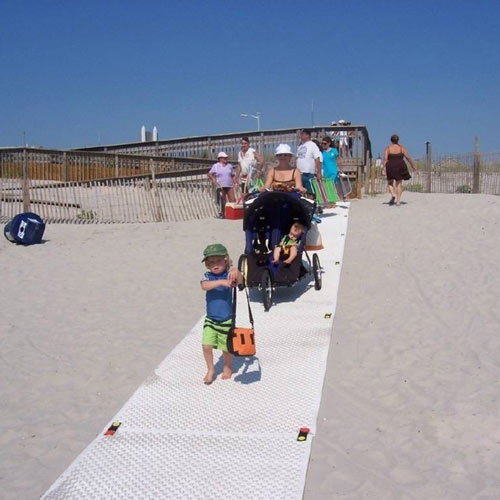 Temporary sidewalks are a type of portable outdoor flooring that comes in a variety of materials, shapes and sizes. Durable plastic is a common material choice for a temporary walkway, but they can be made of rubber, wood, vinyl and more. The key to a temporary sidewalk is that it can be easily installed and uninstalled without the use of machinery or adhesives.
Temporary walking paths come in handy in a variety of situations. They are useful for homes and gardens, outdoor events, trade shows, and more. Most outdoor event planners set up portable path mats to accommodate temporary foot or even vehicle traffic.
Benefits of Using Temporary Sidewalk
Ground Protection
Ultimately, a temporary walkway will protect both users and the ground underfoot. Building a nonpermanent walkway protects the grass and ground from getting ripped up. With the right kind of temporary sidewalk, not a single mark will be left on the ground underneath. This is particularly important during festivals and large events with seriously heavy foot traffic.
Even more damaging than foot traffic is vehicles and tires. Driving cars or machinery over grass or soft ground can cause costly and unsightly damage. Luckily, portable path mats can also be setup for vehicles so that they can access any area without leaving a trace.
Increased Accessibility and Movability
Setting up portable path mats can allow people to access areas that would otherwise by unreachable by foot. Whether it's sand, mud, or rough terrain, a portable walkway is an obvious solution to accessibility problems. A temporary sidewalk can also come in handy in times that a vehicle is stuck and needs some traction underneath to get moving again.
Safety
Further, temporary sidewalks are useful in increasing safety. When ground is uneven, holey, or covered in rocks or cables, short-term sidewalks will make everyone safer. Providing even and sturdy ground for people to walk on will prevent accidents from occurring. Plus, a temporary walkway typically has more traction than grass, concrete, or other materials, so slips and falls are less likely to occur.
Stress-free and Smart Investment
Portable paths can be used time and time again, which makes them a great investment for both individuals and businesses. Unlike plywood and other inferior materials, a high-quality temporary walkway will not splinter, breakdown, or warp over time. At Greatmats in particular, all transportable path mats are specifically designed to last for years and years - even when subjected to heavy weight, intense use, and extreme weather. Overall, with the right temporary walkway, users are left feeling more at ease and stress-free than any other method of ground protection.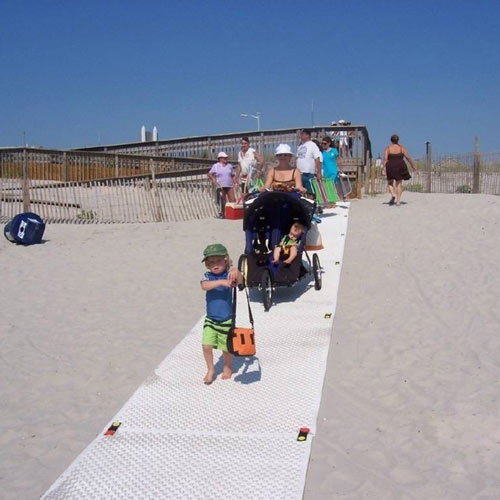 How to Make a Temporary Walkway or Sidewalk
At this point, a removeable sidewalk is probably starting to sound pretty great. So how do you make one? At Greatmats.com, it is extremely easy. Their traveling path mats come in handy kits that make installing a temporary walkway a breeze. All you need to do to get your mobile walkway all set up is just follow a few easy steps.
Step One - Choosing Your Temporary Walkway
First, you need to hone in on what your removeable walkway will be used for. Will it be used for heavy foot traffic? Vehicles? Is it simply for aesthetics? Are you on a tight budget? Would you like your sidewalk to turn a corner? Once you have an idea of what it is you're wanting, you can start browsing all of Greatmats' incredible products. Exploring different products should help create an even clearer idea of what you would like.
If you are struggling to find exactly what you are looking for, get in touch with a Greatmats Flooring Expert. The friendly person on the other end of the line will not give up until you find something you are completely satisfied with. You can even order samples to get a complete idea of your purchase.
Step Two - Shipping Process
Shipment methods differ depending on the product, but it is certain that Greatmats will get your temporary sidewalk shipped to you as timely and as cheap as possible. If it arrives with any problems at all, Greatmats will make sure the issue is resolved right away.
Step Three - Lay Out and Installation
Once you receive your product, you can lay it out exactly where you want it to go. After everything has been laid out, you can start piecing your temporary sidewalk together. Different products connect in different ways, so make sure you read the specific product description in order to have a clear sense of how to install it. That being said, Greatmats prides itself on selling mobile path mats that are super easy to put together and take apart. With a Greatmats temporary walkway, installation will be a simple do-it-yourself or do-it-with-a-pal project.
And voila! There you have your very own temporary sidewalk. Be sure to read up on the maintenance and storage of your product at Greatmats.com. Rest easy knowing your new non-permanent sidewalk will be easy to take care of and will last you for years and years to come.