Game Room Flooring Ideas for Garages, Basements and More
By Lisa Hobbie Created: December, 2019 - Modified: July, 2020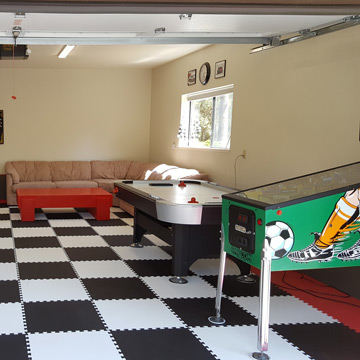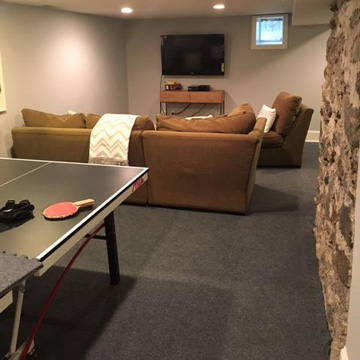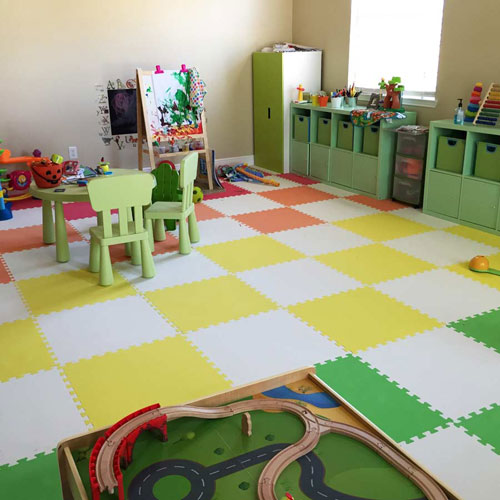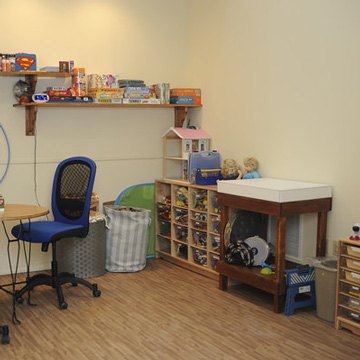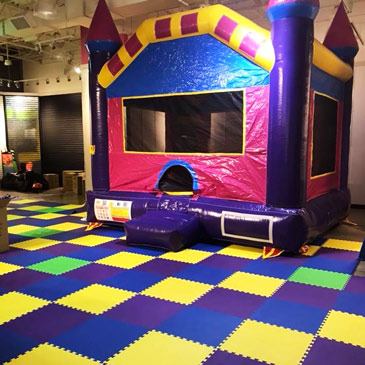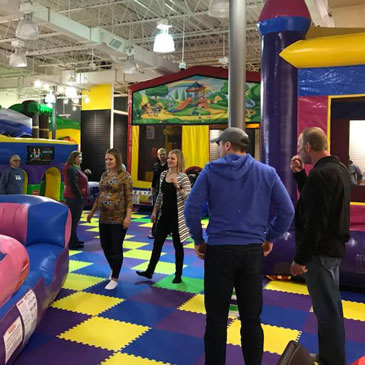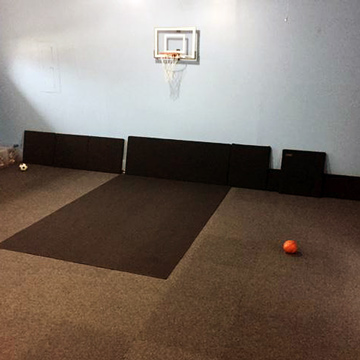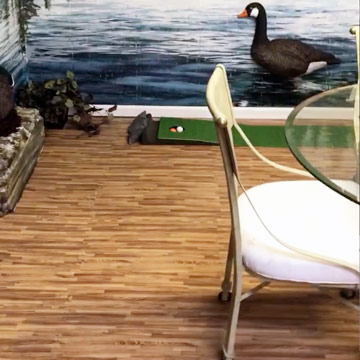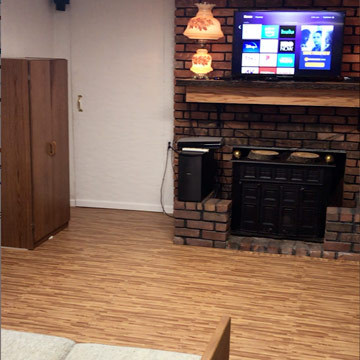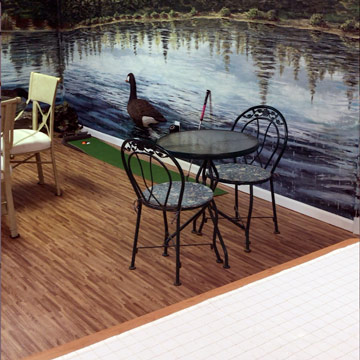 Imagine it. The perfect game room. It will likely have a gaming PC, headsets, massive monitor, gaming chairs, sound system, web cam, gaming systems, multiple controls, and more. It would have table games like ping-pong and air hockey, darts, and a place to play cards and board games. Perhaps it will have escape room puzzles and arcade games, a pool table, too. It may even feature a dorm fridge for beverages, snack bar, and a convenient bathroom close by.
But what about the
game room flooring
?! What would the best gaming room flooring look like? What would it feel like? Would it feature a pattern or design? Would it be plush and cozy like carpet or smooth and hard like wood or tile? If you're looking to transform an unused bedroom, section of your garage, basement, or other area of your house into a game room, an effective plan should be in place with the game room flooring being an important part of it. Greatmats offers easy, attractive ways to create an awesome game room. With our wide-range of game room flooring options, you can transform any space into a fun, comfortable, and safe space to play.
Wood Grain Foam Tiles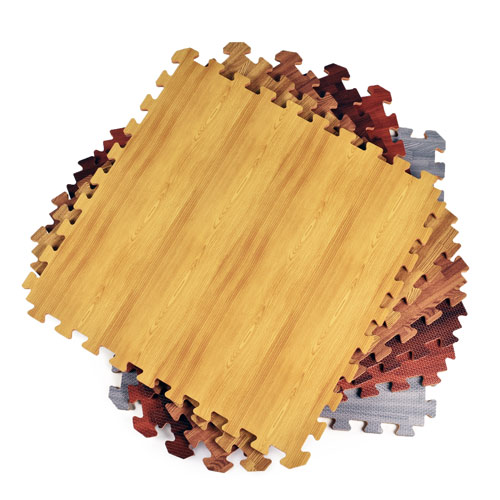 Hard wood floors are rich and inviting, but they also succumb to scratches and damage from shoes, pets, game tables, furniture, and more that can be expensive to repair or replace. They also come with a hefty price tag and require a fair amount of maintenance. If the look of a hardwood floor appeals to you, but you want something more cost effective and comfortable, interlocking wood grain foam floor tiles are an excellent option. These are waterproof, lead free, latex free, easy to clean, easy to install, and simple to replace. This type of foam tile has a wood pattern on one side and a solid tan color on the reverse side and can be laid out in a number of ways providing for a tight-fitting, interlocking design. Unlike wood which is hard and uncomfortable, these tiles deliver a soft, cushioned feel. They will give your game room flooring the look of rich hardwood and cozy feel of foam. They are easy to move around on and comfortable to spend time on. For a clean look and comfortable feel, wood grain foam tiles are among the best game room flooring options if you want a rich, classic feel.
Foam Play Mats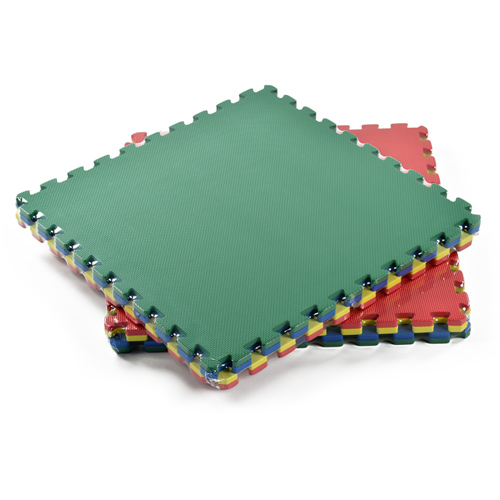 Maybe you have a nice tile, concrete or hardwood floor, but you'd like a soft area to play on while also protecting the existing floor, foam play mats are an excellent option. Foam play mats are lead and latex free, waterproof, stain resistant, and easy to install with the interlocking, puzzle connection design. You can add comfort and a variety of colors to a portion of the room, providing an area of cozy and cute game room flooring. These floor mats are easy to install without the use of adhesives; you simply put them down like you would put a puzzle together. This is also handy if a mat should become damaged, as you simply remove it and swap it out for a new one !
Carpet Tiles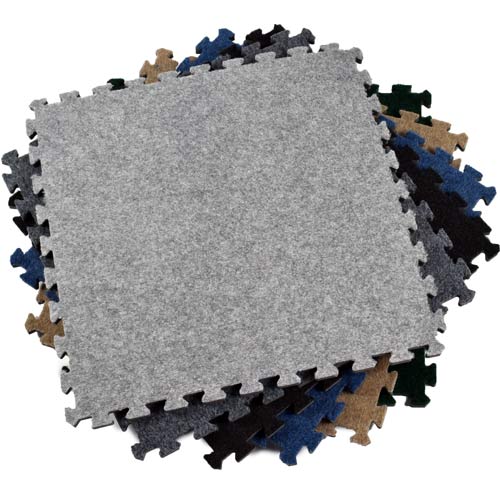 If you like the look and feel of carpet, but you are installing a game room flooring in a space that isn't ideal for carpet, carpet square tiles are an excellent option. We have carpet tiles that combine support, cushion, and noise reduction with a unique pattern and design. It is a modular floor covering that uses a non-adhesive installation system which allows for you to change the design as often as you'd like!! So, if your gaming tables and systems change and you want the look of the room to change with it, carpet tiles are a great option for you. Each tile is easy to cut with a utility knife when needed, and each tile has two border strips, giving you the freedom to create corner and side tiles. These carpet squares are durable, stain resistant, commercially rated, comfortable, and injury minimizing. They also have a PVC-free polyurethane back that is engineered to absorb rolling and foot traffic, so the usable life of the carpet is greatly extended.
Choose Greatmats
When thinking about your game room, the flooring may not have been at the top of your list of considerations. Likely the actual games and activities, the location of the room, decor, and other aspects were on your mind. But, to create a warm, welcoming, and fun environment that will be low maintenance, durable, and dependable - game room flooring should not be overlooked.
In addition to the suggestions mentioned, Greatmats has numerous options that would work well in a game room. Numerous styles of tiles, rubber floors, foam floors, and more - something to suit anyone's needs and preferences of color, pricing, materials, and sizing - all available at Greatmats. With years of serving families and business and countless satisfied customers under our belt, trust us to help you select the perfect game room flooring for your space.