Qualities To Look For In Game Room Carpet Flooring
By Paige Cerulli Created: August, 2022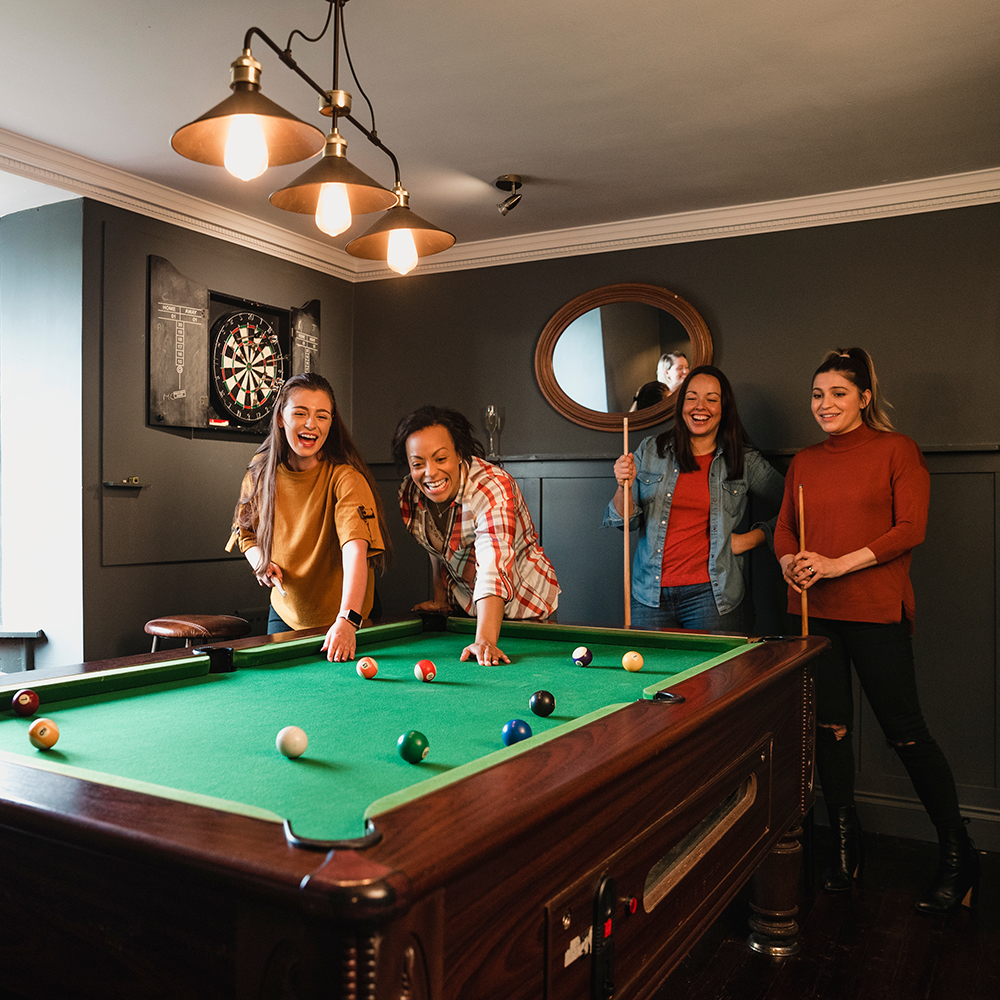 A game room evokes a certain atmosphere, from the busy and high-energy arcade to the ever-popular game room in a youth center. Whether you're creating a game room in your home or in a commercial setting, picking the right game room carpet can make all the difference.
What to Look for in Game Room Carpet
Game room carpet with the following qualities will be best suited to use in these high-traffic spaces.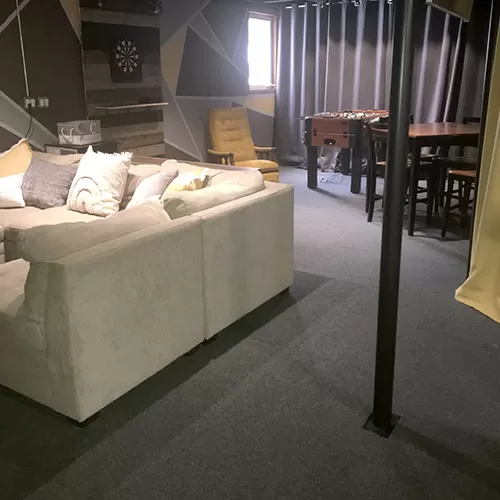 Durability
Game room flooring will face significant foot traffic, especially if installed in a commercial space like a bar. As a result, the flooring needs to be highly durable.
When looking for carpet, consider the manufacturer's warranty. Many of the more durable commercial products are backed by a limited lifetime warranty, so you can buy in confidence, knowing that your investment is designed to last.
Stain Resistance
If you allow drinks and food in your game room, then sooner or later, they are bound to be spilled. Choosing a stain resistant carpet can maximize its lifespan and help to keep the floor looking its best.
Additionally, consider choosing modular carpet tiles so that you can easily replace one or two squares of carpet if they do become stained. You will save money over the cost of replacing an entire room of carpet, and can keep your game room looking its best.
Easy Maintenance
It's also important that you can easily maintain the flooring that you choose. Look for a product that is easy to clean, and that you can use your existing equipment on.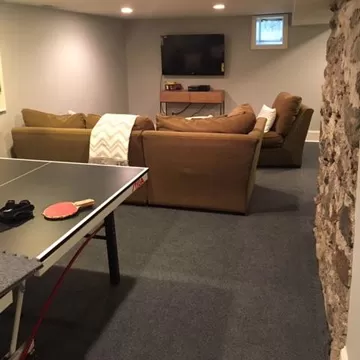 A product that can tolerate the occasional use of carpet cleaning machinery makes your maintenance job easier, allowing for a deep clean whenever it's needed.
Simple Installation
Consider the type of installation method that is best for your needs, too. Many modular carpet tiles offer DIY-friendly installations that are ideal for homes and commercial spaces.
If you will be installing the carpet in an area that could flood, like a basement, then modular carpet tiles are an excellent idea. With a waterproof modular carpet tile, you can remove and dry out the tiles if the space ever floods.
Design Options
Game rooms are traditionally full of bright colors and fun patterns, and many carpet squares allow you to continue this trend. You can choose from carpet tiles that already have printed patterns, or buy tiles in multiple colors so that you can create your own pattern.
You can also use carpet tiles to create a more reserved look that's suitable for a game room in a bar or other space. You will find many tiles in blacks, greys, and other neutral tones that can fit right in with your decor.
Additional Features
Depending on where you're installing your game room, you might want to choose a carpet with certain unique features. For example, if your room has many large windows, you might choose a product with UV light resistance, helping to ensure the carpet's colors don't fade.
In a commercial game room, you might find that a product with sound dampening properties is ideal. This type of flooring can make the room more enjoyable to use.
Top Game Room Carpet Options
At Greatmats, we offer several carpet products that are ideal for use in game rooms. If you're looking for ideas for your own room, these carpet options can help you to get started.
Kids Carpet Tiles
The Kids Carpet Tiles are a fantastic choice when you're designing a game room. These tiles are available in bright, bold patterns that will add a fun touch to any game room.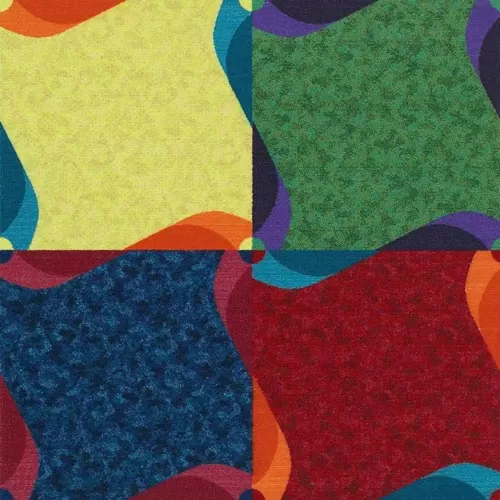 You can install and remove the tiles individually, making them a versatile choice. They feature a StayTac backing that allows you to reposition the tiles as needed.
These tiles offer support, cushion, and noise reduction, which are all important qualities for your game room. They are highly durable and backed by a limited lifetime wear warranty, so you can buy them with confidence.
Prism Carpet Tile
The Prism Carpet Tile is available in a wide variety of colors and patterns. By rotating the tiles during installation you can create a pattern, or create no pattern at all.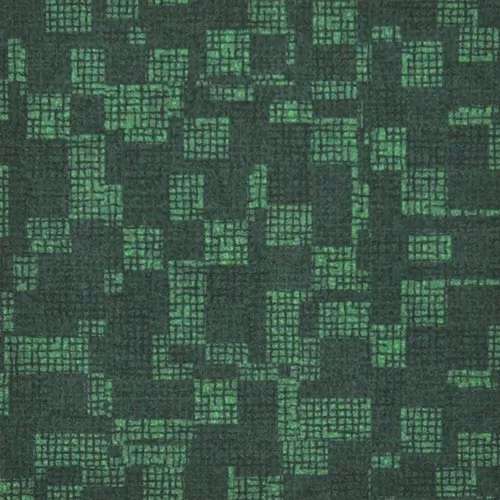 The tiles feature a StayTac non-adhesive backing that creates plenty of versatility in their installation. The tiles are easy to clean with a vacuum cleaner, but you can use a professional cleaner when you need a deeper clean.
The tiles won't generate static when people walk over them, making them a perfect choice for game rooms. They're warm and cushioned, yet also highly durable.
Royal Interlocking Carpet Tile
The Royal Interlocking Carpet Tile is a versatile flooring choice that you can install directly over concrete, wood, or tile. The tile is available in a variety of solid colors, so you can create a single-colored floor or mix and match the tiles to create patterns and designs.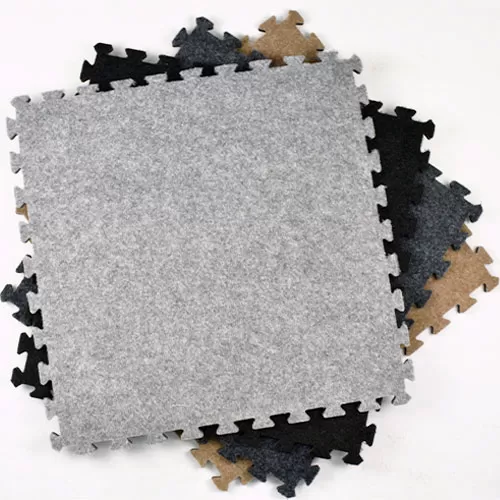 These tiles are waterproof and odor proof, so they're an ideal choice for game rooms, especially those in garages or basements. They are also stain resistant, helping to minimize the cleaning.
The tiles provide valuable anti-fatigue and insulation properties. They resemble the feel of carpet, but are a more practical choice.
LCT Plush Luxury Carpet Tile
With the LCT Plush Luxury Carpet Tile, you can enjoy the comfortable, welcoming feel of a plush carpet with the convenience of a modular tile. These tiles are available in several neutral colors, so you will find something that matches just about any game room decor.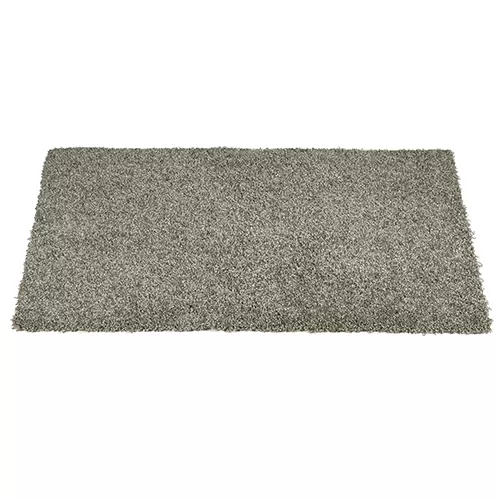 If these tiles get dirty, you can remove them and wash them in your washing machine for convenient cleaning and maintenance. The tiles are highly durable and are backed by a 15-year limited residential manufacturer warranty.
For more on this topic please review our
Carpet Tiles
product page.