How thick should your mat be: gymnastics versus cheer flooring
By Kim Butler Created: August, 2017 - Modified: May, 2021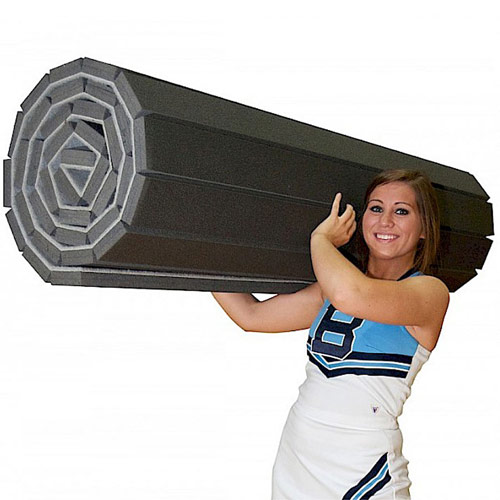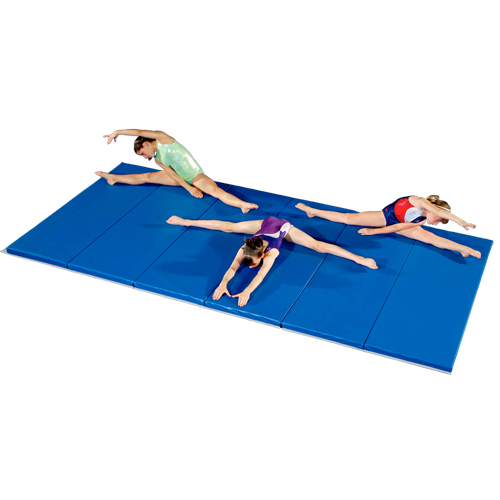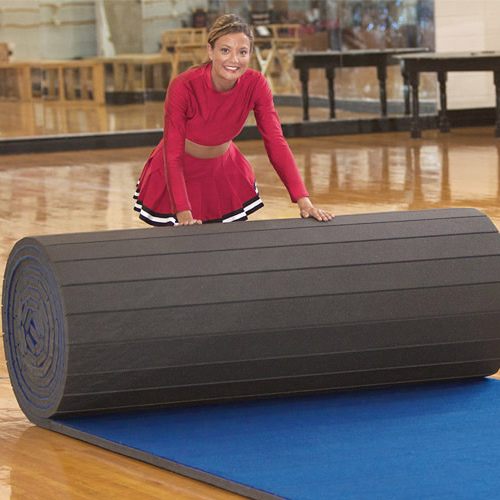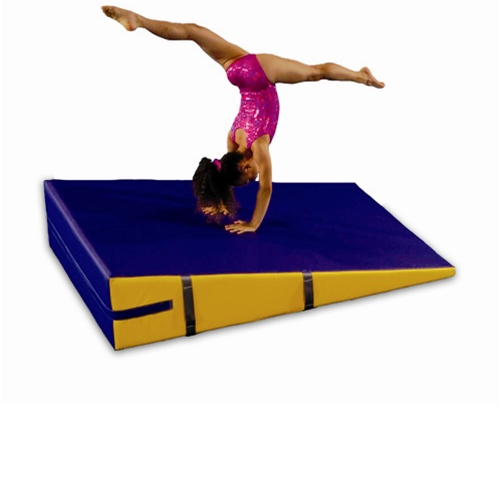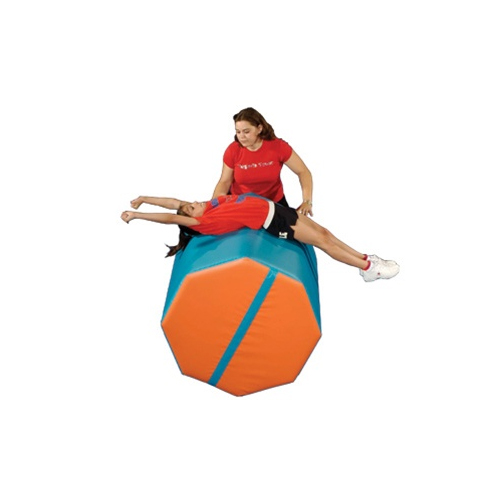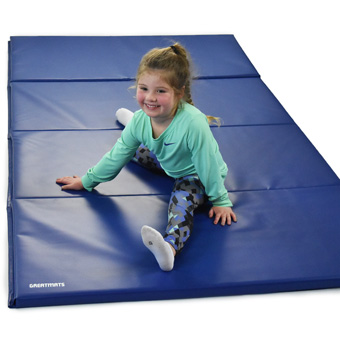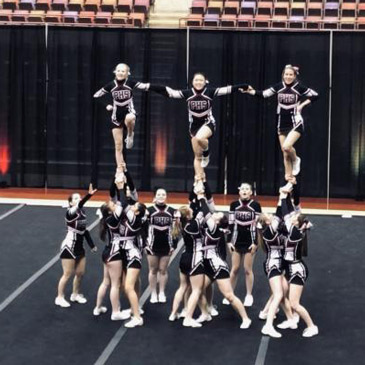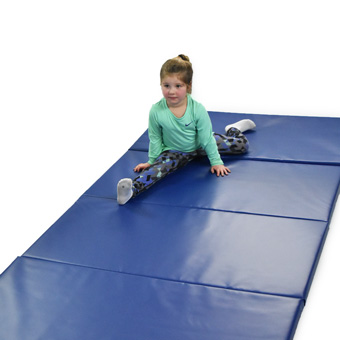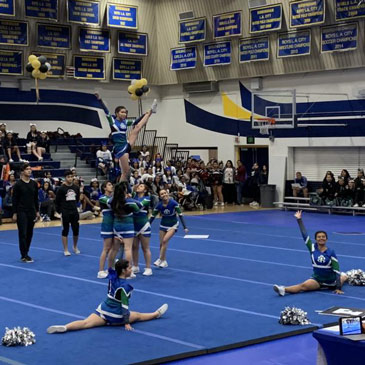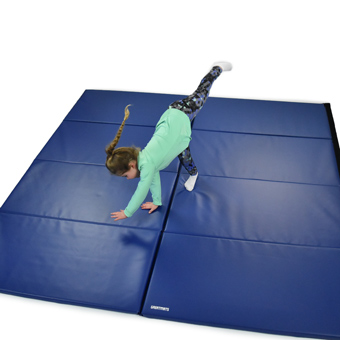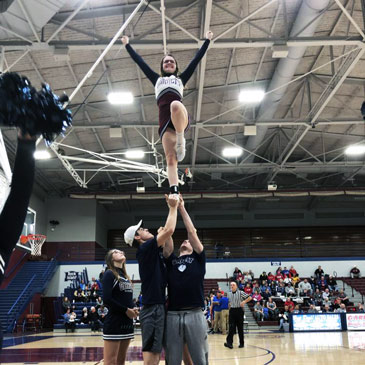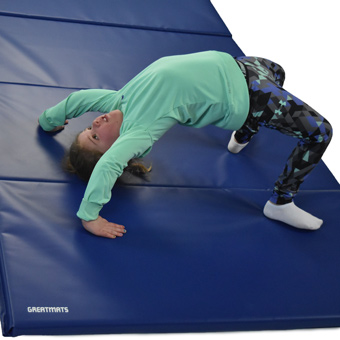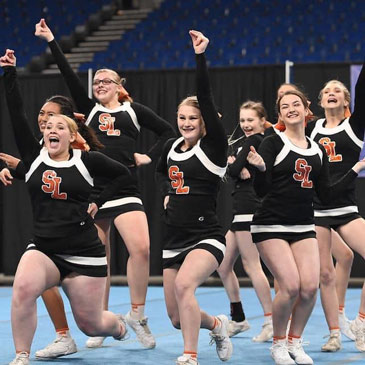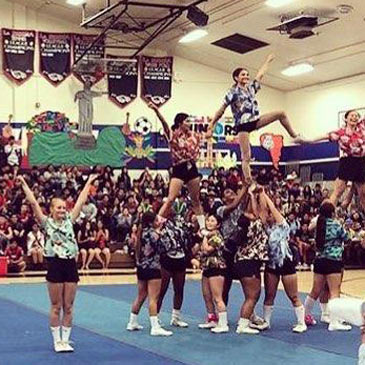 To the casual observer, cheerleading and gymnastics share a fair number of similarities. There's lots of tumbling, flips, round offs, back handsprings, layouts, etc. Both cheerleaders and gymnasts incorporate dance moves and music into their routines.
So shouldn't the flooring they use be the same? No - not even close. If you're looking for home mats for your budding Simone Biles or training your school's cheerleaders to ''Bring It On'' you want to make sure they have safe cheer or
gymnastic pads
to land and practice on.
Competitive Tumbling and Gymnastics Landing Mats
While gymnastics does include tumbling and floor events, female gymnasts also use equipment for three of their events: uneven parallel bars, the vault and the balance beam. Male gymnasts compete on even more apparatuses. Falling off of these pieces of equipment requires specialized fall-rated flooring, and unique mats to absorb the gymnast's energy when they really ''stick'' a landing.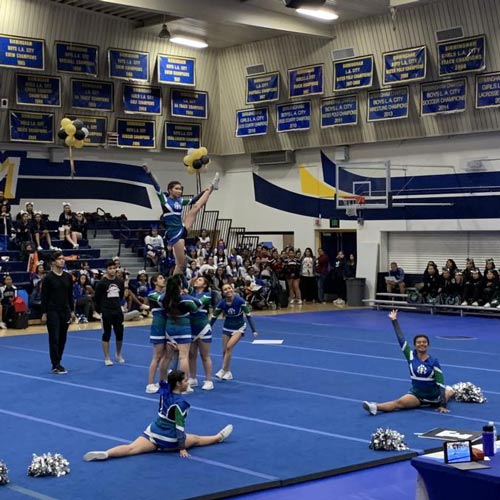 Cheerleading used to be a pretty tame sideline activity, but in the past few decades, it has become a competitive pursuit with governing boards, regulations and, unfortunately, injuries. Falling off a pyramid formation on the wrong surface can mean serious injury. Participants in cheer activities received more injuries than any other female college or high school sport. Coaches, participants and officials are working successfully at bringing that injury rate down, and one thing that is helping is safe flooring.
Cheer Mat Construction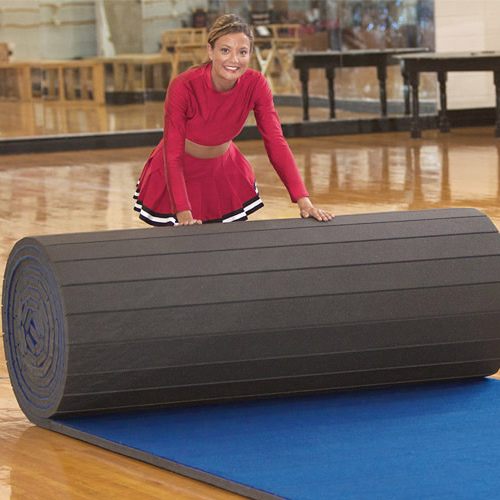 Some home cheer mats are made of carpet bonded foam and easily roll up when not in use. They are lightweight and portable, and work for home use and traveling cheer events. Mats can be joined together with hook-n-loop strips. Sizes range from 4x6 foot to 5x10 foot to
6x42 feet cheer pads
. Some mats are 1 3/8 inch thick while other are 2 inches thick.
Cheer mats generally have a carpet top, while gymnastics roll mats will most often have a vinyl top.
Many good quality cheerleading mats are made in the US and feature a 3 year warranty like the ones carried by Greatmats.com. Its 26 oz. needle-punch carpet top mats are flame bonded to a cross-link polyethylene foam. While some manufacturers use glue to attach the carpeted tops of their mats to their foam bases, the carpeting on top-quality mats is flame-laminated to the foam. This ensures that the bond between the foam and carpet won't begin to fail with use. Mats come in black, blue, purple, gray and red.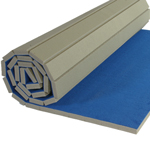 The roll-out feature, i.e., the slits in the back of the mat, are cut with water jet precision for a perfect cut in every mat. The foam in quality roll-out mats consists of cross-linked polyethylene material. These slits allow you to roll up the mats for storage or transport without creasing or damaging them.
These mats are precision-cut with a water jet to ensure that the mats are perfectly square and will lay side-by-side with no gaps. These mats feature a flexible style, easy roll out design.
Transportation of Cheer and Gymnastics Roll Mats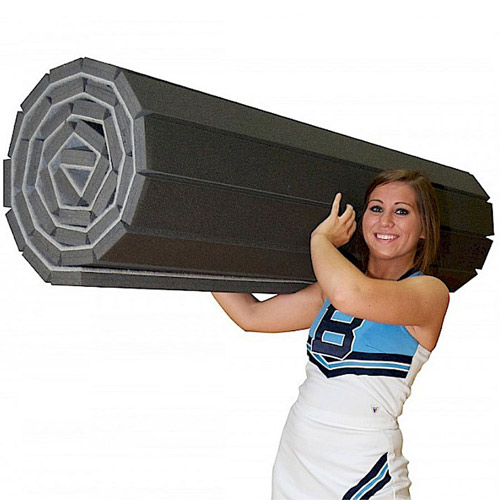 This flexible style is a popular solution for people who need to haul and use their mats in various locations. A lightweight design makes it easy for one person to install and move the mats. Even the large 42 foot mat at 1 3/8 inch thickness weighs just 115 pounds. A 2 inch thick mat weighs 135 pounds. Cheer mats are easily transportable for competitions and sideline or baseline setup. Home mats in smaller sizes weigh as little as 12 pounds and can be hauled around and set up by your young athlete.
Cheer Mat Safety Features
These mats are suitable for a fall height of 4 feet or less. The non-slip, carpet-topped cheerleading mats are designed to provide fatigue relief for catchers while also providing a layer of padding for flyers. They are excellent for stunting, tumbling and other floor exercises. Since cheerleading is performed in shoes, the carpet top provides a suitable surface for this activity.
If you are working on drills and learning new skills, vinyl covered landing pads or crash pads are a better option. Crash mats are not as firm as
landing mats
and are therefore not intended for stunting. Both of these options are generally used when there is a fall height of 6.5 feet or less. However, additional protection for greater heights can be achieved by layering landing pads over foam matted flooring.
Spring floors should be used for any cheerleading activity with a fall height exceeding 11 feet.
Since your child's or student's safety and longevity in the sport of gymnastics or cheer is so important, make sure you go with a knowledgeable specialty flooring retailer when choosing your mats. In addition to home cheer mats, Greatmats carries a complete line of professional quality 6x42 foot carpet top pro cheerleading mats for All-Star Teams and competitions, designed for years of use, which also come with a 3-year limited warranty. All star and competition cheerleading mats are available in 1-3/8 and 2 inch thicknesses.
Cleaning Cheer Mats
Cheerleading mats are easy to keep clean with regular vacuuming and an occasional light mop. Avoid using any powerful cleaning agents, as these can damage the product. Large, full-size cheerleading mats can be steam cleaned on an annual basis as a part of regular maintenance.
If the mats are to be used outside, do not leave them in the rain. It is best to always keep cheerleading mats dry and indoors for storage.
Gymnastic Pads
Gymnastic pads range from training folding mats to rollout mats and landing pads, to shaped
octagon mats
and wedge shaped
incline mats
. Many gymnastic pads fold or roll up for easy storage and transport.
Gymnastic Pads Construction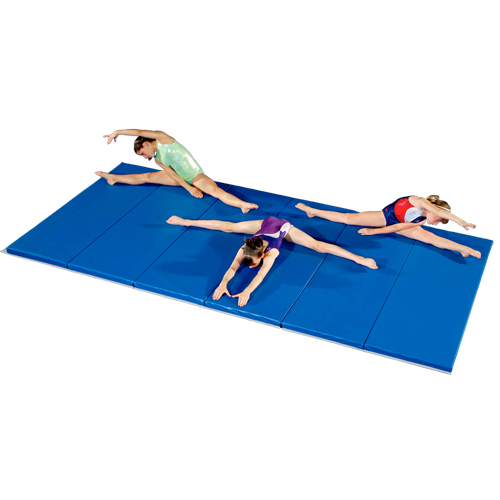 Since gymnastic pads are usually covered in vinyl, it pays to make sure you are getting a heavy duty vinyl that will stand up to the rigors of practice. Gymnastics pads sold by Greatmats come with industry standard 18 oz., 6P compliant vinyl coverings and are constructed using quality materials and craftsmanship. The durable vinyl cover materials on their folding gymnastic pads meet the California Clean Water Act requirements. These
folding gym mats
have double stitched seams and feature a durable polyethylene foam core. The 2-foot wide panels fold accordion style for quick and easy installation and takedown. These panel-style gymnastic pads are also a popular form of economical wall padding.
Perfect for general training, tumbling, cheering, stunting or home practice, panel-style folding gym mats feature two or four 2-inch wide connector strips which allow you to combine multiple mats for covering large areas without mats separating or shifting during training. Panel mats with two connector strips have the strips on the short side (a.k.a. ends), allowing you to make long, narrow runs for tumbling.
Panel mats can be connected together using their hook and loop connector strips and placed over sprung floors for gymnastics - as well as martial arts and wrestling - for additional impact absorption. Panel gymnastic pads are smooth enough to use under bare feet and durable enough to handle athletic footwear.
Greatmats keeps many standard sizes in stock including 4x6 foot, 4x8 foot, 4x10 foot and 5x10 foot mats, in either 1.5-, or 2-inch thicknesses.
So how thick should a gymnastics mat be?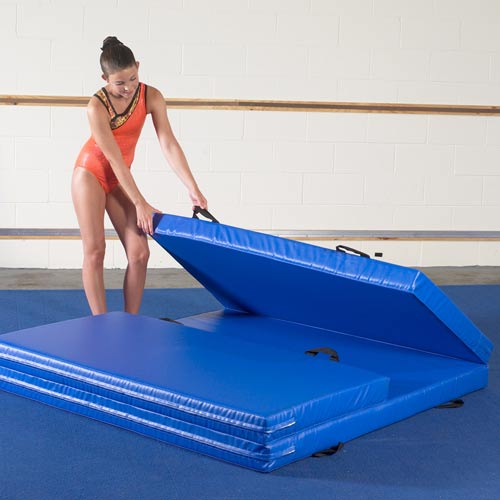 The 1.5 inch thick home gym mats are best for younger children and 2 inch thick mat works for middle school students and older as they offer more cushion and impact absorption. 2.5 inch thick mats are also available. Standard colors include: blue and black. Green, purple and red are available as well. Some mats have as many as 17 color options and a custom color option. Customers may choose to put a school or club logo in one strip of their mats to share their school spirit.
The durable vinyl or polyester cover is durable enough to be used in good weather over lawns, but can suffer blemishes if used over sharp or rough terrain. Keep in mind that while folding gymnastic pads can be used outdoors, they are not UV treated and are only partially non-absorbent, so they should not be left outdoors when not in use or used during adverse weather conditions.
Landing mats can be purchased in both folding or non-folding forms. Competition landing mats come in sizes ranging from 6x12 feet to 8x18 feet, in both 12 and 20 cm thicknesses. All competition gymnastic pads have a laminate layer of 1-3/8 inch thick cross-linked polyethylene foam. Mats with 12 cm thicknesses feature a custom formulated bottom layer of polyurethane foam that will not come loose. This premium material insures highly-effective shock absorption and years of use in any school or gymnastics facility. Competition landing mats have a double-stitched top end and a heavy duty number 10 YKK molded zipper and carry a 3-year warranty.
Four-inch thick skill cushions are designed for toddler and preschool rooms where extra safety and protection is needed. The 8 inch thick skill cushion mats are the perfect option for tumbling and gymnastics programs, and the 12 inch thick tumbling mats add even more protection. All 8 and 12 inch thick skill cushions have breather mesh sides, and feature double-stitched top surfaces. Skill cushion mats also feature heavy duty 10 YKK zipper, a 3-year warranty, and have 2 inch polyester web handles on all sides.
If you are looking for ultimate cushioning for athletes repeatedly landing on their backs or stomachs, then Fluffy Denim mats are the way to go. These mats are 1 foot thick and are 5 feet by 6 2/3 feet long. American-made Fluffy Denim mats are perfect for bars and vault drills where high-impact landings are inevitable. The denim cover and soft foam help take away the slap and sting of landing on traditional vinyl covered safety mats.
Another option to consider is the Gmats line of roll-out mats for gymnastics practices at home or on the road. This American-made 5x10-foot roll-up mat can store in a upright roll that is less than 18 inches in diameter, and is excellent for tumbling and floor exercise practice.
Gmats come with carpet top or smooth vinyl surface options. Their carpet-topped Gmats are available at a 1 3/8 inch thickness, while the smooth vinyl surface Gmats are 1 1/4 inch thick. Carpet-topped versions are popular for both cheerleading and gymnastics, while vinyl surfaced roll out mats are commonly used for martial arts, wrestling and home exercise flooring. The carpeted surface is much softer and provides better rebound for gymnastics while vinyl surfaces are easier to clean.
Finally, an economical way to cover a large area is with a cushioned underlayment using rolls of foam. These American made rolls are 6x42 feet in size and come in either 5/8-, 1.25- or 2-inch thicknesses and provide superior shock absorption. Foam rolls are not designed to be a finished top surface and must be covered.
Gymnastic Pads as Skill Training Tools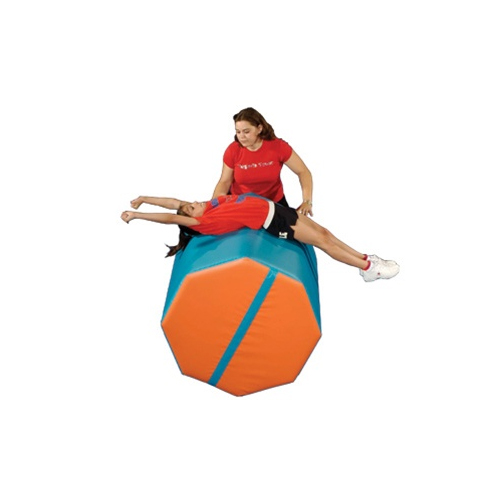 The versatile folding gymnastic pads can also be folded, or partially folded for numerous forms or training and conditioning drills. A 10-foot long and 2-inch thick folding gymnastic pad can provide agility training platforms anywhere from 2 to 10 inches off the ground - in 2 inch increments. This is a popular training tool for multi-level jumps and working into transitions from the floor to upright positions or vice versa while learning moves.
Greatmats can help provide you with the perfect skill development cushion mats for your gymnastics program. These too have both folding and non-folding options. Folding options are either single or bi-folding gym mats.
Inclined gymnastic pads go by many names, included wedge mats or cheese mats, and come in folding and non folding versions. These wedge mats can be used as a training tool for all skill levels. Some of the larger versions can be transformed into firm mini pits or spotting tables. Wedge shaped gym mats are great for uphill vaulting, transition training on bars, basic tumbling and conditioning. They can also be used in conjunction with octagon mats for skill training.
Gymnastic octagon mats are available in various sizes and are used for training forward rolls, walkovers and back handsprings. Larger models work well for cheerleading programs. Octagon mats are filled with premium quality 70 ILD polyurethane foam and used Dacron thread and rugged webbing handles.
Whether you're a straight gymnastics program, or a cheer program incorporating gymnastics moves, mats increase the safety for everyone, allowing for skill development and a strong program.