Incline Wedge Mats All Sizes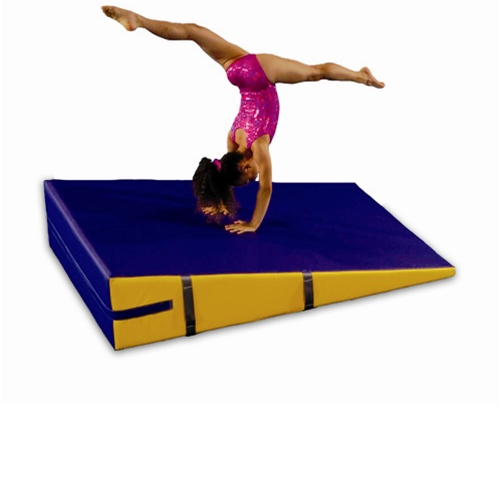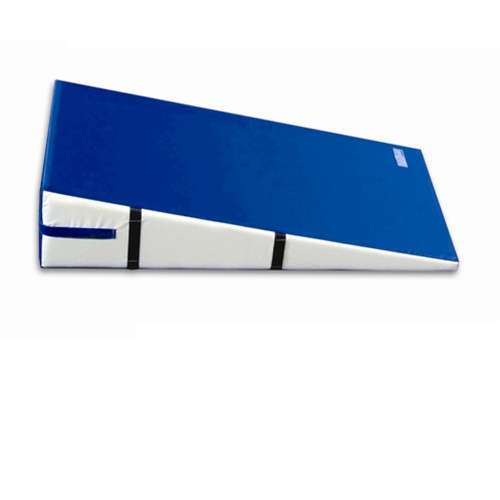 Versatile progressive skill builders
Order in one or two colors
Various sizes available
Handling Time Estimate: 3-4 Weeks on Average

Gray

White

Purple

Royal Blue

Forest Green

Navy Blue

Kelly Green

Sky Blue

Pink

Red

Maroon

Orange

Yellow

Tan

Lime Green

Black
Versatile progressive skill builders
Order in one or two colors
Various sizes available
Competitive pricing see description tab

Gymnastic Training, Skill Building Tool, Incline Wedge Mats
NOTE: This item is a custom order and is not returnable.
Gymnastics Cheese Mats, Incline Gymnastics Mat, Incline Skill Mat
When looking for ways to help novice cheerleaders and gymnasts gain a better handle on the basic tumbling skills, our Inclines Wedge Mats All Sizes product is a smart choice. This wedge mat also works as a functional and versatile progressive skill builder for your advanced gymnastics or cheerleaders.
Used as a training tool for all skill levels, the gymnastics cheese mat can be found in Mommy and Me types of classes and in recreation centers across the country. They are also used by elite athletes training for international competitions.


What is an incline mat used for?


You'll love the versatility these cheese wedge mats provide, giving athletes the chance to practice multiple moves and skills. Some of the options include the following.

- Back Walkover

- Cartwheel

- Dive Roll

- Floor Tumbling

- Forward Roll

- Front Walkover

- Handstand Roll

- Transition Training on Bars

- Uphill Vaulting

Students are able to start at the top of the mat (the high point) and work along the downhill portion of the wedge. Working downhill, rather than on a flat surface, can help the student gain a feel for how to make his or her body move more successfully. Students can focus on the body movement required to complete the skill, and gravity can help them complete the skill successfully, until they're strong enough to perform the skill on a flat surface.

To create an even greater level of incline, you can stack a smaller gymnastics cheese mat atop a larger wedge type of mat. Some instructors also will place a box-shaped mat next to the wedge gymnastics mat. They'll then start the students on the box mat and work on walkovers by going down the wedge-shaped mat. (With a foldable cheese mat, you can create a box-shaped mat, as we'll discuss next.)

Folding Options

With these wedge gymnastics mat options, we offer both folding and non-folding mats, and we offer both styles in a variety of sizes.

You'll fold the smaller half of the wedge shape over the taller half. Because of the way these two halves fit together, the gymnastics wedge becomes one box-shaped mat. This can be handy when you want to have a rectangular- or box-shaped mat versus the wedge shape.

Folding the mat in half also makes it easier to store, as you can stack the box-shaped folded mats on top of each other.

When the gymnastics cheese mat is folded into a box shape, you also can use this shape to help with stretching and certain types of skills. Gymnasts can practice bridges when the mat is in its box shape, placing their feet on the mat with their hands on the floor. Students can practice jumps off of the box mat, working on landings.

Some teachers even will use an incline mat to help students work on handstands and core control. The students will lean their arms slightly against the box-shaped mat, giving them a bit of extra balance while learning to do a handstand.

Durable Mats

Our wedge gymnastics mat products make use of a vinyl that is 6P compliant, meaning it's free of phthalates and lead. This vinyl also meets California state law Proposition 65 requirements.

This type of vinyl is thick enough to provide plenty of protection for the foam contained inside the wedge gymnastics mat. Without some sort of vinyl, the foam could be torn or damaged through regular use. The vinyl will stand up to normal usage patterns, although it can be torn or punctured by sharp tools or footwear. The vinyl gives those using the gymnastics wedge a nice level of traction too, as they'll often be using these mats in bare feet.

The vinyl in the gymnastics wedge will contain tightly sewn seams, ensuring the mat will not pull apart when it's placed under pressure. The high level of stitching included with these mats will keep them in great shape for a long time going forward.

Each of the wedge gymnastics mat options will give you a 3-year limited manufacturer warranty, which means you'll be able to use these mats for a long time and they'll continue to look great. These gymnastics wedge products are made in the USA, which gives them a high level of quality.

Understand that these gymnastics wedge options are not recommended for outdoor use as they are not waterproof and are not UV stable. If you need to clean the vinyl, do not soak the mat in water. Instead, you can use hot water and a sponge to clean the vinyl easily.

Excellent Foam Quality

The foam we've used in our wedge gymnastics mat products works great for this type of mat because of the way it provides a perfect mix of toughness and padding.

If your student should fall on this mat, its cushioning properties are helpful for keeping them safe while working on skills. Some gymnastics studios will use a gymnastics wedge atop additional padding to provide an even safer environment when working on skills and tumbling.

Yet, our gymnastics mat will also give you the firmness that's required to safely perform different gymnastics skills. You don't want a mat that allows the gymnast to sink into the surface so far that he or she could trip when trying to make a move. The Inclines Wedge Mats All Sizes will give a sure footing along with the softness in the padding.

With this type of firm foam, the gymnastics cheese mat will return to its original shape immediately after the student no longer is standing on the mat. The foam bounces back quickly.

This type of foam uses a construction method that ensures the foam will not be affected by mildew, mold, rot, or bacteria. We do not recommend allowing these mats to be soaked in water or exposed to constant moisture, but as long as they're kept in a normal environment, the gymnastics cheese mat product will perform well for you.

Safety Tips

Even though our gymnastics mats provide a softer landing area than carpeting or other types of flooring used in your gym studio, these mats will not be a 100% guarantee of safety and injury prevention. Students who land awkwardly still run the risk of an injury, even if they land on one of these mats.

In addition to using these cushioned mats, it's important that any students receive proper instruction to remain as safe as possible while performing gymnastics related skills.

Any gymnastics skill should be performed under the observation of trained coaches. Students should have a good base of knowledge about the proper techniques to use when performing certain skills before trying them on our mats. Use spotters and common sense when performing any type of gymnastics skill during a practice session to create the safest possible environment.

Multiple Colors

When you're looking for a gymnastics cheese mat that will match the team colors for your gymnastics club, you have found the right option in the Inclines Wedge Mats All Sizes product.

Each of these wedge gymnastics mat options is available in a two-tone color option. You can pick one color for the sides of the mat and then select another color for the main section of the mat. You also could pick the same color for the main section of the mat and the sides to have a solid-color mat.

Having these colors available in a gymnastics wedge will make it more fun to use for young children and experienced gymnasts alike. The colors available include the following.

- Black

- Forest Green

- Gray

- Kelly Green

- Lime Green

- Maroon

- Navy Blue

- Orange

- Pink

- Purple

- Red

- Royal Blue

- Sky Blue

- Tan

- White

- Yellow

Multiple Sizes

We offer the gymnastics cheese mat product in a variety of widths and lengths, making the mat extremely versatile and useful. You may want to select larger mat sizes to give older gymnasts the space they need to work, while smaller wedge gymnastics mat sizes work well for young gymnasts working on tumbling and walkovers.

The mat sizes we offer with the gymnastics wedge product include the following.

- 24 x 48 inches, 14 inches high

- 24 x 48 inches, 14 inches high, folding

- 28 x 72 inches, 16 inches high, folding

- 30 x 60 inches, 16 inches high, folding

- 36 x 72 inches, 16 inches high

- 36 x 72 inches, 16 inches high, folding

- 48 x 72 inches, 16 inches high

- 48 x 72 inches, 16 inches high, folding

- 60 x 84 inches, 18 inches high

- 60 x 84 inches, 18 inches high, folding

- 60 x 120 inches, 22 inches high, folding

- 72 x 144 inches, 22 inches high, folding

Our larger versions of the gymnastics cheese mat product allow for consecutive moves. For example, the largest mat measures 144 inches in length, which means gymnasts can work on multiple skills at once. Additionally, some of these mats can be transformed into firm mini-pits or spotting tables when folded.

When ordering the Incline Wedge Mats All Sizes product, we recommend that you contact our customer service team to help you figure out which sizes and colors of mats will best meet the needs of your students. We also will help you find the best means of having these products shipped to your location.

These mats are not recommended for outdoor use as they are not waterproof and are not UV stable.
Shipping
Ships via ground service or freight delivery.
This Product Ships Freight Only.
Please review our shipping disclaimer.
| | |
| --- | --- |
| SKU# | GM-INCLINE-ALL |
| In Stock | Yes |
| Product Type | Mat |
| Material Type | Vinyl covered Foam |
| Product Edging | Straight |
| Thickness | 4 inch |
| Width | 0.00 feet |
| Length | 0.00 feet |
| SF per Item | 0.00 |
| Weight | 0.00 lbs |
| Packaging | Bags |
| Number of Pieces per Package Type | 1 |
| Non Absorbent | No |
| Special Adhesives | No |
| Interlock Loss | 0.00 feet |
| Interlocking Connections | No |
| Made In | USA |
| Surface Finish | Smooth flat |
| Surface Design | Solid color |
| Installation Method | Layout flat |
| UV Treated | No |
| Reversible | No |
| Border Strips Included | No |
| Floor Score | No |
| Green Label | No |
| Manufacturer Warranty | 1 year limited |
Product Questions:
Q: How much weight will it hold? Does it dent easily?
A: The inclines are sized appropriately with the user size and will hold the weight of the person that would fit the proper incline. Im not sure we have the weights per incline size.
Q: What size is best for a 11 year old learning back walk overs?
A: This depends on the height of the child. We will have to review with the manufacturer and get back in touch on this.
Q: Do these mats fold?
A: Yes we have folding include wedge mats.
Q: What is the best one for a 165cm 12 year old learning back walkovers and hoping to move onto handsprings?
A: We don't have a reference guide for this, we suggest asking the child's coach, as the best size can also be skill level dependent.