What's the Best Rubber Workout Floor?
By Kyle Schurman Created: July, 2022 - Modified: September, 2023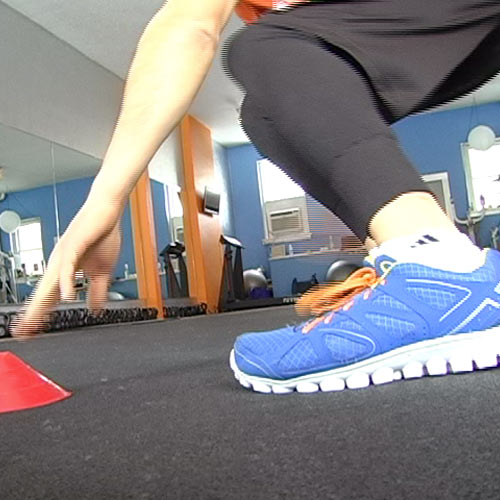 Having a rubber workout floor is a great way to protect subfloors and provide a sure grip for athletes. But which one is the best?
It depends on the planned use case. Sometimes, thicker mats work well. Other times, thinner models that are cost-effective work great.
Here are the best rubber workout floor options for use at home or in a commercial gym:
1/4-Inch Rubber Tile Interlocks with Borders
3/8-Inch Plyometric Rubber Gym Roll
3/4-Inch Rubber Mat Black Trued Natural
There are also some other workout floors that provide the look of rubber and a similar performance level, for those who need a different option.
Are Rubber Interlocking Tiles Good for Workouts?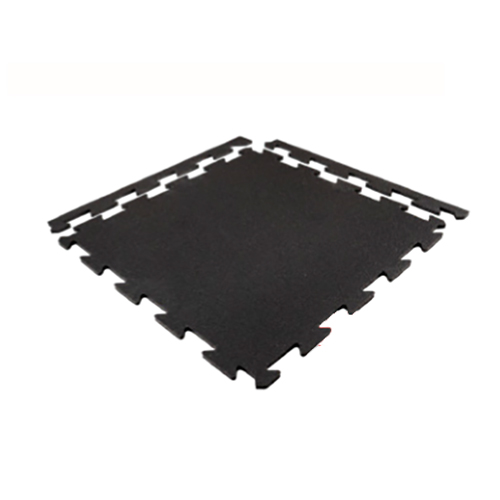 The 1/4-Inch Rubber Tile Interlocks with Borders offers an easy-to-install interlocking edge. As each piece measures 25 by 25 inches and weighs 5.70 pounds, some installers find this format easier to maneuver into place than a heavy rubber roll or mat.
At 1/4 inch in thickness, these tiles still have enough thickness to work in a room with a home gym. They can support the weight of exercise equipment while protecting the subflooring.
For those who want a finished look in the flooring, these tiles ship with flat border pieces that connect to the puzzle edges up against a wall or around the exterior of an island installation.
For a workout at home, installing these tiles for the workout goes quickly. After the workout, disassemble and pick up the tiles for placement into storage, if desired.
What's the Best Rubber Workout Floor to Cover a Large Space?
Rubber rolls are the most economical way to cover a large space in a home gym or commercial facility. They have plenty of cushioning and are easy to clean.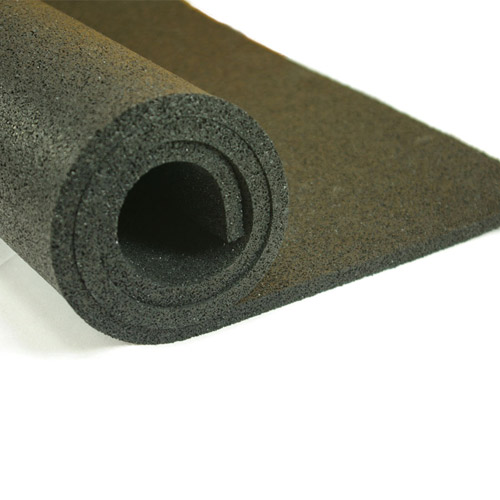 With the 4-foot wide 3/8-Inch Plyometric Rubber Gym Roll, customers can order a custom cut length (with a minimum order of 25 feet). At less than $2 per square foot, this roll has a great price point.
A 4-by-25-foot roll would weigh less than 50 pounds, so a single installer may be able to handle the work alone.
This roll has an impressive level of durability, meaning it won't show wear and tear, even in a tough workout space. In a garage or basement that may have low spots on the cement floor, this rubber covers the spots nicely.
It's ideal for Plyometric workouts. Athletes can safely do the back-and-forth movements and jumping required for Plyometrics when using this rubber roll as the base flooring.
What's the Best Rubber Workout Floor for Weightlifting Stations?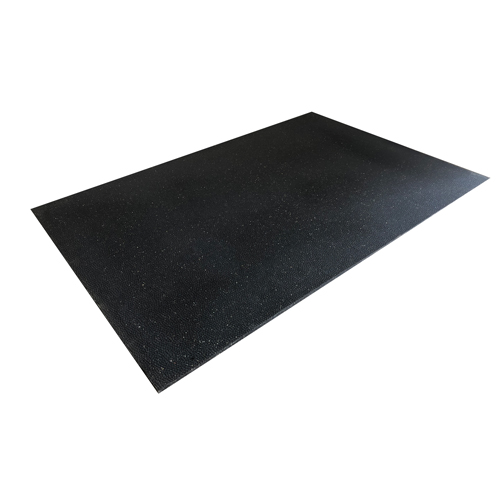 When involving free weights in a workout session, a thick mat is the smartest selection. The 3/4-Inch Rubber Mat Black Trued Natural has 4 by 6 feet of coverage, so its size is ideal as a station for free weights.
If athletes accidentally drop a free weight, this mat will protect the subfloor.
Trust the quality of the ingredients in this mat, as it's made in America. It will provide long-lasting performance for athletes, carrying a 12-year-limited manufacturer warranty.
Each mat weighs 96 pounds, so it will stay in place without the need for adhesive. As a loose lay mat, installers can move it wherever they want.
What Are Some Alternatives to Rubber for Athletic Flooring?
Some flooring materials have a similar coloring, durability, and cushioning to a rubber workout floor. They don't weigh as much as rubber, which simplifies installation.
PVC plastic tile is one option. It has a durability that approaches that of rubber and a cushioning that approaches that of foam.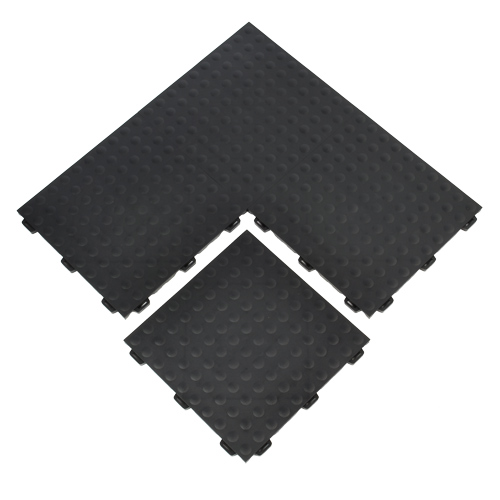 The StayLock Bump Top Tile is a popular selection for home gyms and commercial locations. This is a 9/16-inch thick soft tile with a hidden interlocking system on the edges that creates a sharp-looking finish for the floor.
Each 12-by-12-inch tile weighs only 1.47 pounds. It's manufactured in the United States and carries a 5-year limited warranty.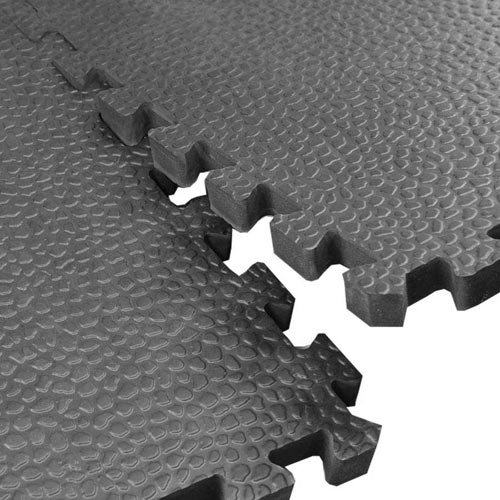 Another rubber-like option is available in the Pebble Top Gym Floor Workout Fitness Tile. It consists of extra dense EVA foam that can withstand the weight of exercise equipment, while still providing cushioning underfoot.
Each 2-by-2-foot tile weighs 2.2 pounds. It has a black color with a textured top layer that resembles small pebbles, providing a high level of traction.
The interlocking puzzle edge on these tiles simplifies installation. The tiles ship with border pieces that fit into the puzzle edge to create clean lines in the final installation.
Can You Use Carpet for a Workout Flooring?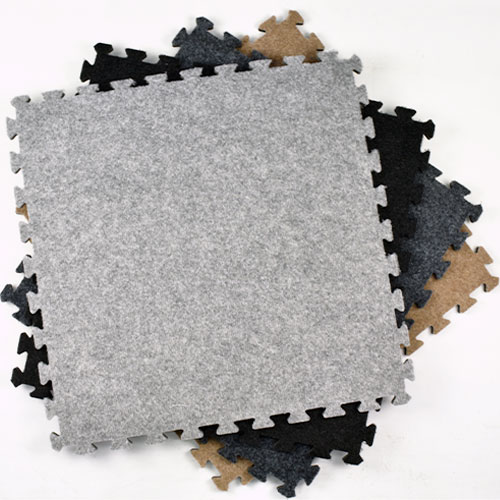 The Royal Interlocking Carpet Tile is a popular choice among home workout facilities and in-home gymnasium settings.
It uses a carpet layer over the top of a foam layer, providing the ideal mix of cushion and durability. Each 5/8-inch thick tile covers 2x2 feet and weighs only 1.4 pounds to simplify installation.
Made of a slightly less dense EVA foam than the previously-mentioned tiles, the carpet bonded to the top is puncture and odor-resistant.
The waterproof carpet goes directly over a wood, concrete, or laminate subfloor. Since the carpet is waterproof, it will not soak up odors from sweaty workout sessions.