What Are Some Of The Best Red Floor Tiles?
By Paige Cerulli Created: May, 2022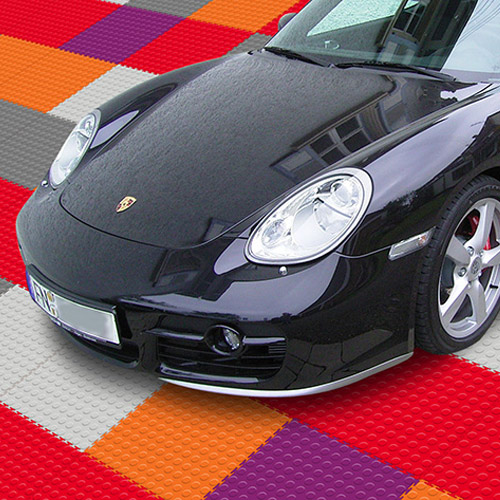 Red floor tiles are a popular choice for everything from garage flooring to showrooms and more. If you're looking for quality red floor tiles, you'll find plenty of options here at Greatmats.
The Best Red Floor Tiles for Sale
Whether you're looking for a rich brick red or more of a clay or terracotta hue, Greatmats offers floor tiles for sale that will suit your needs.
Equine Paver Tile Terra Cotta
The Equine Paver Tile Terra Cotta brings a classic red to your horse stall, breeding barn, aisle, or wash bay. Made of 100% recycled rubber, these pavers are comfortable and durable underfoot, ideal for both horses and handlers.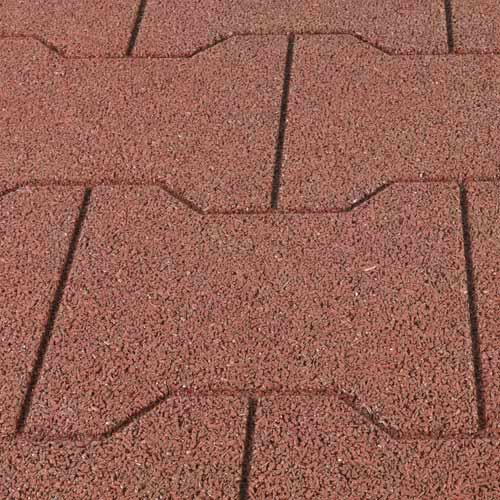 They also offer valuable shock absorption to help keep everyone safe. The pavers help to control bacteria and dust, creating a healthier environment.
They maximize traction both when wet and dry, and can be easily swept clean.
Tuff Seal Red Floor Tiles
Available in an eye-catching red color, the Tuff Seal Floor Tile will turn heads and make your garage floor, basement, or industrial space look fantastic. The tile is durable and long-lasting, and its anti fatigue relief helps to keep you comfortable when you're working in the space.
The tiles are also stain and chemical resistant, making them a durable flooring choice. They're made in the USA and can be damp mopped for easy cleaning and maintenance.
These modular tiles have a hidden connection that creates a tight fit and makes for an attractive finish. They can cover worn floors and are easy to install.
Perforated Garage Tile
The Perforated Garage Tile is available in a brilliant red, but you can mix and match up to three colors for a checkered installation pattern. The surface design helps to minimize slipping, so it's an ideal choice for your garage and workspace.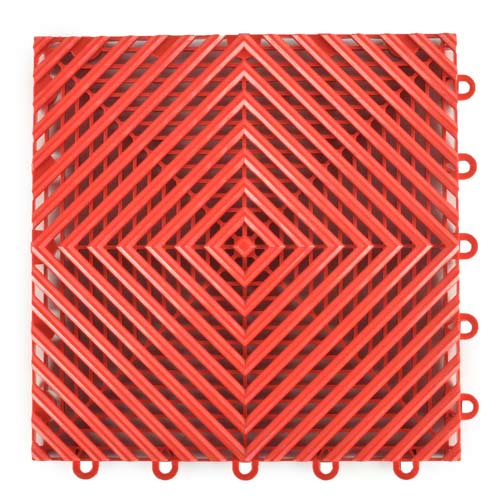 The tiles are suitable for use in wet areas, and their perforated surface lets water drain away quickly. Their snap-together design creates a strong and long-lasting installation, and there's no need to use adhesive.
Made of a polypropylene plastic, these tiles are also incredibly strong and feature a 10,000 pound static load rating, so they're capable of supporting vehicles and heavy equipment.
Ergo Matta Perforated Outdoor Tile
The Ergo Matta Perforated Outdoor Tile is available in many colors, including a rich red. The tiles are made from recycled PVC plastic, and their perforated surface allows for excellent drainage.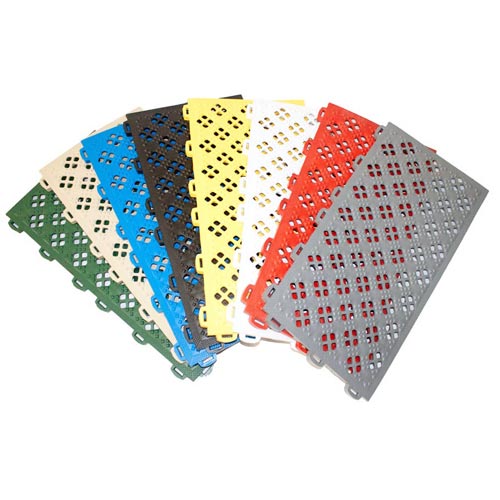 With their 20-inch ASTM fall height rating, the tiles are a top choice for playground and daycare surfaces. They interlock together for an easy DIY installation, and you can clean them with a pressure washer or garden hose.
Max Playground Rubber Tile
The Max Playground Rubber Tile is available in red and gray, and it's an ideal choice for playgrounds, patios, rooftops, and other outdoor spaces. This rubber tile features a six-foot ASTM fall height rating, so it can help to minimize injuries that result from falls.
Designed for outdoor use, the tile features superior UV fade resistance and is backed by a 15-year warranty. It can also be installed indoors, and when installed on rooftops, no glue is necessary.
The tile's design allows water to drain around and under it, speeding the drying process and preventing dangerous puddles from forming.
Grappling MMA Mats
The Grappling MMA Mats are foam mats that are firm enough to support stand up rwork, but forgiving enough for ground work and takedowns. These reversible mats feature double colors, including a beautiful red that you can use to create patterns and boundaries in your studio.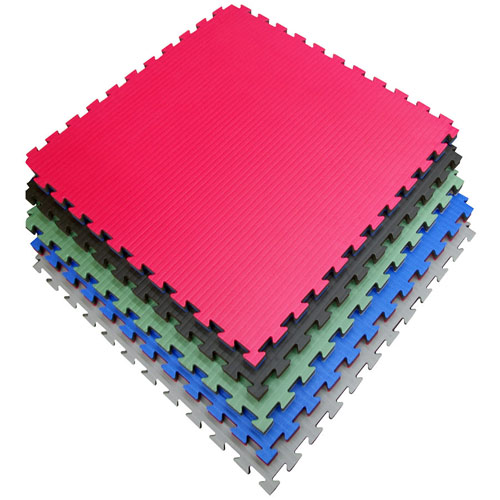 The mats feature a four-foot ASTM fall height rating to help prevent injuries to athletes. Their tatami texture also helps to prevent skin burns during ground work.
The waterproof design makes for easy cleaning, and the mats' tight-fitting puzzle edges make for a secure installation that doesn't require any adhesive.
Foam Kids and Gym Mats Premium
The Foam Kids and Gym Mats Premium are available in an assortment of colors that kids will love, including an eye-catching red. They're made of an EVA foam and are both waterproof and stain resistant, so they're ideal for use in basements, kids' play areas, and more.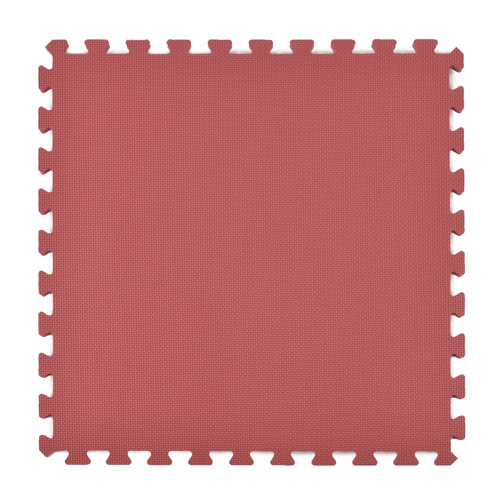 The soft, impact-absorbing foam is comfortable underfoot and helps to take the sting out of falls and tumbles. The tiles are even backed by a one-year limited warranty.
Installing the tiles is easy because of their puzzle-style edges. Each tile includes two border strips that make for a clean, finished installation.
Garage Coin Top PVC Colors
The Garage Coin Top PVC Colors tiles are available in a whole range of bright and bold colors, including red. They are highly durable and aren't affected by heat, cold, or humidity.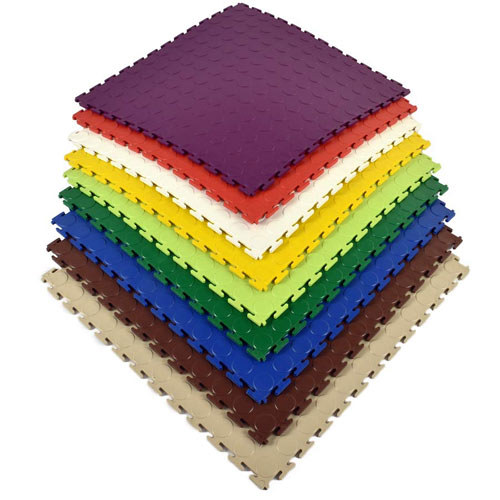 The tiles are also resistant to materials like oils, gas, and chemicals, making them ideal for warehouses and garages. They feature a raised coin top surface that maximizes traction and contributes to a safer space.
Made of recycled PVC plastic, these non-absorbent tiles are easy to clean. Their interlocking edges allow for a fast and easy installation.
Court Floor Tile Flat Top
The Court Floor Tile Flat Top tiles are available in an attractive red and feature a raised base. They are often used as court floors, and the raised base makes them suitable for damp environments, since it lets air and moisture circulate.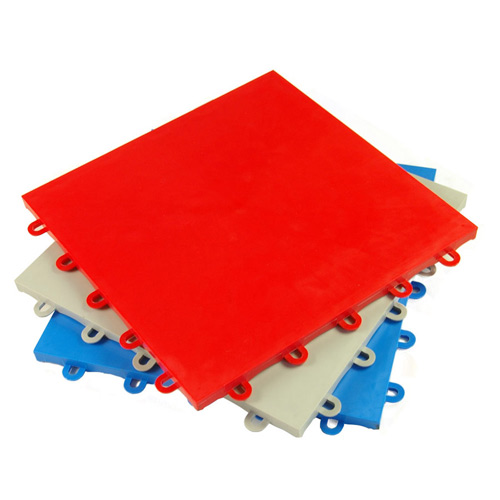 The tiles are incredibly strong and are rated for 10,000 pounds per square foot. You can also paint lines of them when using them as a sports court.
The tiles easily snap together securely, so they won't separate during use. You can install and disassemble them repeatedly as needed, making them a versatile choice.