What Is The Best Flooring Material For a Garage Gym?
By Lisa Hobbie Created: February, 2020 - Modified: September, 2023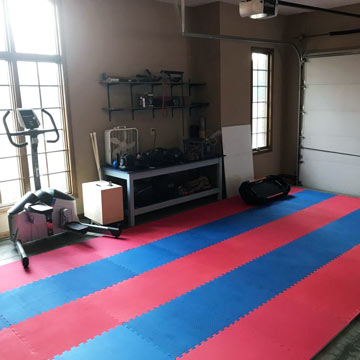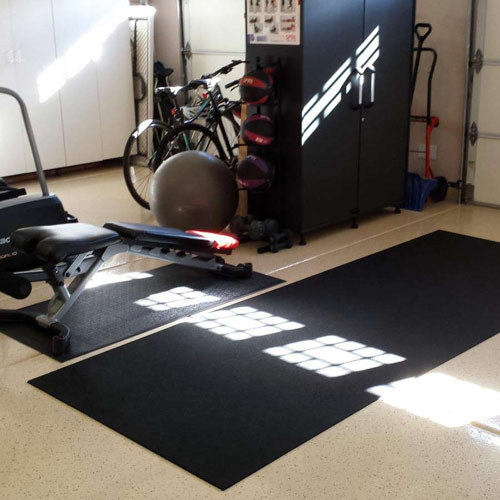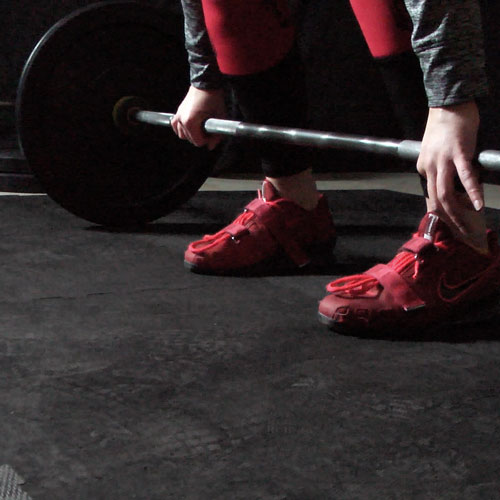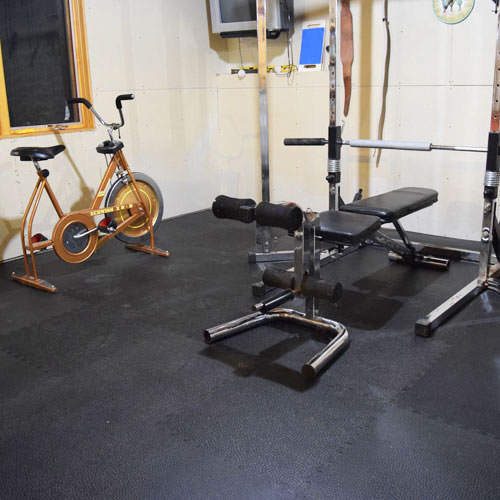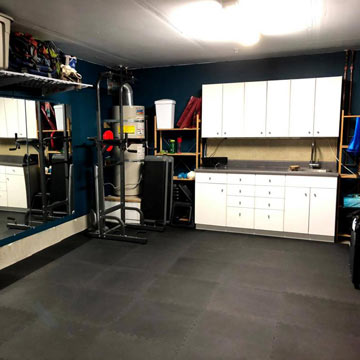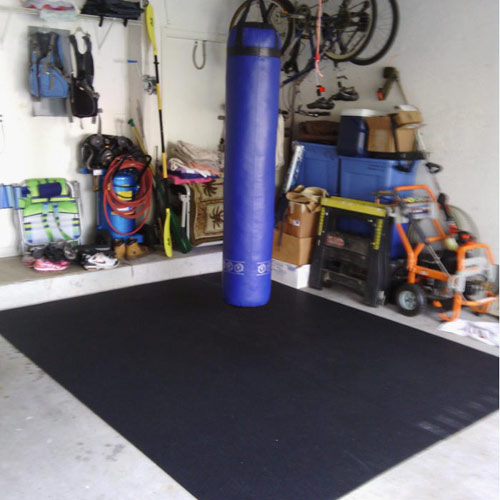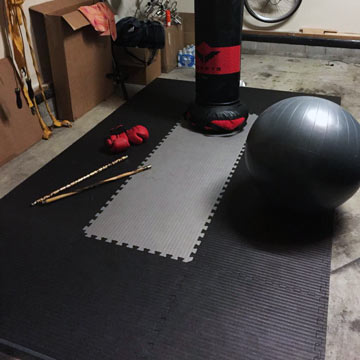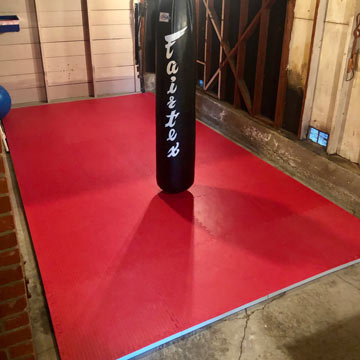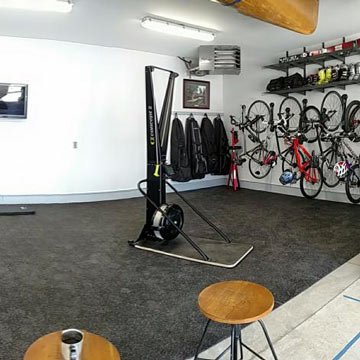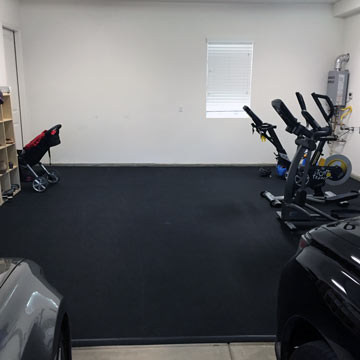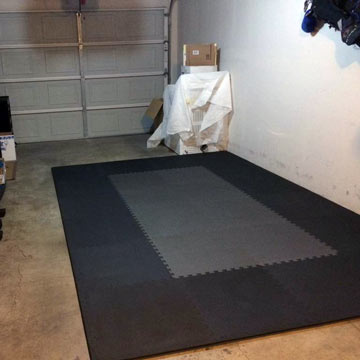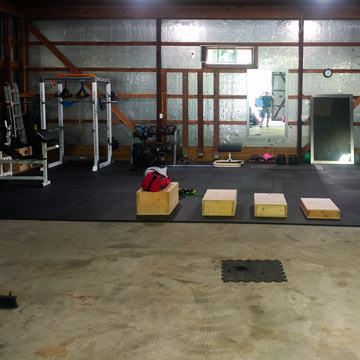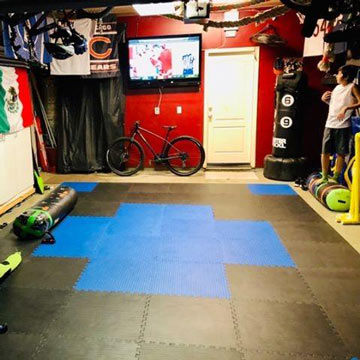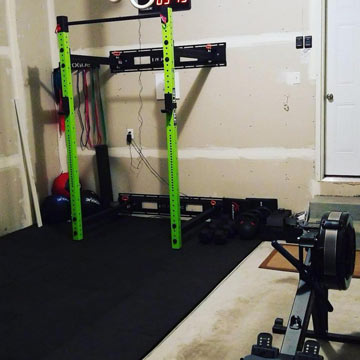 A garage or portion of one can be an ideal setting for a home gym. It's nice and close to the home, making it convenient and easy to get to, and since convenience is one of the single most important factors when it comes to using a gym consistently, utilizing a garage is a winning option. 
Once you have decided to do the conversion, it's important to start considering what to put in that space including, workout equipment, fitness and exercise machines, weight set, bench, etc. But one consideration that should not be overlooked is the type of garage gym flooring to use. Once you select the garage gym flooring, the setup is relatively easy.
The best flooring material for a garage gym depends on the purpose and activities that will be performed on it, the physical environment and the subfloor.
The top garage gym material types include:
Rubber
Foam (PE, PU, EVA)
PVC
Cork
Greatmats is your one-stop-shop for all of your flooring needs. With numerous suitable options manufactured using a variety of appropriate materials such as PE foam, PU foam, cork, EVA foam, rubber, and PVC, there is an option or flooring package for every price point. Deciding which flooring material will be best for a garage gym depends on the purpose you want it to serve, the environmental and physical setting, the sub floor, the presence or absence of water, and your project budget. Here are some of the most popular products suitable for a garage gym. 
Rubber for Garage Gym Floors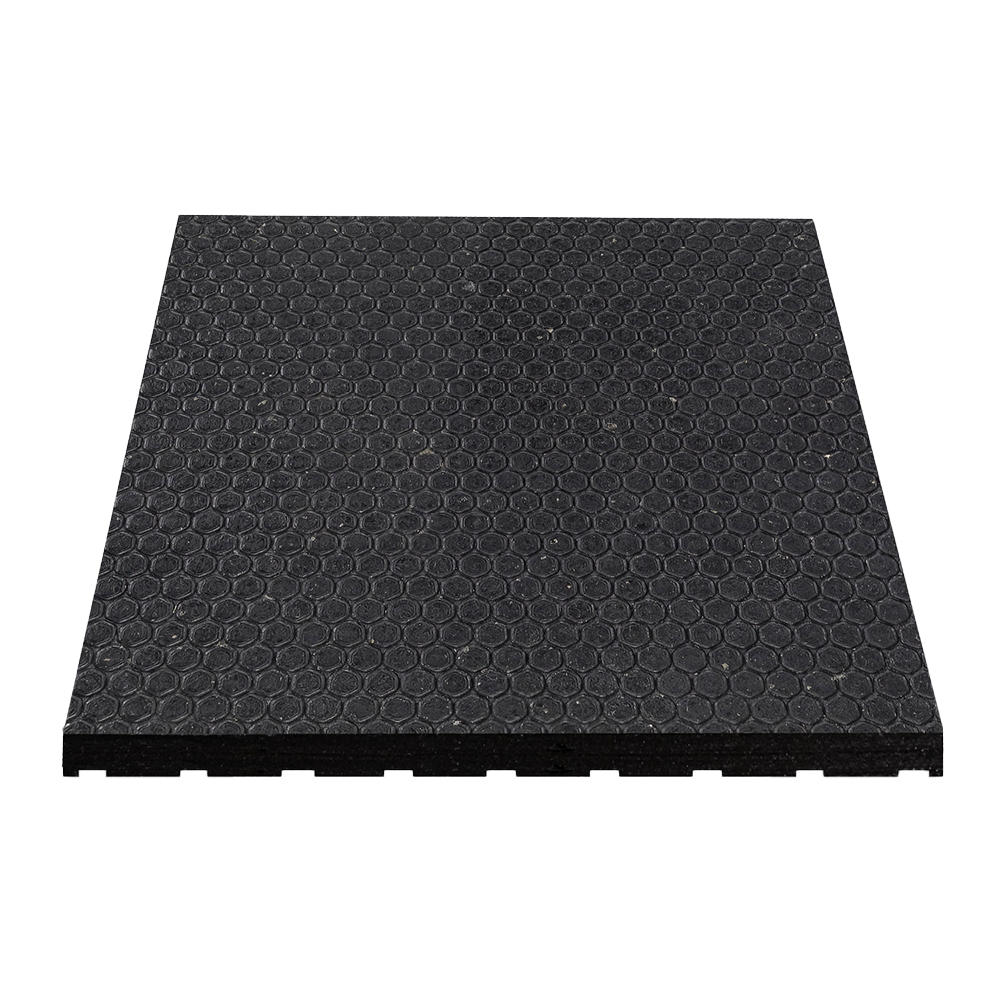 Garages sometimes tend to house a lot of moisture. Rubber is water resistant and provides traction when wet. It will not absorb water or other liquids, and it is extremely durable and versatile. 
Rubber is an excellent material for garage gym flooring as it is stain, mold, and mildew resistant. Although there are numerous rubber flooring options at Greatmats, the
Sundance Rubber Mats
are superior for a garage setting. This heavy duty, ¾ inch commercial grade recycled rubber is completely non-absorbent, meaning, it will not harbor or promote bacteria growth. 
In garages that could tend to be damp, this feature is a must. It contains an agent that reduces the rubber aroma, and its design provides a reduction in noise and vibration. This rubber puzzle tile does not curl, and it comes with optional straight and beveled edges to avoid tripping hazards and provide a finished look.
The
Plyometric Rubber Roll Sport
is another product that Greatmats offers as a garage gym flooring solution. This flooring is designed specifically for repetitious and rigorous athletic workouts like plyometrics and aerobics. 
This rubber roll is known for providing exceptional cushion and shock absorption. It will withstand the weight of exercise equipment, and it is made in the USA with the best materials and quality craftsmanship. 
Rubber flooring rolls are easy to install over a concrete or wood subfloor with either glue or double faced tape and are available in a variety of colors and thicknesses. Once the rubber flooring roll is placed and secured, it requires little maintenance, with a sweeping, vacuuming, or damp mop cleaning process, as needed. 
Foam Flooring for Garage Gyms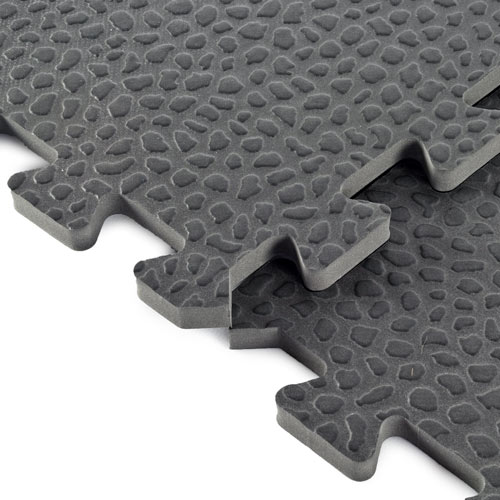 Foam floor tiles are available in a wide variety of colors, designs, and styles, and have many attractive features such as comfort and affordability. Most are made of EVA foam, which is an elasticized, closed-cell foam with rubber-like softness and flexibility and excellent insulative properties. 
A garage gym flooring option that combines durability and lightweight design is the
Home Gym Flooring Tile
with a pebble style surface texture 10 mm thickness. 
With a thickness of roughly ⅜ inch and EVA foam material density rating of Shore C 62, this fitness flooring will maintain its withstand heavy of exercise equipment and provide protection to the subfloor - whether concrete or cement - against mid to lightweight free weights, the drop of a heavy bag or medicine ball or setting down of a weight barbell, and the workout force of the human body.
It is lightweight and portable with a simple interlocking design. This makes for easy, diy installation that is perfect for a garage. Should you need to take it apart to use your garage for something else, it is easy to do in a matter of seconds to minutes, depending on the size of space you'll be pulling up. Then reinstall when you're ready! 
This workout flooring is latex and lead free, and it has a surface top texture that provides secure footing with athletic shoes or bare feet. While the garage gym flooring does not have a ramp finish with a slope on the edge, it does include border strips that remain at the same thickness as the rest of the low profile exercise surface. 
Another, more economical EVA foam product is the
Foam Sport Mat
. Foam floor tiles designed to easily fit together like a puzzle without the use of adhesive are another garage gym flooring option! They add color, safety, and comfort to any room and space without the high cost and high maintenance that comes with some other products. EVA Foam sport mats are waterproof, stain resistant, lead free, latex free, provide a soft surface to workout on, and they are available in numerous sizes and colors. 
Either EVA foam option makes clean up a breeze. You can simply sweep or vacuum off any dirt or dry debris or use a damp mop and cleaner without bleach for a deeper clean. 
PVC Garage Gym Flooring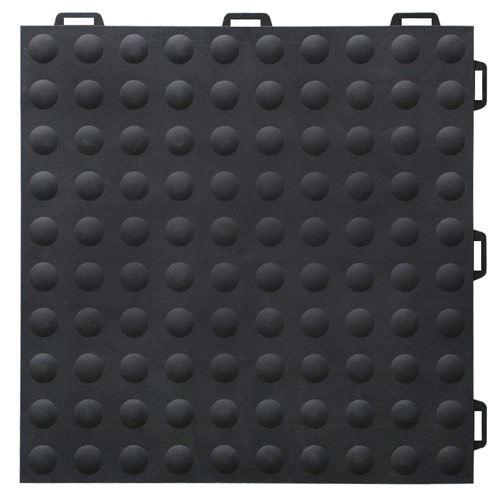 PVC garage gym flooring is your best options when you're looking for some cushion and thermal insulation without having to sacrifice as much on the durability side as you may with a foam gym floor.
Greatmats offers a couple of different pvc gym floor tiles in its StayLock line (bump top and orange peel) that offer a raised base, which keeps the workout surface off of your cold, hard concrete. This helps keep the flooring more temperature stable. If the concrete in your garage is prone to condensation, it also gives the concrete room to breath and dry out. PVC is also waterproof and easy to clean.
Put your weight equipment on this flooring or use it for cardio and body weight based workouts. It works well for both. Just don't plan on intentionally dropping heavy weights on this type of flooring.
Cork Laminate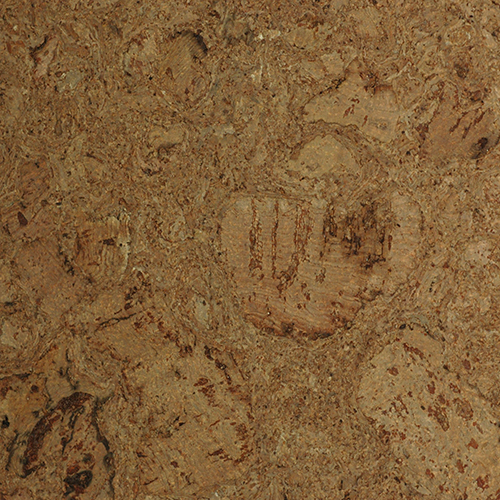 Although not all laminate flooring options are waterproof, this
Coffee Cork Laminate Flooring
features water resistant technology. This flooring option is appealing to some, as it has a softer, more absorbent surface than other options, preventing sore legs, feet, joints, and back. It is also very affordable and durable. 
If taking care of the environment is important to you, this waterproof flooring option is a perfect fit, as it is made using sustainable methods. There are several colors and designs available, and it will provide excellent thermal insulating properties in your garage if it tends to get cold easily.
Greatmats has it all!
Whether one of the listed products suits your budget and preferences, or, if you want to explore other options, keep in mind that Greatmats has unbeatable quality and service. Friendly and knowledgeable agents are standing by - just waiting to help you determine what your ideal garage gym flooring would be. When you're ready to purchase flooring, let Greatmats go to work for you!