Best Basement Workout Room Flooring Options
By Julia Nass Created: June, 2017 - Modified: August, 2023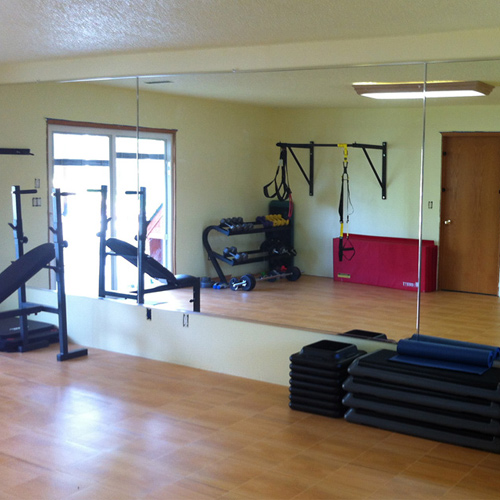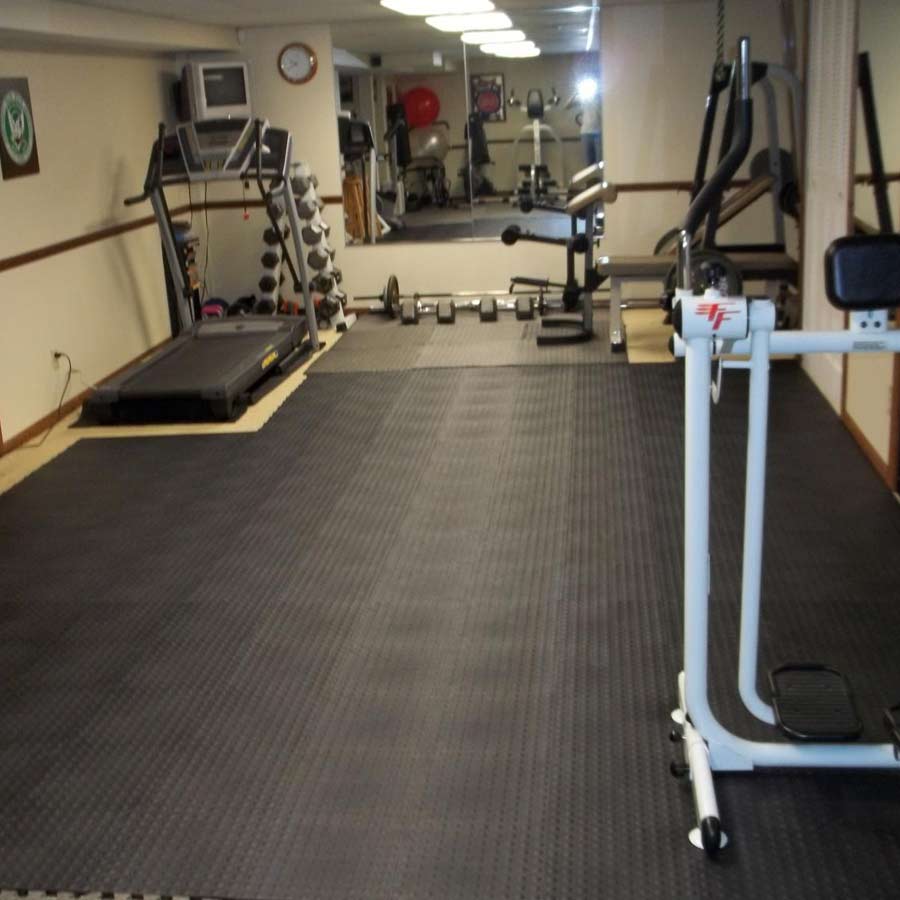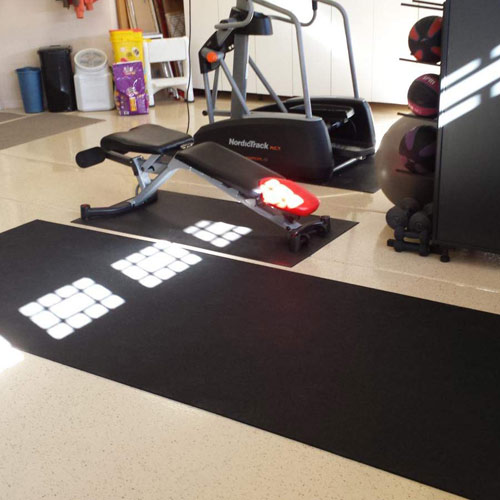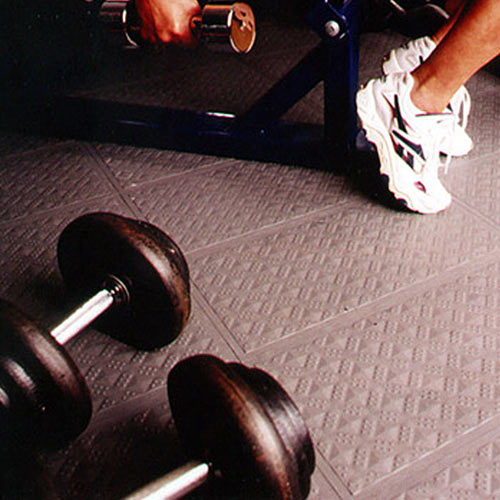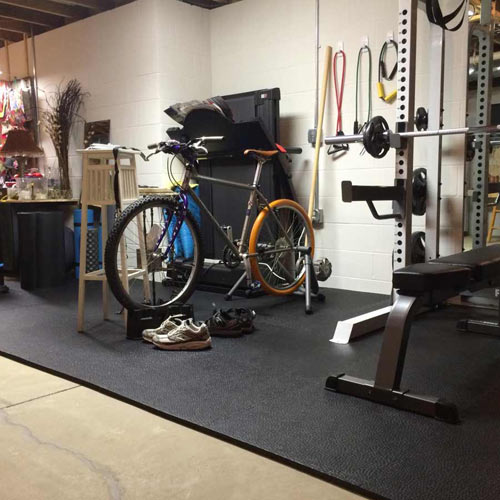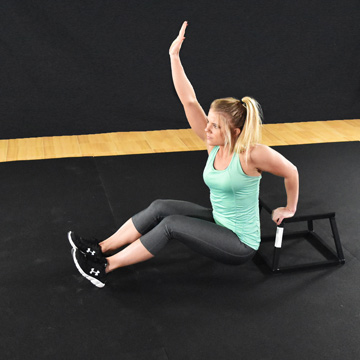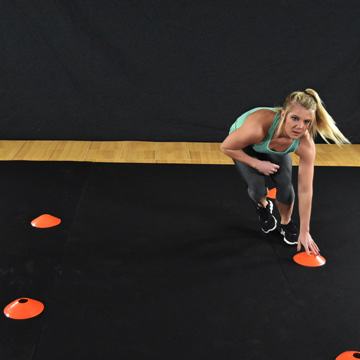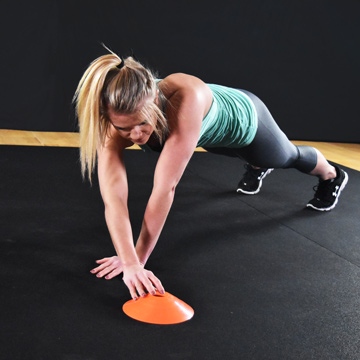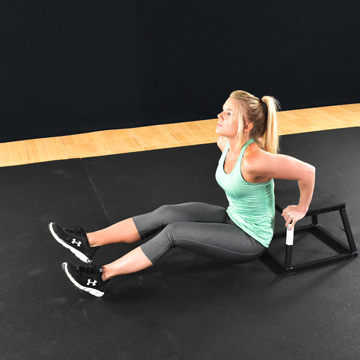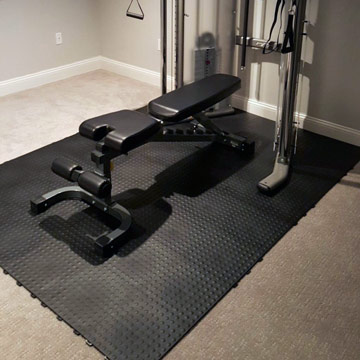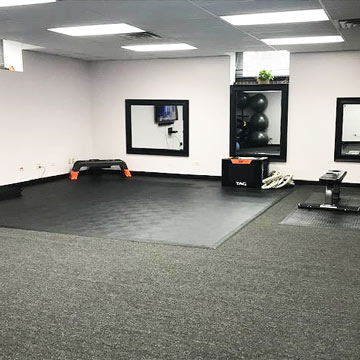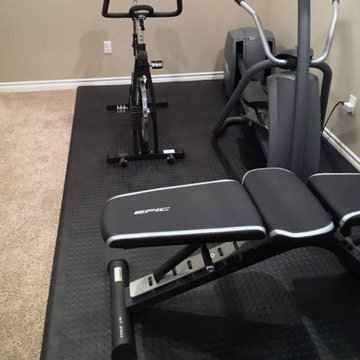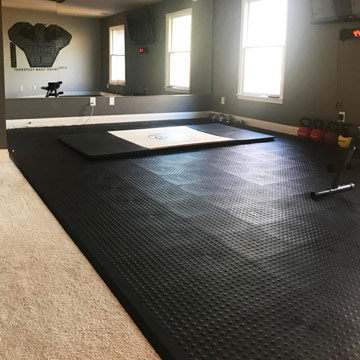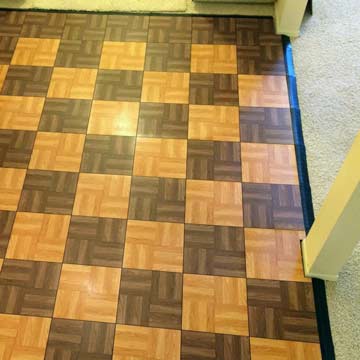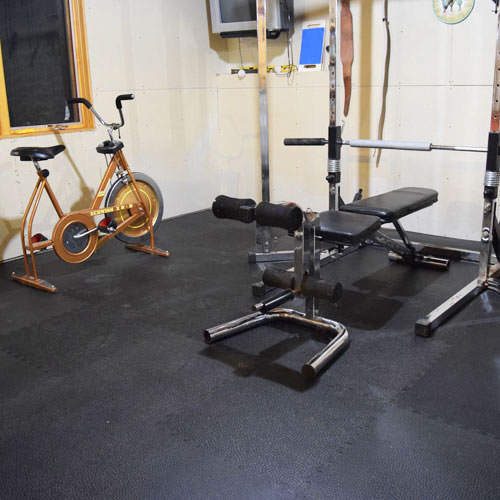 The right type of basement exercise flooring for one individual is certain to differ from another; it all depends on what kind of exercise is happening. In general, however,
workout room flooring
needs to be tough enough to undergo vigorous use and intense movement. At the same time, basement gym flooring should also be supportive and cushioned as to prevent joint discomfort or damage. For basement-specific exercise areas, it's particularly important to be cognizant of moisture levels. Flooring should be able to stave off the negative effects of moisture, like mold, mildew and harmful bacteria.
To help guide you in making the right basement gym flooring decision, Greatmats compiled a list of the top five basement floors ideal for exercise areas. Read on to discover details about all five workout room flooring products.
1. Max Tile Workout Room Flooring
If you are looking for a solution for a moisture-heavy basement exercise area (high humidity locations, hot yoga rooms, etc.),
Max Tile Raised Flooring
is an excellent solution. These raised tiles prevent moisture from becoming trapped and building up below flooring because air can flow underneath the raised base.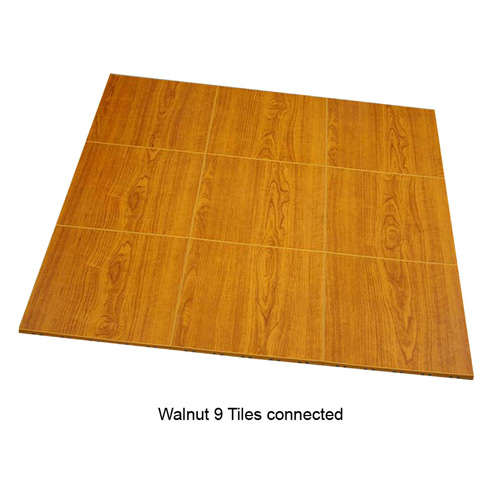 Max Tiles are made of a sturdy polypropylene base that supports a 3 mm thick laminate vinyl surface top that never needs refinishing. The vinyl surface comes in 9 different colors and designs, so your basement exercise room can achieve the lovely look of wood or a classy stone aesthetic. The 15 year, .03 mm surface wear layer protects flooring from natural wear and tear.
This basement gym flooring works well as a dance floor, yoga floor, aerobics floor or even a basketball court. The tiles are waterproof and resistant to scuffs and marks. When tiles do get dirty, they can be cleaned with just a damp mop. Max raised tiles connect together with tab and loop system that will never fail. For extra cushion or insulation, simply install rolled rubber underlayment beneath tiles. They're even safe to install over carpeting.
2. StayLock Bump Top Workout Room Flooring
Achieve the durability of rubber and the cushion of foam with
StayLock Bump Top basement gym flooring
. Tiles are tough enough to withstand and support heavy weights and exercise equipment. At the same time, tiles provide superior cushion and bounce support for intense aerobic activities. Further, StayLock Bump Top tiles fight off moisture problems because they are raised and completely waterproof.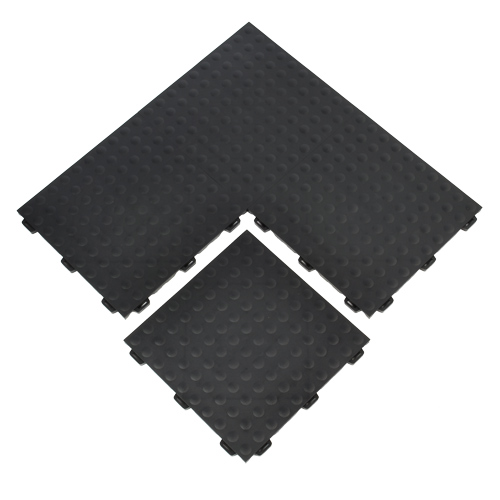 This workout room flooring product is made from 100 percent recycled PVC plastic and may contribute to LEED building points. The typical lifespan of these tiles is 20 years. Even over all that time, the tiles will stay tight-fitting and will not shift or separate whether installed over concrete or carpet. These tiles are moisture-resistant and are easy to clean. All maintenance calls for is a damp mop with a general household cleaner (avoid bleach).
3. Plyometric Rubber Roll Workout Room Flooring (8 mm)
This rubber flooring for basements is a go-to choice for high-quality yet economic basement gym flooring over concrete.
Plyometric Rubber Rolls
are long-lasting, tough and at such a low price, they pay themselves off in no time. Plyometric rubber basement flooring is specifically designed to absorb the shock of explosive movements in a rigorous workout, which makes it great for aerobics and plyometric exercise.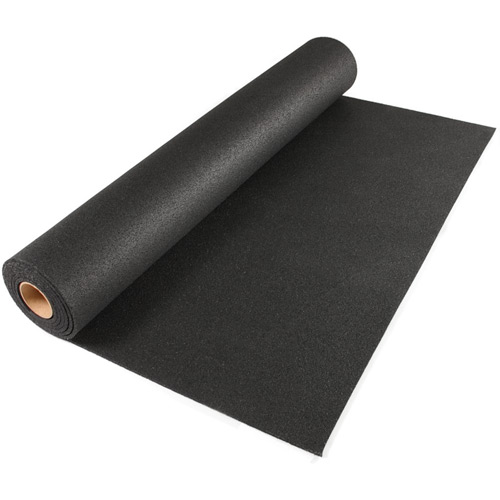 Plyo Rolls are made of lower-density rubber, which provides more cushion and shock absorption than other rubber options. This rubber workout room flooring for basements comes in many different thicknesses and standard rolls are 4 feet wide. Lay rolls side by side for wider flooring, or cut rolls down with a sharp utility knife to fit smaller spaces. Plyometric rubber basement flooring can be laid without the use of any adhesives. For home basements, this comes in handy if ever a need arises to dry out the subfloor. If mopping with product, make sure to always use a pH neutral cleaner with rubber flooring. Otherwise rubber basement flooring can just be vacuumed.
4. ErgoMatta CushionTred Workout Room flooring (Solid)
ErgoMatta CushionTred
is industrial-strength anti-fatigue flooring that comes with a 5-year warranty. These basement gym flooring tiles are made from 100 percent recycled rubber and flexible PVC plastic. Therefore, the flooring is both tough and supportive, cushioned and stable, durable and ergonomic. Tiles have a diamond-tread surface to minimize the danger of slips and falls. They also have sound-dampening qualities, which is a plus for any type of exercise.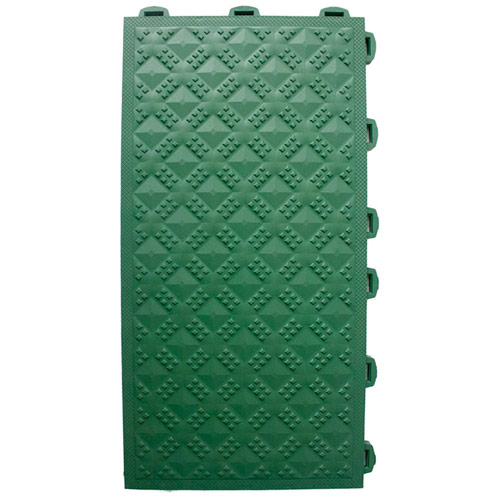 ErgoMatta rubber basement flooring is raised, which prevents moisture from building up underneath tiles. This makes ErgoMatta tiles another excellent choice for moisture-heavy basements. Tiles come in eight different colors, giving you all the creative freedom to choose the best look for your basement. With the interlocking connection system, installation and deinstallation of flooring is a breeze.
5. Gym Floor Tile Pebble Top Workout Room Flooring (3/4 Inch)
Sometimes, foam is not dense enough to withstand the weight of heavy exercise equipment without being damaged.
Gym Floor Pebble Top Tiles
, however, are made of premium EVA (ethylene vinyl acetate) foam that is denser and more durable than other foam tiles. The pebble surface pattern contributes to the durability of the foam as well. Consequently, they can support the weight of weight machines, treadmills, or any other exercise equipment. These tiles are about as close as one can get to rubber basement flooring without the rubber.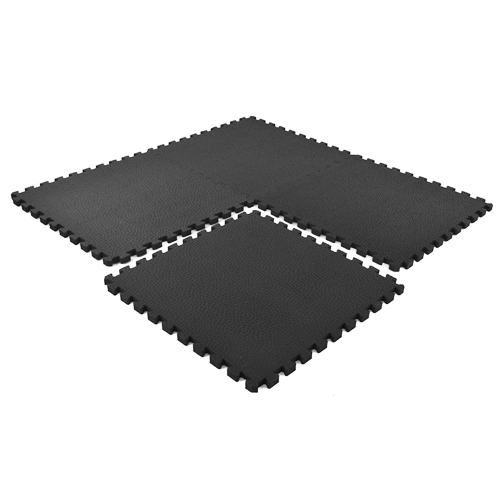 Gym Floor Pebble Top Tiles provide more cushion and are lighter weight than rubber, which is why some people choose these foam tiles over their rubber counterpart. These tiles do not absorb water at all, which is another perk, especially for basement gym flooring. The tiles are kid friendly, connect with an easy interlocking system, and can be easily cut down with a box cutter or utility knife.
If you prefer
temporary workout room flooring
you may want to check out our folding or rollout foam mats.