What is the best gym wall padding for home?
By Kyle Schurman Created: September, 2019 - Modified: November, 2019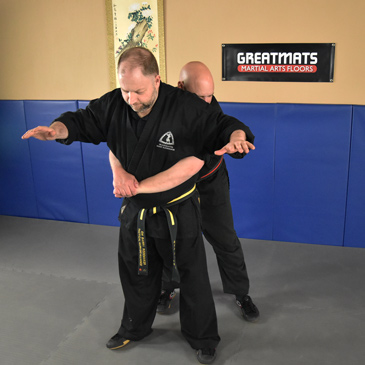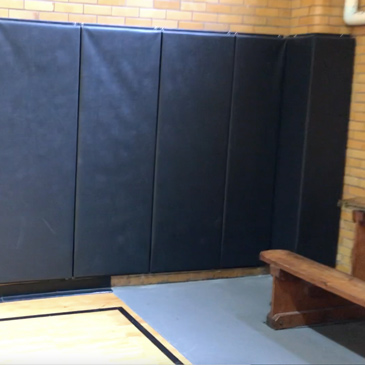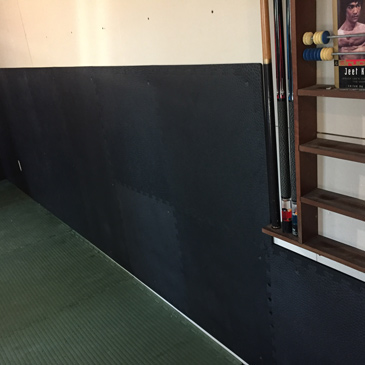 Home gyms can be a wonderful addition to any house. Not only can adults use the space for workouts, but the kids can be as rambunctious as they want in the right home gym. And if the rough housing starts to get out of hand? Gym wall padding works just as nicely in your home gym as it does in a school gym or martial arts studio.
For the highest quality, gym wall padding like you'd find underneath the basket on a school basketball court delivers the best results. But it's also the most expensive. There are other custom ways you can create a safe and functional type of padding to cover the walls in your home gym.
After all, gym wall padding isn't there just to protect the adults and kids who are working out. It protects the walls too!
Folding Mats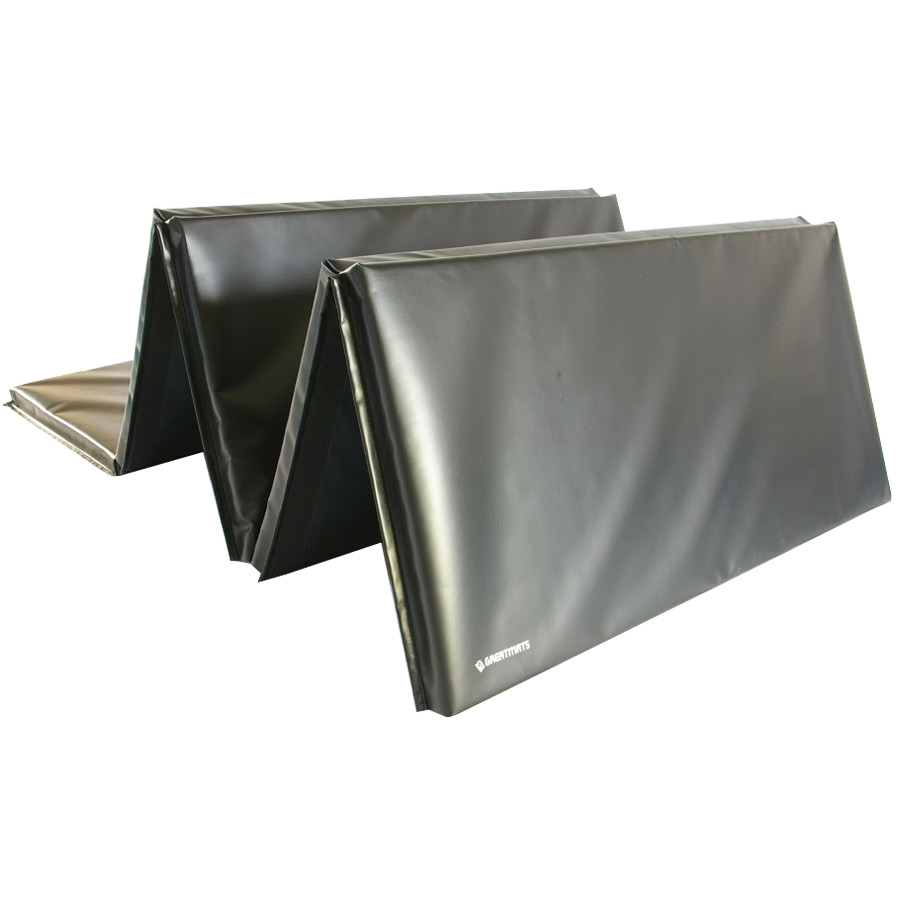 An inexpensive and easy way to create gym wall padding for your walls is with folding gym mats. Although these are commonly used on the floor in martial arts or gymnastics studios, they work nicely on the wall or floor in home gyms too.
A folding mat has a panel design, similar to traditional gym wall pads. Typically, it has four or five panels of foam, all of which are covered and connected by a sturdy piece of flexible vinyl.
The foldup design provides flexibility. Should you want to hang the wall padding temporarily, these pads can be easily taken down and stored, depending on how you install them.
One of the easiest ways to install these folding mats onto a wall is to mount one side of a hook and loop strip onto the wall. Then attach the opposite side of the strip to the back of the mat.
When it's time to remove the mat, you can just pull the hook and loop connection apart.
To attach the hook and loop strips securely, some people will choose to mount aluminum strips on the wall, while others will pick thin wood strips. Then attach the hook and loop strips to the wood or aluminum.
You can even glue the hook and loop strips directly on the wall, but an adhesive could cause damage when you remove it from drywall.
This style of folding mat padding commonly has thicknesses of 1.5 or 2 inches, so it delivers plenty of protection against rough workouts. A popular choice is the
Discount Gym Mats 4x8 Ft
folding mat, which has 32 square feet of coverage and 1.5 inches of thickness in the padding.
For a larger coverage area and a thicker pad, consider the
Gym Mats 4x10 Ft
folding mat. It delivers 2 inches of padding and 40 square feet of coverage. Folding mats are also available wider than four feet.
Padded Puzzle Style Tiles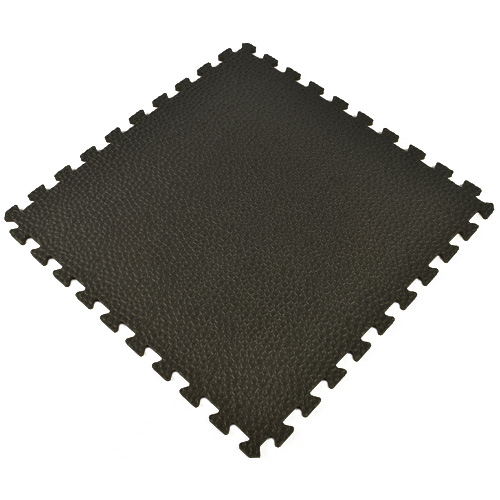 For an inexpensive option for gym wall padding, consider puzzle style foam tiles. These tiles are small and thin, which means they weigh less than other types of padding you can hang on a wall, simplifying the install process.
Customers like these foam mats for use in areas where they're looking primarily to protect the existing drywall versus providing cushioning for people crashing into the wall. For example, if you're breaking boards as part of martial arts practice, foam tiles protect the walls from flying debris.
Additionally, when attached to walls, foam will act as a noise reduction barrier, meaning workouts in the home gym will not disturb others in the house. Foam mats are easy to cut, so you can create a cutout for outlets or door knobs.
As with the folding pads, you can attach these foam tiles to the wall with hook and loop strips or adhesive. Some people may choose to screw the connected puzzle tiles to the wall.
This type of gym wall padding is inexpensive per foot versus other pads. The
Home Gym Flooring Tile
works for wall protection, measuring 3/8 inches thick with about 4 square feet of coverage per tile. For a thicker option,
Foam Mats 5/8 Premium Tiles
deliver 5/8 inches of thickness and about 4 square feet of coverage per tile. Both products have puzzle style tabs and slots around the perimeter, which simplifies connecting extra tiles. Puzzle tiles are available in up to 1.5 inches of thickness.
Traditional Pads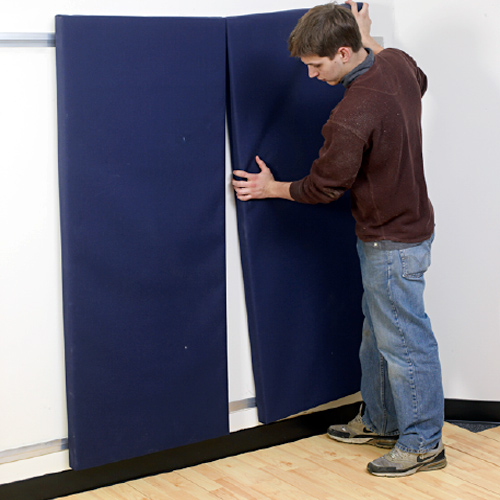 If you want the maximum protection in gym wall padding, traditional hanging wall foam pads covered in vinyl are an excellent choice. They are more expensive per square foot than other options, though.
The
Gym Wall Pad
looks great, as it's available in multiple colors and sizes. It uses a 14-ounce vinyl cover, which means it will stand up to constant rough housing without splitting. It's mounted to a wood back for sturdiness. And with 2 inches of padding, it has an extremely thick cushion. These are very popular for those intended to use their gym hard, such as competitive fighters.
You can order custom hanging wall pads that have a cutout for an electrical wall outlet.
Should you have a support post in the middle of the workout area, as is common in a basement or attic space, you can purchase gym wall padding that encircles the post, providing maximum protection. The
Pole Pads and Post Pads
products have 3-inch foam interiors with tough vinyl covers in multiple colors for just the right look.