Gym Wall Padding All Sizes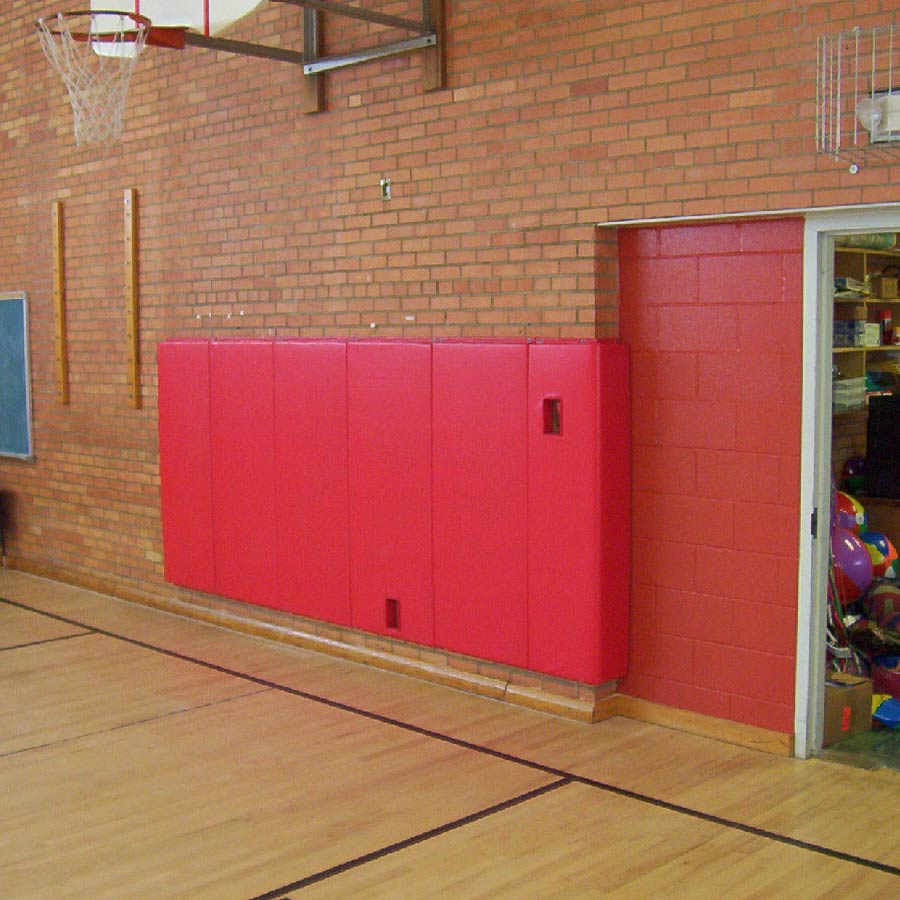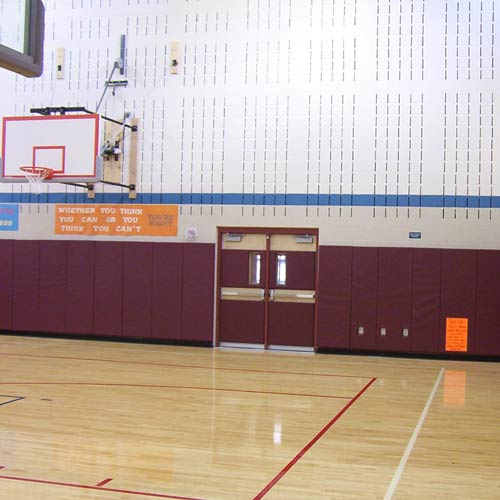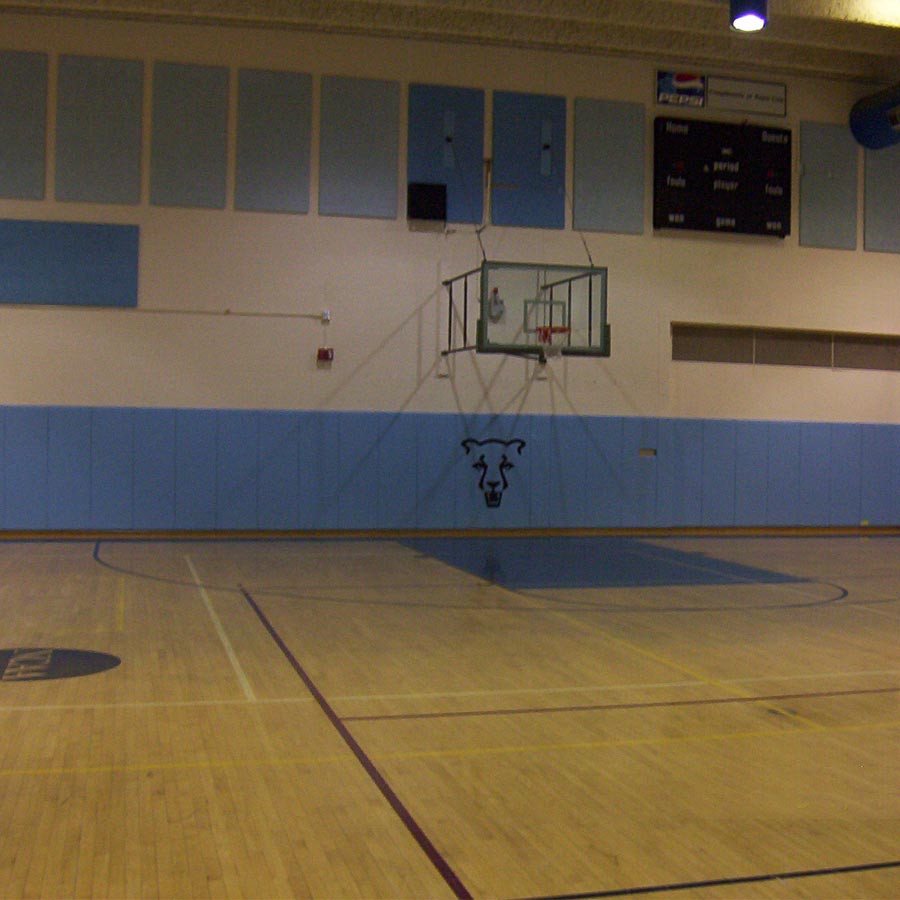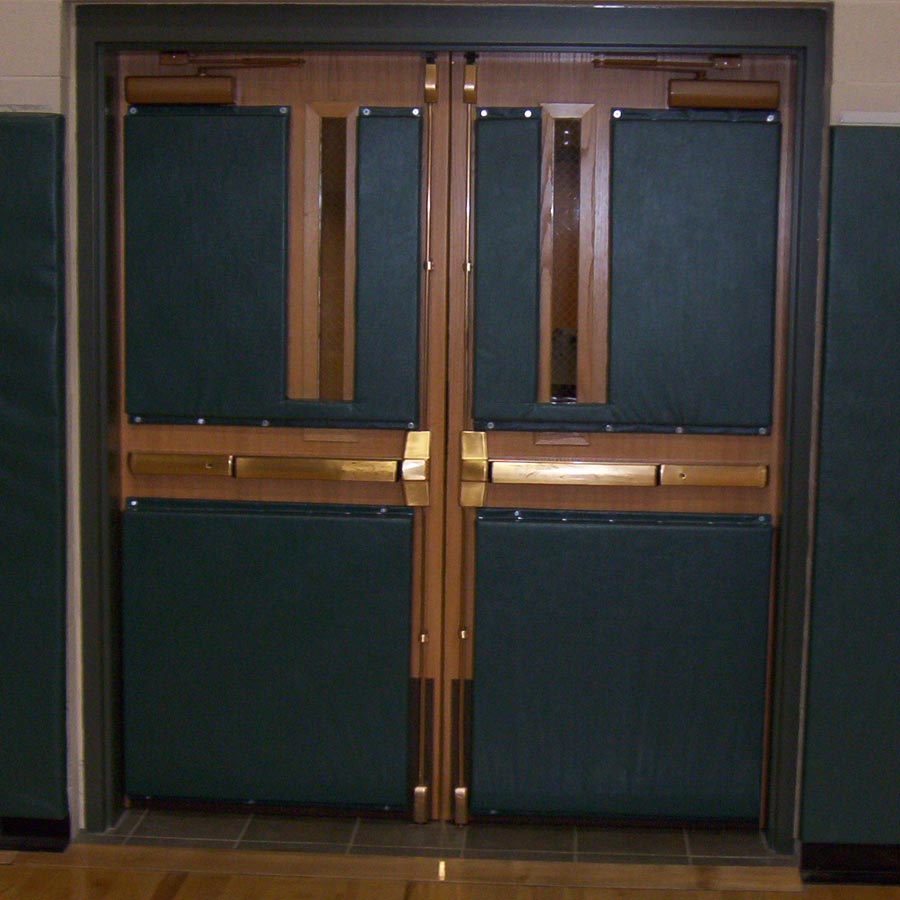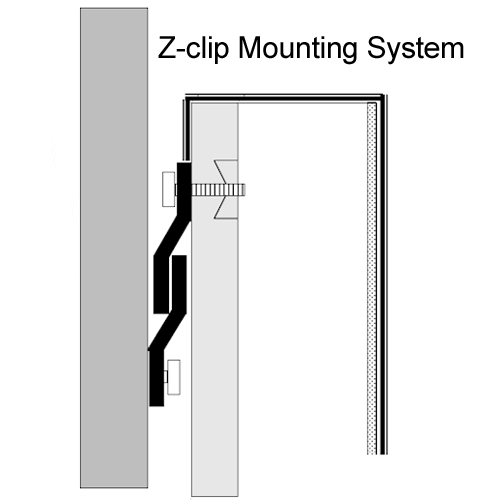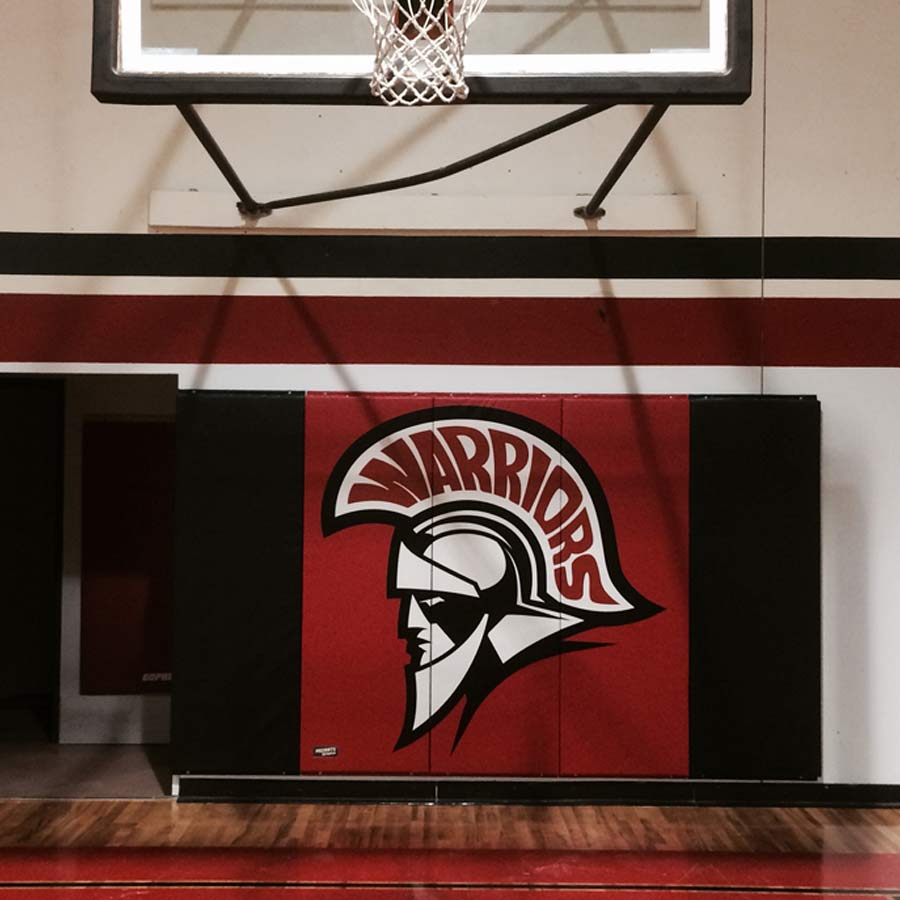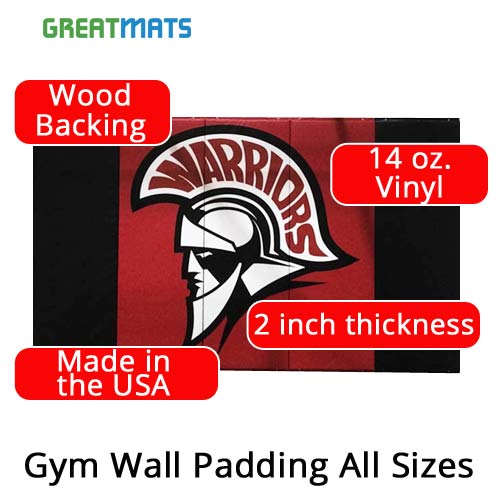 Custom sizes and cutouts
14 oz. vinyl covers
Wood backing for direct wall attachment with lip top and bottom
Handling Time Estimate: 11-14 Working Days

Red

Royal Blue

Gold

Forest Green

Purple

Burgundy

Navy Blue

Gray

White

Black

Kelly Green

Orange

Sky Blue

Camel

True Blue
Custom sizes and cutouts
14 oz. vinyl covers
Wood backing for direct wall attachment with lip top and bottom
2 inch standard thickness
Optional Z-Clip installation options
Made in the USA, quality manufacturing
Optional class A fire rated panel options
ASTM 2440-04 impact rated

Gym Wall Pads, Basketball Court Walls, School Wall Pads, Wrestling Rooms, Martial Arts, Combat Training, Safe Rooms
NOTE: This item is a custom order and is not returnable.
Safe room wall padding, Gym wall pads, Home wall padding
If you've attended a basketball game at your local high school, you've almost certainly seen the wall padding used beneath the backboard and basketball rim. This padding is important to provide safety for players who may lose control while running at full speed to try to score a basket. If the padding at your school is looking a bit worn, the Gym Wall Padding of all sizes that we provide will yield the best mixture of durability, value and safety that you could want for your school or university.
What you may not know is that these gym wall padding options also have some uses in a home setting or in certain types of athletic gym areas. Setting up wall mats for home uses can be a great means of providing safety for children and students in certain rooms of the home or at an athletic studio.

Our padding for walls are wood backed with high density foam wrapped in a rugged shell of 14 ounce vinyl. The wall padding comes in two installation types: Direct wall attachment or Z-clip installations.

To make the gym wall pads more fun, keep in mind that they are available in many different colors. You can order them in your school colors, and we also have options for adding your logo to the gymnasium wall padding.
We've broken down the best reasons to order our Gym Wall Padding of all sizes.
Promote School Spirit with Wall Pads
More than a dozen different colors of gym wall mats are available to order. This allows you to bring your gym walls to life, all in colors that match your school's team colors.
Additionally, you can add your team logo, team nickname, mascot image, school name, or any other image to these gym padding sections. Digital printing ensures that you can have the highest quality graphics displayed on your gym wall mats.
Safe Padding for Walls
These gymnasium wall padding options provide an extra layer of safety and protection for students participating in activities in gymnasiums in schools and at universities. They feature a solid construction quality, with a wood backing that ensures they'll last.
The foam in the gym wall mats is covered in vinyl with a thickness measurement of 14 ounces, which is enough to protect against tears and punctures. The standard measurement of each padded section is 2 feet by 6 feet, resulting in 12 square feet of coverage. All four edges on the rectangular shaped pads are straight.
A standard gym wall section of padding consists of 2 inches in thickness of cross-linked polyethylene foam, which is then wrapped in the durable 14 ounce vinyl cover. These are the same wall mats you will find in major universities across the country and around the world.
Customization of Wall Padding
In addition to providing printed logos and school names on the gym wall mats, we also offers these products in a number of custom sizes and thicknesses. By offering our padding in different thicknesses and sizes, we ensure you'll be able to find exactly the type of padding that you need for your space.
Just contact our customer service team to order the Gym Wall Padding product. Our knowledgeable customer service team will help you with all aspects of ordering these pads, ensuring you receive exactly what works for you.
Whether you're using these gymnasium wall padding sections in a school or at an athletic studio, you have quite a few different options for applying them, such as the following.
These pads are perfect for the walls behind basketball hoops. Many gyms have a brick wall a few feet beyond the end line of the basketball court, so having gym wall mats available can prevent athletes crashing into a hard wall from suffering a serious injury.
If your school or university has an indoor track used for sprint workouts, placing wall pads at the end of the sprint area can help to prevent injuries in case runners cannot slow down before reaching the wall.
As martial arts can involve some throws or some fast movements, placing sections of padding against the walls in the studio will provide protection in case a couple of students make an out of control move while sparring and end up falling toward the wall. In the case of MMA where fighters are often cornered, or striking arts where board breaking may result in flying pieces of wood, it can also prevent damage to the wall.
If cheerleaders at the school will be practicing in a small dance room, working on tumbling moves can be challenging. Should one of the cheerleaders lose control while making a tumbling pass, or misjudge the distance of their stunts, having padding on the wall of the room is a smart option to provide some protection versus the hard wall. You also could use the wall pads in a gymnastics studio for the same type of protection during tumbling runs.
At many schools, the wrestling team practices in a small, enclosed room. Although this can be helpful for creating high temperatures in which to provide high-level conditioning, the closeness of the walls can also be dangerous when wrestlers are flying around the room during practice and workouts. Hanging the gymnasium wall padding on the walls inside the wrestling room is a smart option to keep the wrestlers protected.
Other Use Cases for Upright Gym Padding
Some athletic rooms will have I-beams or other square, rectangular, or oddly shaped objects running along the walls. Some of these support structures are even placed a few feet from the walls as a column. Obviously, these structures need to be wrapped in padding for the safety of your athletes.
Wood-backed and built of a high quality foam and a thick vinyl, our custom pads for columns and other non-standard obstacles are sure to last for years even in the most challenging environments. They are bright and colorful and look great in athletic facilities of all types. We have all kinds of wall padding options to take care of any kinds of non-standard use cases.
Column Pads
Column wall pads are available in many of the same colors and vinyl thicknesses as our standard wall pads. We can have the perfect sizes and shapes cut to fit to your specs for any random obstacle. Some schools or universities may use our column pads for placing around football goalposts, flag poles or baseball foul poles.
Safe Room Wall Pads
If your home has a safe room designed for protection during severe weather or other catastrophes, having padding on the walls can ensure a greater level of safety for your family.
For square- and rectangular-shaped columns jutting out from walls, we can create mats that will wrap around these columns. Or if the wall where you want to mount the gym wall mats has an indentation, we can protect athletes from the corners of the indentations with our pads.
Workout Room Wall Padding
If you've created a workout room in a basement or garage at your home, you may have to deal with support columns in the middle of the room. Placing pads around these support columns is a smart way to remain safe during high intensity workouts when you don't want to worry about injury. You also may want to place padding on walls in the workout room for safety.
If your gym is like countless others, you probably have unique challenges to work around with your wall padding. Wall outlets, light switches and other areas need to be accessible after the wall pads are mounted.
When you order, we will help you with these needs, ensuring that the gymnasium wall padding you order has cutouts and specially-sized pads that will leave exposed the things you need to be able to access. We will even create custom pads for your gym that will fit around the handles and windows of the exit doors for the gymnasium.
Installation Methods for Gym Wall Pads
Installing your wall pads is made easier with z-clips. Simply attach the clips to the back of the pads by screwing them into the plywood backing of the panels. Attach the other clips to the wall, and then hang the clips on the pad onto the clips on the wall. Unsightly mounting hardware is concealed behind the wall pads. This also eliminates any risk of the hardware causing a safety hazard for athletes crashing into the gym wall mats.
Another installation option is the use of hook and loop fasteners to attach pads to the wall. The padding then can also function similarly to gym folding mats on the floor with this installation method.
Our gymnasium wall padding will arrive with hardware to install the pads, mounting screws are not included. Our padding for gymnasiums can be directly attached to concrete block walls or wooden studs.
Although the standard mat uses strong 14 ounce vinyl, we also offer a heavy duty vinyl upgrade to 19 ounces where stronger vinyl to resist punctures is required. An outdoor mat is available with UV protection against the sun and an 18 ounce vinyl cover. Upper and lower lip options are available so that you can easily replace and repair vinyl as needed.
How to Order Wall Padding
For custom shapes, colors, and sizes of wall pads, please contact customer service. If you would like more information, please don't hesitate to call one of our friendly customer service representatives. We can work with you to find the right product for your facility.
Shipping
Ships via freight delivery shrink wrapped on pallets.
This Product Ships Freight Only.
Please review our shipping disclaimer.
| | |
| --- | --- |
| SKU# | ProAllSizes |
| In Stock | Yes |
| Product Type | Mat |
| Material Type | Vinyl covered Foam |
| Product Edging | Straight |
| Thickness | 2-3/8 inch |
| Width | 2.00 feet |
| Length | 6.00 feet |
| SF per Item | 12.00 |
| Weight | 33.00 lbs |
| Packaging | Shrink Wrapped on Pallets |
| Number of Pieces per Package Type | 20 |
| Non Absorbent | Yes |
| Special Adhesives | No |
| Interlock Loss | 0.00 feet |
| Interlocking Connections | No |
| Made In | USA |
| Surface Finish | Smooth flat |
| Surface Design | Solid color |
| Installation Method | Direct screw on or Z-Clip |
| UV Treated | No |
| Reversible | No |
| Border Strips Included | No |
| Floor Score | No |
| Green Label | No |
| Manufacturer Warranty | 1 year limited |
Product Questions:
Q: Is this for exterior use as well?
A: No, this is only for interior use. For outdoor wall and fence pads which we can source, please contact customer service.
Q: How much are corner mats?
A: The pricing depends on the size, generally one corner wall mat that is less than 24 inches on both sides is the same as two panels.
Q: Hello. Are the paddings fire rated? We want to use them to install on a wall at a stress test system treadmill area for childrens protection.
A: All of our wall pads have a Class A Fire Rated vinyl covering. If a complete fire rated pad is needed, the product will say Class A Fire in the product name. These will have a special interior as well as the fire rated vinyl covering.
Q: Wanting to use these pads for an indoor commercial golf simulator room. Will they withstand an occasional hit by a golf ball? Need them for the walls and ceiling. Apprx 10 feet wide and 13 feet high on both sides. Ceiling is 10 wide and approx 20 feet long. Thanks
A: Please reach out to our sales rep Katie regarding wall mat requests. Her email address is katie@greatmats.com or if it is more convenient for you to call she can be reached at 877-822-6622 ext 111.