What Are The 3 Best Rubber Mats for Home Gyms?
By Kyle Schurman Created: September, 2019 - Modified: October, 2023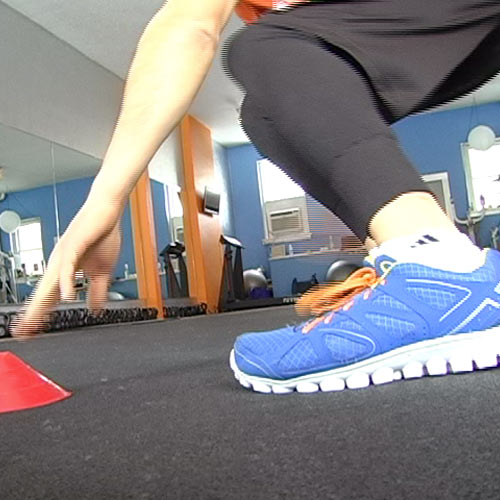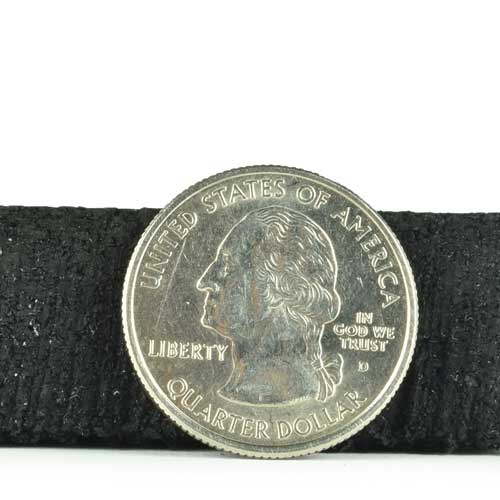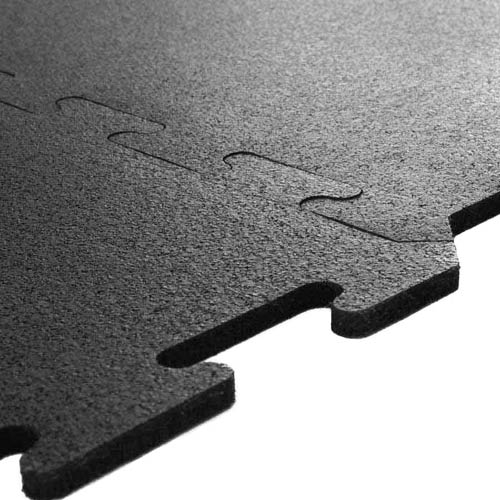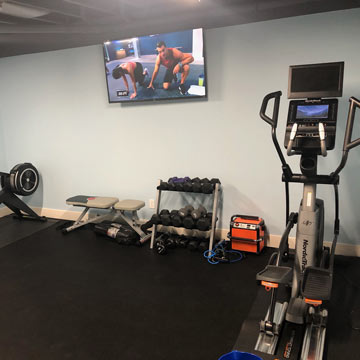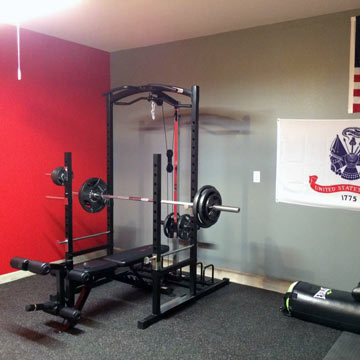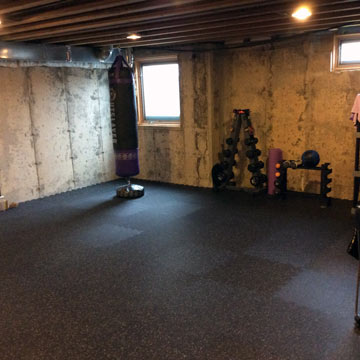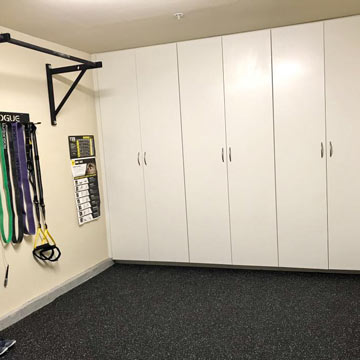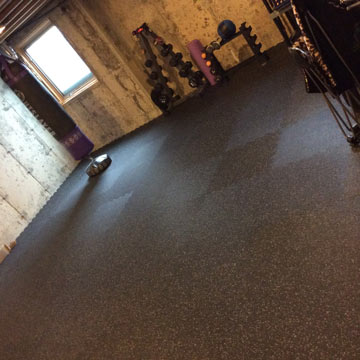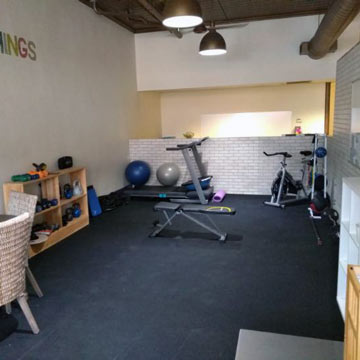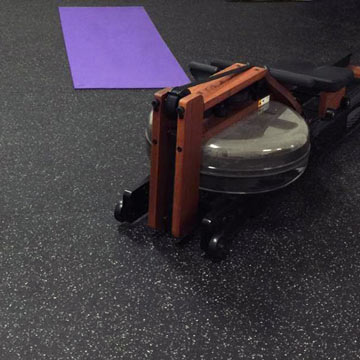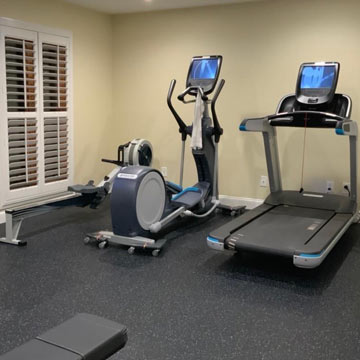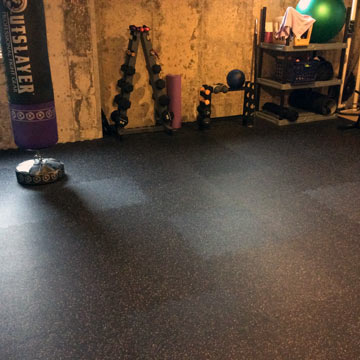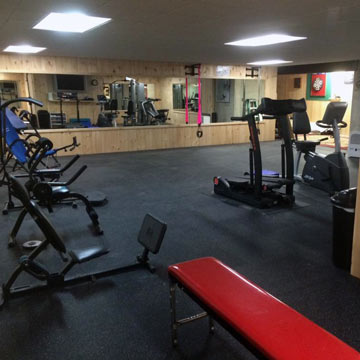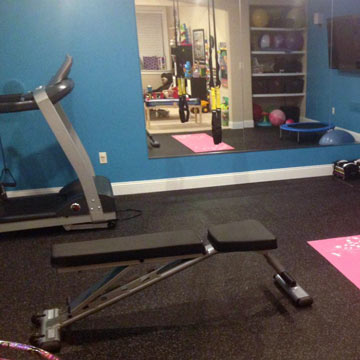 Because workout spaces in the home can involve heavy equipment, it's important to think about protecting the subfloor. Gear like free weights, treadmills, and kettlebells carry quite a bit of weight in a small area, which can scratch, indent, or gouge existing flooring. Gym rubber flooring made for use at home will protect your original floor, supporting the workout equipment and providing a bit of cushioning as you exercise.
Finding the best gym rubber flooring for your home's needs is an easy process. With so many different configurations, coverage areas, and thickness measurements available, you only need to plan how you expect to use the gym rubber flooring to find the perfect matching product.
Rolled Rubber Home Gym Floooring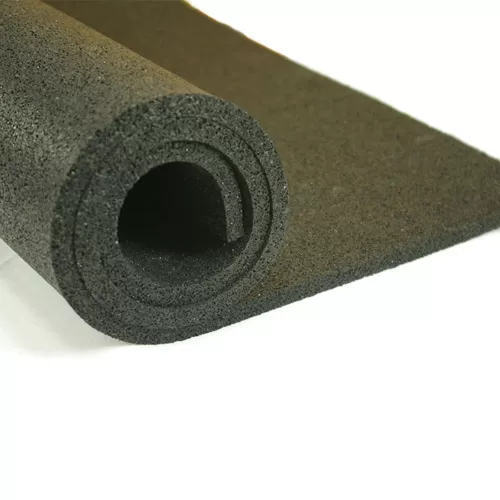 Select a roll of rubber for a home gym when you want to cover a lot of area quickly and at a low price per square foot. Rolls are available in multiple thicknesses and square footage sizes, so you can find just the right product for your particular needs.
A roll of rubber for a personal gym is the top choice for best for plyometric exercises. It provides a solid footing for quick movements with just a little bit of cushioning to help with joint health - especially when a lower density plyometric rubber is used.
A popular choice is the
Plyometric Rubber Gym Roll 3/8 Inch
product. It costs less than $2 per square foot.
One downside to the roll is that it isn't as thick as tiles or mats. Rolls typically range from 1/4 to 1/2 inches in thickness. The thinnest roll is the cheapest, but it may not protect your subfloor from dropped free weights as well.
A large roll also can have quite a bit of weight, so it may be difficult for one person maneuver it into place during installation.
4x6 Rubber Floor Mat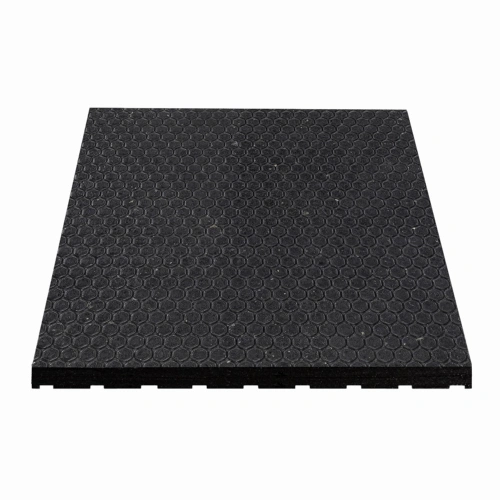 For those who have a specific area they want to protect with gym rubber flooring in a home workout area, a mat delivers good performance and value.
Say you just want to place rubber underneath an elliptical machine, or you want to sit on a rubber pad while doing stretching exercises. Maybe you just want something for extra protection in you olympic lifting area. You don't need a huge coverage area in this case, which makes a rubber mat an excellent choice.
A common size of mat will provide 24 square feet of coverage, as is found with the
4x6 Ft 3/4 Inch Gym Rubber Floor Mat
. This is large enough for common activities in a home gym.
The thickness of 3/4 inches should keep your subfloor safe from damage from heavy equipment. If you need less of a thickness measurement than 3/4 inches, other mat products commonly are available that measure 3/8 or 1/2 inches.
Mats, especially thick mats, have a higher price per square foot than rolls. But because you're only covering a small area, the cost of a mat is reasonable and with the additional protection, it will pay off in the end.
A 4x6 rubber mat can be very heavy, which some people won't like for use at home if they'll be doing the installation alone or plan to move the mat around frequently. The 4-by-6-foot mat we listed earlier weighs 100 pounds.
Home Rubber Gym Tiles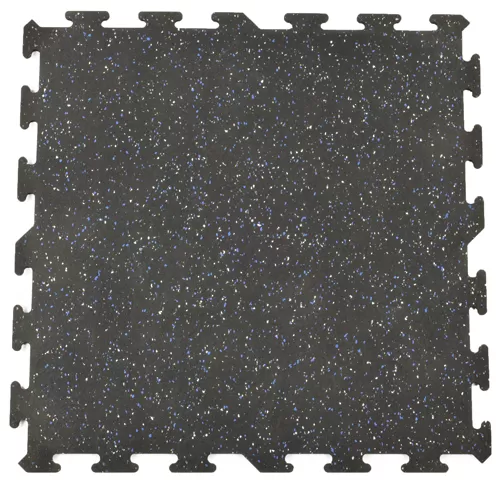 When you want a style of rubber floor for your home gym that is easy to lay out and use, you'll want to pick a rubber tile system.
Rubber is a heavy material. As we mentioned already, rolls and mats have quite a bit of weight, which may be difficult for people to move by themselves. But because tiles have a smaller size, they weigh less per piece. Yet, you can cover a large area with multiple tiles. And you can add to the size of the rubber floor at any time by just connecting more tiles, which creates versatility.
The tiles use a puzzle style edge with tabs and slots that fit together tightly. The edges will not pop loose when they're placed under the stress of a workout.
The
Interlocking Rubber Tile 2x2 Ft x 8 mm
is a popular product, as each tile provides about 4 square feet of coverage and weighs about 7.4 pounds.
However, tiles are more expensive per square foot than other types of rubber flooring. Installing tiles will be more time consuming than laying out a mat or using a roll of flooring too, as you must cut off the puzzle edges to create a straight, finished edge. However, this is something you can do alone.
Advantages of Gym Rubber Flooring
Because recycled rubber is the material commonly used in this style of floor, it's extremely durable and eco-friendly. A rubber floor keeps used tires out of the landfill.
It absorbs noise created by loud equipment, such as free weights, which is nice for residential customers who can work out without disturbing the rest of the family.
Gym rubber flooring is easy to clean. It can be mopped or vacuumed to remove debris and stains. And should someone spill a water bottle on the floor, recycled rubber will not absorb the water, meaning it resists the formation of mold or mildew.
To install this type of floor, you typically don't need adhesives. Rubber is heavy enough that it will stay in place without tape or glue.
Finally, it offers a strong value versus other types of materials used in floors. Gym rubber flooring has a reasonable price per square foot, meaning you can outfit a basement workout room without breaking the bank.