What Do I Need To Make A Home Playground?
By Lisa Hobbie Created: June, 2021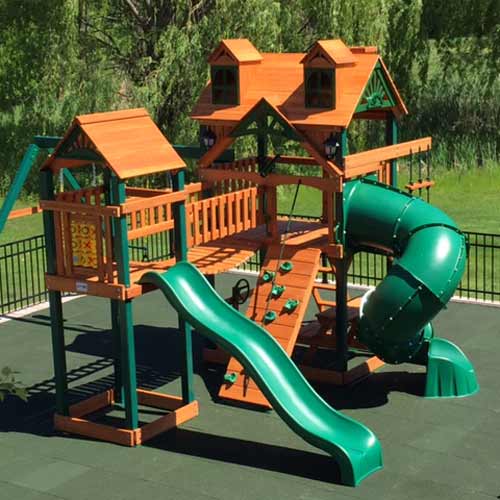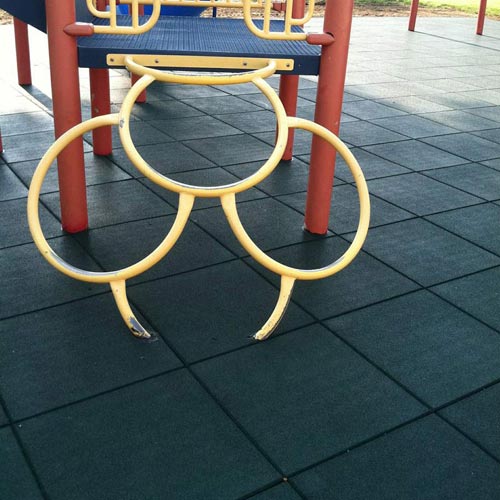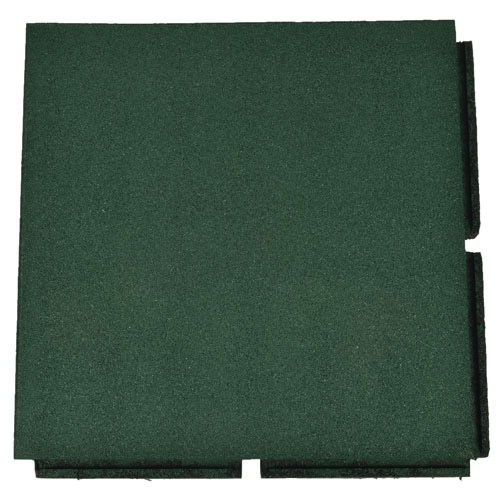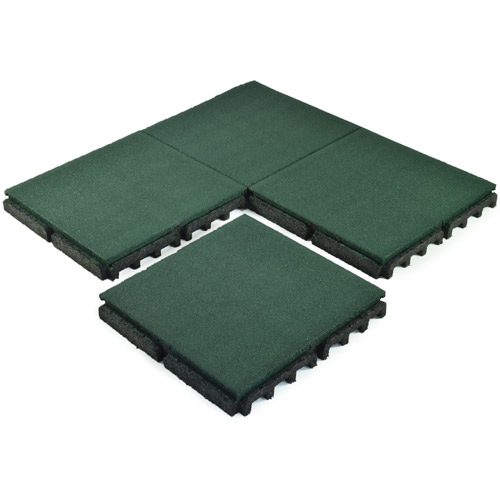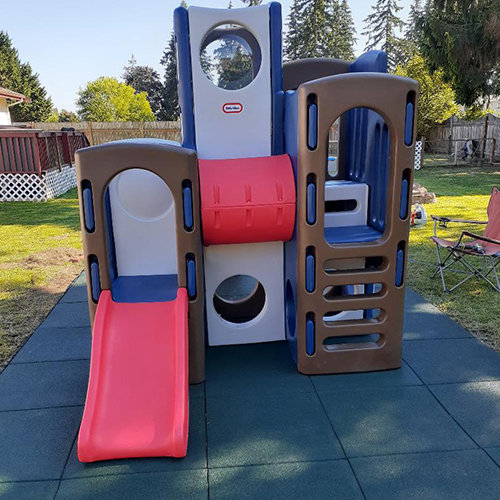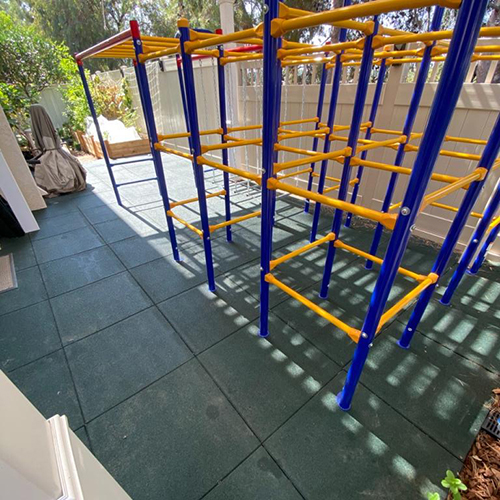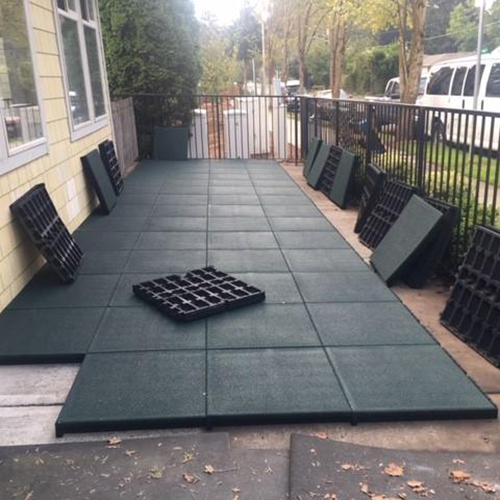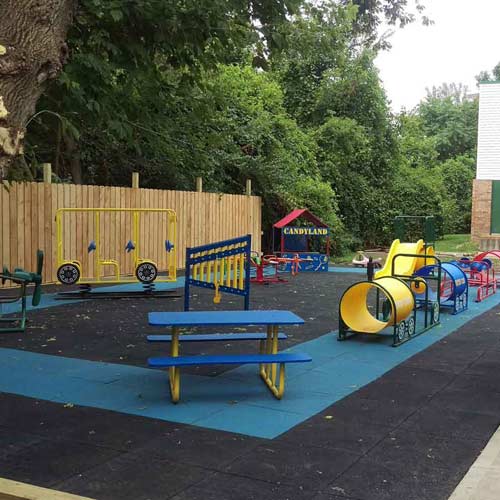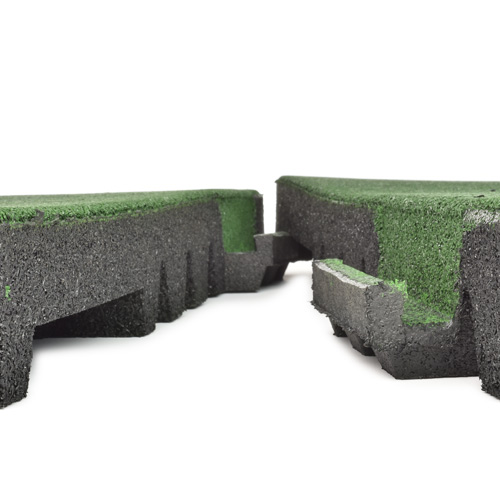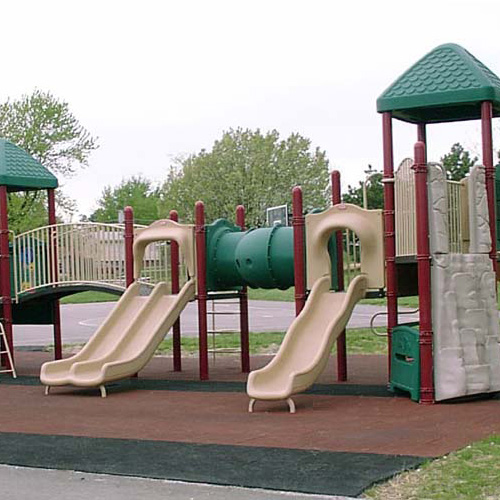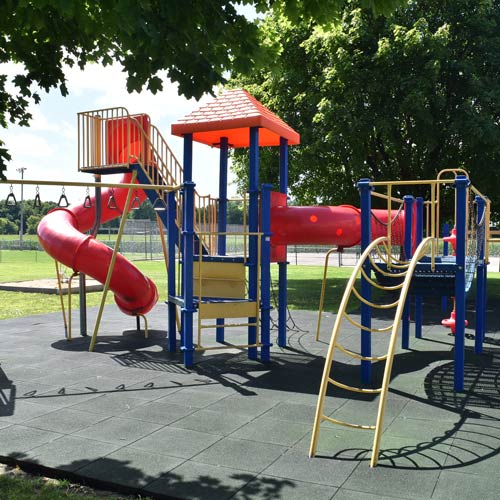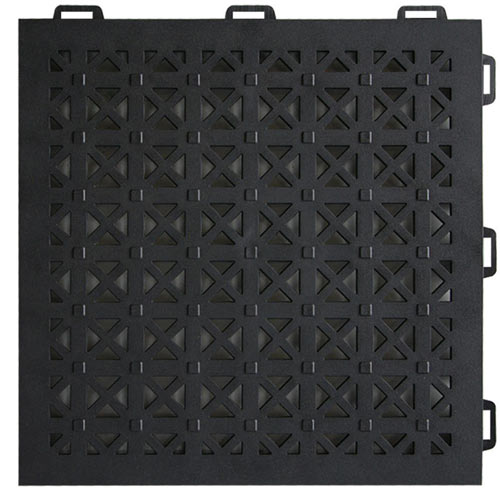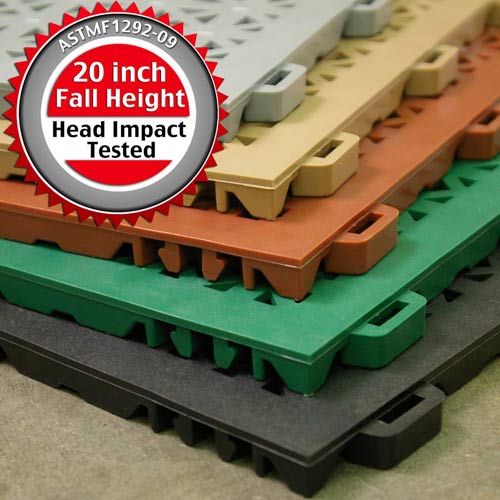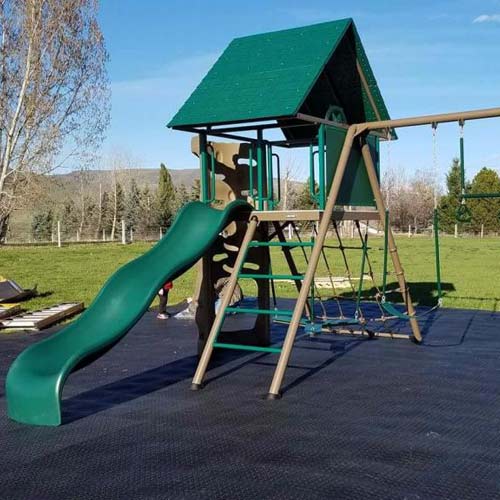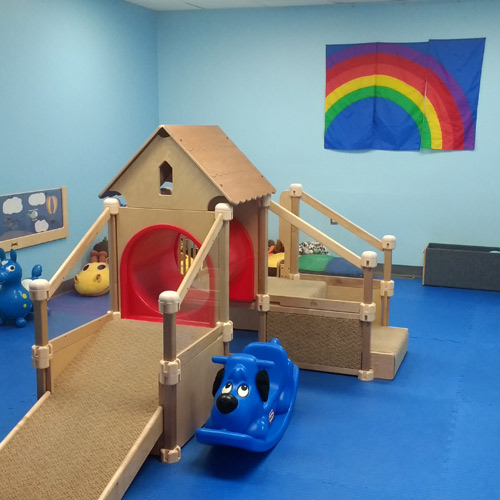 To create a fun and safe
home playground
, whether indoor or outdoor, not only do you need playground equipment, you also need appropriate playground flooring.
Once you choose the best swing, slide, climbing wall set for your home playground, you need to decide which type of flooring best suits your needs, preferences, and the type of environment the playsets will be installed in. Although rubber or wood mulch are often used, other flooring solutions tend to provide more comfort and greater levels of safety under play equipment.
Children will have countless hours of fun if the flooring provides a safe surface on which they can play - free of serious injury. Greatmats offers the best playground flooring products available anywhere, with the following 5 being among the most popular:
Of the many different ideas that need to be considered when exploring home playground options, selecting a floor that will offer a level of safety for the kids playing will make the entire experience a more positive one. Any of these options would not only offer such a level of safety, but they would also look great in your playground.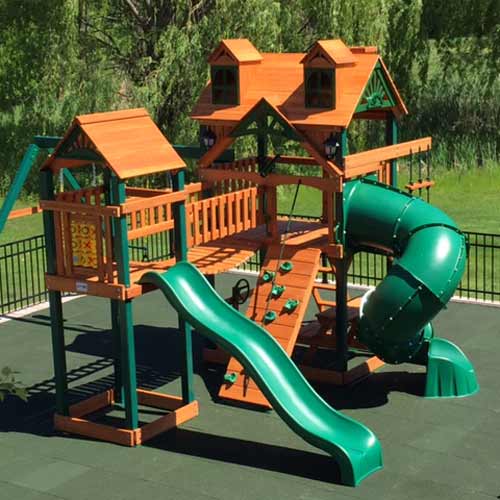 2.75 inch Green Greatmats Interlocking Playground Tile is a solution that offers a very safe playground flooring surface. It boasts a 6 foot fall height rating, and it eliminates the need for loose materials which can often hide potential hazards.
This impact-absorbing, resilient safety floor is suitable for an entire backyard playground, or, in an area prone to fall-related injuries or in a zone around equipment. This includes under a free standing playhouse, around a sandbox or under a wooden swing set or metal swing set with a glider.
Each tile offers 4 square feet of coverage and a 2.75 inch thickness.
For playground sets with a rock climbing wall, tube slide, tire swing or trapeze bar - or a tree house with a rope ladder, this kids playground surface is a must have for added protection against falls.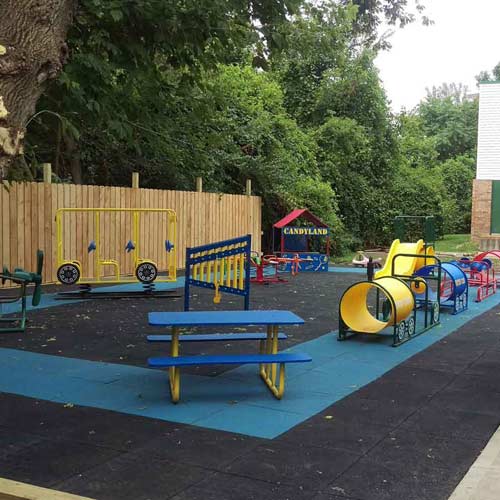 The 2.5 inch Colored Interlocking Playground Tile BB is the perfect high quality solution to go under a climbing wall, monkey bars, or other apparatus, as it boasts a 6 feet fall height rating to protect your little climber.
This flooring easily interlocks for a simple DIY play systems project. Once installed, it's very low maintenance and easy to keep clean, and it's also easy to replace a few tiles if an area under your backyard playset or jungle gym becomes damaged or worn.
This is a long-lasting product that has optional ADA border ramp edging, for ADA accessibility. The tiles are 2.5 inches thick and offer 4 square feet of coverage. It can easily support a picnic table, benches and other play area furniture.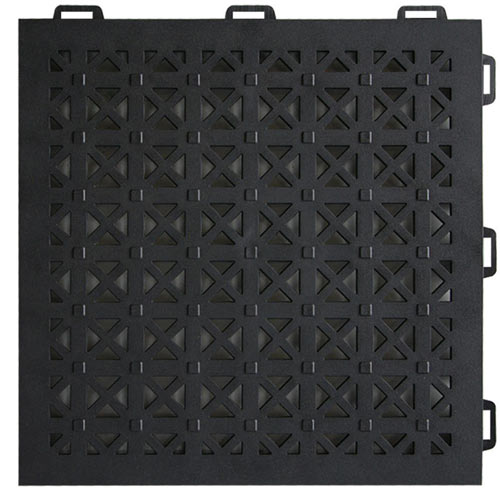 Perforated Black StayLock Tile an affordable outdoor playground flooring option that is made of durable PVC plastic. It has an active locking connector design that allows the product to float over an existing subsurface or floor, so it's an option for a DIY install.
This product works well under outdoor playsets, a clubhouse, swing set or as a slide base with its 20 inch fall height rating. It is small and lightweight, weighing just over a pound and offering one square foot of coverage.
The quick and easy installation process allows for quicker access to outdoor fun for kids and adults alike.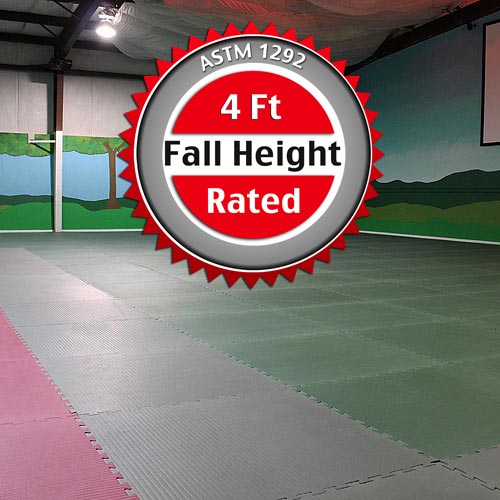 Indoor Playground Flooring Tiles work perfectly in a kids indoor home playground setting. The tiles are waterproof and non absorbent, and they have a 4 foot fall height ASTM rating and a no burn tatami top texture. Put them under inflatable bouncy houses or under a climbing rope for extra protection.
Made from EVA foam, this product is a breeze to assemble without any adhesive. The tiles are reversible and removable for portability. They are also very safe, as they deliver shock absorption and a firmness to keep kids from sinking in too far and suffering from an ankle injury.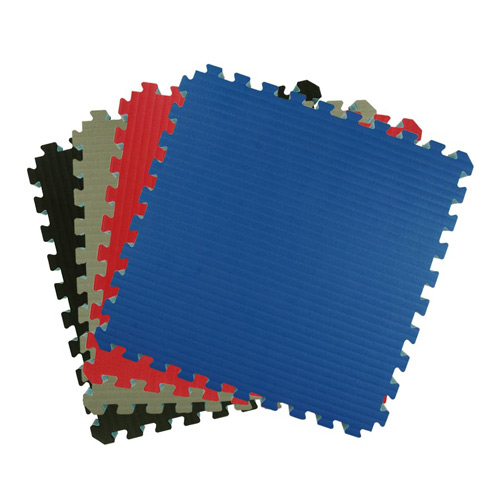 Home BJJ Mats also work for indoor playgrounds. They are 1.5 inches thick and offer protection from falls of up to 4 feet.
These mats are 2 feet by 2 feet and weigh just over 3 pounds. They offer 4 square feet of coverage over any solid, flat surface without the need for adhesive or special padding. You just place them and connect them like you would piece together a puzzle.
These mats have a no-burn tatami texture, are waterproof, and reduce the chance of mold, mildew, and bacteria with their non-absorbency.
Home BJJ puzzle mats protect your little ones just like the larger indoor foam playground tiles. They just come in a smaller size.
Greatmats - For The Best Home Playground Flooring
Home playgrounds offer countless hours of memory-making playtime and enjoyment for children. Playing on the slide, swings, and monkey bars provide hours of physical fun… until someone falls and gets hurt. One thing that minimizes the severity of potential injuries are adequate playground floors, like the ones featured.
For a playground floor that looks great and delivers safety and durability, Greatmats has an option for you. For fewer injuries and more fun, select a flooring solution designed specifically with playground safety in mind.
Whether one of the options featured interests you, or, if you want to explore some of the other products available, rest assured, that when you select your playground flooring from Greatmats, you will be getting the best in quality and affordability, as well as service and dependability. Regardless of the product you choose, you simply can't go wrong when it comes from Greatmats.