What Color EVA Floor Mats Are There?
By Paige Cerulli Created: January, 2023 - Modified: February, 2023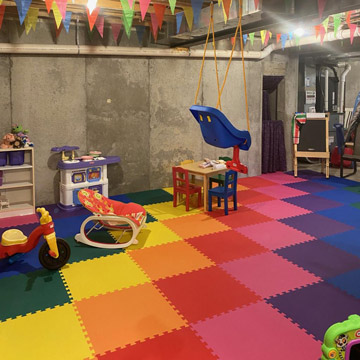 EVA floor mat products from Greatmats have a number of advantages, including ease of installation and a low price. Another desirable feature of foam mats is the assorted colors available. Pick from more than two dozen unique colors and patterns in our interlocking edge mats.
As another advantage of our EVA foam tiles, you can mix colors from the same model of tile. As long as the tiles have the same thickness and edging pattern, you can mix colors when creating a fun flooring layout for a kids' playroom or a rec room at home.
Although you can mix and match colors from within the same family of colored foam tiles, understand that the jigsaw pattern in the edges between tiles will be clearly visible. You don't see a straight edge like you receive when the interlocking edge on the tile is hidden.
If you use the same color of tile throughout the layout, though, the puzzle style edge almost seems to disappear from view, blending into the completed layout of connected tiles.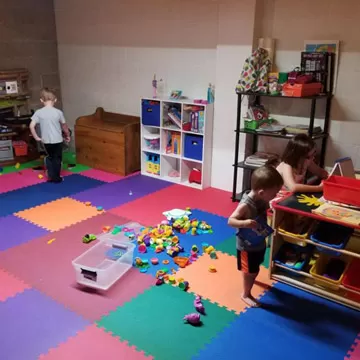 Bright Colored Foam Tiles
One of our most popular EVA floor mat models is the Premium Foam Kids and Gym Mats product. This mat has roughly 4 square feet of coverage per tile and measures 5/8 inches in thickness, which is an ideal set of dimensions for an easy-to-handle DIY installation.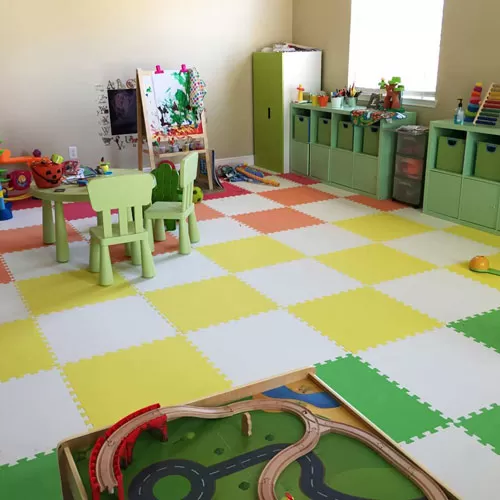 This is one of the most colorful types of flooring that we at Greatmats offer, as it carries more than a dozen different solid color choices, including:
Black

Brown

Burgundy

Forest green

Gray

Lime green

Navy blue

Orange

Pink

Purple

Red

Royal blue

Tan

White

Yellow
One side of the tile provides a textured pattern for a bit of slip resistance for kids who may be running while playing. The other side of the reversible tile has a smooth surface, which may be a better option where kids are primarily sitting or crawling on the floor.
To create a finished edge around the perimeter of this flooring, we include two border pieces with each tile that match the same color of the tile. The border pieces on our EVA floor mat line up with the puzzle edges on the main tile, allowing you to secure them easily.
Wood Grain Foam Tiles
Another design element that works well for EVA foam mats involves adding a printed wood grain pattern across the top of the mat. These tiles attempt to replicate the look of a hardwood flooring installation, including faux grain patterns, simulated knots, and varying wood stain colors.
Our Wood Grain Foam Tiles have a puzzle-style edge. Each tile has an approximately 2x2 foot size and measures 7/16 inches in thickness, which allows installation to go quickly. These tiles have multiple wood stain color options, including:
Driftwood lite brown

Rustic medium brown

Walnut dark brown

Stone gray
Another option is our Reversible Wood Grain Foam Tiles product. These tiles also measure approximately 2x2 feet in size with a puzzle-style edge.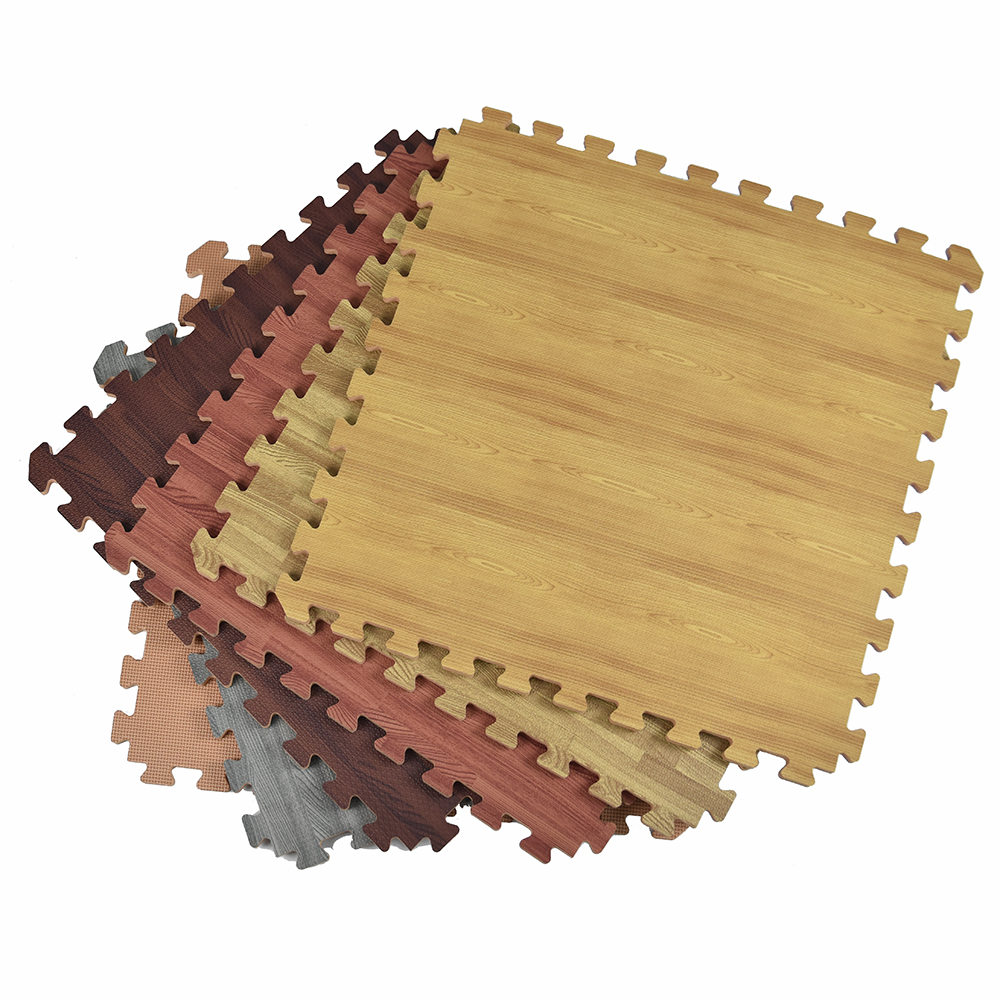 These tiles include a simulated wood grain pattern and wood stain color on one side of the tile and a scuff-resistant tan color on the other side. The wood stain color options in this model include:
Standard wood grain

Light wood grain

Dark wood grain

Deep brown wood grain

Brown wood grain

Gray wood grain
With both of these models of tiles, each tile ships with two border strips that fit into the main tile with the same interlocking edge and with the same wood grain color.
Carpet Tiles With Foam Backing
When you want the warmth of a carpeted flooring, but you like the idea of the cushioning of an attached foam backing, we offer the Royal Interlocking Carpet Tile product.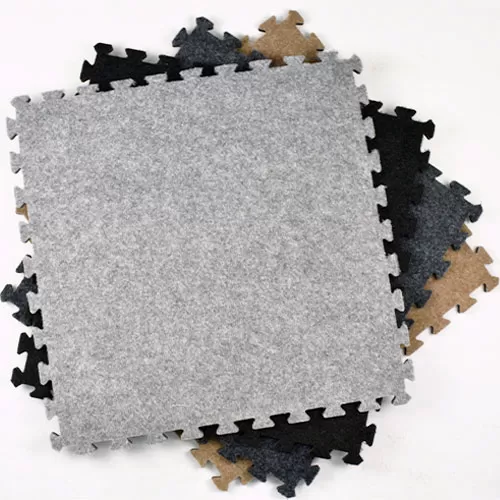 These tiles work well with either residential or commercial layouts, as the carpeting has a stylish look and provides excellent durability. Additionally, the foam backing is resistant to water, so it works nicely in basements or other locations that may have leaks on occasion.
These tiles are available in four different colors for the carpeted layer, including:
Charcoal

Dark gray

Light gray

Tan
Each tile ships with two border pieces that fit tightly into the puzzle-style edge on the main tile and that match the color of the carpeting layer.
Advantages of EVA Foam Tiles
Our EVA floor mat products consist of ethylene vinyl acetate. This is a closed-cell foam that delivers flexibility similar to a rubber mat. However, it has a lighter weight, which simplifies installation. Additionally, it provides more cushioning to protect against falls versus a rubber mat.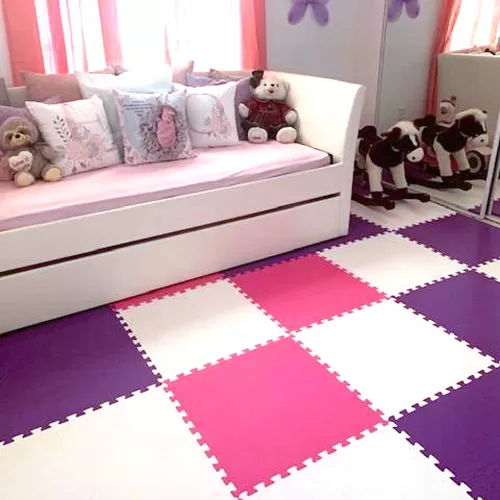 As a general rule, mats that contain foam also have a wider range of colors, styles, and patterns available than other types of flooring. You receive these color options at a lower price than the majority of flooring styles when you select an EVA floor mat.
Some of the most popular
use cases for our EVA floor mat
products include:
Workout rooms

Floor-based exercises

Daycare facilities

Kids' playrooms

Kids' bedrooms

Basement family rooms

Dens

Media rooms