What Are The Largest Interlocking Foam Mats
By Lisa Hobbie Created: August, 2021 - Modified: August, 2021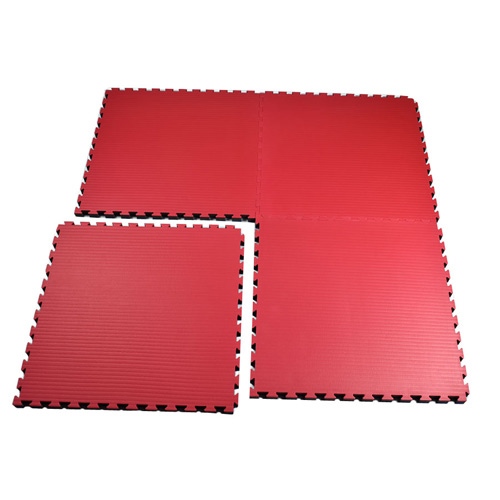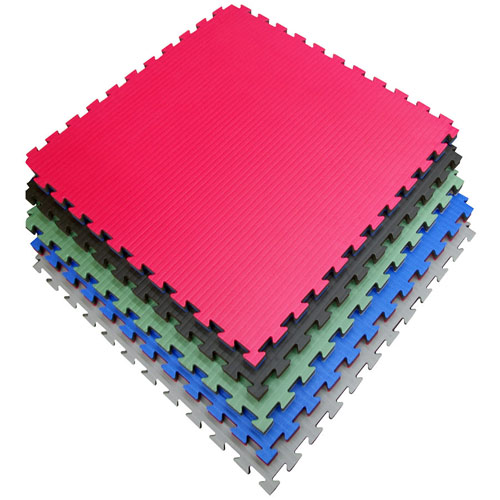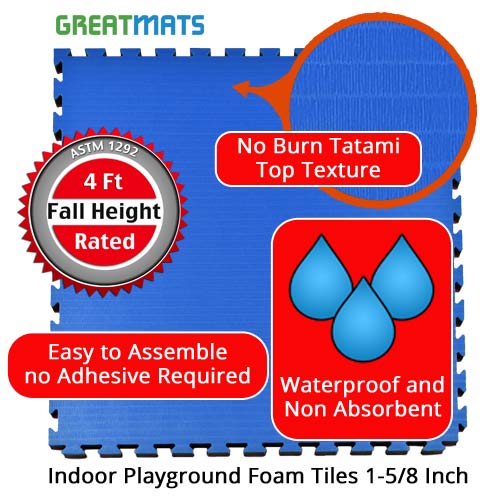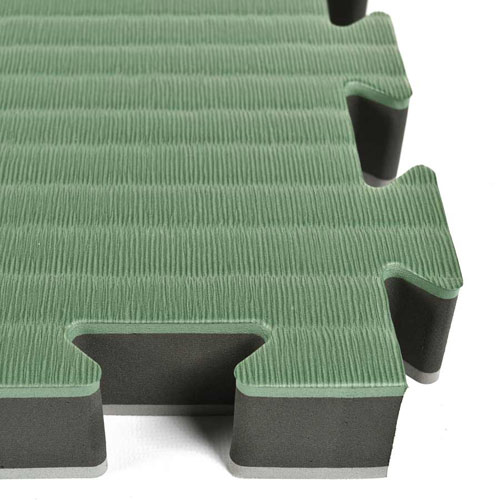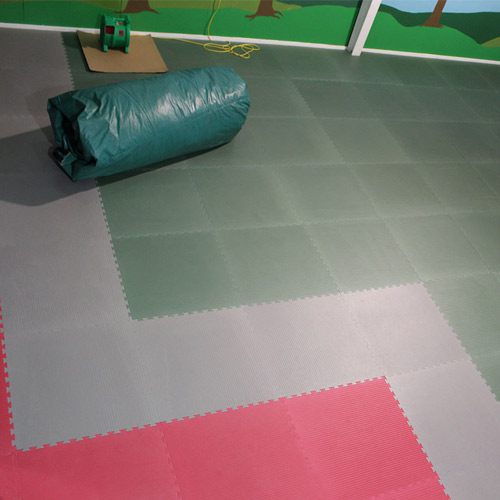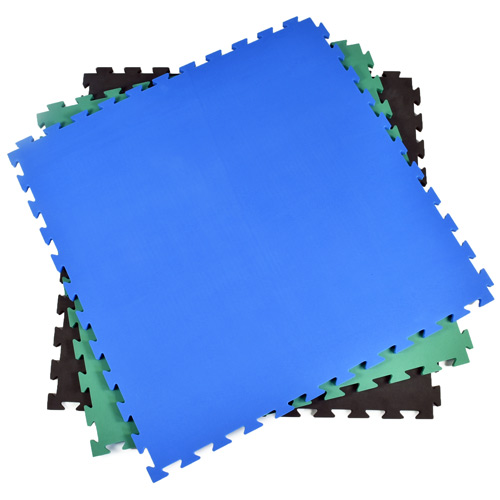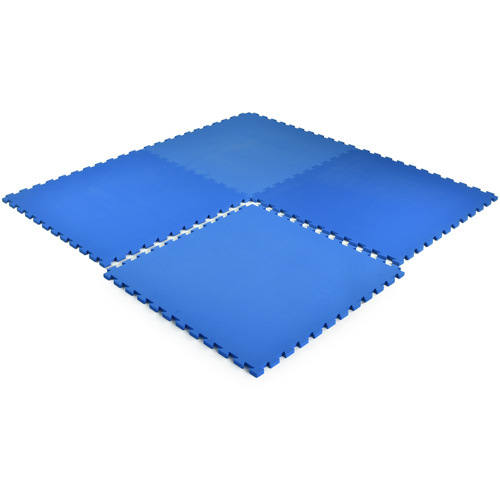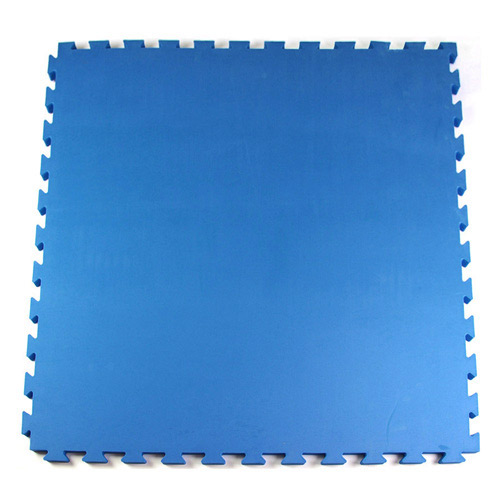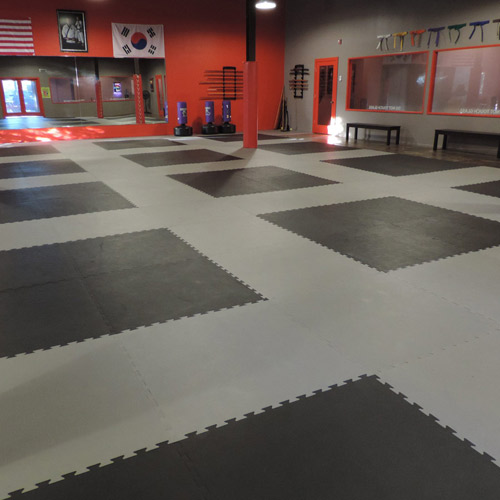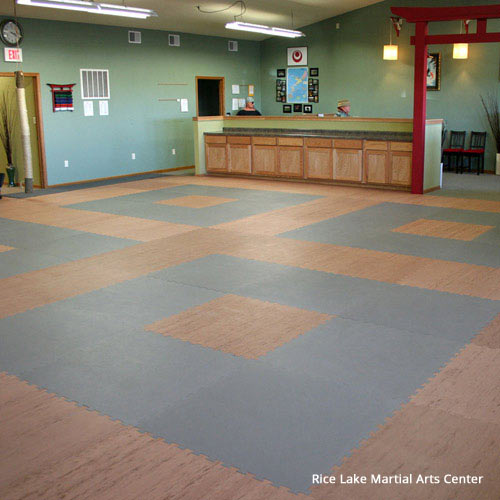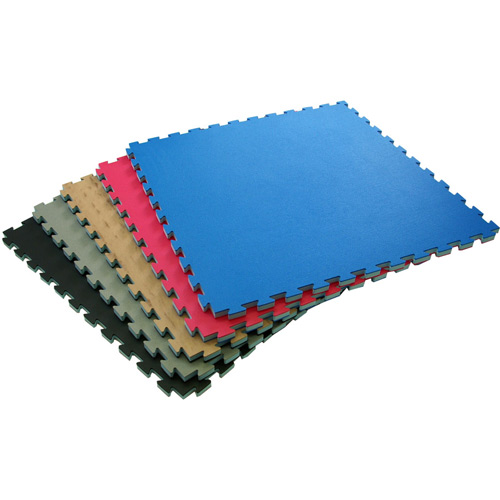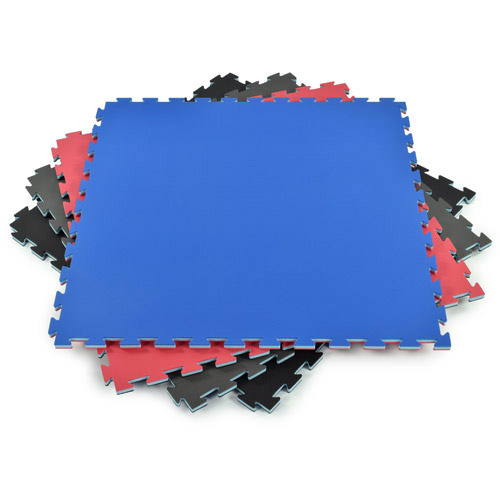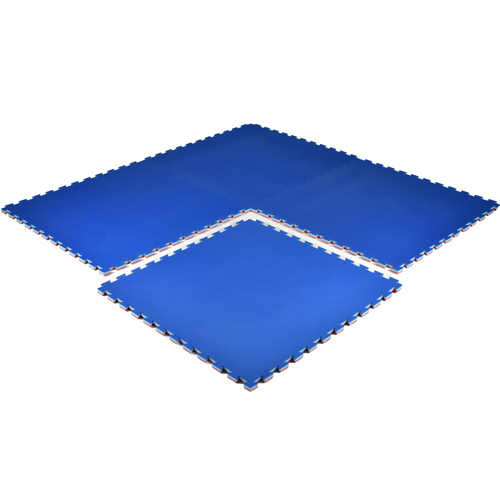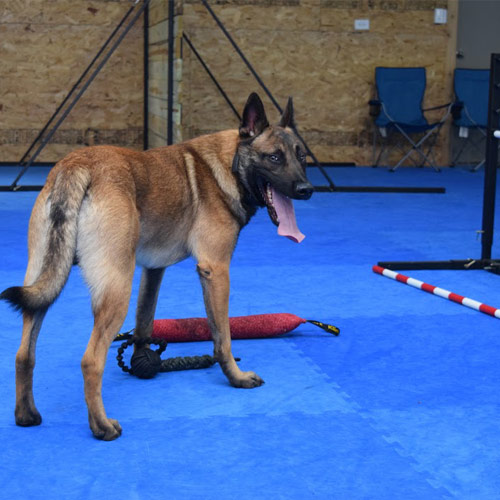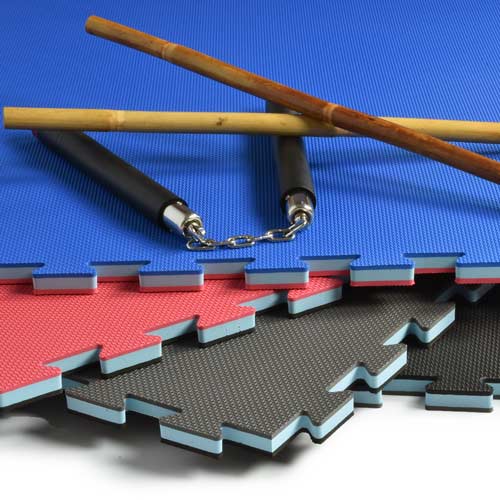 There are different sizes of large interlocking foam mats, with the largest being 1x1 meter - providing about 10.75 square feet of coverage.
Greatmats offers 6 products that are about 3.28 x 3.28 feet, of which there are varying thicknesses making them suitable for different applications. These 5 products are:
These jumbo products work well for martial arts, for areas for kids to play on, for intense workouts, for dog training and more. They all offer surfaces that are extra supportive and cushioned, making them great multipurpose floor mats that offer a level of safety and protection. The large size of the mats reduces the number of seams in the finished floor and makes the installation process a fast one.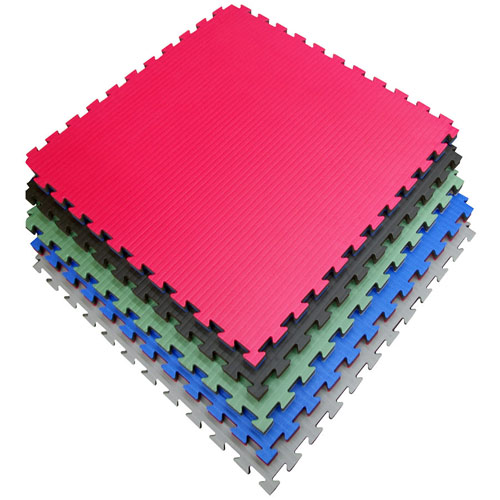 Grappling MMA Mats are roughly 3 ¼ feet by 3 ¼ feet and 1.5 inches thick, providing 10.75 square feet of flooring. They are made from durable EVA foam, and they can be used in home or professional settings.
These large interlocking foam mats work well for many applications, including MMA floors, mixed martial arts studios, grappling training centers, and BJJ & Jiu Jitsu Dojo Studios. They offer a 4 foot ASTM fall height rating, protecting against serious head injuries. This allows for maximum safety in practice and competition while doing throws and takedowns. They can be used with bare feet or soft shoes - which may slightly scuff the surface.
These mats can be laid on any flat, hard surface, and once locked together, they will not pull apart during use. They prevent skin burns with their special tatami texture, and they are waterproof, practical, and affordable.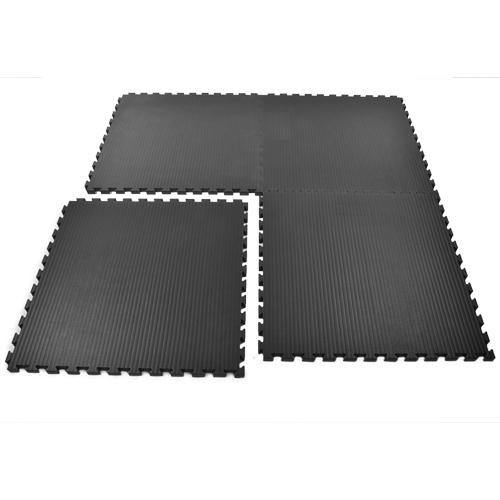 Judo Jiu Jitsu Mats Interlocking 1.25 Inch and just over 3.25 by 3.25 feet, providing 10.80 square feet of coverage. They are reversible with professional construction, and they provide shock absorbing properties for groundwork and workouts.
They are suitable for judo training, martial arts studios, BJJ training, and home wrestling floors. The mats feature a tatami surface that protects against floor burn, and the firm EVA foam they are made from prevents sinking into the mats. These martial arts and therapy room mats provide an easy DIY installation with tight holding interlocks, and they are waterproof, for ease of cleaning and disinfecting. They are lead free and latex free, tough, and durable.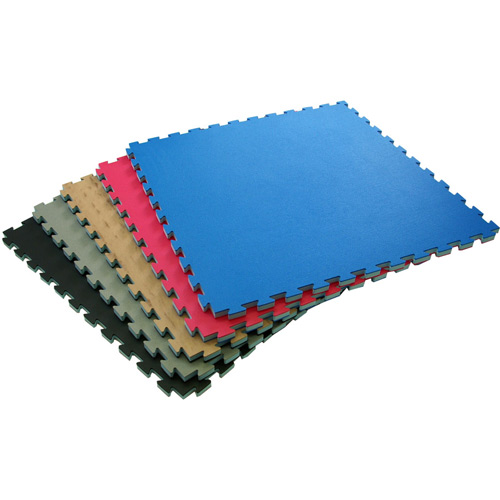 The Premium Martial Arts Karate Mat is a 1 inch thick puzzle mat that is also 3.28 x 3.28 feet in size. Made of high density EVA foam, this is a durable and versatile interlocking style matting with a 1 inch thickness that provides ample padding and a smooth surface finish that accommodates bare feet or soft shoes.
These large interlocking foam mats allow for intense and expressive movements practiced in martial arts disciplines and various workouts and stability for exercises like yoga, Jazzercise, or Zumba.
The jumbo karate puzzle mats are simple to install with their interlocking design, and the closed cell foam prevents moisture absorption, mold, mildew, and odor. They are double sided, attractive, and low maintenance.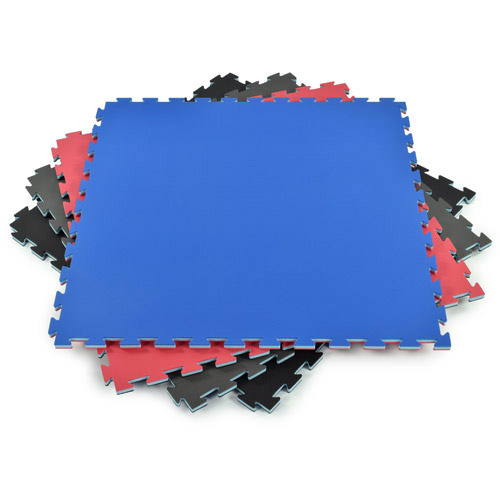 Pro Taekwondo Martial Arts Mats are 1x1 meter in size and about ¾ inch thick. They offer a surface for competing in striking art disciplines - including TKD, Kickboxing, Muay Thai and mixed martial arts - that will be performed with bare feet, boots, or shoes. These mats have a textured surface resistant to scuffs, indentations, and divots.
Like the others, these large interlocking foam mats offer pressure reduction and strain protection. These mats also deliver a very tight fit of the interlocking tiles, preventing trips and slippage of tiles.
As the thinnest martial arts puzzle mat, they are extremely popular for tournament and competition flooring because they are lightweight and easy to transport from venue to venue.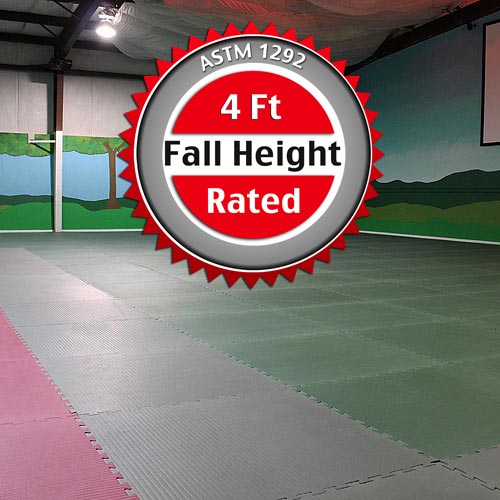 Indoor Playground Flooring Tiles, are 3.3 x 3.3 feet and feature a 4 foot fall height ASTM rating and a no burn tatami top texture. They are non absorbent and waterproof, and they are a breeze to assemble without any adhesive.
These are reversible and removable for portability and made from EVA foam without latex or lead. They offer softness and flexibility, as well as shock absorption capabilities, and they provide a firmness to ensure the kiddos will not sink too far into the tile and suffer a twisted or sprained ankle injury. They come in red and blue, gray and black, and green and gray.
Dog Agility Mats Interlocking tiles are the same 1x1 meter size as the mats previously mentioned, and ¾ inch thick like the Taekwondo mats. Where they differ is in the color and surface texture. These mats are one solid color throughout - available in blue, green or black - and they have a soft felt-like surface texture that is gentle on animal paws while providing excellent traction. They absorb shock from jumps and fatigue relief for dog handlers.
Greatmats - For Large Interlocking Foam Mats!
If you want the best large interlocking foam mats and not those that are cheap and inadequate, Greatmats is your one stop shop. The highlighted mats have been installed in thousands of professional and home martial arts studios, indoor playgrounds and dog training and competition settings and provide the best in quality, service, and dependability.
If you have questions about these products or need help ordering, reach out to the staff at Greatmats. They will help you determine which mat is the right one for you and your project. Regardless of the product you choose, you can be confident that you'll be getting the best.