What Are The Best Garage Gym Mats?
By Lisa Hobbie Created: April, 2020 - Modified: August, 2023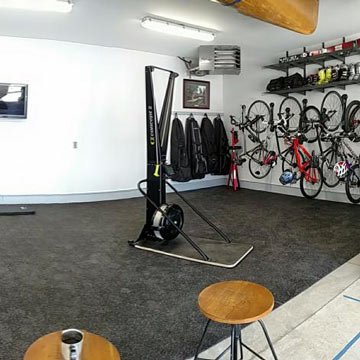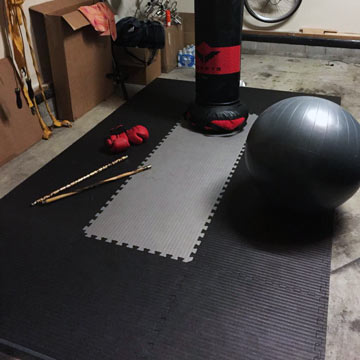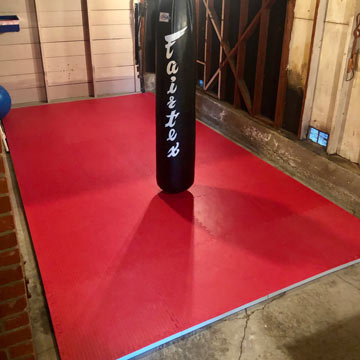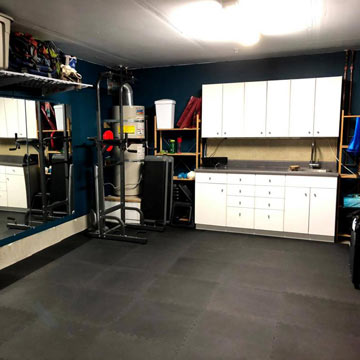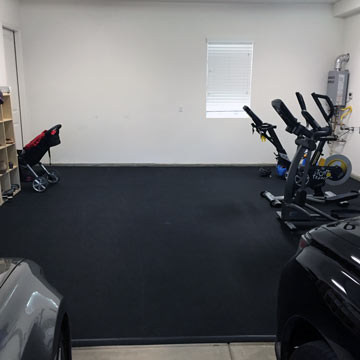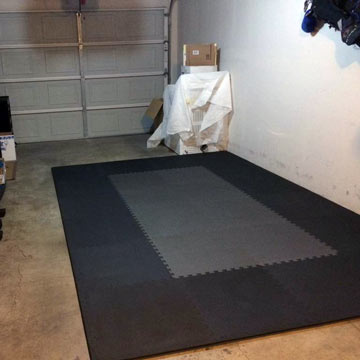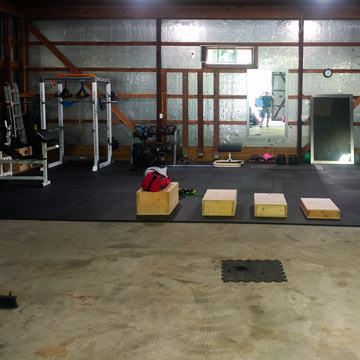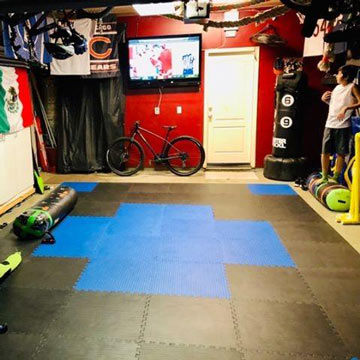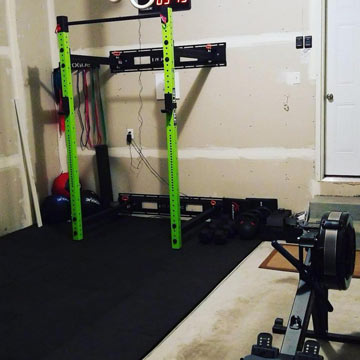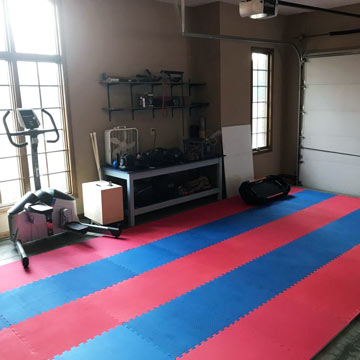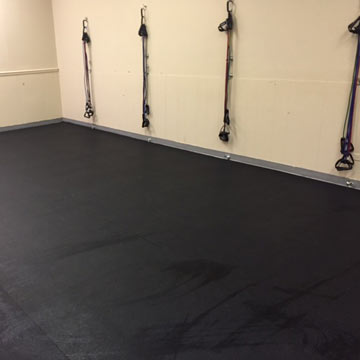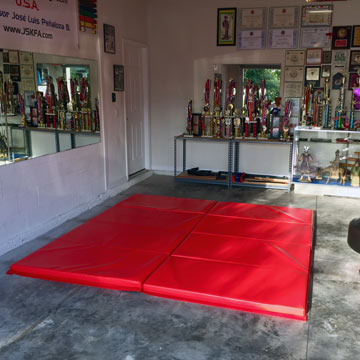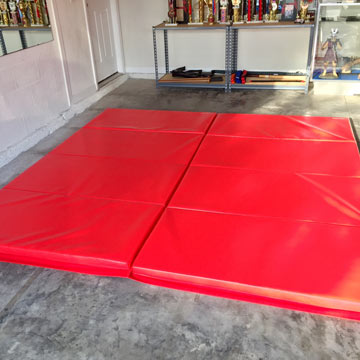 Are you looking to create the ultimate home gym? You may want to consider doing it in your garage. Garages typically have a sturdy subfloor, with little to no concern of damage to the floor. There is also often a higher ceiling than basements have, making it better for some fitness equipment and certain exercise programs.
Building a garage gym has other benefits like privacy, money savings from not having to join a gym, sound separation from the rest of your home, and more. With the simple addition of some garage gym mats, exercise equipment, and weights, your garage can be transformed into an amazing workout space.
Greatmats features a variety of garage gym mats that would be suitable for your new space. Although many flooring options would work, there are 5 mat options that are the most popular for use in a garage gym.
Gym Floor Workout Fitness Tile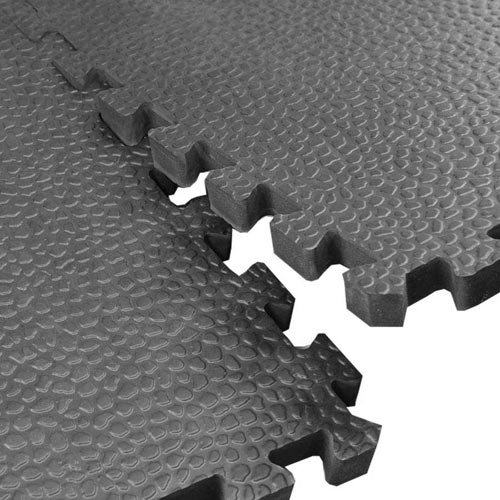 An excellent solution for an economical and durable garage gym mat flooring system is the workout fitness tile with a pebble surface. This flooring is designed specifically for use in home gyms and weight rooms and is made of super high-density and durable EVA foam. It is made to withstand the use and abuse of heavy exercise equipment. It is also waterproof and free of lead and latex.
This flooring is extremely versatile. It can be installed wall-to-wall, or, as an island installation to go under exercise machines or weights. The pebble top tiles each measure 2x2 feet, creating almost 4 square feet of coverage area per tile. The interlocking jigsaw puzzle-style edges simplify installation and hold the tiles tightly in place, even when they're subject to stress.
This flooring is easy to keep clean by sweeping or using a gentle vacuum to remove debris, as needed. For a more extensive cleaning, you can damp mop the tiles using hot water and a common household, bleach-free floor cleaner. Be sure to finish with a clean water mopping and dry the floor with a towel to be sure residue from your cleaning solution or dirt from the mop is not left behind.
Home Sport & Play Mat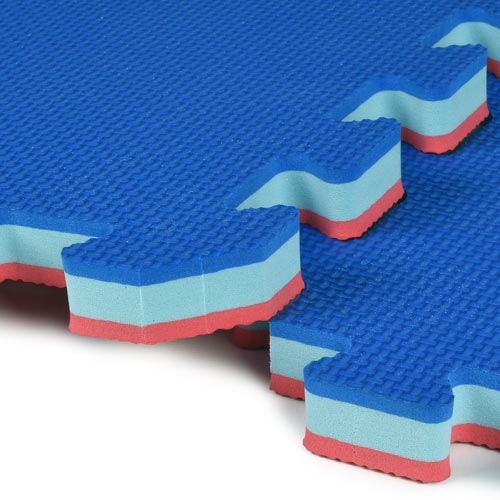 The Home Sport and Play Mat is among the best colorful garage gym mat options. These mats are made of thick EVA foam, which provides a flexible consistency similar to rubber while providing more cushion. They work great in a garage setting, as they are waterproof and stain-resistant. These mats provide anti-fatigue properties, taking pressure off of your ankles and knee joints - allowing you to train and work out longer and harder.
The mats absorb shock extremely well and also have a firmness that allows for quick and easy movement. These double-sided and durable foam tile mats are reversible and feature a very tough top surface that is scuff-resistant.
Installation of the interlocking puzzle garage gym mat system is a breeze. Each mat is 2 feet by 2 feet with interlocking edges, making them easy to connect. They can work as an island or wall-to-wall installation, depending on the purpose you want your floor to serve. When it needs to be cleaned, this flooring can be vacuumed or damp mopped with common household floor cleaners.
5x10 Foot Gym Mats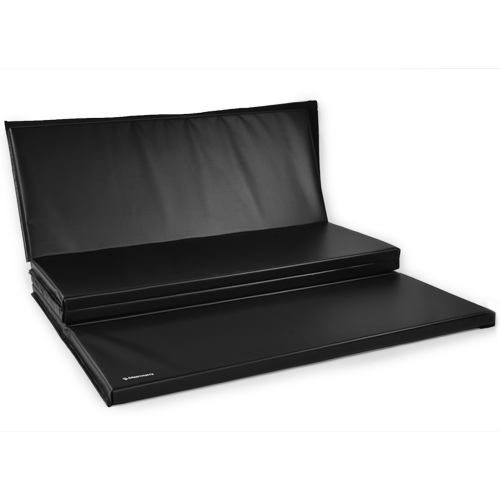 If you are looking for a garage gym mat that will provide an area of extra cushion and support, consider the 5x10 Gym Mats.
These 2-inch thick mats feature school-quality manufacturing and feature a hook and loop connector on each of the 4 sides. With double stitched seams and a durable 18 oz. vinyl cover, these are among some of the most durable folding gym mats. They are lead-free and made of XPE high rebond foam.
This 5x10 garage gym mat is a great size, providing 50 square feet of coverage area for many usage options. The mats are easy to move around, and you can use them in a multitude of types of exercises, such as wrestling, tumbling, martial arts, floor exercises, and more.
Roll-Out Mats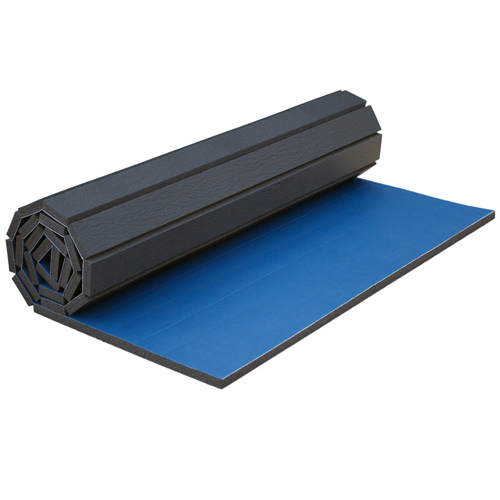 If you want garage gym mats that you can quickly and easily roll out when needed, the Roll Out Mat is the one for you. Not only can you carry these with you easily, but they resist curling or rolling back once you roll them out flat!
These high-quality mats are made of durable, professional quality PE foam material and feature a vinyl top in smooth or tatami surface. They work with a variety of shoes and are highly durable for a variety of martial arts and aerobic exercises.
They are available in any roll length, with full-size rollouts being 6 feet wide and cut to any length over 18 feet per roll. These mats are available in numerous colors, and they are designed to last for years of professional use. The quality control standards on these mats are among the industry's highest, and the mats feature a 5-year warranty against manufacturer and material defects. Easily clean this garage gym mat with common household floor cleaners and a damp mop.
Plyometric Rubber Roll Geneva 3/8 Inch Black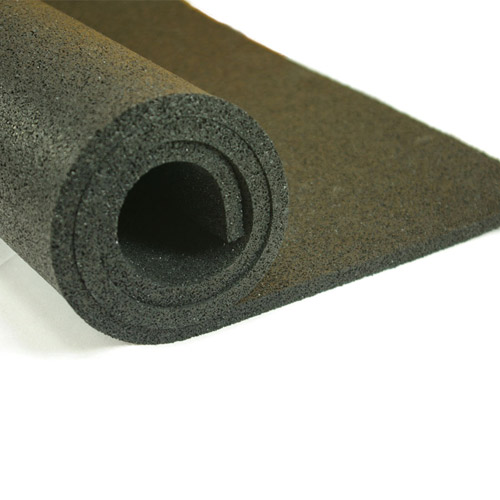 For a high-quality garage gym mat that provides the perfect floor for Insanity and other aerobic workouts, the plyometric rubber roll is an excellent choice. This flooring is designed specifically for repetitious and rigorous athletic workouts, and it is also designed to withstand the weight of exercise equipment. It provides exceptional shock absorption, and it is made in the USA with the most durable materials.
Each roll is 4 feet wide and weighs 1.8 pounds per sq/ft. When installing the rolls, you'll place them side by side, and there's no interlocking design or adhesive required, providing for an easy, do-it-yourself installation. In some circumstances, you may want to attach the rubber to the floor using a double-sided type. To clean, simply damp mop with hot water and a neutral pH cleaner, as needed.
NOTE: All of the above mats are designed for use where body weight exercises and medium to lightweight weights are utilized in addition to machines and other exercise equipment. If you'll be doing Olympic lifting or CrossFit-style training where heavy weights will be dropped. Consider some of our thicker rubber gym mats or tile options.
Greatmats has it all!
Whether one of the mats mentioned is the ideal flooring for your garage gym, or, if you'd like to explore other options that Greatmats offers, rest assured, there is a mat system or flooring option that will work perfectly in your space. Feel free to reach out to the customer service team if you need suggestions, samples, or assistance in selecting the garage gym mats that are right for your space. No matter which option you choose, you can be confident in the fact that you will be getting the best service and quality when you purchase from Greatmats.