What Are The Types Of Soft Floor?
By Lisa Hobbie Created: July, 2020 - Modified: September, 2023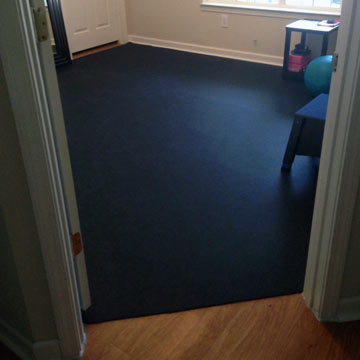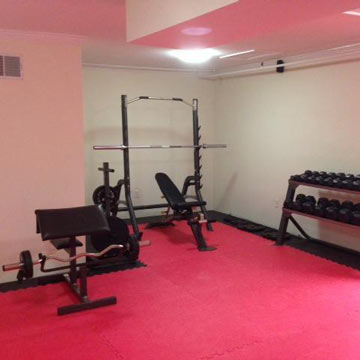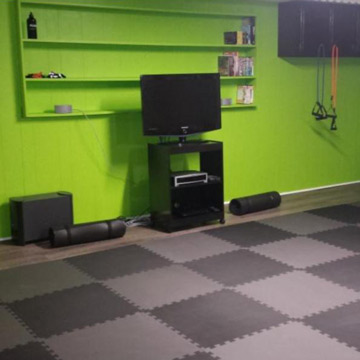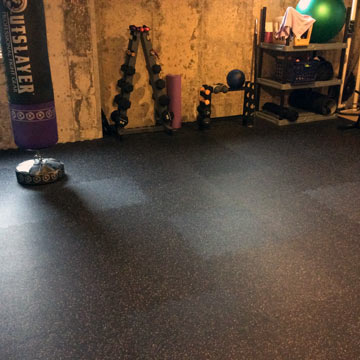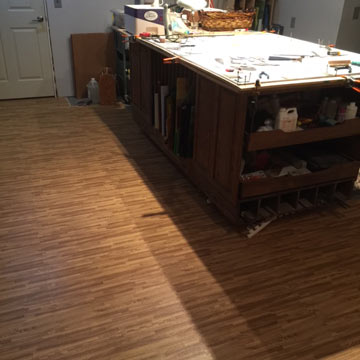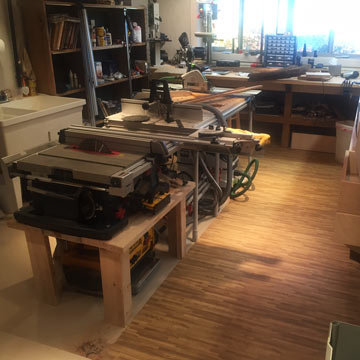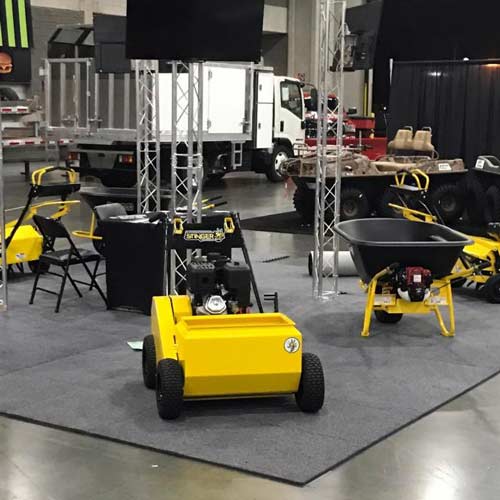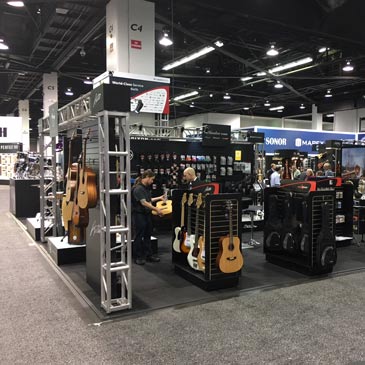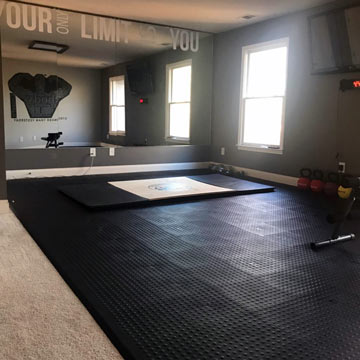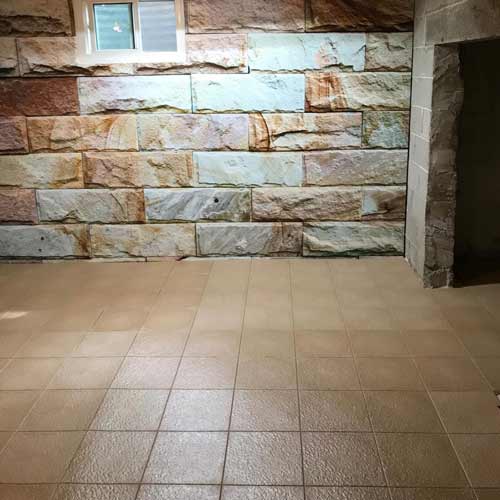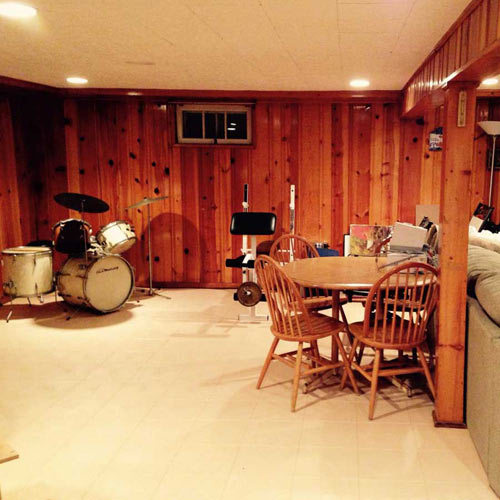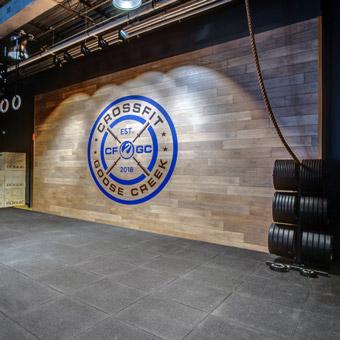 A soft floor is a desirable option for so many reasons, primarily because of the comfort and flexibility it provides. Hard floors such as wood, stone, or ceramic tile are attractive, but they are often very costly and unforgiving. Greatmats offers the best selection of soft floor options, including those made from foam, rubber, carpet, pvc, and cork. 
Types of Soft Flooring
Foam
Rubber
Carpet
Cork Laminate
Soft Plastic
Foam Soft Floor Products
EVA, or Ethylene Vinyl Acetate, or Poly, is an elasticized, closed-cell foam with a rubber-like softness and flexibility. EVA foam mats and soft floor tiles are available in a wide variety of colors, designs, and styles, and have many attractive features such as comfort and affordability.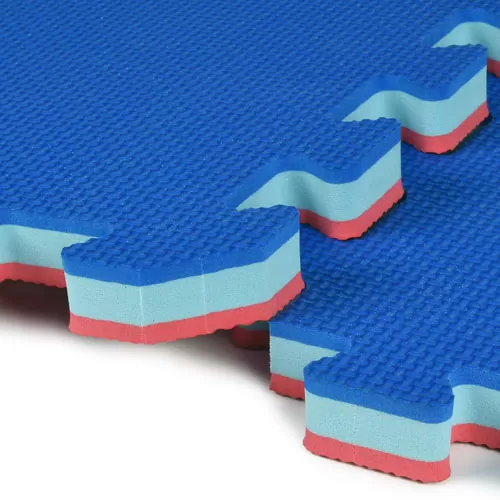 Sport & Play Mat
- This soft floor tile is among the best colorful interlocking foam mats. These mats are made of thick EVA foam and provide anti-fatigue properties through firm cushioning. The foam tiles absorb shock extremely well and also have enough stability to allow for quick and easy movement during any fitness program. 
They are also reversible and feature a tough top surface that is scuff resistant. Installation of the interlocking puzzle mat system is a breeze, and when it needs to be cleaned, this flooring can be vacuumed or damp mopped with common household floor cleaners.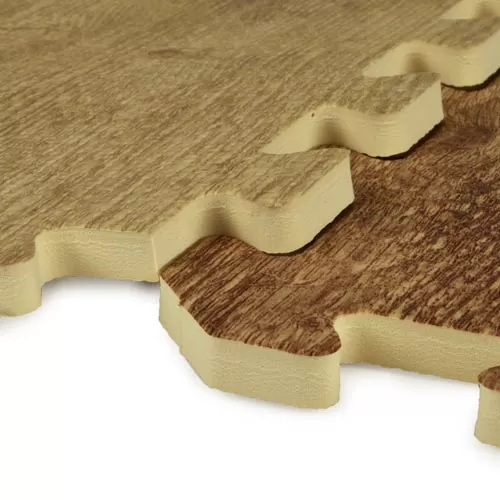 Wood Grain Foam Tiles
- For the rich look of hardwood with the added benefit of a comfortable foam floor, wood grain foam interlocking tiles are an excellent soft floor option. These stylish foam floor tiles are among the best options for a versatile and durable DIY installation. They feature a high quality faux wood grain look, and provide a waterproof and cushioned floor that is lead and latex free. Each square weighs just over one pound, so they can easily be picked up, moved, and reinstalled. This also makes replacing damaged tiles a breeze! When spills occur, mops and sponges can be used for a quick and thorough clean up! 
Another awesome feature of the wood (look) foam tiles is the anti fatigue design. Being made from closed cell EVA foam, these tiles provide a comfortable floor on which to sit or stand for extended periods of time. 
Rubber Soft Floor Products
Rubber floors are extremely popular in a wide variety of indoor home and commercial settings, for a number of reasons. Once rubber floors are installed, they require little maintenance, and they are stain, mold, and mildew resistant – making them one of the best flooring options for an environment where moisture may be present such as a basement, garage, gym, or fitness facility. Rubber will not absorb water or other liquids, and it is extremely durable and versatile.
Sterling Rooftop Tile
- For an interlocking rubber soft floor tile option that works well for patios, rooftops, decks, and golf courses, the Sterling Rooftop Tile is among the best options. Transform any outdoor space into an attractive and liveable one. Not only are these interlocking rubber floor tiles attractive, but they are also designed to allow water to drain under them. 
Each 2x2 ft square features various border edging and features high end commercial quality rubber. These tiles are manufactured from recycling rubber buffings or crumb rubber from tires and work well with home and commercial installations. Available in black, gray and other options, too, this product is among the very best in outdoor rooftop flooring tile.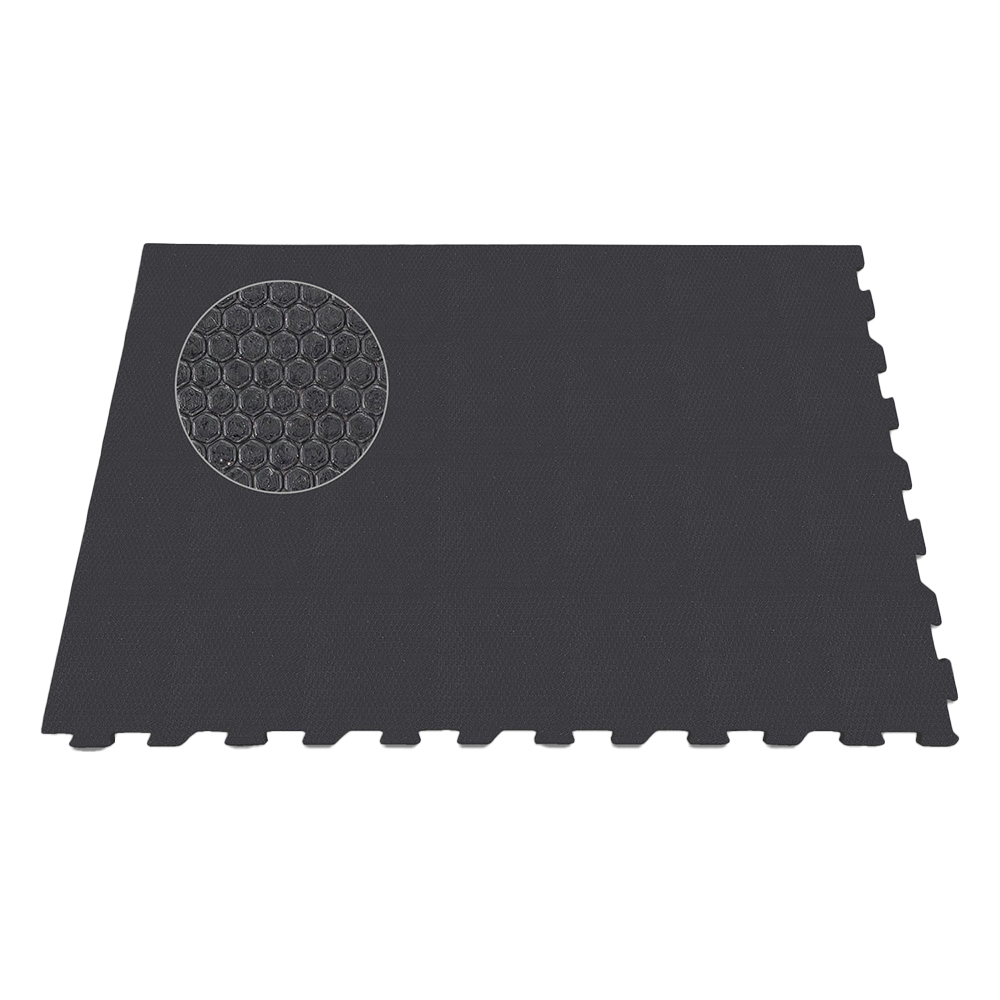 Weight Room Flooring
- Interlocking rubber floor tiles designed for weight rooms are very heavy duty and tough. The floating soft floor tiles are made to last and stand up to use and abuse of dropped weights and heavy equipment. These square tiles are made in the USA of recycled rubber green products, and they are easy to install and maintain. 
With many options such as shims and precision waterjet cut interlocking tabs, this flooring is among the best for weight rooms, schools, and gyms.
Carpet Soft Floor Tiles
Nothing has the same reputation for creating a cozy, welcoming atmosphere like nice, plush carpet. Carpet tiles are a fabulous option if you want the look and feel of carpet, without the vulnerability of it.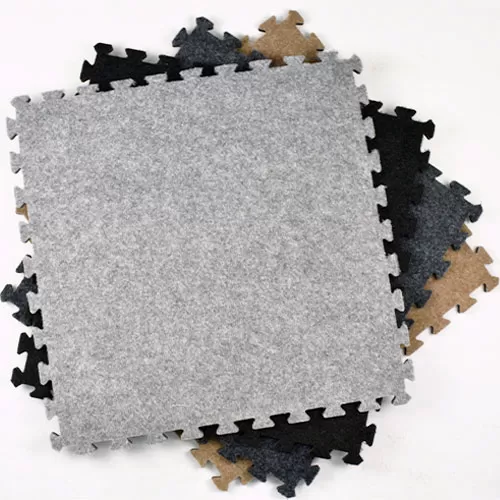 Royal Interlocking Carpet Tile
- If you want the look and feel of carpet without the cons that accompany traditional carpet - such as heavy cumbersome rolls that are difficult to keep clean - interlocking carpet tiles, such as Royal Interlocking Carpet Tile, are another great option. The tops of the carpet tiles are laid with a durable carpeting that is bonded to a foam base, providing a strong tile that will stand up to foot traffic, furniture, and lots of play time. They can easily be placed directly on clean concrete or tile without using adhesive. 
They are waterproof and non-absorbent. So, if there are spills or accidents, the tiles won't absorb the liquid – which helps prevent the growth of mold and bacteria! In fact these soft floor tiles are so good with moisture that they are often used for boat or camp setting applications!
They are also odor proof, easy to clean, and provide a comfortable anti-fatigue and insulation value similar to traditional carpet. They also provide a stylish finish that is easy to clean by simply vacuuming them. 
Cork Laminate Soft Floor
Although not all laminate flooring options are waterproof, cork laminate flooring features water resistant technology.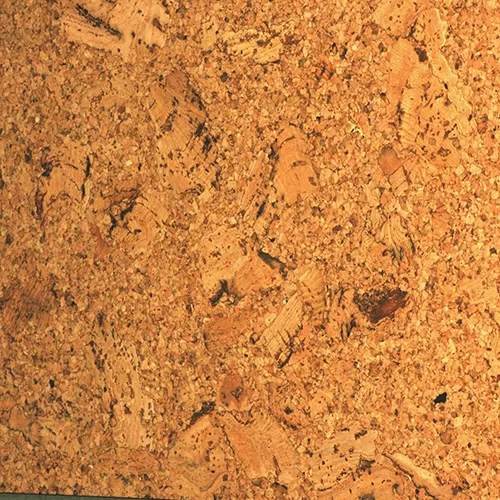 Cork Laminate
- Cork laminate is appealing to some, as it has a softer, more shock absorbent surface than other options, preventing sore legs, feet, joints, and back. It is also very affordable and durable. 
If taking care of the environment is important to you, this laminate flooring option will appeal to you, as it is made using sustainable methods. There are several colors and designs available, and it is constructed using the highest technology in preventing surface abrasions, scuffs, and scratches. The surface also prevents dirt, dust, germs, and mold from getting trapped. It also features excellent thermal insulating properties. 
This laminate flooring works well in commercial and residential settings and comes with a 3 year warranty. It will last for many years beyond that, though, as it will look as good as the day it is installed if well taken care of. 
Plastic Soft Floor Tile
If you want a soft surface for your garage, workshop, deck or patio, there are several flexible PVC flooring options to meet your needs.  PVC plastic tiles are waterproof and have the toughness to stand up to harsh conditions.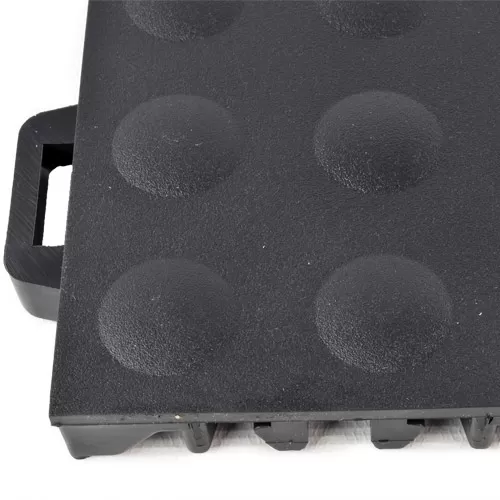 Soft StayLock Flooring
- Staylock Bump Top Tiles are some of the most versatile soft flooring tiles available. Commonly used for its anti fatigue benefits in workshops and machine shops, it is also popular for home gyms. The flexible tiles lock tightly together and accommodate slight imperfections of subfloors very well. They can even be installed over warped or split wood, cracked concrete or ceramic tiles without separating. Plus they won't absorb water and have a raised base that provides both thermal insulation and space for airflow - or waterflow if necessary.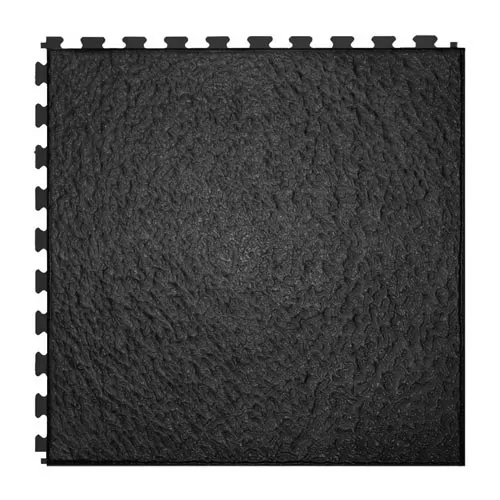 Soft Slate Tiles
- Slate Floor Tile Black or Graphite after a lower profile and stylish solution for soft flooring in high traffic and high dirt areas such as basements, entryways, mud rooms, hallways and family rooms. The hidden interlocks not only create an upscale look, but also allow for a simple DIY installation. And being made in the USA of PVC, they are available in number
color options
as well.
Greatmats - Your One Stop Shop for Soft Floor Tiles
Not much beats the cost and durability of the flooring products that Greatmats offers, and there are so many options to choose from. Most options come with excellent warranties and will far outlive the time provided. When you're ready to purchase flooring, let Greatmats go to work for you!