Top 5 Trade Show Floors - Inexpensive Options
By Kif Richmann Created: July, 2017 - Modified: October, 2019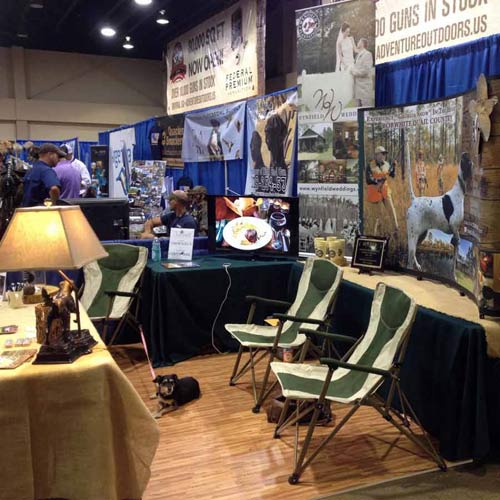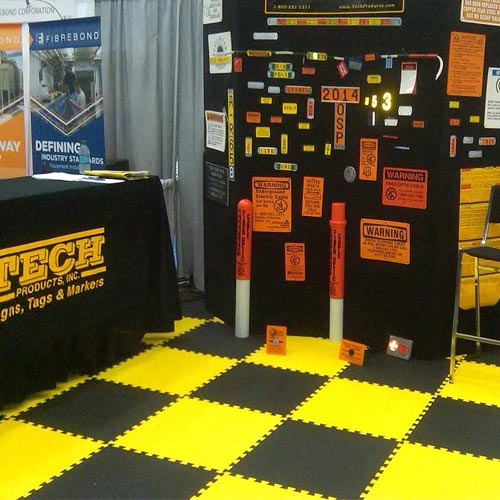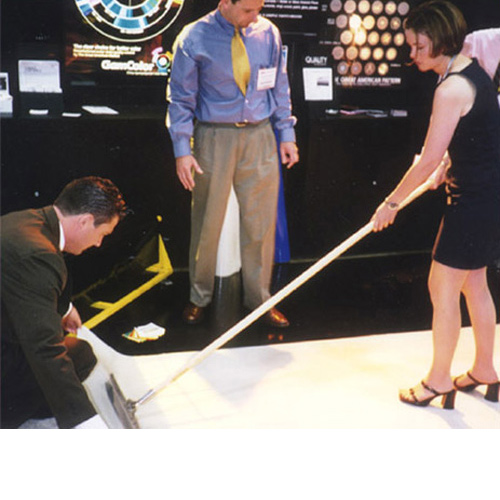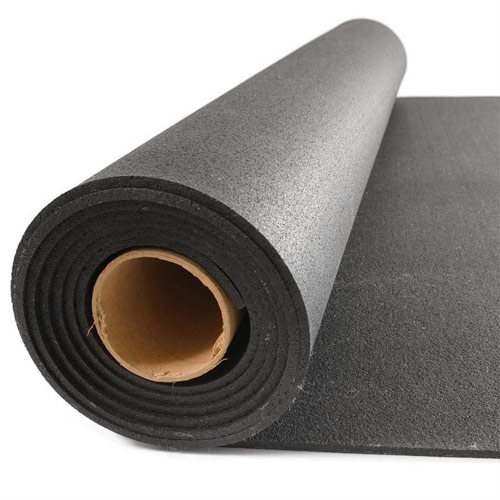 Trade shows help you spread the word for your high-quality products and services.
Do you have the right materials for your trade show displays? Is your flooring giving you complete support while enhancing your brand?
If you need an affordable option for your flooring, consider these five trade show floors from Greatmats.
What to Look for in a Trade Show Floor?
Before we look at the specific flooring products, let's explore the qualities that make a good trade show floor. Price is obviously a defining factor, but there are a few other qualities that you need to consider.
One of the most important is visual appearance. With trade show flooring, the mats need to look clean, neat and professional. A sloppy, damaged, or otherwise unattractive mat will not enhance your brand, so make sure you are choosing a product that looks good and can withstand frequent use.
You also need to consider the installation process. If you have a traveling trade show display, you need a product that can be assembled quickly and disassembled just as fast. This also means the tiles should be lightweight so you don't need special carrying equipment like carts or hand trucks (although the still may be handy).
The tiles should also have an anti-fatigue quality. You'll have to stand on the mats for hours, so a trade show booth flooring material that is soft and cushiony is preferred by many professionals.
Top 5 Trade Show Floors on a Budget
Comfortable on the feet and attractive to the eye, these trade show carpet tiles are some of the most popular options for trade show flooring. They can be placed directly over concrete, with no adhesives required, and can be easily cut to provide a snug fit when placed permanently. Not only are they easy to install, but because of their lightweight construction (each tile weighs 1.4 pounds), they can be lifted and assembled by nearly anyone. The lightweight construction of these trade show carpet tiles also makes them portable.
The tiles have an anti-fatigue quality that makes them extremely popular for trade shows where company representatives will be standing for hours. They are constructed with carpet over a foam base, which gives the trade show carpet tiles an excellent combination of surface traction with soft, anti-fatigue cushioning.
You can select from multiple colors when choosing the Royal Interlocking Carpet Tile. The carpet comes in dark charcoal, dark grey, light grey, tan, or blue. These clean colors are perfect for creating a professional display without drawing attention away from your products or marketing message.
These trade show booth flooring tiles are also easy to clean, waterproof, and odor proof. This low-maintenance quality delivers a trade show booth carpet that will last for years, and thanks to the durable base, you can count on these high-quality tiles through all of your important trade shows.
When you add these carpet tiles to your display, you'll have puzzle-edge interlocking trade show flooring that gives you traction, comfort, and long-lasting reliability.
Although the tops of these tiles have a wood appearance, the foam trade show flooring gives you the soft, cushioning quality you need for hours on your feet. These tiles are especially popular for trade shows involving the outdoors, woodworking, or any type of old-fashioned theme, but they can fit nearly any purpose and any product you want to display. The top's design is available in dark wood, light wood, and cork, giving you plenty of options to enhance your display.
While the top looks like hard wood, the foundation of these tiles is a soft foam material. The foam has an anti-fatigue quality, which allows you and your team to maintain a high level of energy all throughout the trade show.
If you travel to multiple shows throughout the year, this trade show flooring is going to fit your needs perfectly. The puzzle-edge connection allows you to assemble and disassemble the mats quickly, while the mats, which only weigh a 1.2 pounds each, can be put taken apart and transported with minimal effort. You won't need special carrying carts, and you won't need special transportation with these trade show floor tiles. Should you desire, they will fit neatly into a shipping case.
While these tiles are durable and tough, the foam can be damaged by high-heeled shoes. It's generally recommended that flat soles are used on these and other foam trade show flooring tiles.
With these wood grain portable trade show booth flooring mats, you can give a level of quality to your display, enhancing the appeal of your brand without sacrificing comfort and longevity.
This is one of the most glamorous, versatile and interesting trade show floors you can find. The GamFloor Self Adhesive Vinyl Floor Roll is made from high-quality materials that gives the product a sleek appearance while maintaining rugged durability. It's perfect as a temporary vinyl covering, and can be applied to almost any smooth surface, including concrete, vinyl tiles, hardwood, painted finishes and even glass or plaster.
One of the reasons this product is so popular is that is can be painted over with inkjet or laser technology. Talk with our team about how you can print your specific logo or image on the flooring roll for complete customization. You'll have a trade show booth flooring that is unlike any other, and the team at Greatmats can make it happen! With a customized trade show flooring, your booth will be more professional and more noticeable, so contact us today.
The rolls are made from vinyl material that is durable and strong. The vinyl comes in widths of four feet, and can be ordered in lengths up to 100 feet. They have a thickness of 2 millimeters yet are strong and reliable. A 100-foot roll weighs roughly 25 pounds, so it can be carried with minimal effort and no special equipment.
You can choose the solid color you need to match your brand. The GamFloor rolls are available in red, yellow, green, blue, and tan. No matter what type of product or service you need to advertise, we have the color to match your brand.
Simple, affordable, and rugged, these mats are perfect for a wide variety of trade shows and events. The mats are made from durable rubber that gives you long-lasting quality, and we keep many of these rolls in stock, so shipment can be completed quickly, all without special orders or waiting periods. We have shipping points nationwide, so you can get affordable trade show flooring right away.
These mats are available in four-foot widths and must be ordered to at least 15 feet in length. They can come as thin as .25 inch thick, giving you a solid surface that is portable and easy to install.
Installation of these rolls is very easy, whether you are using them as a permanent flooring or as a temporary trade show flooring. Simply lay the rubber mat directly over the surface and, if needed, cut the mat to fit your area. You can then use tape to hold down the flooring. They can be dry laid, but the edges should be secured with tape to prevent curling, which can cause a tripping hazard.
This firm rubber mat has the consistency and flexibility similar to a car tire. It is made from recycled rubber materials and has a low-odor quality. We even support the durable rubber mat with a five-year warranty! It is also slip-resistant, giving your added traction when using as a trade show flooring.
For reliable, long-lasting quality, choose these rubber floor rolls and your trade show display will have a surface that you can reuses for years and years.
The word ''premium'' may be in the name, but don't be mistaken, these are still some of the most affordable yet reliable mats you can find. When it comes to comfort, color, and quality while shopping on a budget, you can't beat these foam floor mats.
The mats are made from a foam material that is comfortable on your feet and joints, and it has an anti-fatigue quality that allows trade show workers to stay energized and engaged all through the day. The edges have an interlocking puzzle design, which allows them to hold together for a long time. While the interlocking edges hold firm, they can be assembled and disassembled with ease. And because they only weigh about 1 pound each, carrying and transporting them is simple and convenient.
They are waterproof and stain resistant, and come in 15 bright and brilliant colors. Whether you want simple black or a vibrant color like pink or orange, you can choose the right tone to enhance your trade show booth. You can even choose multiple colors to create a striped or checkered design.
With these foam floor mats, you have the comfortable quality you need with the excellent appearance you demand for your affordable trade show booth.
Find Your Affordable Specialty Flooring with Greatmats
Greatmats has many more mats, tiles, and rolls that are excellent for use in a trade show booth. If you have any questions about our products or the ordering process, please contact us today.
We will be happy to help you choose the right trade show flooring for your specific needs, so contact us now and let's get started right away!