All Sport Artificial Grass Turf Roll 1/4 Inch x 15 Ft. wide Per SF
Consistent performance over time and use
Reacts naturally
Improved durability and safety
Handling Time Estimate: 7-10 Working Days

Pine Green
Roll Calculator
Note: Material Width for this Product is 15' wide
Rolls are cut to 15 ft minimum
Option 1

Option 2

Custom Roll Length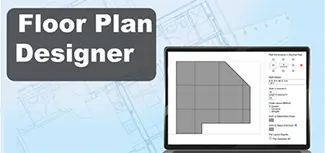 Consistent performance over time and use
Reacts naturally
Improved durability and safety
Virtually maintenance free
Clean and can be cleaned easily
For indoor or outdoor use.

Agility and Sports Training, Baseball, Indoor Sports, and Specialty Sports.
NOTE: This item is a custom order and is not returnable.
Designed for use with athletic fields, All Sport Artificial Grass Turf Roll 1/4 Inch x 15 Ft. wide Per SF has a short 1/4 inch pile and will continue to look great for years to come. Backed by an 8 year limited warranty, you can buy with confidence, knowing you're getting a great quality product used in sports facilities all over the country.

While minimal maintenance is required, artificial turf allows you to leave mowing, watering, fertilizing, and weeding behind. It's a practical option for many sports venues, including those with indoor facilities or those looking to scale back on their daily maintenance. Artificial turf is particularly beneficial if your area sees harsh winters; this turf is always in season and you don't have to worry about thinning, dying grass during the colder weather.

Benefits
- Get the look and feel of real grass without any of the maintenance hassle
- Versatile; this artificial grass turn can be used both indoors and outdoors
- Highly durable; you can count on a consistent performance over time and use
- Turf reacts naturally, simulating actual turf
- Improved safety
- No infill required for indoor installations, saving you time and money on installation
- Generous roll width and size quickly covers large areas
- Virtually maintenance free, so you save on both maintenance time and costs
- Easy to clean
Features
- 1/4 inch pile
- Standard roll size of 15 x 100 feet
- Polypropylene yarn type
- No infill required
- For indoor or outdoor use
- UV treated
- Made in the USA
- 8 year limited manufacturer warranty
Our All Sport Artificial Grass Turf Roll is a popular option for many sports facilities for batting cages, athletic training facilities, and agility training. This artificial turf roll has been UV treated in order to preserve its appearance, and the polypropylene plastic is durable enough to withstand heavy use.
This turf roll is highly versatile, and can be used for both indoor and outdoor applications. Indoor applications do not require the use of infill, saving you both money and time on installation. When installed outdoors, this turf can be glued down onto concrete, or installed on a prepared base of crushed stone. It can be installed in all climates, hot and cold.
Once installed, this artificial turf makes for a comfortable, inviting sports facility. Its pine green color is realistic and appealing, and you'll never have to worry about it fading as you head into winter. Comfortable underfoot, this turf is highly realistic and is a great way to revitalize any tired field. It can also increase the versatility of indoor spaces, and allows you to install a sports field almost anywhere, regardless of growing conditions for real turf.
The 15-foot-wide rolls quickly cover large areas, making them ideal for sports training facilities and fields. This design results in minimal seams, ensuring a beautiful finished product. Please note that the rolls are heavy and will require multiple people to move and install the turf.
This turf requires minimal maintenance, particularly when compared with the maintenance requirements of real turf. It's easy to clean, and can be hosed down or vacuumed to remove dirt, pollen, and dust. Stain and debris removal is an important part of maintenance, and occasional brushing will help to revitalize the fibers, keeping the turf looking fresh and new.
Potential Uses
This versatile sports turf has potentially countless applications, especially given the fact that it can be used both indoors and outdoors. When you need a short pile product, this turf will generally make a practical choice. Consider this athletic turf for: batting cages, athletic facilities, commercial gyms, and putting greens.
When used as a putting green turf, this turf is an excellent choice for putt-putt and mini golf areas. It has a Stimp Speed of 10 to 11.
Why Use Artificial Grass Turf
Artificial grass turf is an excellent way to get an eye-catching, high-performance sports field, but without ever having to worry about the headaches associated with maintaining actual grass.
The days of mowing, weeding, edging, trimming, fertilizing, and patching up divots in real turf will be over. You won't have to worry about mud, or damage from cleats, or the grass fading and dying away as winter approaches. You won't have to fertilize, and you won't have to mow.
And all of this reduced maintenance? It means major savings in terms of time and money. Consider the cost and maintenance of a ride-on mower alone, then factor in the salary you pay your groundskeepers to maintain your fields. The initial cost of installing sports turf may be significant, but the money it can save you over time will more than make up for the investment.
There are countless reasons to invest in artificial turf. Perhaps you need sports fields in areas where grass doesn't grow well, such as areas that are shaded, that have sandy soil, or that are even indoors. With sports turf, anything is possible, and you can create an ideal sports field that can be used in any weather. It will have the same brilliant green color year-round, and can maximize the money your facility can bring in, thanks to its dependable availability no matter the weather or conditions.
If you're tired of mowing and grass upkeep tasks, then it's time to consider investing in artificial grass turf.
Getting the Best Results From Your Sports Turf
While sports turf is low-maintenance compared to actual grass, there are some important factors to consider when protecting your turf and getting the best results from this product:
- No Smoking: Cigarettes won't ignite the turf, but they can melt the fibers. Keep cigarettes and fireworks away.
- Weight Distribution: Don't place furniture or equipment directly on the turf, since it can puncture or tear it. Instead, use a product like multiple plywood sheets to distribute the weight of these heavier items.
- No Idling: Never idle a parked car on the turf, and for indoor applications, don't drive vehicles on the turf at all.
- Remove Sprinklers: Water from sprinkler systems can leave mineral deposits on the turf. Remove or cap nearby sprinklers.
- Avoid Sunlight Reflections: Don't expose the turf to sunlight that's reflected off of glass or mirrors, like those from buildings or cars. This intense heat can melt the turf fibers.
Installation
The specific installation instructions vary depending on whether you are installing this artificial sport turf roll indoors or outdoors. Detailed instructions are available for both options.
Indoor installations do not require infill.
Seams can be taped, glued down, or sewn, depending on which method is preferable for your application. If you opt to glue down the seams, then be sure to purchase a proper adhesive intended for use with turf.
Please realize that these turf rolls are heavy, and you will need multiple people to handle and transport them. The size of your facility is a determining factor when deciding whether this turf can be a DIY project, or whether installation will require professional assistance. Please contact us for more information.
Recommended adhesive is Ultrabond Turf PU 2K 2 Gal. 180 SF.
Maintenance
Maintaining this turf is very easy, though maintenance methods depend on the type of installation.
For outdoor installations:
- Keep turf clean, either by natural rainfall or by occasionally flushing the turf with water
- Clean up stains and debris promptly
- Cross brush turf fibers in areas of high traffic periodically with a synthetic bristle brush
For indoor installations without infill:
- Remove litter daily
- Vacuum the turf with a synthetic fiber bristle head, going against the grain
- Remove foreign residue and treat stains promptly
- Cross brush turf fibers in areas of high traffic periodically with a synthetic bristle
Warranties:
Landscape - Limited lifetime
Putting greens - 8 year limited
Agility training/Wet areas applications - 5 year limited
Maintenance
Vacuum as needed
Shipping
Ships via freight delivery only. Please note that customers must be able to hand unload the turf rolls off the the truck. Turf rolls are heavy and will require multiple people to unload and move.
This Product Ships Freight Only.
Please review our shipping disclaimer.
| | |
| --- | --- |
| SKU# | PL357-SB |
| In Stock | Yes |
| Product Type | Roll |
| Material Type | Polypropylene Plastic |
| Product Edging | Straight |
| Thickness | 1/4 inch |
| Width | 15.00 feet |
| Length | 1.00 feet |
| SF per Item | 1.00 |
| Weight | 0.33 lbs |
| Packaging | Bags |
| Number of Pieces per Package Type | 1 |
| Non Absorbent | Yes |
| Special Adhesives | Yes |
| Interlock Loss | 0.00 feet |
| Interlocking Connections | No |
| Made In | USA |
| Surface Finish | Artificial grass |
| Surface Design | Solid color |
| Installation Method | Glue down; Seam tape |
| UV Treated | Yes |
| Reversible | No |
| Border Strips Included | No |
| LEED Points | Yes |
| Floor Score | No |
| Green Label | No |
| Manufacturer Warranty | Limited 5 year manufacturer |
Product Questions:
Q: We are interested in this product for our child care center playground. We do not have the budget for playground turf with the padding and we don't have any playground equipment with any height-so we don't really need the padding any way. Currently we have a car track made of StayLock Tile Perforated. How would be prepare the seems of the artificial grass to meat the staylock tile. And how would we prepare the seems around the boarder of the play ground. Then a price quote on the product- we need around 5500 sq feet.
A: Please call us to discuss your options at 877-822-6622.
Q: I have a lot! Could this be used around an above ground swimming pool? If so, it states that it can be glued down but how is that done if it is placed on top of crushed gravel? Could it be placed on top of regular pea gravel and not secured or would it move too much? In order to make it circular would you just cut it to shape? Can it be easily cut with a utility knife? How do you put seams together? Would chlorinated water damage it? Would it get too hot to comfortably step on in 105° Weather?
A: Artificial grass turf can be glued down to any hard flat surface. Outdoors what is more common is to install over a crushed stone base, in this case the material is glued together at the seam with seaming tape and spiked around the perimeter into the ground or to a nail perimeter flange. The material can be cut with a sharp utility knife to fit around objects. These materials are often installed around pools, in this case material should have drain holes. The material will heat up to air temperature but will not overheat like concrete.
RELATED PRODUCTS