How to Cut Rubber Flooring, Vinyl and Plastic Floor Tiles and More
By Julia Nass Created: September, 2017 - Modified: April, 2021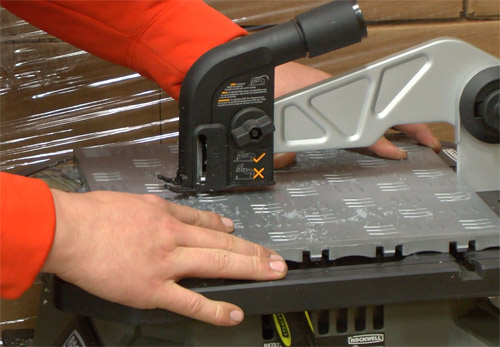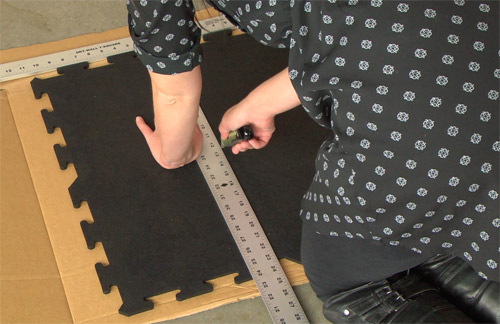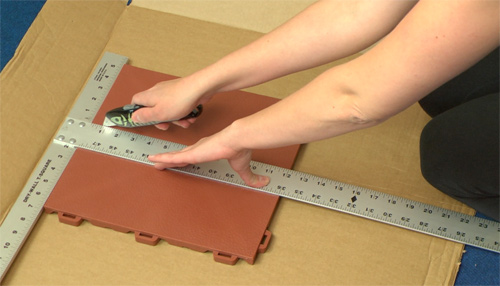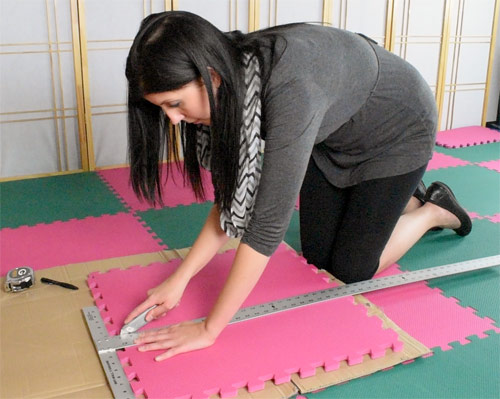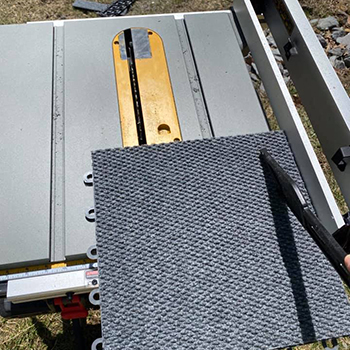 Having the ability to install a floor oneself is not only satisfying - it saves the hefty cost of hiring someone to do it. No matter the material, design or purpose of the floor, Greatmats makes easy installations a priority.
Although most Greatmats floors are a breeze to install, wall-to-wall placement of flooring materials requires a bit more extra work. The likelihood that rolls, mats or tiles will fit wall-to-wall without being cut down are slim. Further, certain floors may have surface irregularities or appliances that need to be navigated around. Therefore, specialty flooring often has to be cut down in order to fit perfectly. The best cutting methods may not be as intuitive as putting interlocking tiles together. The following provides a general guideline as to
how to cut rubber flooring
, how to cut vinyl flooring and several other specialty flooring materials.
What you need for cutting rubber, vinyl, plastic or foam flooring
Regardless of the flooring material, one should be equipped with the following items: a tape measure, washable marker, pen or pencil and a straight edge. These tools are the key to floor cutting and installation success. Why? Because these tools are your cutting safeguards. When used properly, they will help protect you from making any unsightly cutting mistakes. By staying vigilant in your measuring and marking, you will come away with clean edges and a perfect, tight fitting floor.
It's now time to discuss the cutting tool. For the majority of flooring materials, such as rubber, vinyl and foam, all you are going to need is a sharp utility knife. However, this depends on the thickness and density of the material. If flooring material is too dense or hard to penetrate with an utility knife, a power or table saw will be required to make cuts. Here is a quick rundown of cutting tool requirements based on material:
How to Cut Plastic Tiles
- Pretty much all plastic flooring can be cut with an utility knife. That being said, for hard plastics it is much more time and energy efficient to use a power saw.
Plastic floor tiles are becoming increasingly popular overall all types over surfaces, including concrete basements or garages, outdoors over wood decks or flat roof tops. Some are even installed over grass, dirt or gravel.
How to Cut Rubber Flooring - Rolls, Mats and Tiles
Cutting rubber
can be done easily with a ''sharp'' utility knife and a 2x4 board underneath the cutting area. The thicker the rubber the more important it becomes to have a board underneath the cutting area, allowing the cut to open and reduce friction on your sharp utility knife blade. You don't need a a saw for cutting rubber. In fact it will most likes make the process harder.
Rubber flooring is most commonly installed over concrete and used for home and commercial gyms as well as many other commercial and residential spaces.
- Always use a sharp utility knife foam flooring products. Even in the case of denser, thicker floors, foam materials will be soft enough to cut through with a sharp blade.
Foam flooring is very common for basements, trade shows and athletic spaces where cushioning is desired.
How to Cut Vinyl Flooring
- Thin vinyl rolls can be cut with a sharp utility knife. Hard vinyl-topped tiles require a table saw or jigsaw to cut.
Vinyl flooring rolls are very common for dance studios and as show floors for special events. Vinyl topped tiles are frequently used as portable dance floors, indoor athletic courts and basements.
Getting Ready to Cut
Begin by installing the majority of your floor. Once you get to a point where you cannot fit a whole tile, mat or roll between already laid flooring and the wall (or dryer, or column, or whatever you're fitting tiles next to), that's your cue that it's almost time to cut.


Before we cut, we must pull out our handy dandy aforementioned tools and measure, measure, measure.

Using your tape measure, take the distance between the already-laid flooring and the wall (or dryer, etc.). Measure the same distance on the flooring you are preparing to cut. If you are cutting rubber, give yourself an extra 1/8-1/4 inch in order to leave room for expansion. Other flooring may need a small gap between the wall and the flooring, so make sure to read the product description carefully in order to determine if tiles will expand. Another tip is to let flooring acclimate to the room for a couple days before installing.

Clearly mark that distance with your marker, pencil or pen and distinguish the line you are going to cut.



Note for Interlocking Tiles:

Because interlocking tiles may have different connecting systems on different sides, make sure you are preparing to cut off the correct side. For example, say the tiles have a hook and loop connecting system. If the already laid tile is in place with the loop side exposed, make sure to keep the hook side on the tile you are cutting. Rather, prepare to cut off the loop side.
If you need help or guidance with installation, make sure to check out Greatmats.com or contact customer service. Chances are, there is a video or blog tutorial you can follow for installation instructions and tips. Otherwise, customer service can answer any installation questions.
How to Cut Rubber Flooring, Vinyl, Plastic and Foam Flooring Materials
Lay down your straight edge on the cutting line to use as a guide. Apply a decent amount of pressure to the straight edge in order to keep it in place. Doing so will help you keep your cuts from being jagged, crooked or wonky in any way.
If you're using a utility knife to make cuts, make a series of scores to for a clean cut edge.
For thicker foam tiles, go most of the way through and then fold the material and finish cutting the tile by following the fold with the utility knife on the opposite side of the tile.
For harder materials such as rubber or PVC plastic, making a series of cuts and then folding the tile is a more efficient way to cleanly sever the pieces than attempting to saw completely through the tile. Keep in mind the type of support system on the back side of the tile.
The easiest way to learn how to cut rubber flooring is to place a 2x4 board under the line you've marked for to cut, allowing the rubber to drape over the board. This will allow you to easily score the desired area without friction on your blade. As you score, the cut will continue to open until you are all of the way through
In some cases, such as harder plastics, even though you can make a clean break by folding, it can discolor the top surface from flexing around the supports. In these cases it is advised to use a power saw to prevent flex marks.
If you are using a power saw, make sure you are well-aware of safety guidelines and operation procedures. Always remember to wear eye protection when operating power tools, as small pieces can fly away.
What If I Can't Do This Myself?
As mentioned before, Greatmats prioritizes a quick and easy process for customers - customer service to installation. That being said, cutting down materials may not be an easy thing for everyone. If you are feeling intimidated by the task, look for products that can be ordered in custom lengths. Greatmats can cut down certain products for you, so new flooring will fit perfectly in your unique space upon arrival on your doorstep. Contact Greatmats customer service with any questions. You are sure to find support and assistance with anything you need.