What's the best flooring for an arts and crafts room?
By Lisa Hobbie Created: December, 2019 - Modified: April, 2020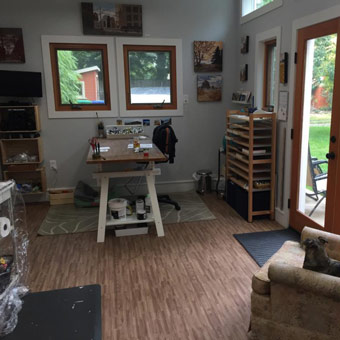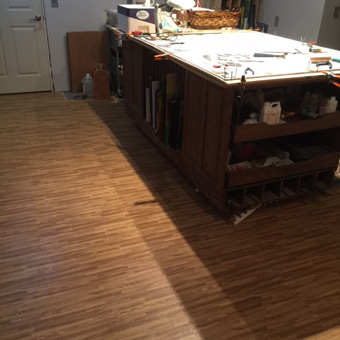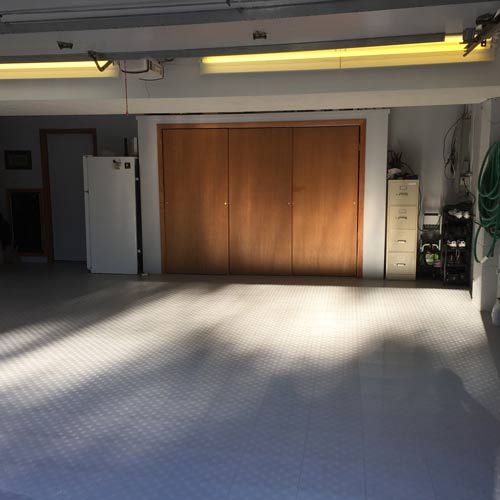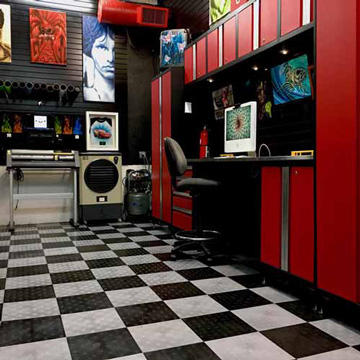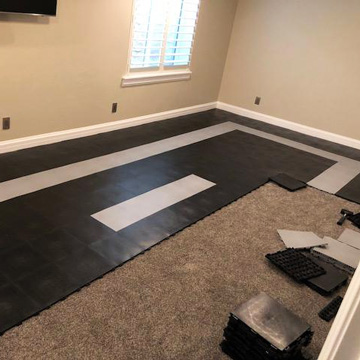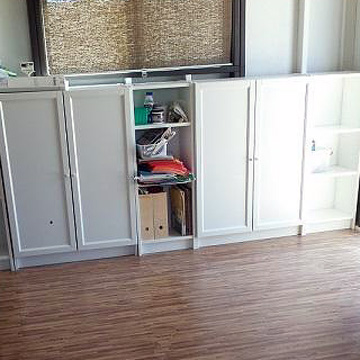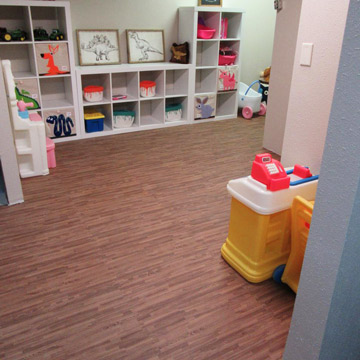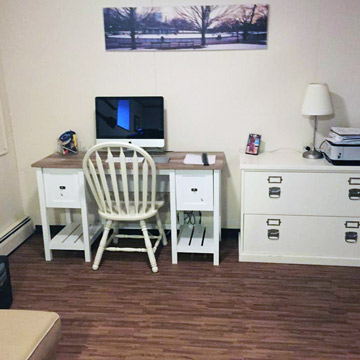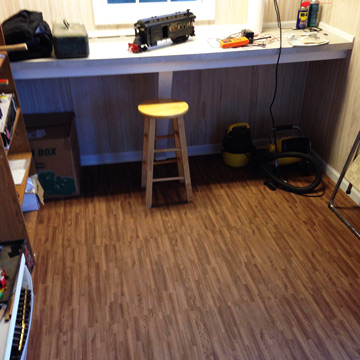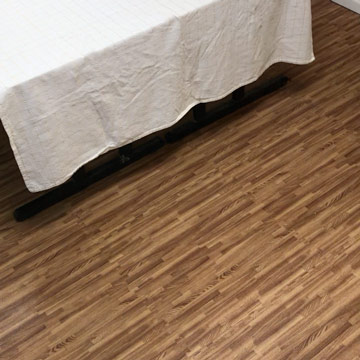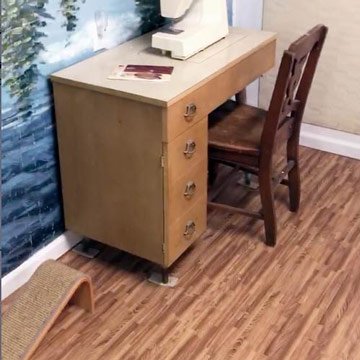 An arts and crafts room is a must for today's serious crafter. Long gone are the days of simple stencils, paints, needles, and threads. Crafting is an industry of its own, featuring everything from art and photography supplies to sewing, candle and bath bomb making… and everything in between. Someone who is serious about their arts and crafts needs a serious room to act as a dedicated space for their activities and supplies. This room will likely have an organizational system, shelving, storage essentials, motivating decor and furniture, and effective
arts and crafts flooring
.
The floor should be one that is easy to sweep or vacuum to clean, as it will likely be a catch all to paper and fabric scraps, dust, debris, and possible spills. The flooring should also have anti-fatigue benefits, allowing the crafter to produce for hours on end. There are a number of ideas to consider when thinking about a design for the best arts and crafts flooring plan, with the flooring type being among the most important.
Wood Grain Foam Tiles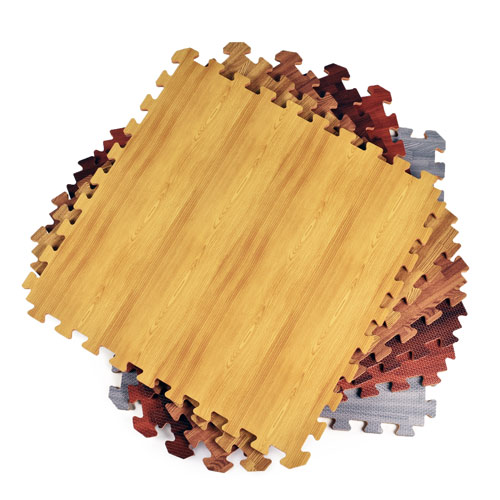 For the rich look of a hardwood art studio with the added benefit of a comfortable foam floor, Wood Grain Foam Tiles are an excellent arts and crafts flooring option. Foam tiles are among the best options for a versatile and durable DIY installation. They feature a high quality wood grain look, and provide a waterproof and cushioned floor that is lead and latex free.
Wood grain interlocking foam tiles are 2x2 feet in size and made from 14 mm EVA foam. They can be cut to fit any space, which allows for a clean and tight wall to wall installation. They weigh just over one pound each, so they can easily be picked up, moved, and reinstalled. This also makes replacing damaged tiles a breeze!
The fact that they are non-absorbent is excellent news for an arts and crafts flooring option, as drips and spills will likely occur at one time or another. When they do, mops and sponges can be used for a quick and thorough clean up!
Another awesome feature of the wood grain foam tiles is the anti fatigue design. Being made from closed cell EVA foam, these tiles provide a comfortable floor on which to sit or stand for extended periods of time while working on arts and crafts.
Modular Garage Tiles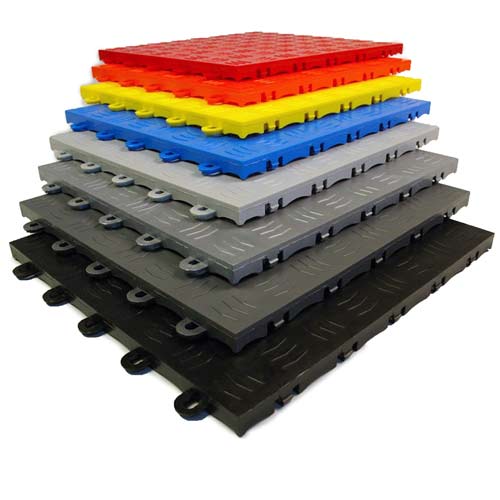 Another option some Greatmats customers have used for their in home arts and crafts flooring is the modular garage tile. This type of arts and crafts flooring is extremely easy to install! Each tile is 12 inches by 12 inches and is pieced together using a tight fitting, snap together connector system. If the craft room will have a lot of heavy tables and cabinets, chairs that will be moved in and out, and the potential for numerous spills or dropped tools, this tile would hold up to it all. It also is equipped with a slip resistant, triple diamond tread surface texture that presents a unique style and is offered in numerous colors. Like the foam tile, this tile will not absorb liquid and can be easily cleaned with a broom, vacuum, and mop.
Vinyl Peel & Stick Tile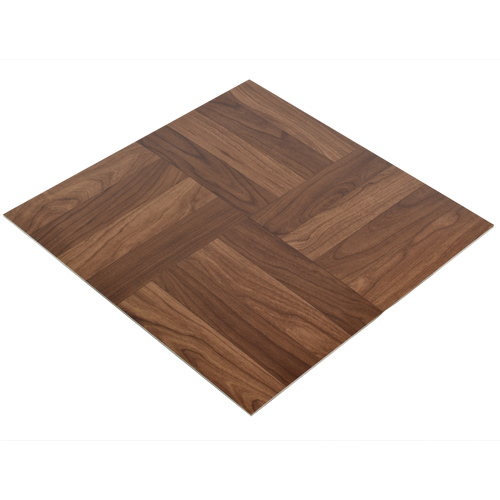 Another option that is easy to install and resistant to moisture is a Vinyl Peel & Stick Tile. This arts and crafts flooring provides the look of ceramic tile with the price of a laminate floor - without the expansions issues that laminate floors often present. This tile doesn't require additional adhesive, and installation is easy with the durable peel and stick application. It can be installed on any hard, flat surface, and it is available in a variety of design finishes. This tile is an attractive option for arts and crafts flooring.
Staylock Tile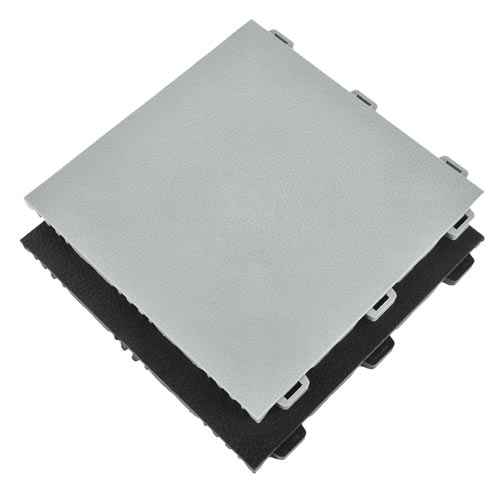 If an existing floor in a designated art and craft room is concrete or carpet, a fabulous flooring option would be flexible PVC StayLock Bump Top or Orange Peel tiles. Like the other options listed, these snap together easily for a quick, do-it-yourself install. This arts and crafts flooring is perfect if painting is involved, as the tiles are resistant to most acids and oils and are completely waterproof. Available in different color options, a unique design or pattern can be created to add an artistic touch! And if the room will be home to a woodworker or sculptor, this flooring will hold up to sharp tools and dropped objects while offering excellent anti-fatigue benefits.
Let Greatmats go to work for you!
If selecting an arts and crafts flooring option is on your to do list, allow Greatmats to go to work for you. With a huge selection of options to choose from, top notch quality, years of satisfied customers backed by positive review after positive review, warranties, value, and knowledgeable staff, you can be confident in your purchase when it's made at Greatmats!