Non-Slip Interlocking Pool Deck Tiles
Greatmats offers a large selection of pool deck tiles for both indoor and outdoor swimming pool deck surfaces. Our pool flooring is versatile, and many models have an easy drain through design, which means water flows right through them instead of pooling on the surface. It stays dry and safe. These provide comfortable spots. Ours interlock or glue down and are suitable in almost any wet area.
Swimming Pool Deck Tile Customers - View All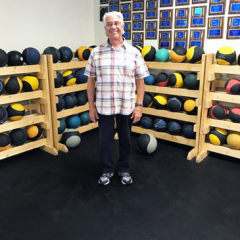 Interlocking Rubber Gym Tile - SwimQuest Aquatic Center Testimonial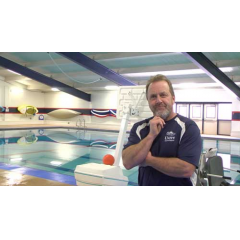 Safety Pool Decking - Unity School District
Swimming Pool Deck Tile How To's - View All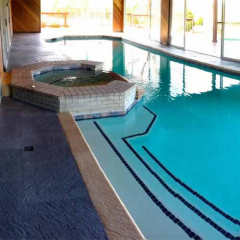 Hot Tub Room Waterproof & Slip-Resistant Flooring Options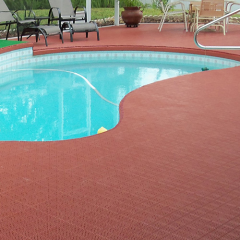 How Do You Replace Modular Pool Decking Tiles?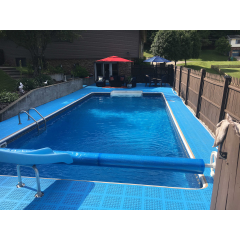 What can we use to make our pool deck not burn feet?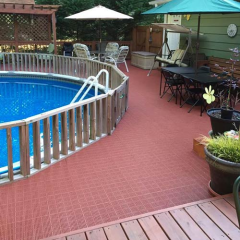 How to Make a Temporary Pool Deck
Swimming Pool Deck Tile Ideas - View All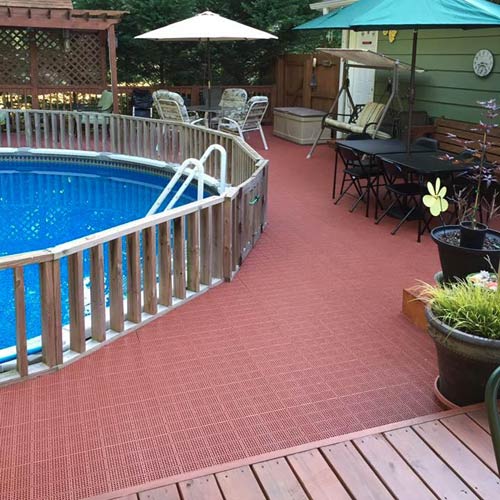 How Expensive And Heavy Are Outdoor Deck Tiles?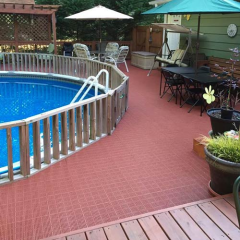 Comparing Indoor and Outdoor Pool Surrounds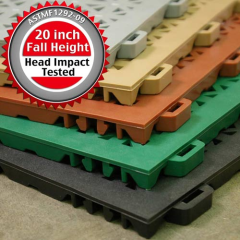 Top Pool Deck Tiles for Fall Protection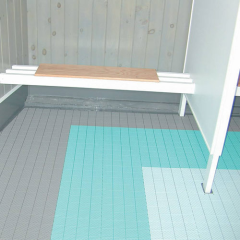 What Is The Best Shower Flooring?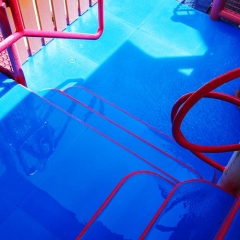 What's The Best Non-Slip Splash Pad Flooring?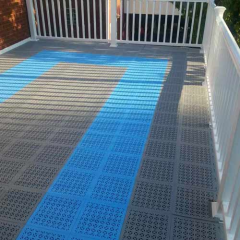 The Best Way to Cover An Old Deck - Interlocking Deck Tiles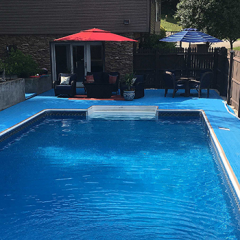 What Are The Best Mats For Pool Cabanas?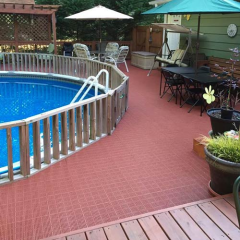 How Much Is Non Slip Flooring For A Pool House?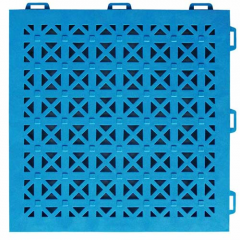 The Best Affordable Wet Room Flooring For Indoors and Outdoors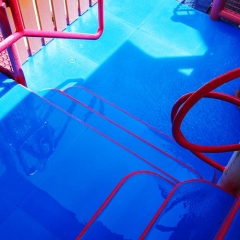 Most Slip Resistant Pool Deck Tiles
Swimming Pool Deck Tile Features - View All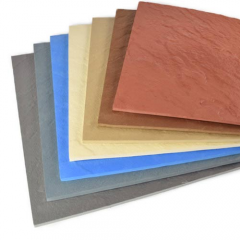 Life Floor Slate Pool Decking Tiles Features and Benefits Video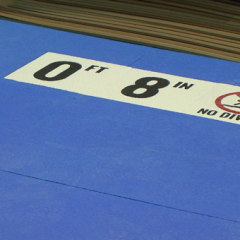 Life Floor Super Grip Ripple Tile Features and Benefits Video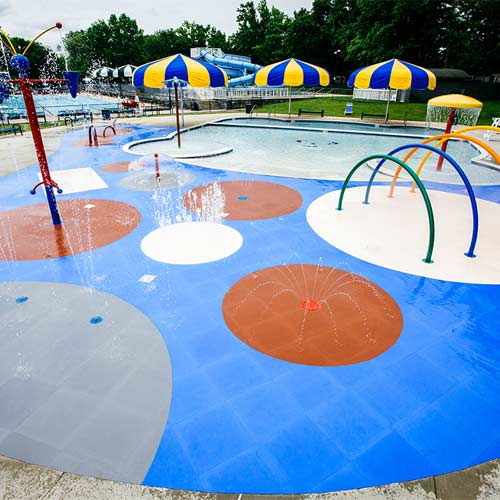 The Best Inground Pool Decking Options For Comfort & Safety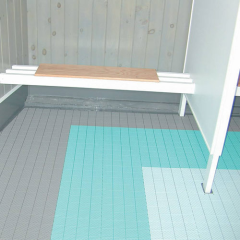 What Kind of Floor Mats and Material Work Best in a Sauna?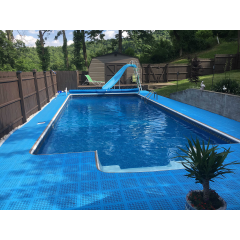 Cost Factors When You Build a Pool Deck: Pool Deck Floor Pricing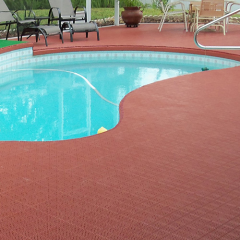 What is a pool deck? Pool Deck Flooring and Coverings
Interlocking pool deck tiles, Rubber swimming pool deck flooring options
Non Slip Pool Deck Tiles Options
Our pool deck tiles are ideal for spas and locker rooms. They are smart for a variety of other applications too, including kennels for dogs and greenhouses. It is softer and more comfortable to walk on than natural stone, traditional concrete, Travertine pavers, pool carpet, or ceramic.
When it comes to solving problems with wetness, we offer a number of popular choices for pool deck pavers with shapes and sizes to suit multiple needs. These are non-absorbent and will hold up well to sunlight and chlorine.
We have numerous products, including pool deck mats, to fit any need and varieties of budgets. We will deliver the perfect product for any project.
In the middle of the price spectrum is durable rubbery matting that's commonly used for playground areas. Thicker rubber tiles, such as 2.5 inch or greater, have significant protection against head injury in the case of trips or falls. Look for the fall height rating on these high end tiles.
Pool Decking Ideas
Plastic floors often will be perforated. They are always easy to install. They feel great for bare feet outdoors, featuring softness with excellent grip, comfort, and durability underfoot.
Pool floor mats are available in designer colors to proudly represent a facility's branding. Mix and match colors to create a unique design. Plastic is smart for homes, as well as for commercial condos and hotels.
Interlocking pool deck tiles easily lock together, which is especially useful. They can be cut with a utility knife as needed, creating a flat, finished edge. Homeowners can perform the installation entirely on their own, which can be a time and money saver.
Our 
Patio Outdoor Tile
 has proven to be our most popular option. It will withstand the weight of everyday foot traffic as well as tables and chairs. It will interlock with a tab and loop system that requires no adhesives. Just use a knife and a straight edge to cut to size.
StayLock Perforated
 delivers the best pool deck ideas for inground pools. This modular, perforated matting is perfect for spas. It's pleasing for barefoot walking and durable for holding tables and lawn chairs. This product has many color choices and works for indoor applications, toddler playgrounds, or roof surfacing solutions. These pool deck tiles will provide traction and comfort for standing and walking.
The American-made StayLock is a great choice for swimmers and for industrial areas with dampness. It has anti-fatigue properties as well as natural resistance to oils, acids, and chemicals. It is available in five great colors and requires no adhesive for installation.
Additionally, consider the manufactured in America
SoftFlex
. It's usable for indoor showers as well as spas. Like the previously mentioned products, SoftFlex is available in a variety of different color tones. It provides traction in wet areas. No glue is required for installation.
The 
Ergo Matta
 is yet another deck around above ground pool area selection. Originally created for the abuse that only little kids can dish out, these are hearty. They're built to take a beating indoors or outdoors. A perforated design allows water to flow through. These are UV treated and slip-resistant. Built from recycled material, they are environmentally friendly.
Swimming Pool Rubber Tiles
Made of 100 percent premium quality recycled tires, they have durability above all else. They are easy on the environment and are slip safe, even if it's damp.
Our outdoor rubber tiles are designed to withstand the harshest weather conditions. Rubber tiles are designed for playgrounds which can be a benefit for pool decks because they have fall protection.
Poolside Artificial Turf
Our 
Artificial Turf
 provides the best of both worlds. These products yield a natural grass look. Yet they are waterproof and drain easily.
Artificial grass provides the comforts of real grasses without the maintenance hassles. With these, change a swimmers' locale into a tropical escape. Turf is a smart investment for a home or business. Contact us for help to find the smartest choice.
FAQ Pool Deck Tiles Q&A
What is the best tile for pool decks?
Greatmats has multiple models of swimming pool surround flooring with grip, protection from falls, stability in temperatures, fatigue relief, excellent drainage, and more. These pool surround decking options can be made of PVC plastic, vinyl, artificial turf, or rubber.
What is the coolest pool deck flooring?
For tiles, perforated tiles tend to be cooler than solid tiles. Also, choose lighter colors to help keep the pool deck cooler. Our LonDeck Sol Vinyl Flooring Roll features cool touch technology that reflects the sun while decreasing the surface temperature.
Is deck tiling slippery when wet?
Some are. But our models sell well due to their low profile nature and grippy texture. This helps prevent slipping and tripping hazards on exposed edges. These are also affordable options to fit into tight budgets.
What are the cheapest decks for pools?
Inexpensive pool deck tiles use soft polyvinyl chloride (PVC) material. These are resistant to temperature changes and ultraviolet rays. Our outdoor pool deck tiles require no glues or adhesives. Simply dry lay, cut to fit, and it's done. Customers save money on the material itself and on installations.
How do you make outdoor tiles not slippery?
Rubbery materials have a firmer surface with a grippy feel underfoot. It remains grippy, even if damp. They can create eye-catching and attractive finishes. For those who desire the look of brick, consider using the
Greatmats Equine Paver Tile
. Use it for creating an attractive surface that is far softer, safer, and more textured than actual brick.
Potential Non Swimming Pool Deck Tiles Usage Cases
Spas
Showers
Dog kennels
Greenhouses
Patios
School or gym locker room
Veterinary clinics
Benefits of Pool Deck Tiles
Designed to allow rain and splashes to drain away
Delivers traction in standing waters, an essential safety feature
Comfortable underfoot
Warmer than ceramic options
Looks amazing
Non-absorbent
Holds up to chlorine and direct sunlight
Easily removed and reinstalled as required