Top 5 Pool Surround Tiles - Swimming Pool Decking Options
By Julia Nass Created: July, 2017 - Modified: April, 2023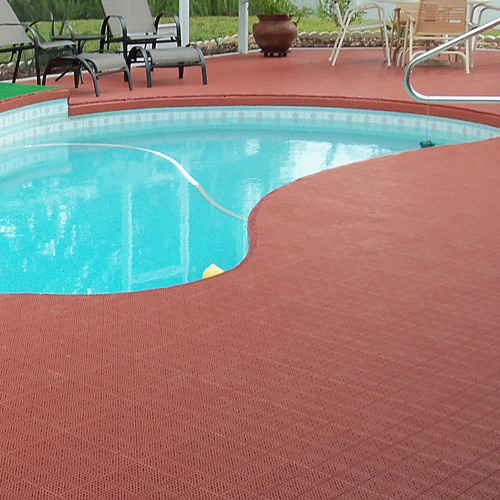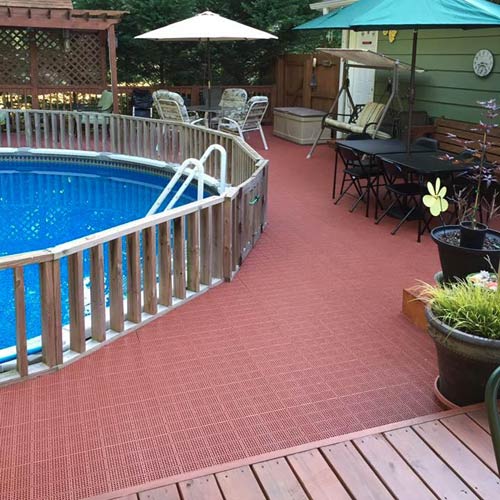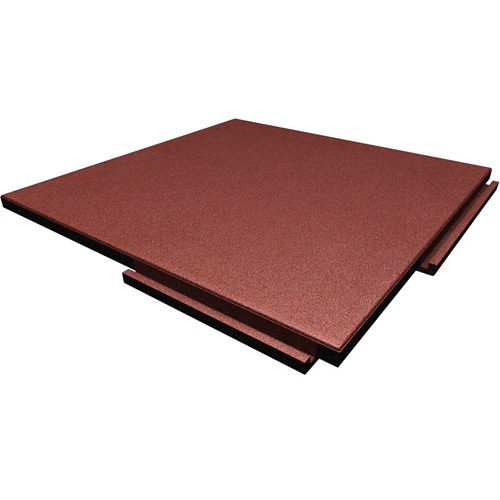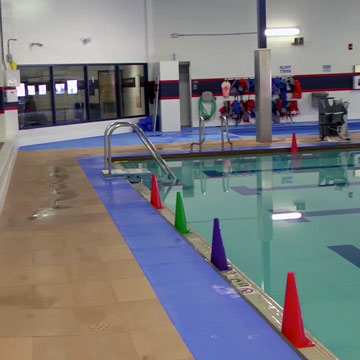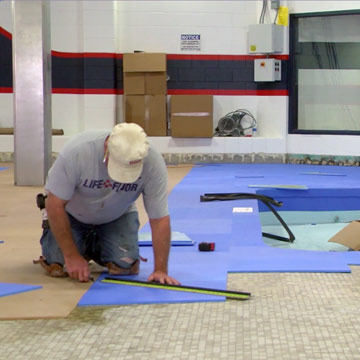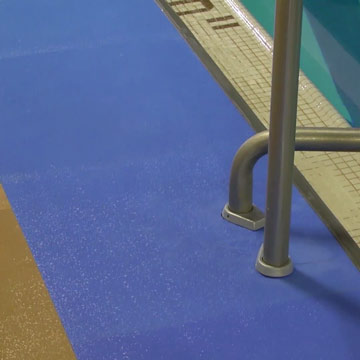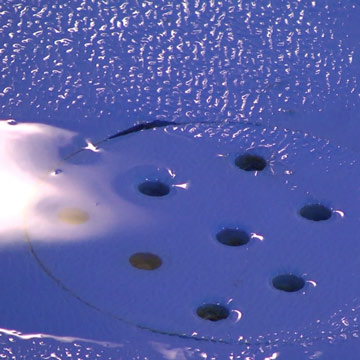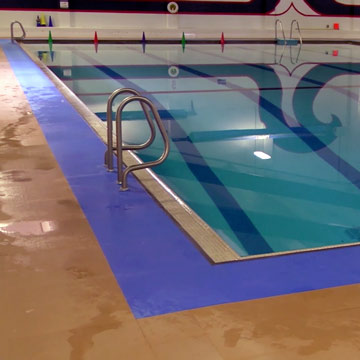 Pool surround flooring can be tricky to navigate. With so much exposure to water, swimming pool deck flooring faces some threats. The area surrounding pools is subject to becoming slippery, creating puddles of standing water, and even harboring mold and mildew. With so much subjection to the elements, pool deck tiles are often at risk of becoming damaged as well.
Despite all the challenges, Greatmats.com offers swimming pool deck flooring that will overcome. What follows is carefully chosen list of Greatmats' top 5 pool surround tiles. Each product is specifically designed to withstand the threats of a pool environment while providing long-lasting safety and comfort. At the same time, Greatmats has highlighted the all-star quality of each flooring option. Read on to learn more.
1. Most Popular By Customer Review - Patio Outdoor Tile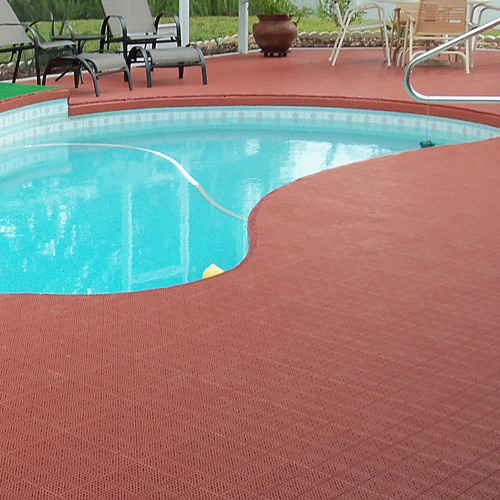 At Greatmats.com, you'll find that the
Patio Outdoor Tile
product has more than 200 positive reviews. Every single one of them raves about the quality, effectiveness and comfort of these pool deck tiles. For example, Jo Ann from Georgia says, ''They are so great around the pool, not slippery and not as hot as the wood was with the Georgia sun. And the look is beautiful. I have gotten so many compliments. Best decision we made!''
What else do people love about the Patio Outdoor Tile? These pool deck tiles do not absorb moisture and let water drain all the way through, leaving a constantly dry, non-slip surface. Tiles snap together with a simple tab-and-loop connecting system that people find to be hassle-free. Patio Outdoor Tiles come in four different colors that you can match with your pool aesthetic. Check out more customer ratings and reviews at Greatmats.com.
2. Slip Resistance
Traction and slip resistance is a primary safety factor with
swimming pool deck flooring
. Installing flooring with proper grip is an easy way to prevent slips and falls. All of the Greatmats pool surround tile are designed with slip resistance in mind.
3. Comfort
For maximum lounging and luxury, choose
raised pool deck tiles
. These tiles are most comfortable pool deck systems due to the amount of flex allowed by the air pockets in the support structures.
4. Drainage With Cushion - Staylock Tile Perforated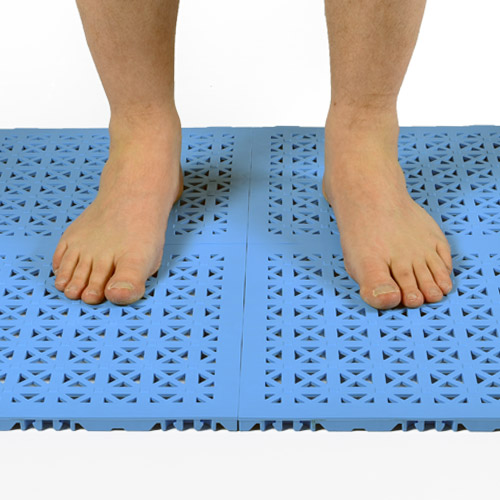 If you're on the hunt for a stylish and classy pool surround,
StayLock Tiles
with a perforated surface is the choice for you. These tiles bring unmatched drainage with slip protection and amazing cushion to the pool area. These tiles are available in blue, green, tan, terra cotta, gray and black.
Staylock outdoor pool deck tiles stand up to even the harshest climates for year-round usage. Further, tiles can flex and contour to surface irregularities.
5. Lifespan - Sterling Roof Top Tiles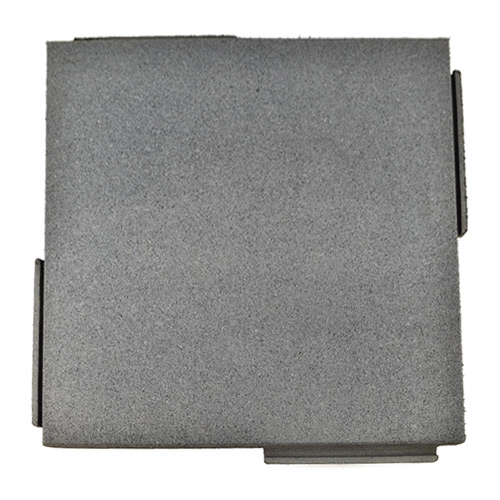 Sterling Roof Top Tiles
(2 inch) take durability and longevity it to the next level. These high-quality rubber tiles are some of Greatmats' longest-lasting and toughest pool deck tiles. Each tile is resistant to stains, scratches, and wear-and-tear. They also hold up under any type of furniture, such as tables or lounge chairs. The extended life-span of Sterling Roof Top Tiles is proven by the limited lifetime warranty included with the product.
Tiles create a comfy, attractive pool surround option in a variety of colors including green, blue, grey, brown and terra cotta. At two by two feet and 24 pounds, these tiles are heavy duty. That being said, the seamless interlocking system makes easy work of a partial or full glue-down installation. Tiles are non-absorbent and quick drying as well.