Diamond Rubber Flooring - Interlocking 2x2 Tiles
By Paige Cerulli Created: July, 2017 - Modified: April, 2023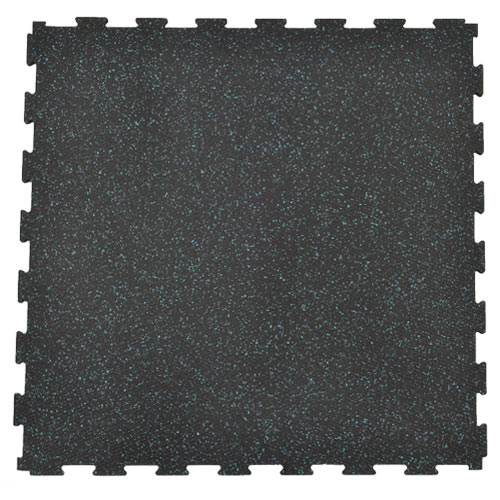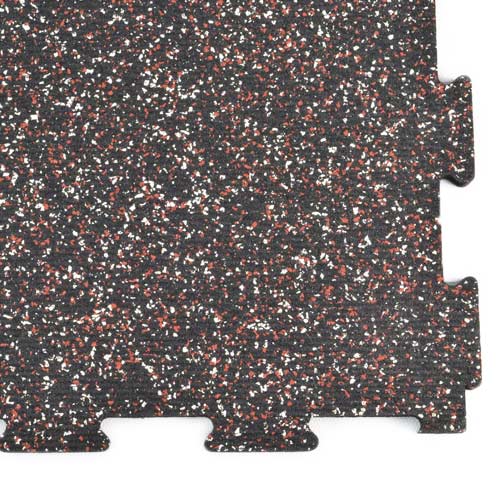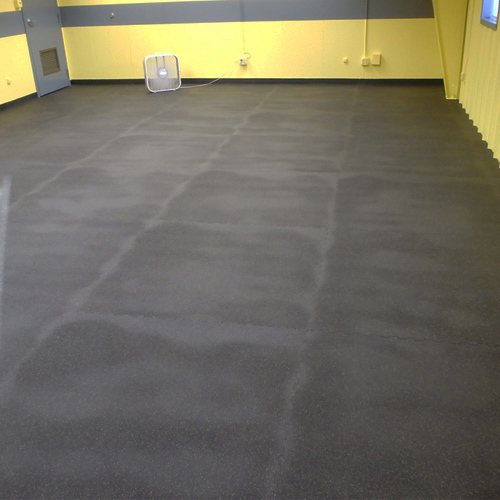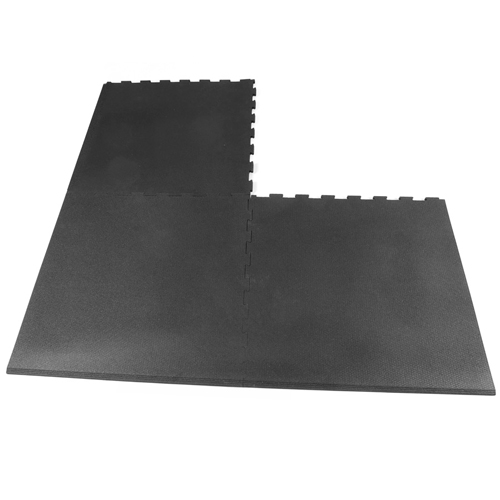 When creating a home gym, it's important to have the right flooring. Rubber Tile Diamond 2x2 x 3/8 inch gym floor tiles offer an ideal solution for home gyms and athletic flooring installations. These diamond rubber tiles feature a
diamond surface texture
that maximizes traction while making them suitable for many uses.
Measuring 3/8-inch thick, these tiles are strong enough to support heavy exercise machines and free weights without being damaged. They can withstand the impact of free weights being dropped, and can help to protect the subfloor from damage. They're capable of supporting a large amount of weight, including
weight racks
, so you can use them in many different areas throughout your home gym.
This 2x2 flooring is made of
vulcanized rubber
, which is waterproof, making it easy to
clean and sanitize
these tiles. You can sweep or vacuum the tiles to remove any dry debris. For more thorough cleaning, you can use a mop with a warm water and neutral pH cleaner solution. Soap can leave behind a residue, so a neutral pH cleaner makes a better choice.
Because these tiles are available in different colors, you'll have plenty of choices when planning out your gym and installing the tiles. Go with a traditional all-black option, or get creative with color flecks including red, white, green, blue, and blended options.
These tiles are backed by a 12-year warranty, so they'll be a long-lasting investment in your home gym.
Note: This product is discontinued. For a similar product with the same diamond surface texture, view the Shoklok Rubber Tiles.
Installing Diamond 2x2 Flooring
Each 2x2 foot tile weighs about 10 pounds, so you can easily move and store the tiles within your home without assistance. Installation is easy and can also be accomplished by a single person.
To install these tiles, start in a corner of the area that you wish to cover and connect tiles one at a time. You'll need to align the seams and ensure the tiles are facing the same direction, then press the interlocking seams together. There's no need for an underlayment, and you also don't need to use adhesive during the installation. You can lay these tiles on any flat, hard surface.
You can perform both island and wall-to-wall installations with these tiles, and beveled edges are available to create a finished perimeter and ensure a smooth transition onto and off of the tiles. If you need to cut the tiles to fit against a wall or around an object like a pole, use a sharp utility knife and repeatedly score the tile. When making straight cuts, use a straight edge, such as a metal yard stick or ruler, to guide your cuts.
To make your installation even easier, consider ordering a pre-sized kit for the installation size that you need. These kits can save you from having to cut the tiles, speeding the installation process up.
Because the tiles are waterproof, they're ideal for basement and garage spaces where moisture might be an issue. If you need to remove the tiles, you can disconnect the seams and pull the tiles up. You can then store the tiles, relocate them, or even reinstall them somewhere else.
Working with individual tiles also offers a benefit in case a tile is damaged or stained. When working with rubber rolls, you might have to replace a large floor section to make a repair. With rubber tiles, you can replace that one tile to have your floor looking great again, saving you money.
Is diamond rubber flooring expensive?
The cost of 2x2 rubber floor tiles depends on their thickness, brand, and color. Rubber Tile Diamond 2x2 Foot tiles start at around $10.80 per tile for black. Colored tiles are slightly more expensive at $14.40 per tile.
Remember that the cost of installing your rubber tile will also affect the tile's overall cost. These Diamond 2x2 tiles offer the benefit of being DIY installation friendly, which can save you a significant investment of both time and money.
These tiles are also highly durable. While you might pay more for the tiles upfront than you would in buying rolled rubber flooring, the tiles offer significant advantages, like being removable and versatile. They're designed to last, so you'll be able to enjoy your flooring investment long-term.
Can you put rubber gym mats over concrete?
Yes! You can dry lay these 2x2 rubber tiles directly over concrete. They don't require adhesive, and their locking seams create a tight closure for a secure, long-term installation.
What's the advantage of interlocking 2x2 rubber mats?
Interlocking 2x2 rubber mats are easier to transport and store than larger tiles or rubber rolls are. They make a DIY installation much easier, and they can be pulled up and removed if needed in the future. These tiles produce less waste than larger tiles or rolls during your installation, especially when trimming to fit around objects and for wall-to-wall installation in irregularly shaped rooms. It's also easy to create different patterns and designs with different color tiles.