Top 5 Most Popular Foam Floor Tiles & Mats at Greatmats
By Paige Cerulli Created: March, 2023 - Modified: April, 2023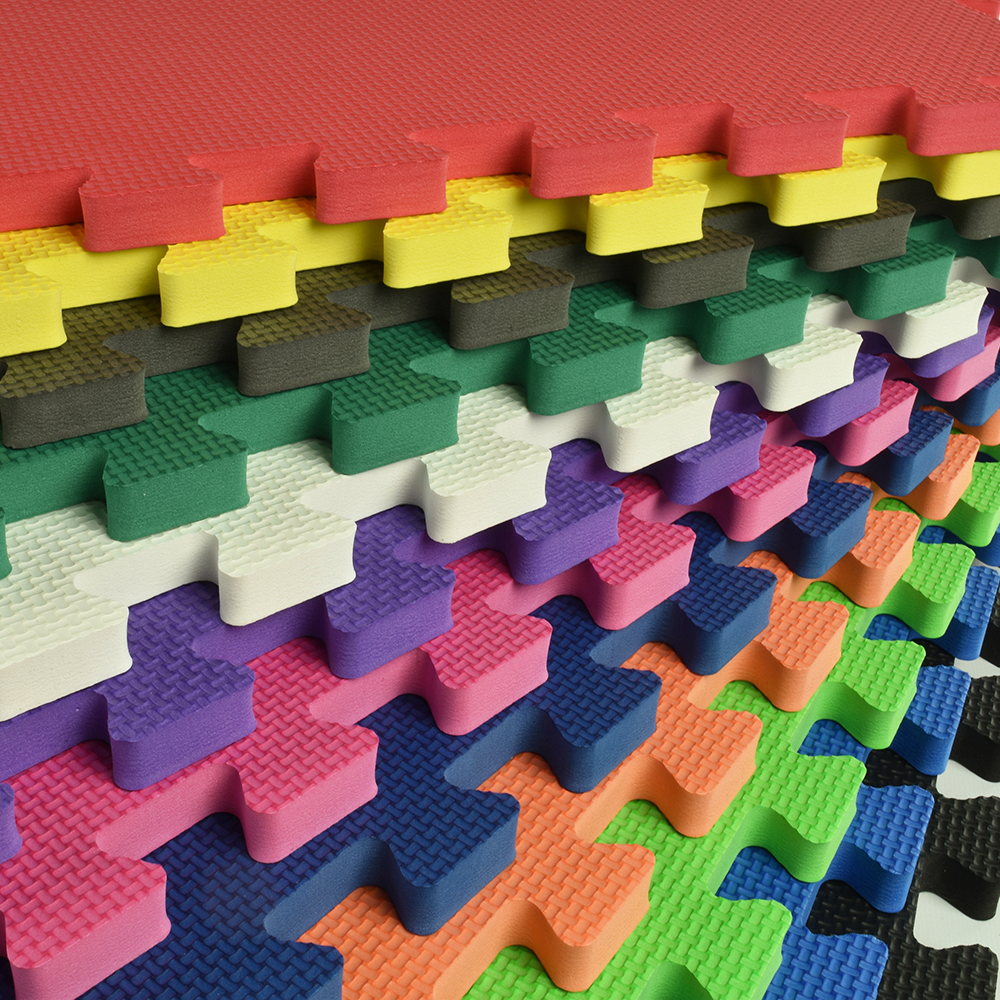 At Greatmats, you'll find an excellent selection of foam floor tiles. These tiles are suitable for everything from a kids' playroom to a gym floor. But with so many choices, it can be difficult to narrow down your options.
That's why we've highlighted the five most popular foam floor tiles and mats. These products are customer favorites, and they've received the reviews to prove it. Learn not only from us, but also from customers why these foams and mats are the most popular choices.
5 Most Popular Foam Floor Tiles and Mats
Whether you're looking for a product for your home gym or a mat that's ideal for a child's room, you may want to start with these highly popular products.
1. Foam Kids and Gym Mats - 2x2 ft 5/8'' Thick
The
Foam Kids and Gym Mats
are ideal for not only kids' play spaces, but also for use in basements and home exercise rooms. The EVA tiles are soft and forgiving, and they're also waterproof and stain resistant, so spills are no big deal. They're available in 15 brilliant colors, so you can choose the shade that your kids love, or that will look great in your exercise room.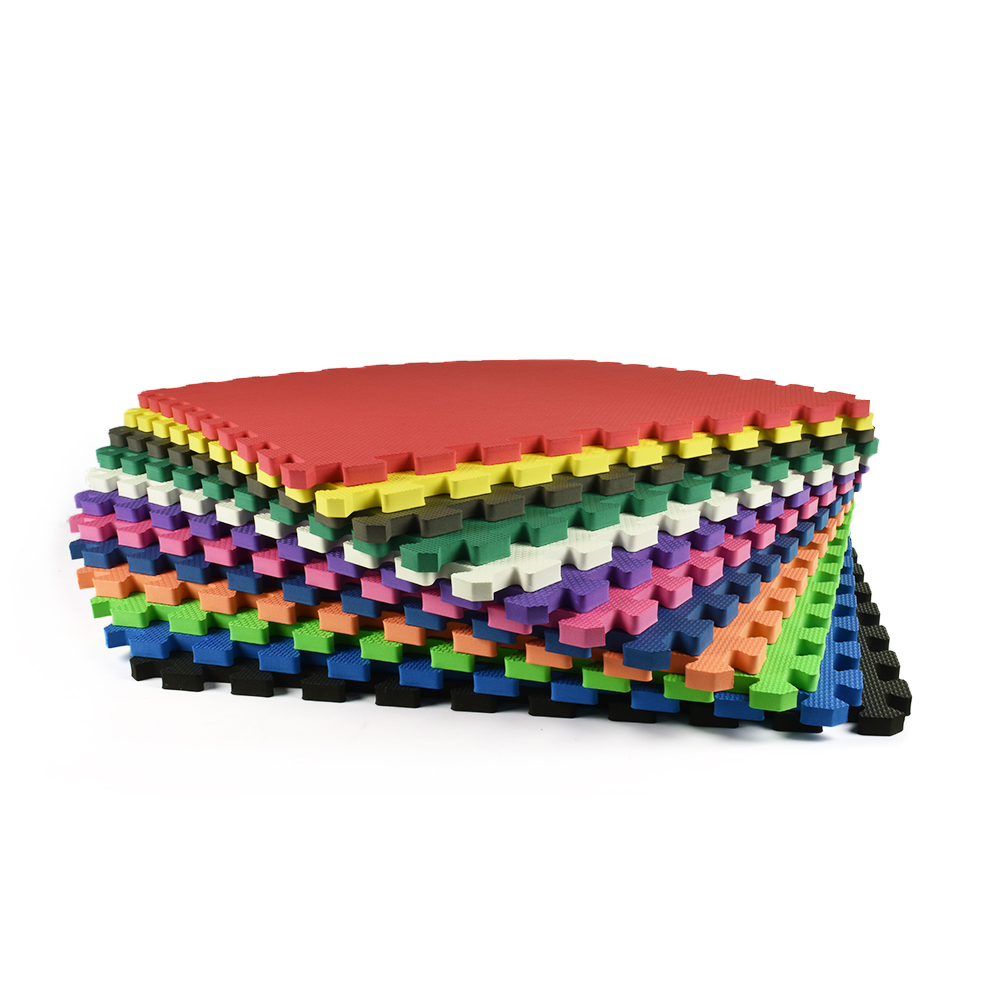 The tiles feature interlocking puzzle style edges, making for a fast and easy DIY installation. Each tile also includes two border strips to create clean, finished edges, perfect for island installations. The 2x2-foot squares can quickly cover a floor, but they're also sized so they're easy to carry.
Joseph from Massapequa Park, New York
found that the tiles make a room more enjoyable for both kids and adults: "My wife and I purchased these foam mats for use in our children's play area over 2 years ago and will be looking to order more and expand the area in the near future. The great thing about these mats is that they have held up over the many months of use, are easy to clean, and retain their shape after removing furniture from atop them. Plus, they are much more comfortable for feet and knees when kids (and adults) are playing on them. Highly Recommended."
And John and Rose from Conneaut, Ohio
used the tiles to create a comfortable play space for their dog: "We used the mats for a play area in our basement for our beagle. They were very easy to install and look great! The foam mats are thick and comfortable. The floor will be warm during the colder weather!"
Read all reviews.
Home Sport and Play Mat - 2x2 ft 3/4'' Thick
The
Home Sport and Play Mat
is a durable EVA foam floor tile. Available in bright colors, the mat features a scuff-resistant texture that can withstand athletic shoe traffic. The tiles are also waterproof and stain resistant, making them ideal for home gyms and exercise rooms.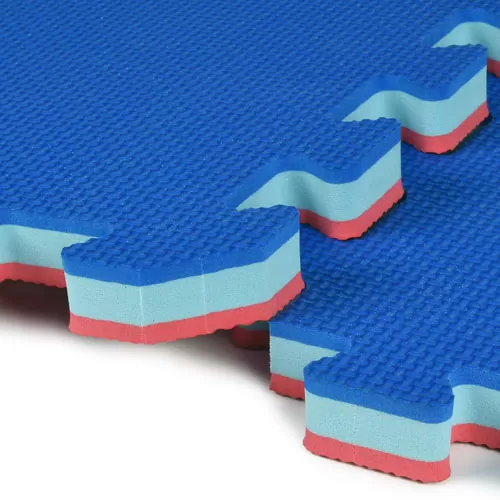 The puzzle-style interlocks make for an easy and quick installation, and the tiles include border strips for clean edges. Their dual-colored double-sided design allows you to choose the color you want to display, or you can turn the tiles over as they start to wear out.
Lance in Beaverton, Oregon
used the mats to create a temporary boxing ring: "Great mats! Perfect for my DIY boxing ring! Using these mats gives me and my son the ability to set up the ring in our driveway in just a few minutes. Setting it up and taking it down is literally a snap....And storage is easy. They fit perfectly on my shelf. If you are looking to create a nice DIY boxing ring, these mats are excellent."
Melissa in Mt. Juliet, Tennessee
found that the mats were ideal for her home TaeKwonDo studio: "Very happy with these mats! I practice TaeKwonDo and wanted to use half of my home office as a place to stretch and practice my patterns. The mats arrived quickly and were well packaged. We put them together in about 5 minutes. The quality is high, and they are exactly as described on the website. Very pleased!"
Read all reviews.
Home BJJ Mats - 2x2 ft 1-1/2'' Thick
The
Home BJJ Mats
are designed for use in home BJJ, MMA and Jiu Jitsu studios and practice areas. The mats offer the cushion needed for takedowns and kneeling, while also being firm enough to support stand up art. Their no skin-burn tatami texture helps to prevent uncomfortable burn, and the mats are also waterproof, so they're easy to clean. They can help to prevent head injuries in falls from up to four feet.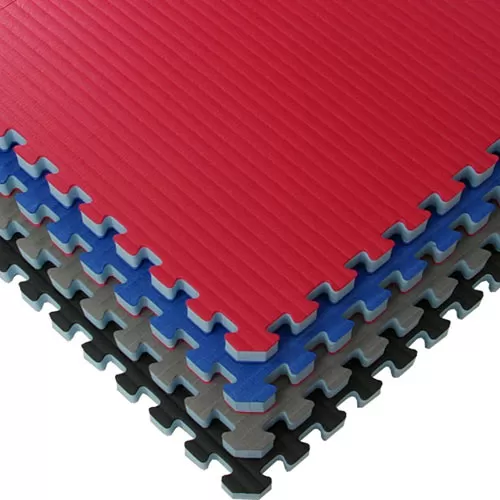 Their interlocking edges make for a quick installation, and the mats include two border strips. Their double-color, double-sided design allows you to create different patterns, and you can reverse the mats if they become damaged or worn.
Cameron W. in Monroe, New Hampshire
uses the mats for several purposes: "The mats arrived in great condition and were extremely easy to install. We use them every day for both BJJ rolling but also the kids use them for their general roughhousing and they barely show any signs of wear. Would definitely purchase again."
Liz from Queen Creek, Arizona
was pleased with these mats when starting up a new BJJ academy: "What great mats. They give us exactly what we needed. Safety, versatility, and ease of install and tear down. Perfect for getting a new BJJ academy started and continuing to roll. We'll certainly order more as we expand."
Read all reviews.
Foam Tiles Wood Grain - 2x2 ft 7/16'' Thick
The
Foam Tiles Wood Grain
add softness and cushion to a basement or room in your home. They're free of lead and latex and are waterproof. They feature a distinctive and realistic wood grain look, and you can choose from several different wood grain options.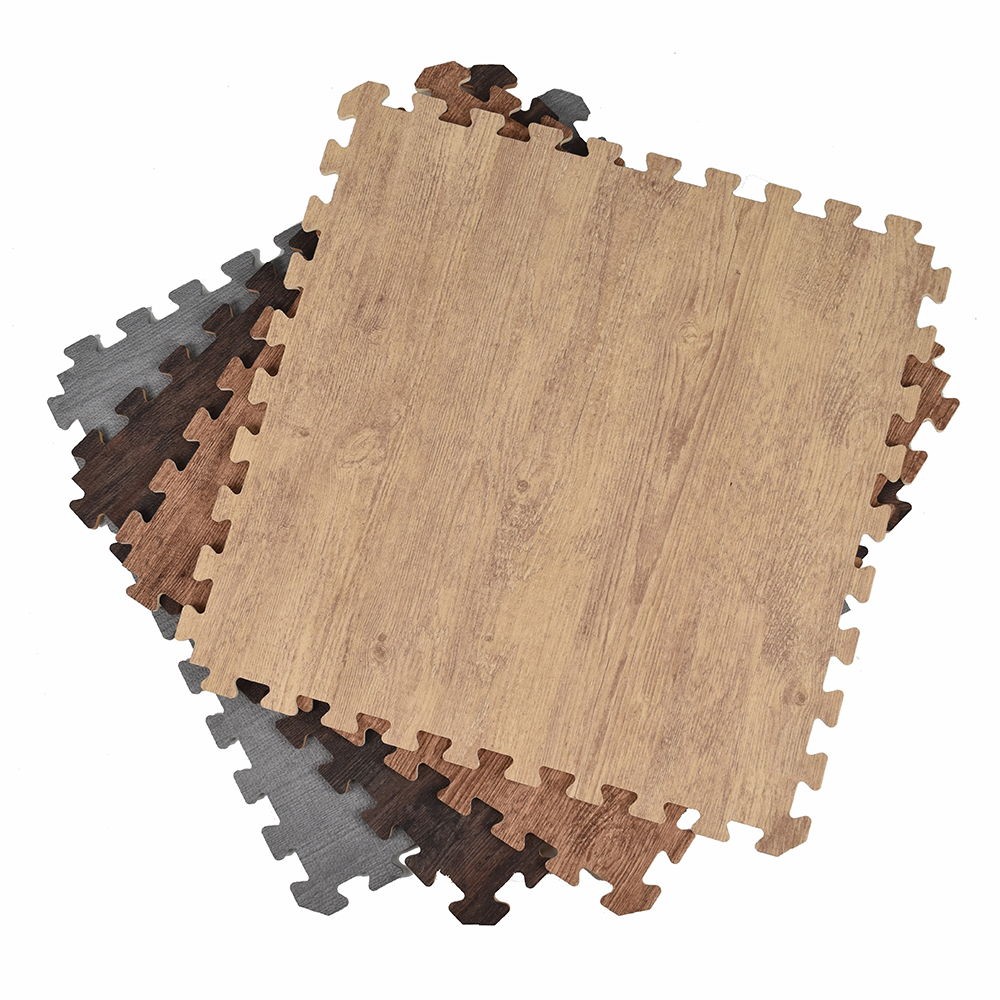 Interlocking puzzle-style edges make for a fast installation. Each tile includes two border strips, and the tiles are backed by a one-year limited warranty.
Leah from Atlantic Mine, Michigan
used the tiles to make a basement bedroom more comfortable: "I'm installing Greatmats foam floor tiles in my basement guest bedroom. The difference in the warmth is incredible. The concrete is cold, but as soon as you step on the Greatmats you feel an immediate difference in temperature. We have had water problems in the past in our basement. We wanted to go with Greatmats for the fact that its easy to install and easy to take back up if we do encounter water problems again."
Sarah from Lehi, Utah
was delighted with how the flooring enhanced her trade show booth: "We were absolutely thrilled with our flooring from Greatmats! We attended the International Home+Housewares trade show in Chicago. Our booth was made to look like a kitchen. The wood grain flooring tiles that we purchased from Greatmats were easy to install, priced just right and made our booth look amazing! Many people commented on how great the floor looked! It was very comfortable on our feet because we were standing for 4 days on it. We will definitely purchase flooring from Greatmats again for our next trade show."
Read all reviews.
Grappling MMA Mats - 1x1 Meter 1-1/2'' Thick
The
Grappling MMA Mats
are a popular choice for MMA, BJJ, and Jiu Jitsu training and studio spaces. These larger high-quality mats are firm enough for standup work, but are also forgiving enough for ground work and takedowns, and their tatami texture helps to prevent skin burns. They feature a four-foot ASTM fall height rating and are designed to help keep athletes safe.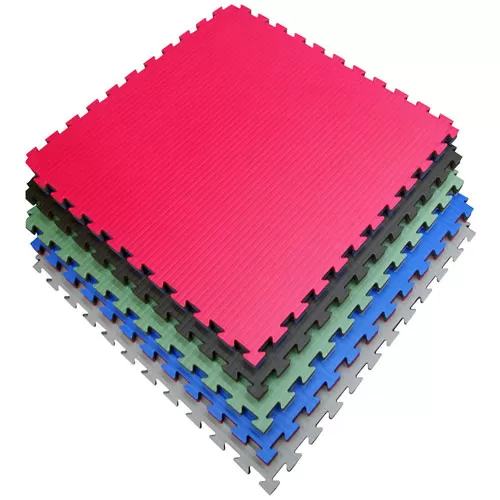 The tiles are waterproof, so they're easy to clean and disinfect. They feature tight-fitting interlocks for an easy installation, and the tiles won't separate during use. Their reversible design maximizes the use that you will get out of these professional-quality mats.
David "Jay" from Bossier City
appreciates that the mats are portable when needed: "I have been using your mats for a few years now. They are still in great shape. I have even moved my school around a few times, and they have never failed me. I can make many floor layouts that work. When these mats finally wear out, I will buy more GREAT MATS!"
Holly in Redmond, Washington
chose these mats for her martial arts school: "Eastside Kyokushin Karate and Self Defense is a proud customer of Great Mats for over 12 years. We just moved into a new, larger space and had to replace our mats (prior set was 10+ years old). With the addition of wall mats and vinyl graphics, Great Mats has turned this shell of a building into a respectful martial arts school. Highly recommend, great service, great product. Worth the price. OSU!"
Read all reviews.