Is 8mm Rubber Flooring Good For Gyms?
By Paige Cerulli Created: March, 2022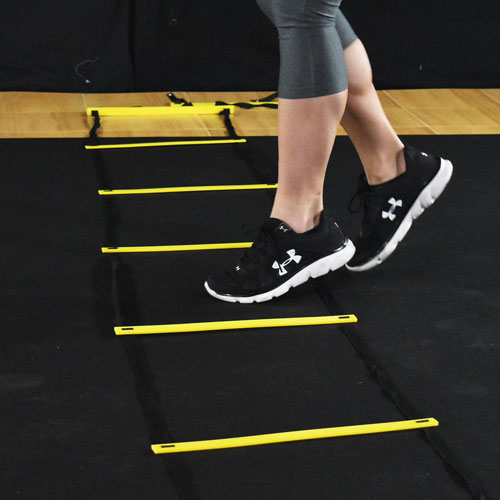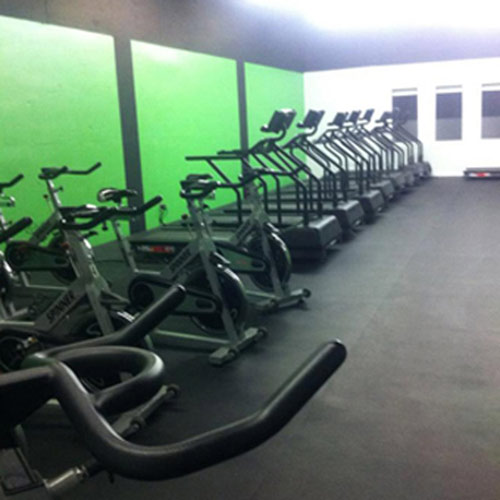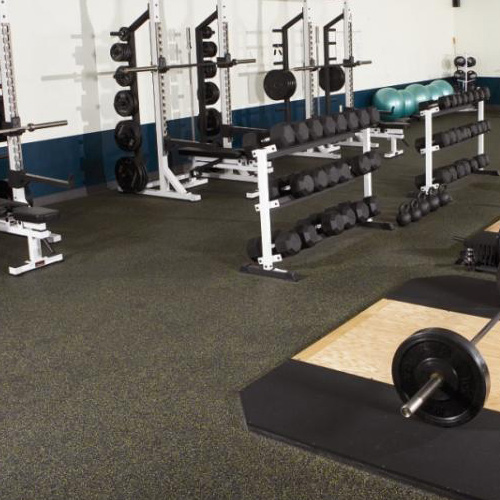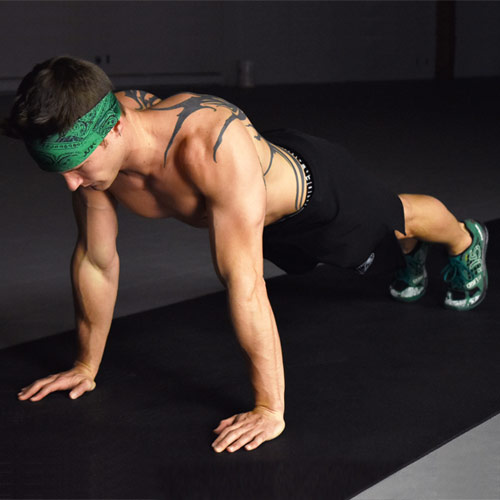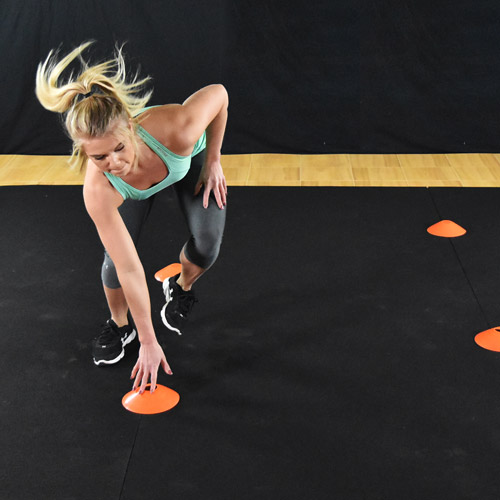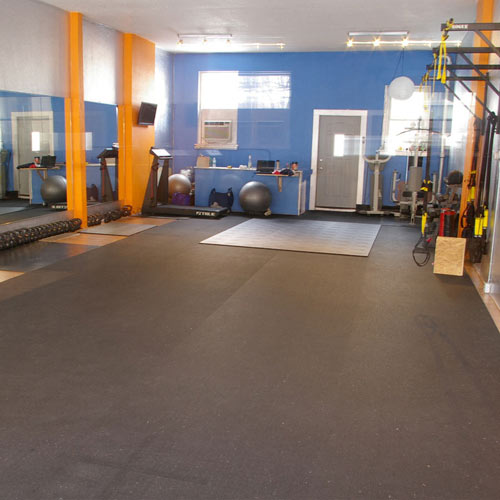 Rubber flooring is an ideal choice for gyms, thanks to its excellent strength, its ability to absorb shock, and its impressive durability. But when choosing rubber for your gym, it's important to select a product that's thick and strong enough for how it will be used.
8mm Rubber Flooring and Gym Use
You can successfully use 8mm rubber flooring for many purposes in gyms. This flooring is equivalent to 5/16 inch flooring, and it's a great choice for most gyms.
At the 8mm thickness, rubber can accommodate weight machines and exercise equipment. It can also handle occasional drops of barbells weighing up to 75 pounds, protecting your subfloor in the process.
Dumbbells and kettlebells concentrate their weight into a smaller area when they're dropped, which is harder on the flooring. In areas where these weights will be repeatedly dropped, it's best to opt for a thick rubber, like a ¾ inch or one-inch option. Thicker options can also help reduce noise and vibration, depending upon their design.
Choosing Your 8mm Rubber Flooring for Your Gym
At Greatmats, we offer a broad selection of rubber floor tiles, rolls, and mats suitable for gym use. If you're looking for 8mm rubber flooring, you'll have plenty of options, and similar ones, from which to choose.
Interlocking Rubber Floor Tiles Color 8 mm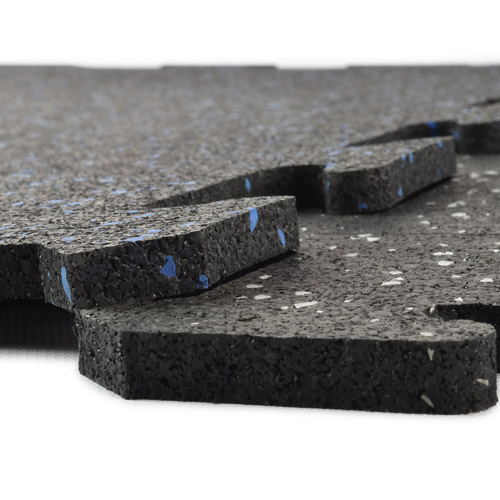 The Interlocking Rubber Floor Tiles Color 8 mm are durable, long-lasting tiles that can withstand the weight of exercise equipment. Measuring 3x3 feet, these tiles are an ideal choice when you need to cover a larger surface area.
The tiles are easy to install, thanks to their interlocking puzzle edge design, and they require no adhesive. As a result, they're ideal for both commercial and home gyms, as well as weight rooms.
You can choose from three different color fleck options for the specific look that you desire. Cleaning the tiles is easy, and you can damp mop them with a neutral pH cleaner.
Rubber Flooring Rolls 8 mm 10% Color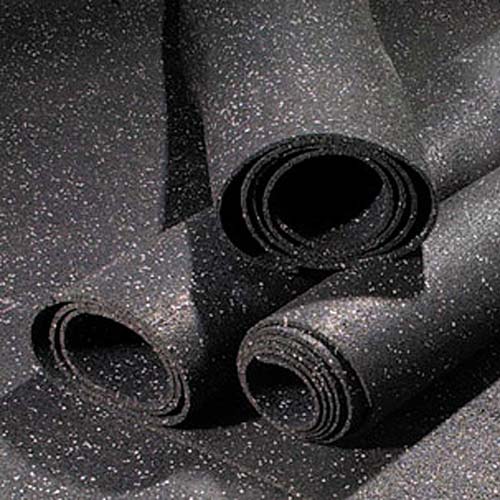 The Rubber Flooring Rolls 8 mm 10% color are manufactured with recycled rubber content, making them an eco-friendly option. They may contribute to LEED points for your construction project.
Thanks to their low odor, the rolls are an ideal choice for indoor installations in gyms, sports facilities, and weight rooms. They're highly durable and are non-slip even when wet, making a safer environment for athletes.
You can install the rolls with a tape- or glue-down method. When installing them in a home gym, you can dry lay them for an easy, time-saving installation choice.
Rubber Tile Utility Black Mix 8 mm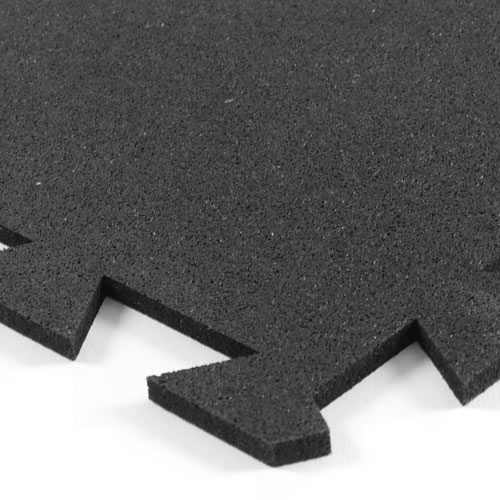 The Rubber Tile Utility Black Mix 8 mm is a value rubber flooring option with a light color fleck mix. These tiles are ideal for weight rooms, workout rooms, basement flooring, and more.
The tiles are double-sided, so you can get maximum use out of this economical flooring choice. Their non-slip surface helps to keep athletes safe.
The tiles feature precision waterjet cut edges, which allow the tiles to lock together securely so they won't separate while in use. You can easily trim them to fit a space as needed.
Cleaning the tiles is easy, too. You can sweep or vacuum them, or you can mop the surface with a neutral pH cleanser.
Rubber Flooring Rolls 8 mm Black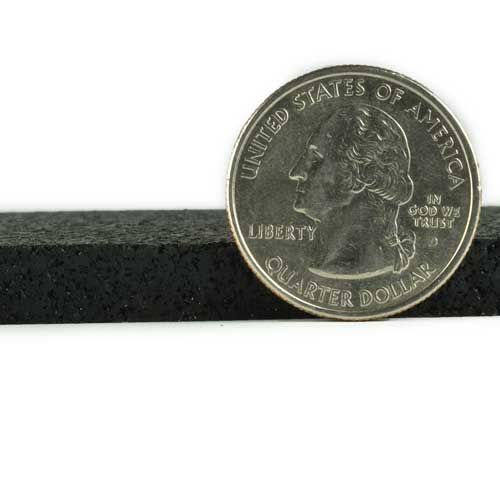 The Rubber Flooring Rolls 8 mm Black are a highly durable commercial gym flooring option. This rubber produces a low odor, so it's suitable for indoor installations.
The rolls are non-slip even when wet to help keep your gym safe. They're made in the USA with recycled rubber content, and they may contribute to your project's LEED points.
Available in custom cut lengths measuring 25 feet long or longer, these rolls are ideal when you need to cover a larger area, like an entire weight room.
Rolled Rubber 8 mm Eco Regrind
With the Rolled Rubber 8 mm Eco Regrind, you can floor gyms, weight rooms, and fitness rooms. It's suitable for home and commercial applications, and is highly durable. As a regrind material, it's also one of the cheapest options available.
These rolls are economical and ship from Oregon, so they're a great choice for West Coast customers. They can be ordered by the square foot, and you can install them with a tape down or glue down method.
This rubber is made from recycled materials, so it may qualify for LEED points for your green building. The rolls have a low smell, making them suitable for indoor use.
Plyometric Rubber Roll ¼ Inch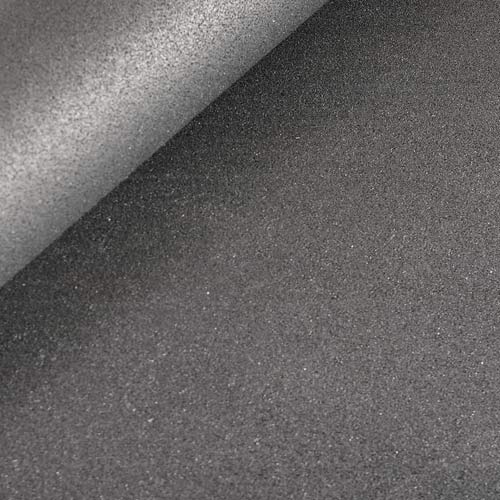 The Plyometric Rubber Roll ¼ Inch offers excellent cushion and shock absorption, helping to keep athletes comfortable during workouts. The smooth non-slip surface helps to prevent slips and falls, giving athletes just the right amount of traction.
The rubber roll is designed specifically for repetitious workouts, like plyometric drills and aerobic exercise. It combines a solid foundation with the shock absorption athletes need for activities like box jumps and jumping rope.
While this rubber is a lower density to create a more forgiving surface, it's strong enough to withstand the weight of gym equipment, but we don't recommend dropping weights on this floor. Each sheet measures 4x10 feet, and you can easily cut it yourself to fit your space as needed.