By Kyle Schurman Created: February, 2021 - Modified: August, 2023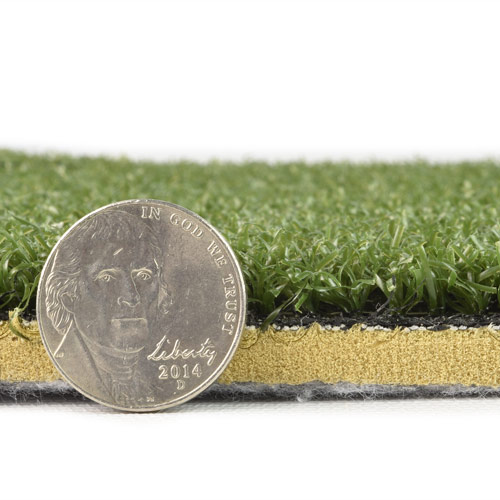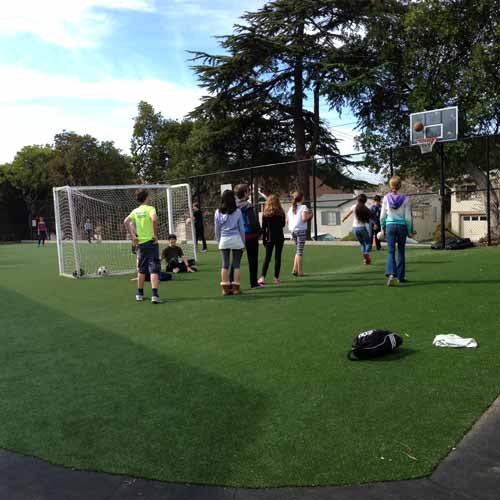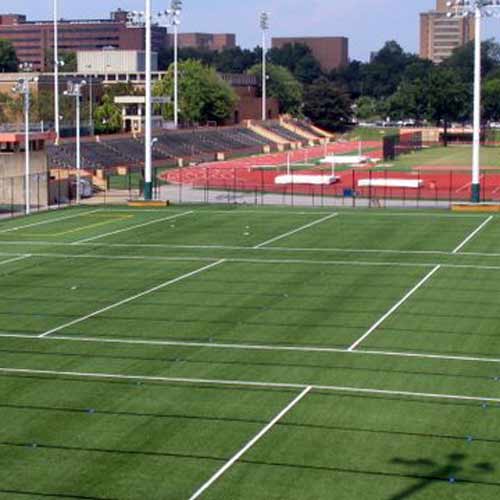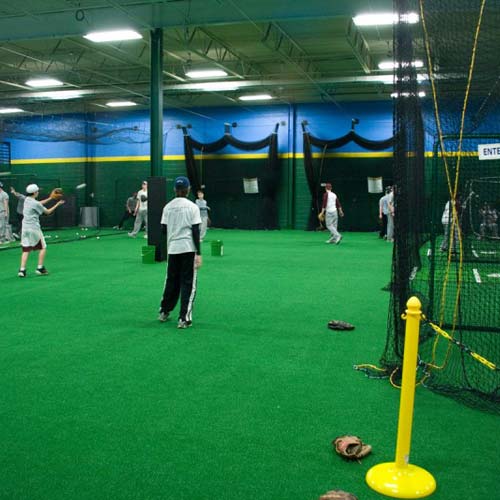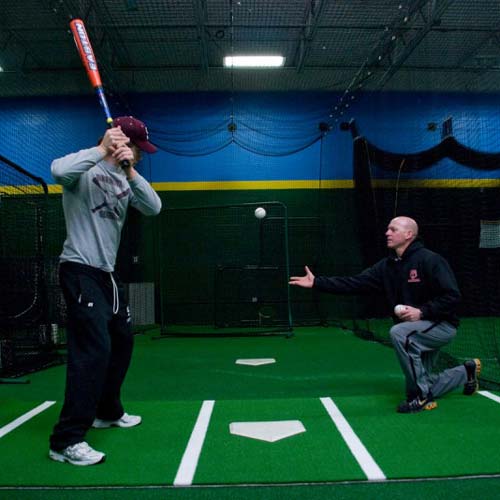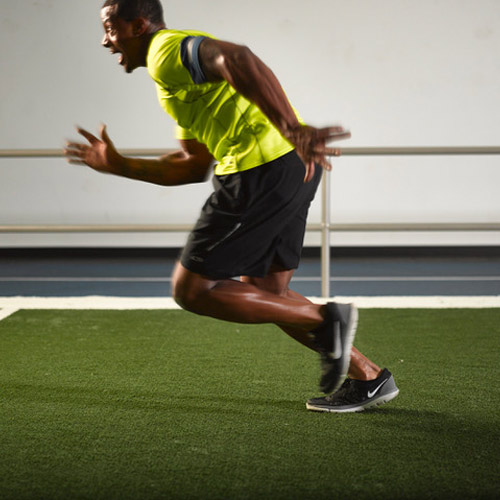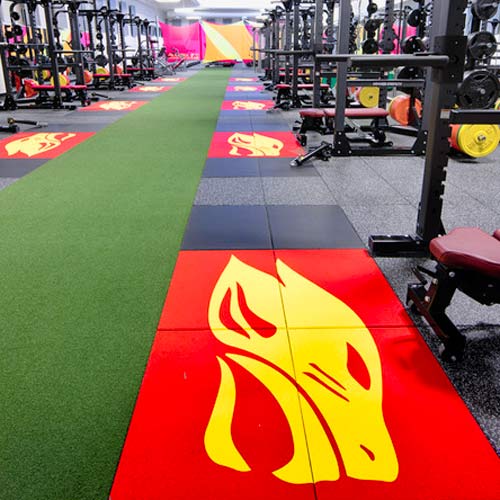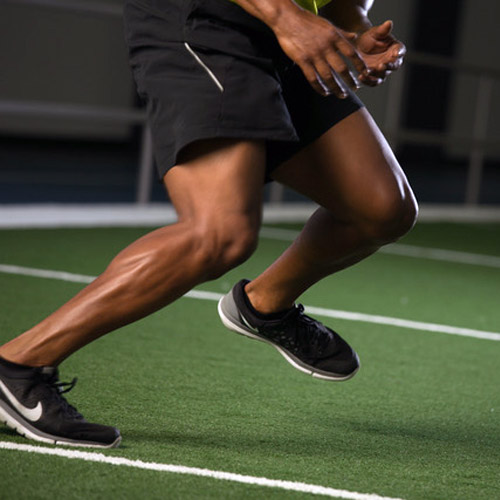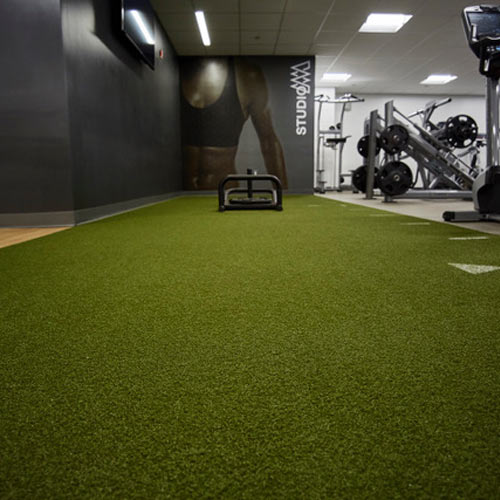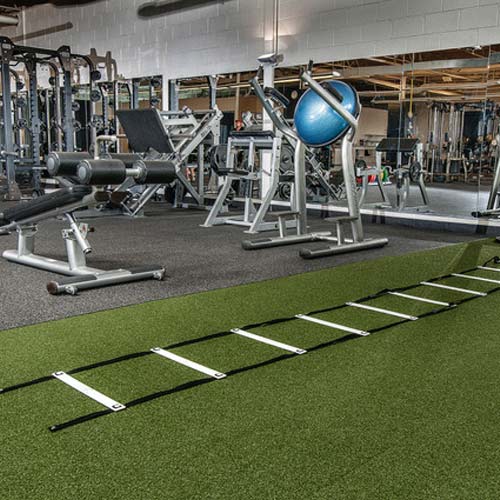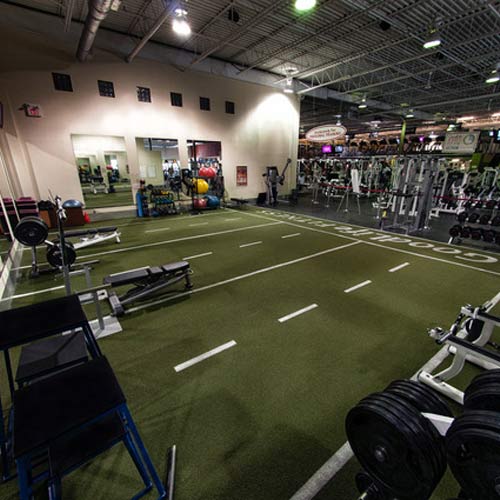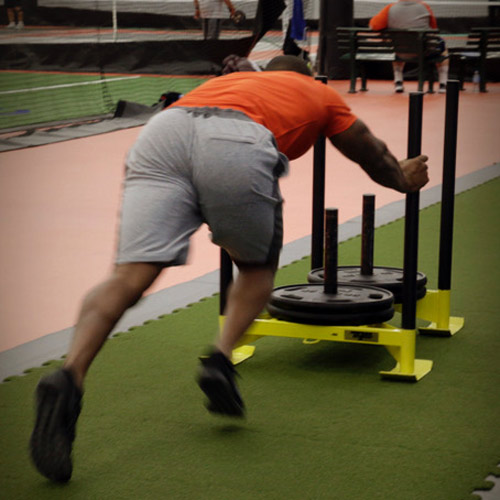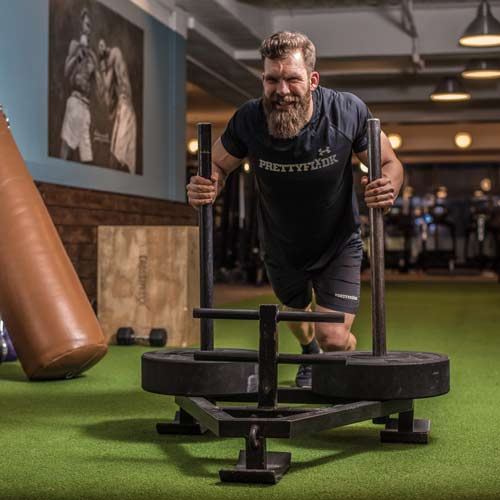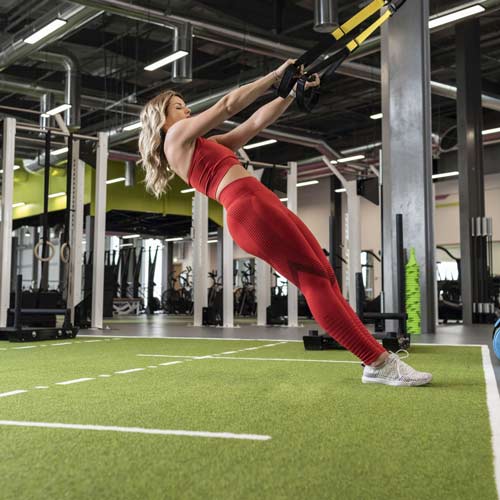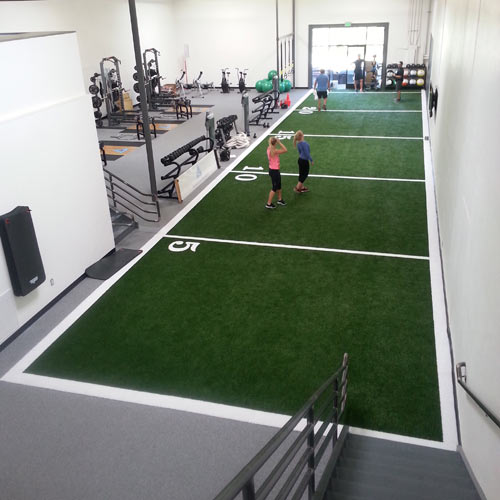 Gym turf can have varying thickness measurements, both in the padding used under the faux turf and in the blades of artificial grass. Those with a shorter pile height may measure as thin as 1/4 of an inch (without an attached backing pad for cushioning), while those with a taller pile height may measure 3 inches or greater in thickness (including the padding or backing).
Some of the use cases for varying pile heights for the indoor artificial grass flooring for gym include:
Short pile height: Shorter lengths in the blades in the artificial grass flooring for gym allow for sure footing and easy maintenance, so it's useful for a playground surface, a golf putting green, a CrossFit workout session, a sled workout, a sprint workout, and yoga.

Long pile height: Longer lengths in the artificial grass flooring for gym blades allow for numerous types of sports, including soccer, baseball, softball, and football.
This style of turf roll allows for almost any kind of field layout, depending on the space available in the gymnasium.
Installers can even paint lines on the artificial grass flooring for gyms by using striping equipment.
However, very few commercial or home gyms have the space for a full layout of a soccer or baseball field. Instead, the more common indoor use case for faux grass rolls in an indoor gymnasium is for workouts.
What is the Best Artificial Grass for Indoor Use Without a Padded Backing?
It's not recommended to use artificial turf without padding over a hard gym floor, as the thin material cannot protect the lower body joints, back, and hips of the athletes.
However, in gym locations where a padded flooring is already in use, such as black rubber flooring tiles in a CrossFit gym, laying out the faux turf roll directly over the rubber flooring delivers the desired padding.
The best option for this use case is the
All Sport Artificial Grass Turf Roll
. It measures only 1/4 inch in thickness, which yields lightweight rolls that are easy to use for a DIY install. Glue the turf down and use seam tape for installation.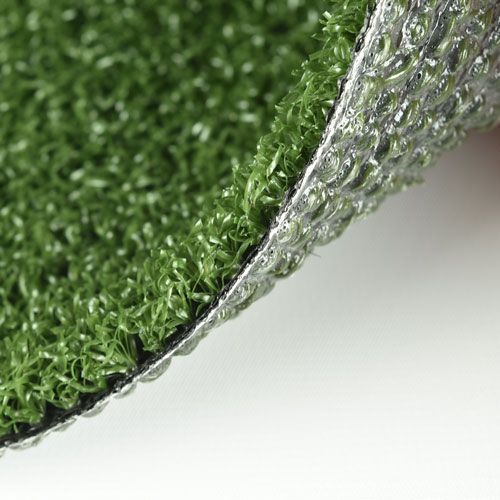 The polypropylene yarn in the roll will work for either indoor or outdoor use, delivering an 8-year limited manufacturer warranty.
What Are Some of the Thinnest Foam Pads in Artificial Turf for Gyms?
Many popular choices for this type of indoor gym flooring will consist of a thin 5 mm padding material (about 3/16 of an inch in thickness). Customers then can select varying pile heights attached to the 5 mm foam pads.
This is a popular thickness, as athletes can wear almost any kind of shoes on it. Some of the models available with a 5 mm foam padding include:
Can I Use a Short Pile Artificial Grass With Rubber Padding?
Some customers appreciate a type of artificial grass flooring for gym with a rubber padding that's fusion bonded to the faux grass to protect the athletes during tougher workouts. Such products often maintain a short pile height in the blades, allowing for running without stumbling and for a true ball roll.
The
RageTurf Motivate Roll
product has 17 mm of total thickness, consisting of a 5 mm rubber padded base and 12 mm of pile height. This roll is easier to handle than some other artificial grass products because the roll measures only 6 feet in width.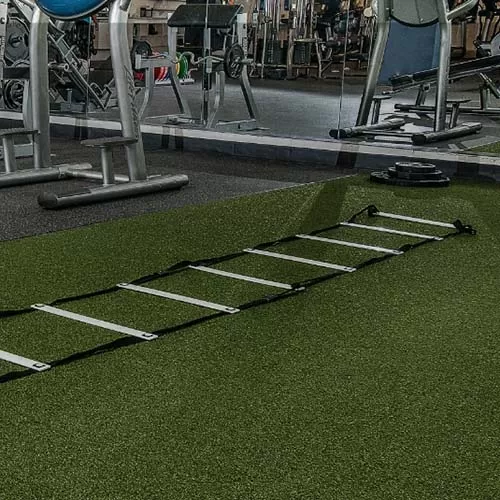 For even more padding, consider the
RageTurf Rally Interlocking Tile
. These pop together artificial grass tiles use a 12 mm rubber backing (about 15/32 inches) and a 12 mm pile height in the artificial grass blades.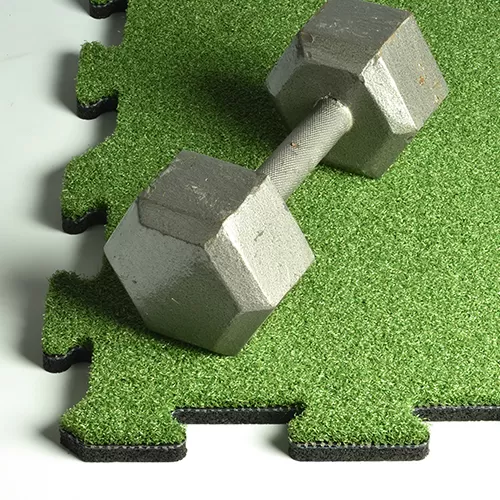 To simplify installation, the rubber backing has puzzle style edges, allowing each tile to connect to adjacent tiles securely. Each tile measures 23 by 46 inches, providing coverage of 7.35 square feet per tile. This product has the added benefit of being temporary and portable if needed.