How Long Does It Take To Connect 100 Sq Ft Of Interlocking Foam Tiles
By Brett Hart Created: September, 2022 - Modified: October, 2022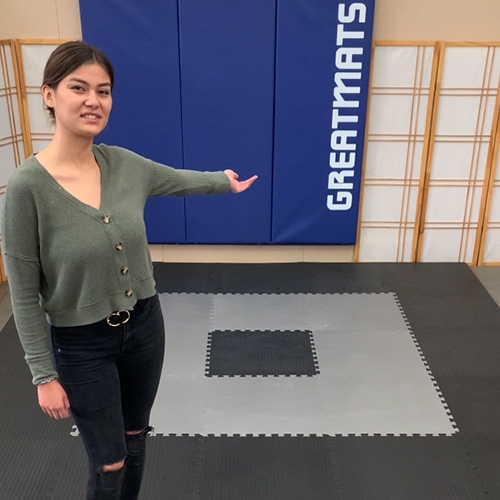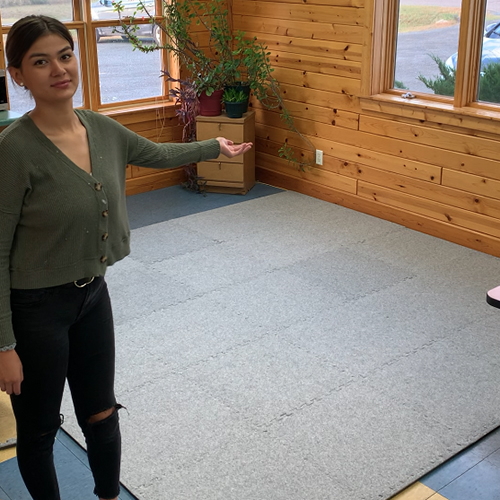 Interlocking foam tiles are some of the most popular flooring systems for temporary or portable floors such as trade show booths or martial arts tournaments. One of the biggest reasons for this popularity is the speed in which the padded flooring can be installed. But just how fast is it to install you ask? Minutes!
We decided to run an unofficial test to find out. In this test we installed a 10x10 foot area (100 sq. ft. ) of 5 different kinds of 2x2 interlocking foam tiles. We chose this size as it is a common size for trade show booths. Each of these 100 square foot floors were installed by the same person, who has had no previous experience installing these particular floor tiles.
5 Speed Tests For A 10x10 ft. Foam Floor Tile Installation
The interlocking foam tiles tested (in the following order) were:
In running the test, there were a few key factors that jumped out, which affected the time it took to install.


Directional Grain or Pattern


Border Strip Design and Interlock Style


Tile Thickness


1. Foam Kids and Gym Mats Premium - 7 minutes
Winning the challenge for the fastest to install as the Foam Kids and Gym Mats Premium. At ⅝ inch thick, these tiles are among the thinnest options tested. They also feature a universal interlock system, uniform color and uniform pattern, meaning there was no need to worry about what direction the tiles faced when putting them in place.

One of the biggest challenges were the border strips. Each tile comes with two border strips. One strip is slightly longer than the other to make a smooth transition around the corner of the tile. So when using borders along the straight edges, the shorter strips needed to be used.

2. Gym Floor Workout Fitness Tile Pebble - 15 minutes
Coming in at just under 15 minutes was the ¾ inch thick Gym Floor Workout Fitness Tile Pebble. What slowed this installation down a bit was the fact that the tiles are significantly thicker than the ⅝ inch thick product and as a reversible product, orientation of the tiles is a consideration as they do not feature a universal interlock. This left 2 options for installation instead of 4.
3. Royal Interlocking Carpet Tiles - 16 minutes
The battle for 3rd place was a close one, with the Royal Interlocking Carpet Tile narrowly edging out the Wood Grain Foam Tiles Reversible product at just under 16 minutes.
The somewhat tricky part with this foam-based tile is that it does have universal interlocks, so it can attach no matter which way they are laid, but… they have directional arrows on the underside to ensure that the nap or grain of the carpet all lays the same. Paying attention to the arrows did take a bit more time.
Like the ¾ inch pebble textured tiles, there are also two different length of border strips on each tile. Add to that the directionality of the carpet fibers and there is a bit more to pay attention to during the installation process.
4. Wood Grain Foam Tiles Reversible - 16 minutes
Coming in at just over 16 minutes was the reversible wood look foam tile. Again this product did not have a universal interlock. It also has a wood grain that has to be paid attention to. There is the option to allow the wood grain to align amongst the tiles or be installed perpendicular to the adjacent tiles. (This can be handy for making a parquet look.) Nevertheless, it did add something to pay special attention to in order to create a uniform look.
Another consideration for this product is that the two sides that come with border strips attached also share a corner piece. The corner piece can be removed for side borders or left in place for corners. With that being said, once the corner piece is removed, it cannot be reattached, so special attention must be paid to which tiles/border are place in the corners.
5. Home BJJ Mats - 22 minutes
The slowest to install was the 1.5 inch thick Home BJJ Mats, finishing in just under 22 minutes. By far the thickest of the options tested, it took a little more time to remove border strips from the tiles that needed them removed. It also took a little more effort to push the tiles together, due to the additional friction.
These tiles are also reversible with a different color on each side. Staying true to the original intent of this being a martial arts matting system, a competition/training ring was designed using the two different colors, so thought went into that process.
Again as a reversible tile, they also do not have a universal interlocking system. And like the Wood Grain Foam Tiles, the border strips feature a removable corner piece that cannot be reattached if removed.
| Product | Thickness | Grain or Pattern | Universal Interlock | Minutes |
| --- | --- | --- | --- | --- |
| Foam Kids and Gym Mats Premium | 5/8" | no | yes | 7 |
| Gym Floor Workout Fitness Tile Pebble | 3/4" | no | no | 15 |
| Royal Interlocking Carpet Tiles | 3/4" | yes | yes | 16 |
| Wood Grain Foam Tiles Reversible | 1/2" | yes | no | 16 |
| Home BJJ Mats | 1.5" | yes | no | 22 |
Speed Test Conclusion
All five foam flooring tiles were
installed in less than 22 minutes with the fastest being roughly 7 minutes
.
While installing 100 square foot of any of these tiles did go quite quickly, once you've figured out the system for installing them, the time frame will be much faster. Plus if you ask a friend for help, you'll see any of these interlocking foam tiles can be installed in a flash!
If you are looking for as easy DIY foam flooring with a fast installation, the
Foam Kids and Gym Mats Premium
is the product for you!