How Large Is A Motorcycle Garage Mat & What Products Work Best?
By Paige Cerulli Created: January, 2022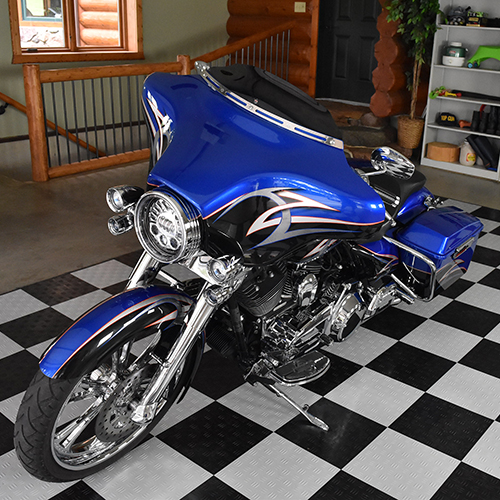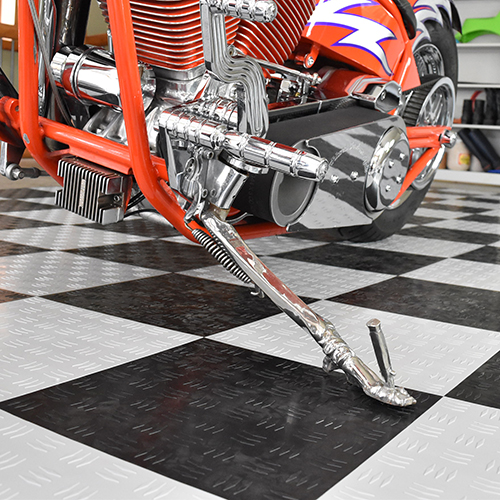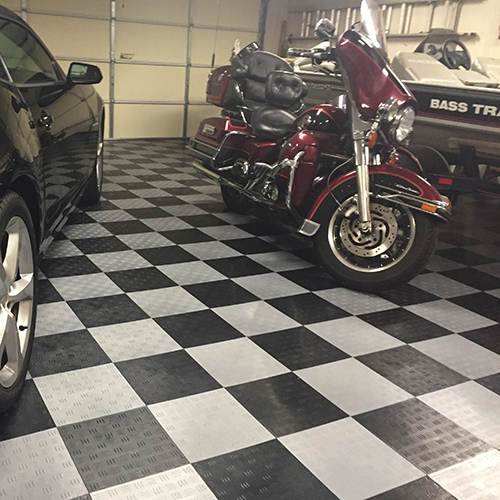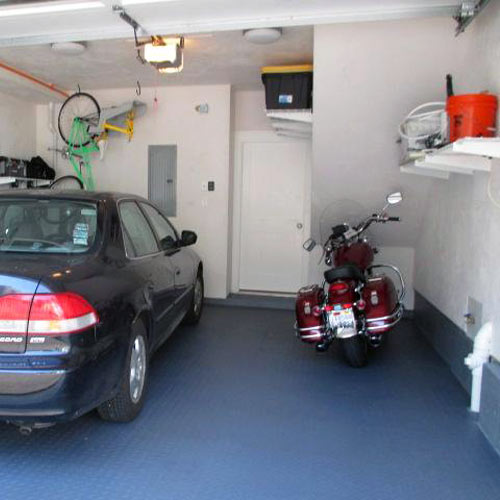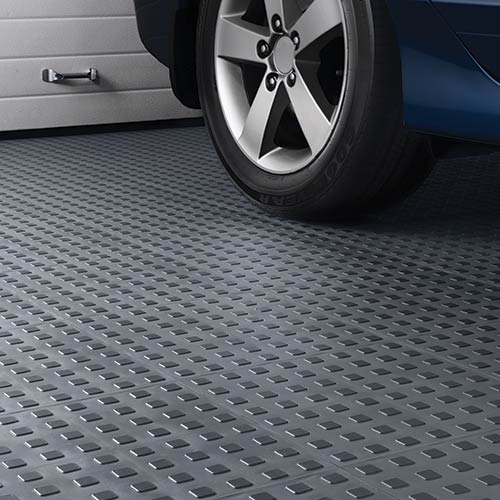 Whether you have a Suzuki, Harley, Victory, Honda, or Indian motorcycle, you'll need an appropriate space in your garage to maintain and work on your bike. With a quality motorcycle garage mat, you can safely work on your bike without damaging your garage floor.
Reasons to Use a Motorcycle Garage Mat
A motorcycle floor mat serves multiple important purposes. Also called a motorcycle parking pad, this mat helps to protect your existing garage floor.
By adding a mat, you'll be keeping potentially damaging substances, like fluids and oils, from coming into contact with the floor. This can also make for easier cleanup after a spill.
The mat also helps to contain the dirt and debris that your bike might track in. You can just wipe down the mat, rather than having to wash or sweep your entire garage floor.
Mats also enhance the look of your garage, creating an ideal space for parking or displaying your bike. Choosing a color that complements your bike can transform your garage into a mini showroom, so you can showcase your bike in the best light possible.
How to Size Your Motorcycle Garage Mat
A mat will only be effective if it's the right size for your bike. That size can vary depending on your motorcycle and the types of maintenance that you typically perform, but common mat sizes include 3x8, 4x8, 5x8, and 5x10 feet.
Keep in mind that, rather than buying a mat that's already designed, you can use tile kits to custom-create a mat to the dimensions that you need. When you use tiles, you can ensure that the mat is large enough for your needs, and many tiles can also be cut so you can fit them around objects like support beams or workbenches.
If you use tiles to create your mat, you can add on tiles and make that mat larger in the future as needed. You won't have to buy another mat, and can customize it to your changing space needs.
Ideal Motorcycle Garage Mat Products
At Greatmats, we offer several products that are ideal for use as motorcycle garage mats. These products are durable and versatile, and they're also available in a wide range of colors.
Garage Floor Tile Diamond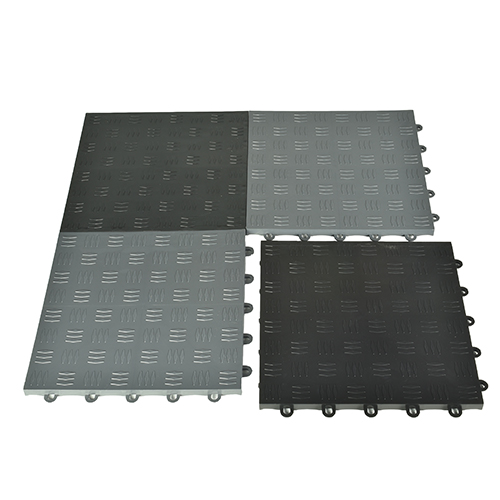 The Garage Floor Tile Diamond is one of the best tiles you can buy for use in your garage. The tiles are incredibly strong, and are rated for 10,000 pounds of static weight each.
The textured tiles create a safe surface to work on and help to maximize your traction. They're also eye-catching enough for use in show rooms, so they can display your bike beautifully, too.
The tiles feature an interlock system that easily snaps together, and they can be assembled and disassembled repeatedly. You can easily cut the tiles as needed.
These tiles are made in the USA, and you can purchase border and corner ramped edging to complete your installation. They're backed by a five-year limited manufacturer's warranty.
SupraTile 4.5mm Diamond Pattern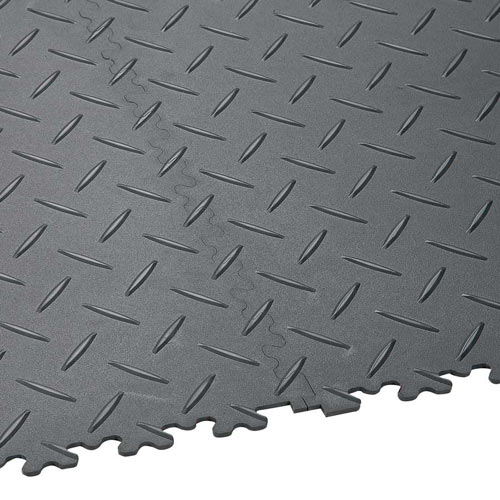 The SupraTile 4.5mm Diamond Pattern is ideal for use in a garage setting. The tiles are resistant to oils, chemicals, mold, and mildew.
These tiles offer the durability you need in your garage, and they're resistant to impact, moisture, and abrasions. While they're highly durable, they're also warm and comfortable underfoot, perfect for the hours you spend working on your bike.
Installing the tiles is easy, too. You can lay them over old and uneven subfloors, and their interlocking dovetail joint design creates a secure connection.
Tuff Seal Floor Tile Colors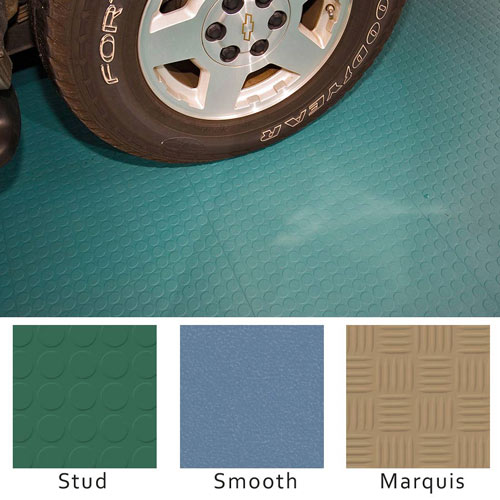 The Tuff Seal Floor Tiles are highly durable and easy to install. They offer valuable anti-fatigue relief to help keep you comfortable while you're working in your garage.
The tiles are also stain- and chemical-resistant, and they're made in the USA. They have a hidden interlock design that creates a visually appealing finished mat.
You can install these tiles over any flat, firm surface with minimal preparation time. There's no adhesive required, and you can choose from a wide array of colors for the ideal finished floor aesthetic that you're seeking.
TechFloor Premium Tile with Traction Top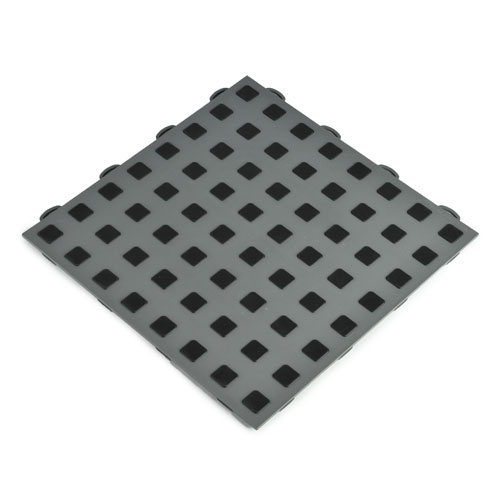 The TechFloor Premium Tile with Traction Top is a highly durable tile that's designed to withstand daily wear and tear, perfect when you spend lots of time working on your motorcycle. The traction top surface helps to keep you safe and prevent slips, even if the surface gets wet.
These raised tiles are made in the USA and feature a polypropylene base for strength and durability. They measure just ¼-inch thick, so they don't add significant height to your floor.
Thanks to the tiles' loops and tabs, installing them is easy. If your garage undergoes significant temperature changes, then you can even install expansion joints to help keep the floor from buckling and ensure a quality result.
Greatmats Ground Protection 4x8 Ft Mat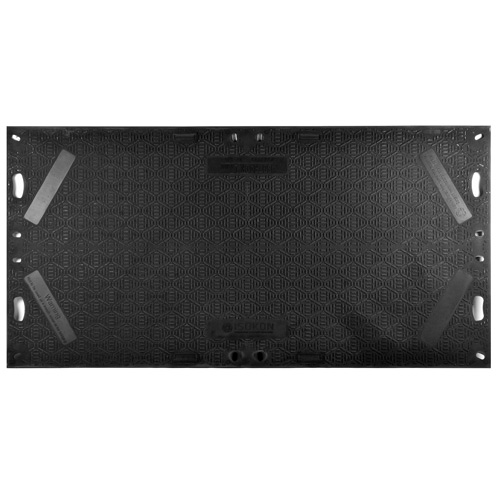 With the Greatmats Ground Protection 4x8 Ft Mat, installing your motorcycle mat couldn't be easier. This mat arrives in one single piece and features molded handles, so you can lay it down and move it around your garage as needed.
The mat is made of polyethylene that's non-absorbent and will never get waterlogged. It's reversible and features a high-traction surface to help keep you safe while you're working on your bike.
This mat also offers superior strength, and with the ability to support up to 80 tons, holding your motorcycle will be easy. The mat is just ½ inch thick, so it won't add much height to your garage floor.