How Heavy Is Rubber Sheet Flooring?
By Kyle Schurman Created: June, 2021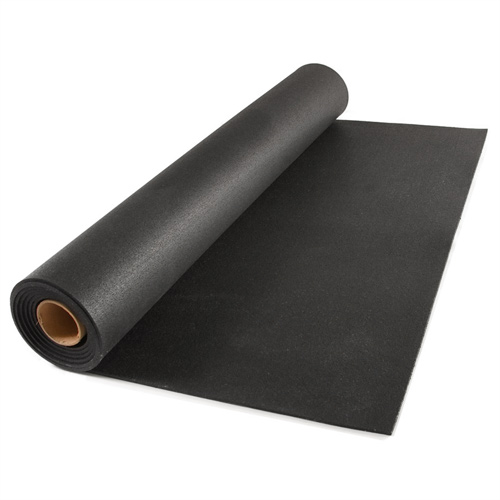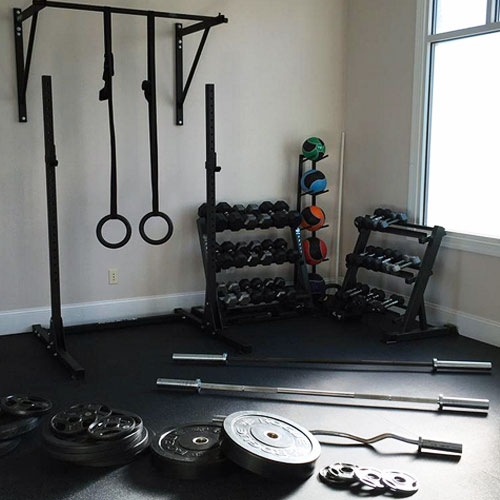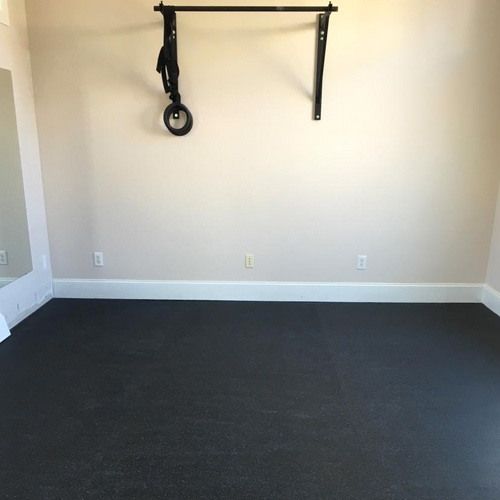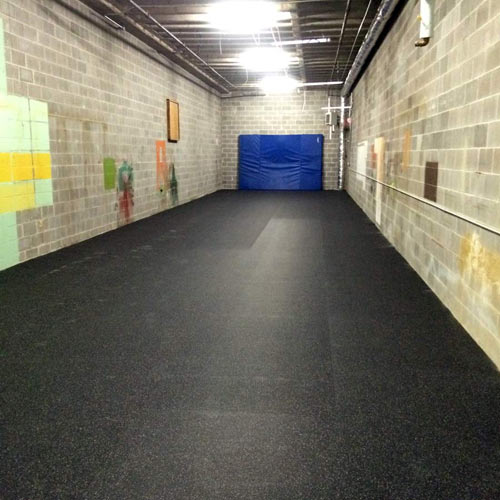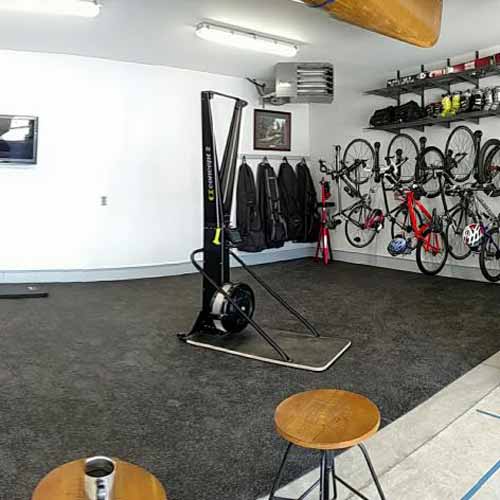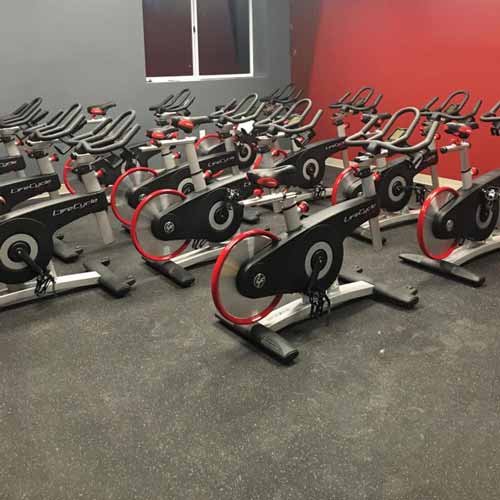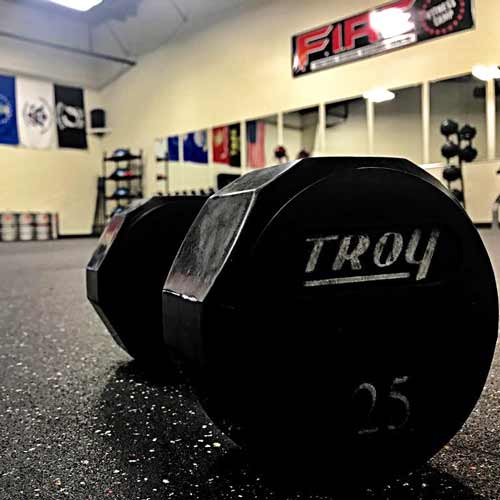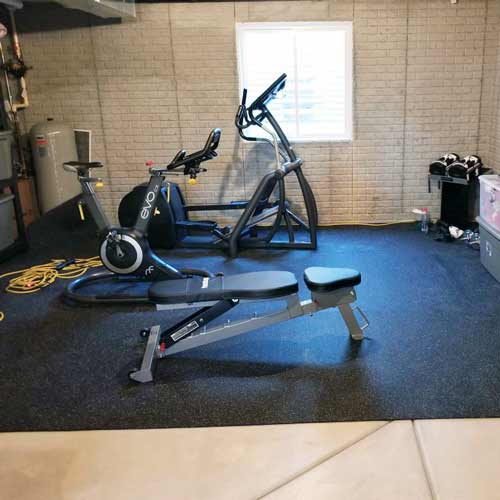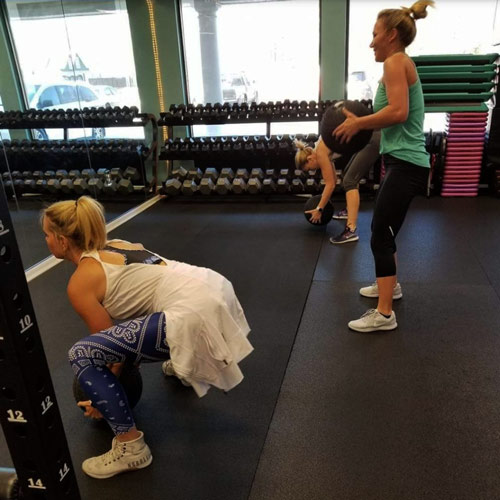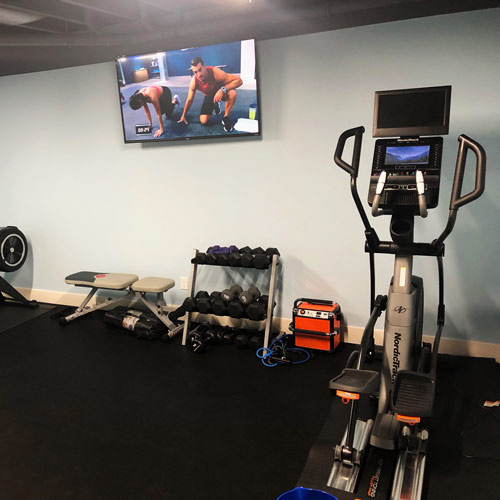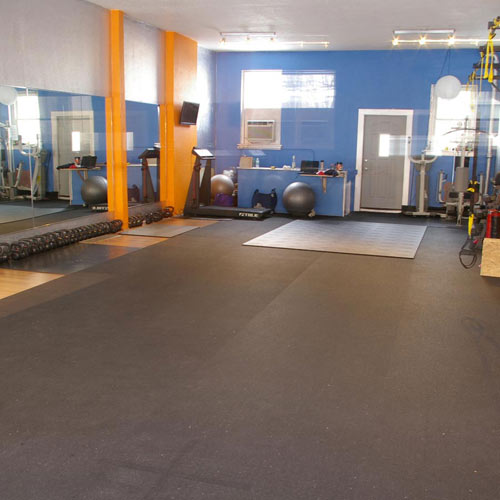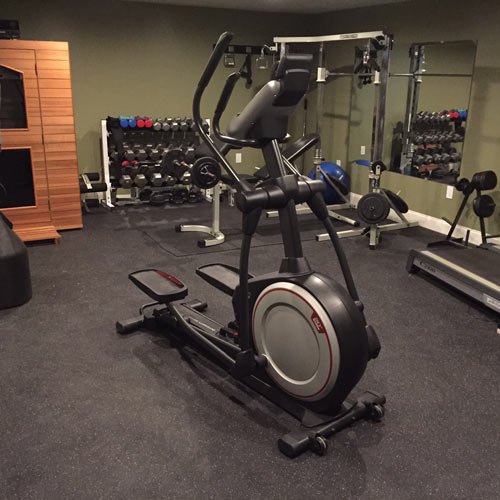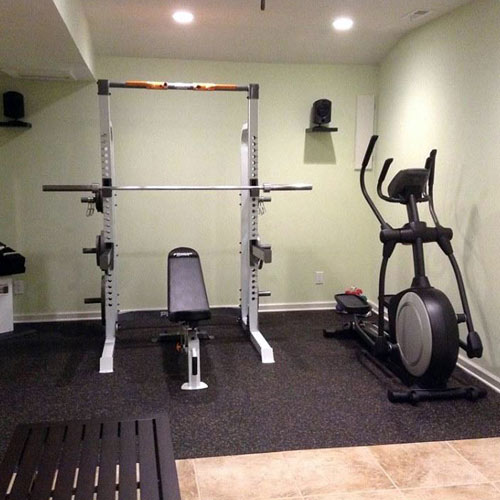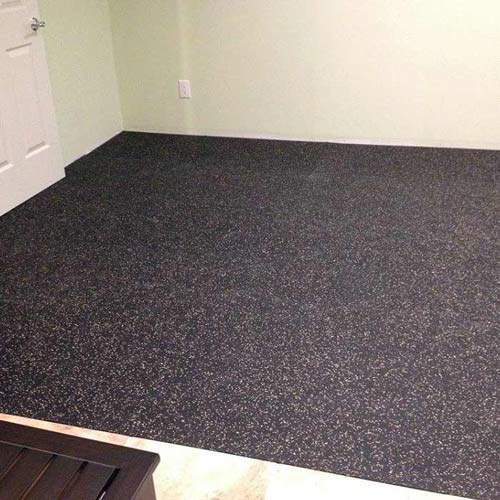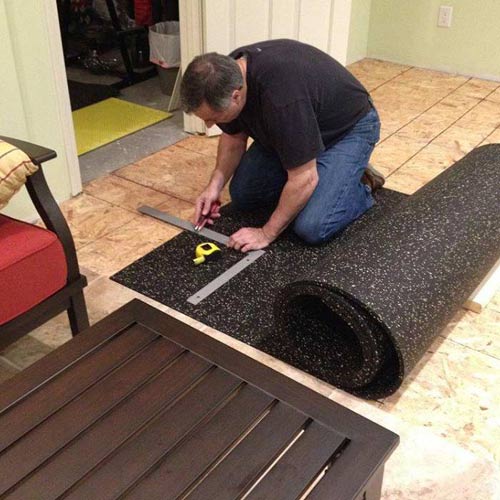 Rubber sheet flooring provides a cost effective means of covering a large area, but it does tend to have more weight than other flooring materials.
The weight of rubber sheet flooring depends in large part on the thickness of the floor. As a general rule of thumb:
Rolls of 1/4 inches in thickness tend to weigh about 0.75 to 2 pounds per square foot.

Rolls of 3/8 inches in thickness tend to weigh about 1 to 3 pounds per square foot.

Rolls of 1/2 inches in thickness tend to weigh about 2.5 to 5 pounds per square foot.
Manufacturers sometimes use a slightly different level of density from roll to roll, which accounts for the different weight ranges.
What Are the Best Reasons to Use Thicker Rubber Sheet Flooring Rolls?
Thicker rolls are better for providing a higher level of protection for the subfloor. For example, installers may use a thick rubber roll in a fitness center, underneath large exercise machines and weightlifting equipment.
Thick rubber rolls and matting also provide excellent noise reduction for a laundry room with a noisy washer and dryer set or in an arcade setting.
Industrial buildings may choose thicker rolls to protect the subfloor. Because of the weight of thicker rolls, they tend to stay in place without the need for adhesive. Just be aware that many solvents and chemicals can erode rubber flooring.
Some thick rubber mats work in commercial facilities where there are worries about dangers from electricity. Some of these mats are safe to use as conductive anti-static mats.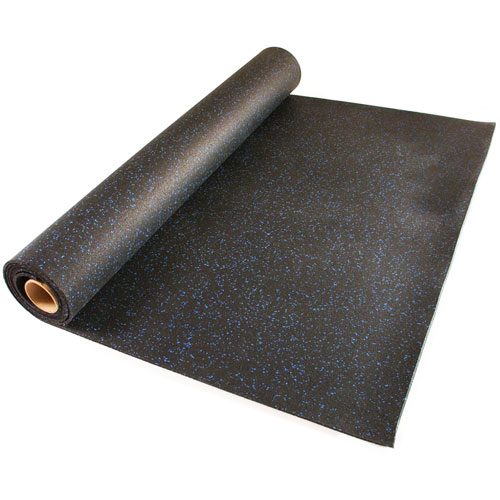 The Geneva Rubber Flooring Roll is a 1/2-inch thick roll that will provide excellent performance going over a cement floor, such as in a garage or basement. This thickness level delivers a higher level of protection and impact absorption than a thinner floor.
It has a black base color with multiple color fleck options available to yield an interesting look in the floor. It weighs 3 pounds per square foot.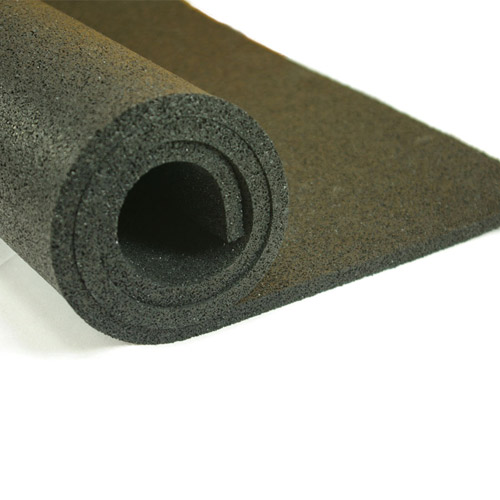 Another 1/2-inch thick rubber sheet flooring product is available in the Plyometric Rubber Roll. This is a less dense and highly cushioned athletic flooring that weighs 2.7 pounds per square foot.
Plyometric exercises involve
box jumping
, lateral jumping, and other actions that can be hard on the lower body joints, which makes cushioned flooring a must-have feature. It also provides a sure footing, ensuring athletes will not slip.
What Are Some Uses for Thinner Rubber Sheet Flooring Rolls?
Thin rubber rolls work well in areas where the installer will lay out the rubber for an event or a workout. Afterward, the installer can roll the sheet back up and place it into storage if they choose, thanks to its lightweight design.
Beyond being easier to handle because of a lower weight, thinner rolls of rubber have a lower price point than thicker rolls too.
Customers who want to buy a thin roll of rubber floor need to be certain it will fit their planned use cases, though. A thin roll will not protect the subfloor as well as a thick roll when used with free weights or in a horse stall, for example.
A thin roll works better to provide a sure footing for exercising or an anti-slip area in a bathroom or at an entryway. It will support the weight of exercise equipment or furniture but provides limited protection against intentionally or repeatedly dropped heavy items such as barbells.
When used in an area with loud sounds, thin rubber rolls do a good job of cutting down on noise. They work well in a fitness center or in a music room as well as a call center.
A final advantage of thinner rolls of rubber is that the installer can cut them to fit easier than thick rolls.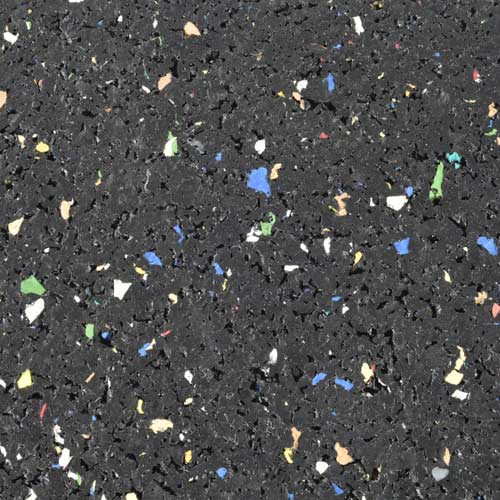 One popular thinner roll is available in the Regrind Confetti Rubber Flooring Roll, which measures 3/8 inches in thickness. It weighs about 2.1 pounds per square foot.
This roll has a confetti color design, meaning it offers flecks of a few different colors in the roll's black base color. Customer Rod of Chicago makes use of this roll of rubber for a home gym layout.
It makes use of recycled rubber content, which makes it an eco-friendly flooring. It uses scrap material left over from other rubber flooring runs, which keeps the price for the roll down and creates a denser rubber roll than first-run rolls.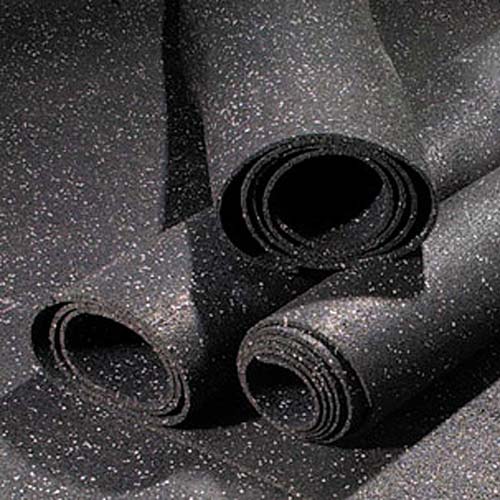 For an even thinner option, consider the Geneva Rubber Flooring Roll. It measures 8 mm in thickness (about 5/16 inches) and weighs 1.85 pounds per square foot.
This Geneva roll includes color flecks against the black base color. It looks great installed in nearly any location in the home or in a commercial building.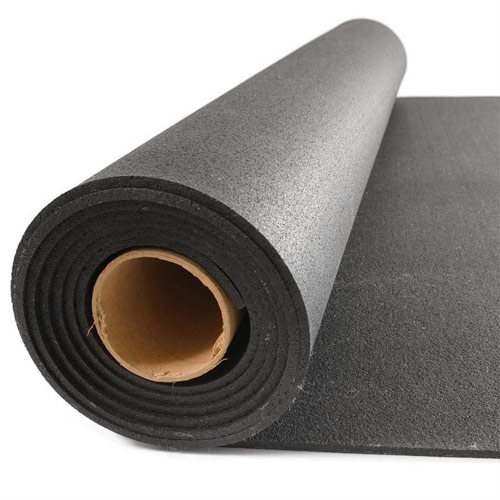 One of the thinnest options in a roll is the 1/4 inch Rubber Flooring Roll product. It has a weight of 1.23 pounds per square foot.
This is a versatile type of flooring that appears in a pre-cut 4-by-10-foot roll. The entire roll weighs 49 pounds, which simplifies the installation process in a home gym, a man cave, or a dog run.