By Lisa Hobbie Created: August, 2020 - Modified: March, 2023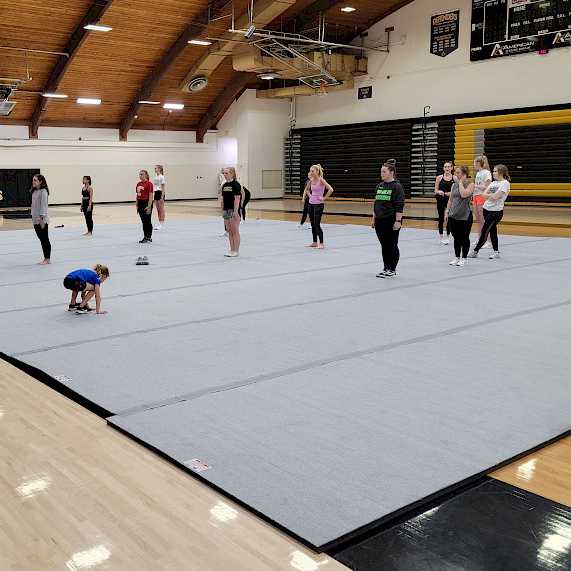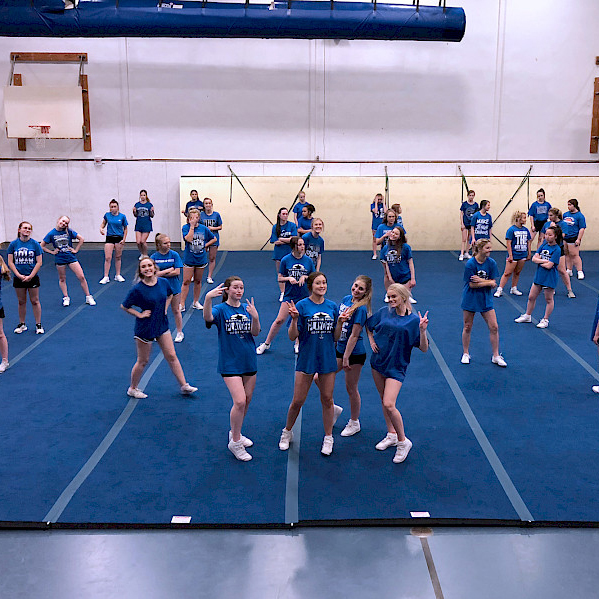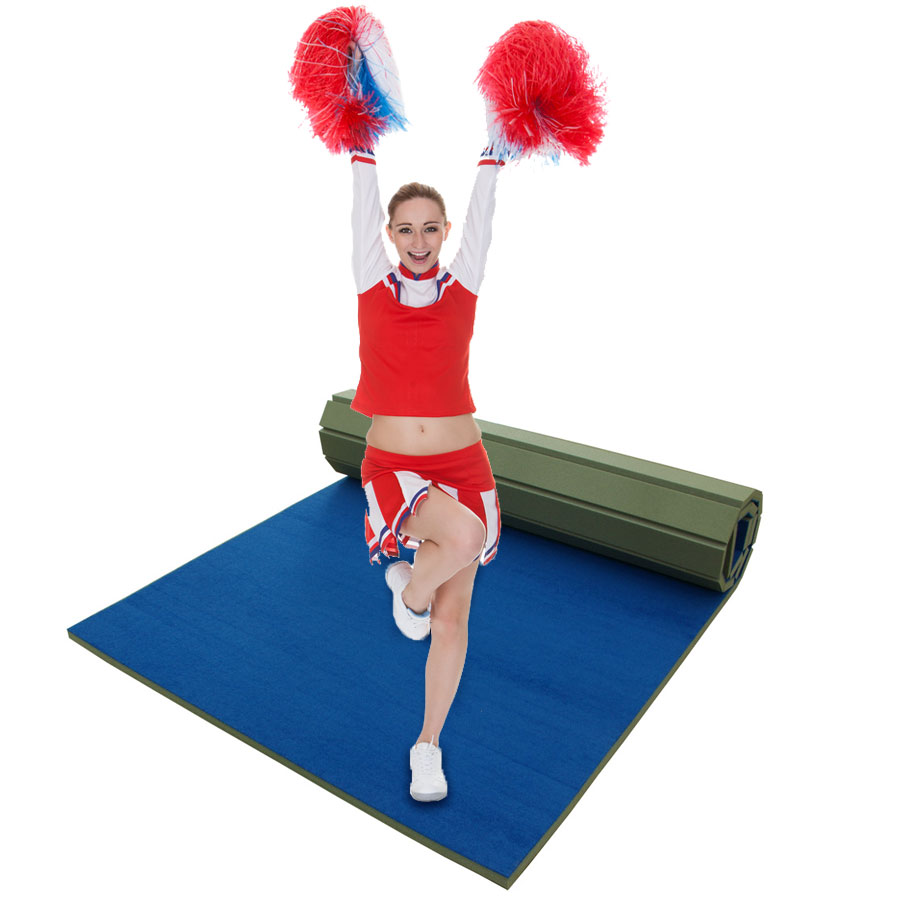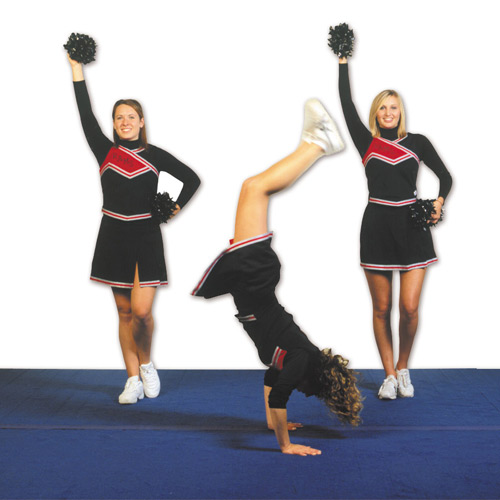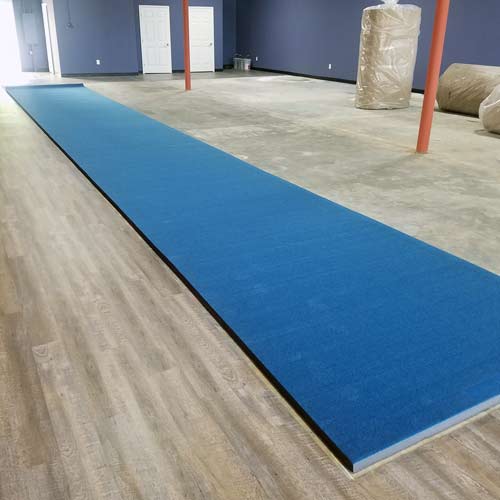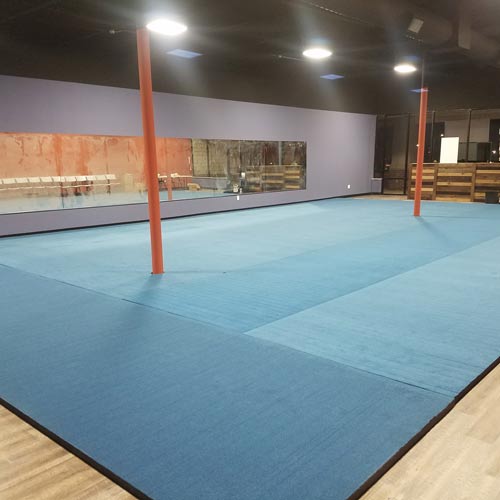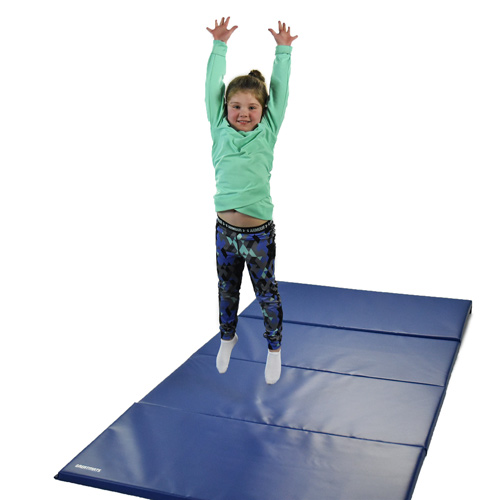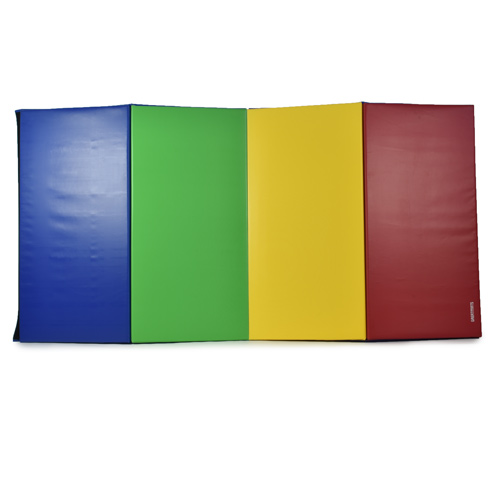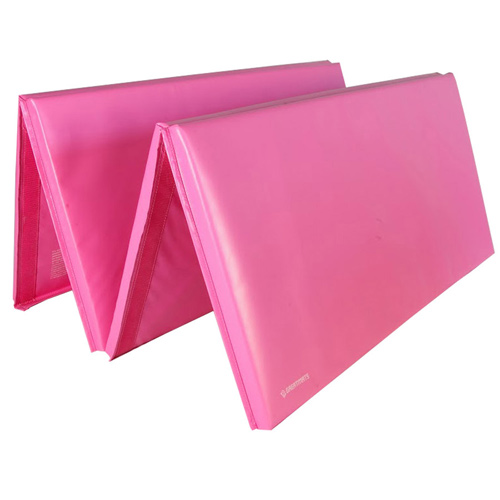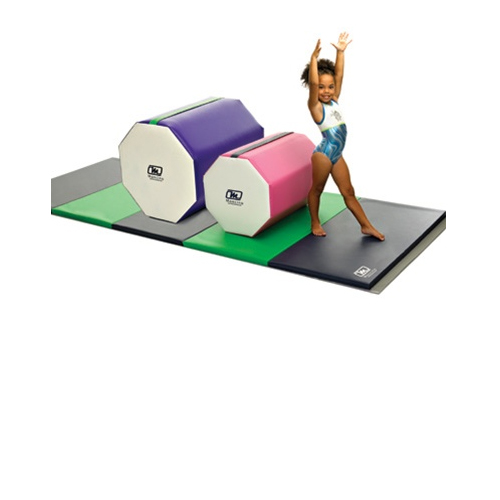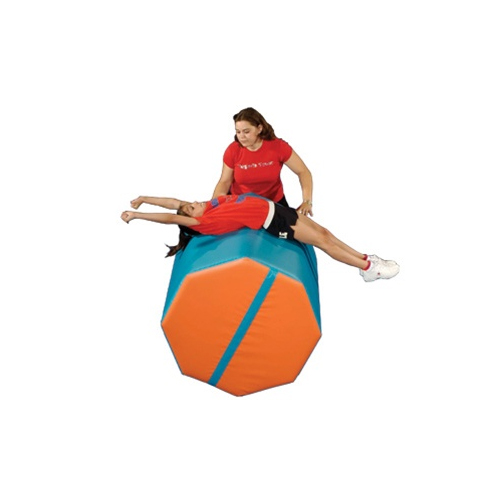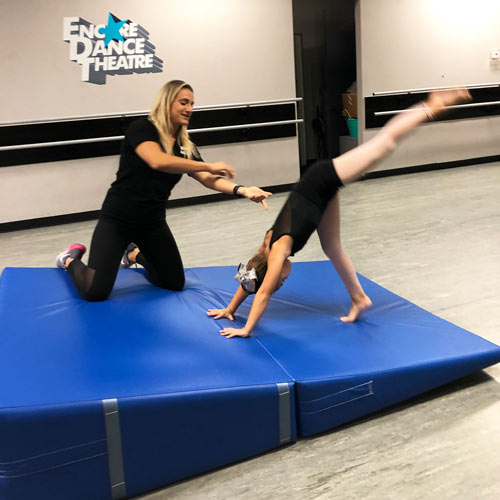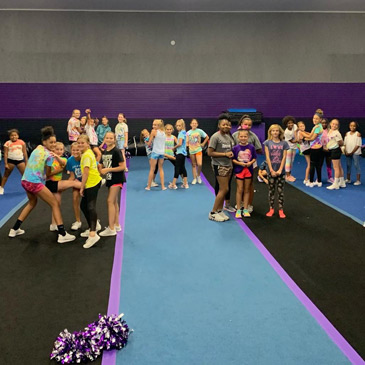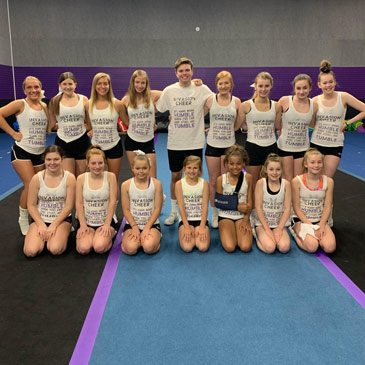 A cheer mat is likely one of the most essential aspects of any cheer program. Cheerleading mats provide protection, cushioning, anti-fatigue benefits, and a safe footing for the athletes. Cheer mat options are many, with various sizes, thicknesses, styles, and purposes.
Cheer mats are usually 6x42 feet in size. Competition cheer floors are usually created with nine 6x42 foot rolls, creating a 42x54 foot space.
The standard gymnastics competition floor size is 42x42 feet which uses seven 6x42 foot rolls.
Greatmats offers the best options available, from folding practice mats to portable competition mats. . .and many products in between. 
Large 6x42 Cheerleading Roll Mats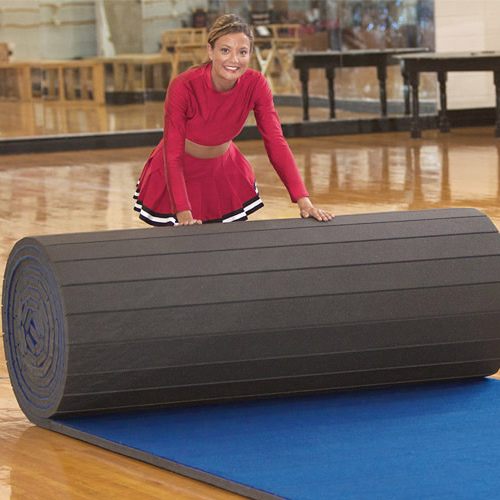 An extremely versatile cheer mat is a
6 foot wide by 42 foot long roll out mat
. This size makes it perfect for stunting. They are 1 ⅜ inches thick with a durable, needle punch carpet top. These mats are professional, all-star and school quality, and they are made in the USA. They are portable and convenient with their flexible roll up design, and they are available in several colors. They are of the highest quality and feature a blend of softness, traction, and durability. These will perform for years without looking worn or discolored. The foam used in these mats allows for constant pounding from tumbles and stunts without losing its shape or cushioning. A competition floor uses a "9-panel" system of 6x42 mats. 
8 ft Discount Gym Mats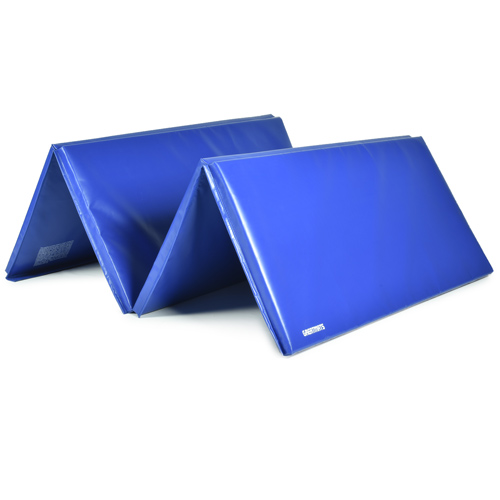 For an economical and versatile cheer mat option, this
4 foot by 8 foot folding mat
is a great product. They are 1 ⅜ inches thick and when folded, they are 4 by 2 feet for easy transportation. And weighing just 10 pounds, the panel mats are easy for one person to carry to and from a practice facility, competition studio, or cheer camp. These gym mats are made of durable 15.5-ounce vinyl with double stitched seams. They come with a 1-year manufacturer warranty, and the durable inner PE foam core gives excellent support, comfort, and shock absorption qualities to help with stunts. Finally, these mats are not vulnerable to mold, mildew, or rot.
4 x 10 ft Folding Gym Mats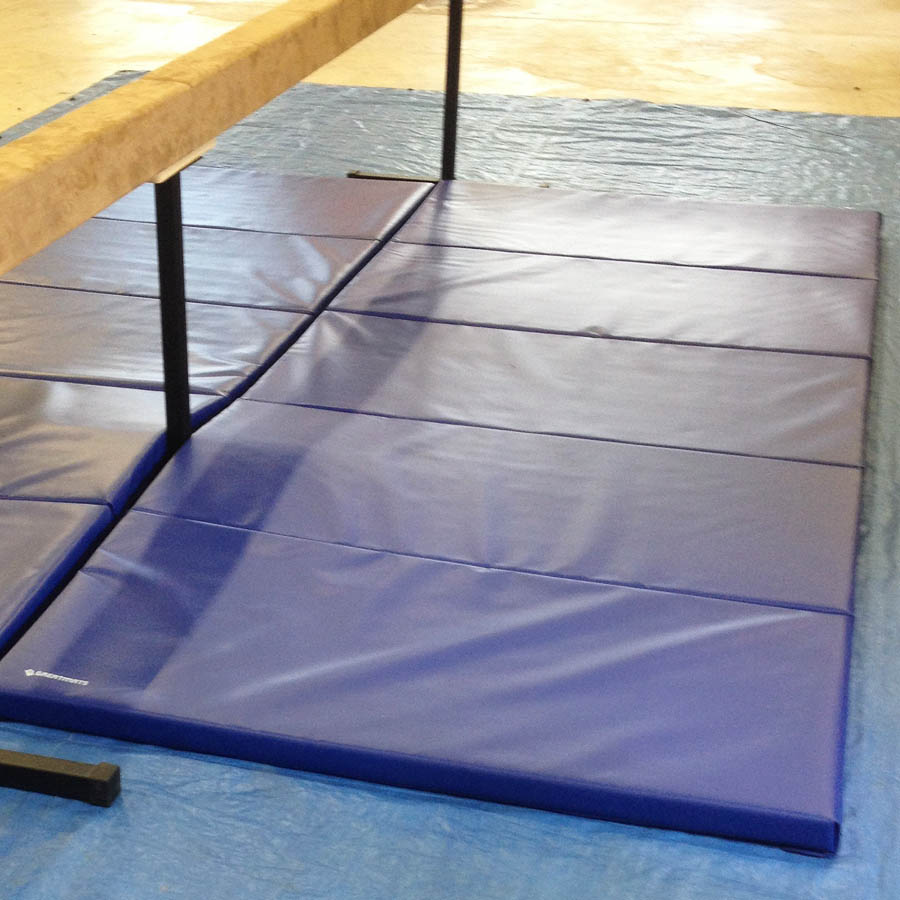 Another popular
folding cheerleading practice mat
is the 4x10 foot mat. These are also super affordable, versatile, and durable. Their portability is one of their best features, and their double stitched seams and durable 18 oz. vinyl covers make them ideal. When unfolded, they provide 2 inches of maximum impact absorption and 40 square feet of coverage. The mats utilize a PE foam core, are lead free, and have hook and loop connectors on all 4 sides. This portable cheer mat is available in black or blue and has a 1 year limited warranty. 
5 x 10 ft Home Cheer Mat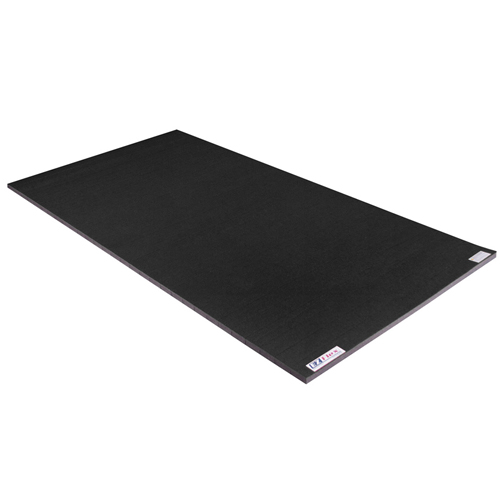 A good
home cheer mat is this 5 x 10 high performance mat
. It is lightweight and portable and the ideal size for traveling or practicing at home. It is another roll up mat option with a durable, needle punch carpet top. It can be joined with other mats or used alone, and at 1 ⅜ inches thick, it provides a level of comfort comparable to the professional mats when athletes are tumbling across the floor. 
24 x 48 x 15 inch Incline Wedge Mat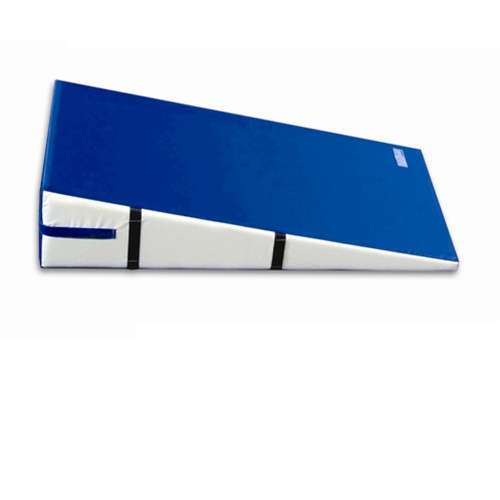 A great mat used to learn and master specific skills is a
wedge mat
, which has an incline that athletes  learn walkovers and other stunts before performing them on a standard, solid floor surface. 
These mats are super durable and made using the highest quality materials. They are available in either folding or non-folding options and a variety of different colors. Sometimes also referred to as cheese mats, these are available in a number of sizes, ranging from - 24 x 48 inches and 14 inches high to 72 x 144 inches and 22 inches high. 
Octagon Mats - Various Sizes
Finally, a versatile mat that can be used for working on specific stunts and skills involving rolls, leaps, and handsprings is an
octagon mat
. Because of the mat's octagon shape, this mat also works well for supporting torso bending exercises. Greatmats offers numerous sizes of these octagon mats, from 15 inches in length by 24 inches wide all the way up to 40 inches in length by 40 inches wide. They come in a variety of custom color combinations, too. 
Greatmats for your Cheer Mat Needs
Greatmats offers such a huge selection of cheerleading mat varieties that are easy to lay into place without the use of tape or adhesive. They are designed for professional, home, high school, and/or university practice and competition floors, and they are made in the USA in a variety of sizes. There are a number of other options other than those highlighted, with mats to serve any purpose large or small. Whether looking for a folding or lay flat mat, octagon mat, wedge mat, or crash mat, Greatmats has all of the industry's best options. Simply reach out to a friendly and knowledgeable customer service agent who will explain the different sizes and options and help you determine the perfect mat for your space.