Horse Stall Mats Kit 3/4 Inch x 10x12 Ft.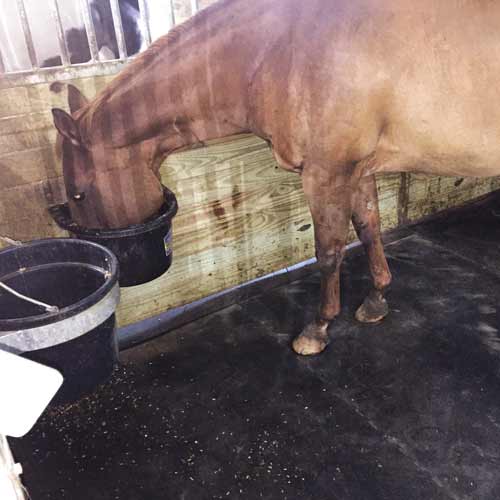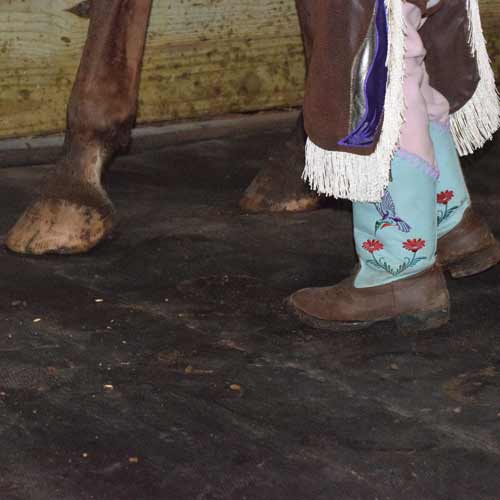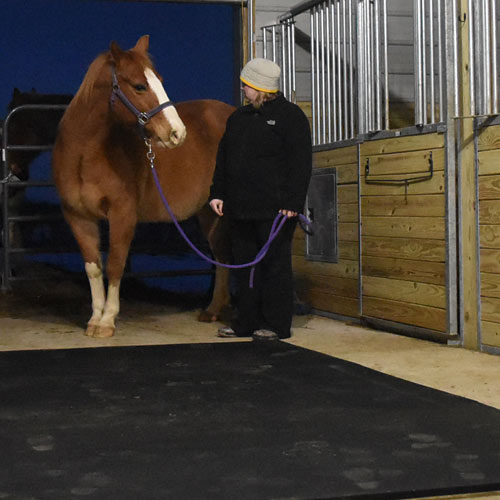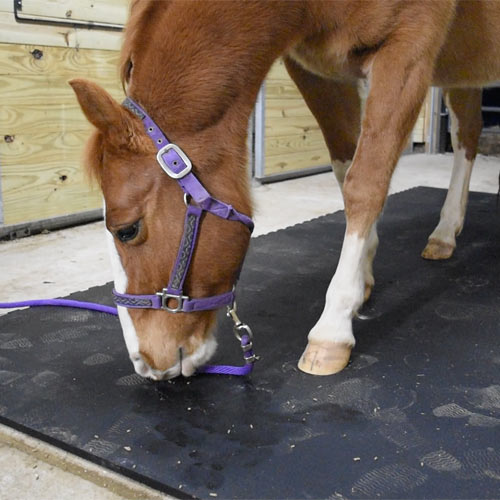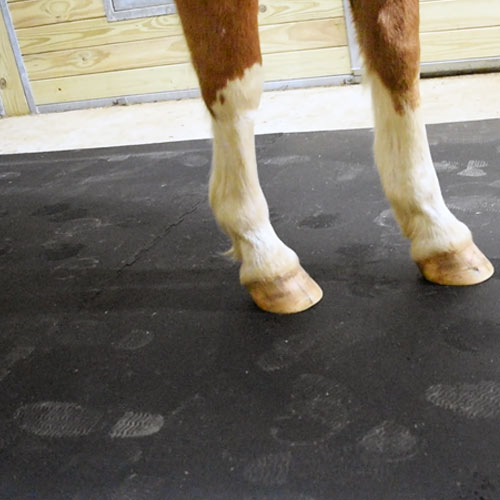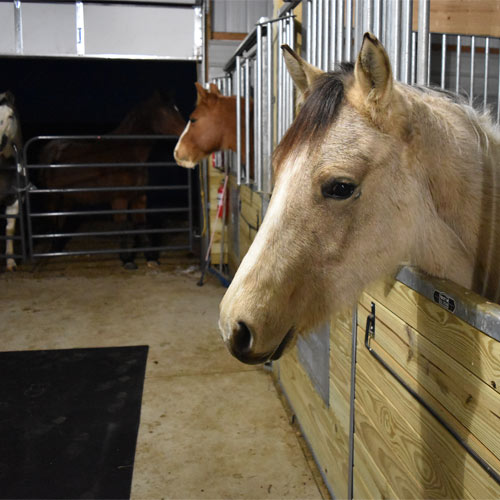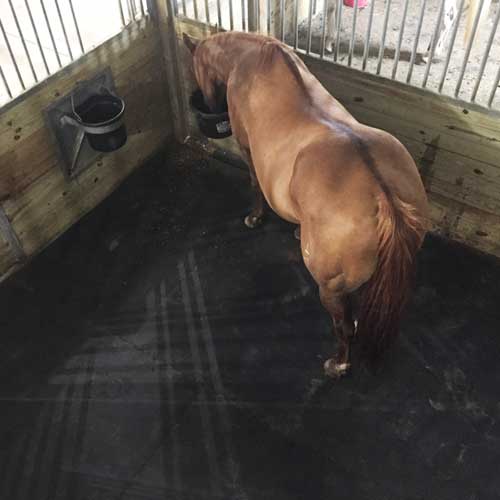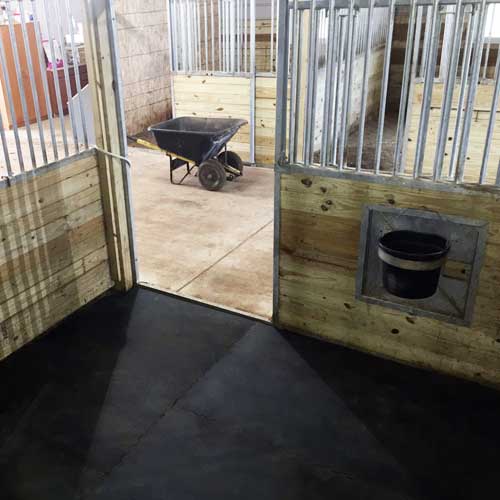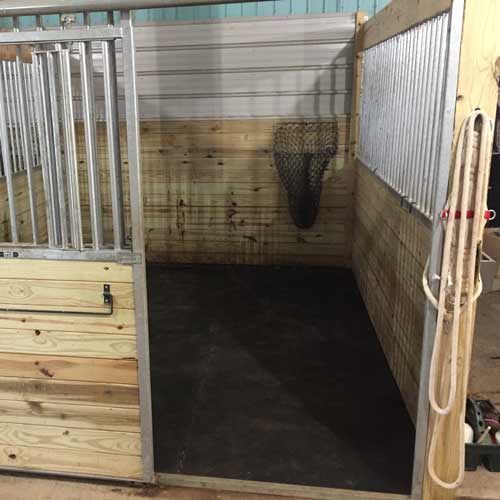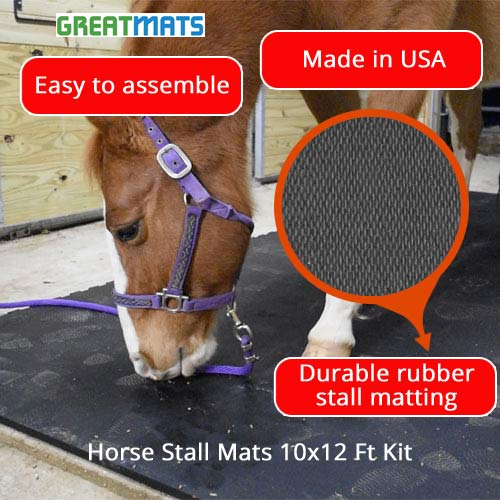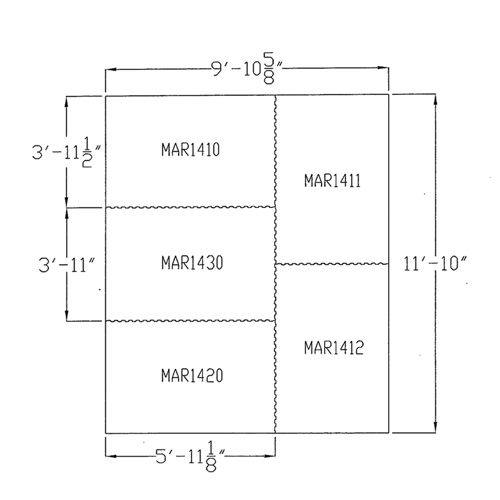 Interlocking tiles makes for easy cleaning
Easy to assemble, Pre cut component pieces
Interlock the tiles together and use
$385.20
/kit
(You Save 20%)
(16 Reviews )
Ships Out: Estimate 4-6 Weeks
VIDEOS
Majestic Hills Ranch Horse Boarding Stall Mats Profile Video
Equine Therapy Horse Stall Mats Video
How to Cut Horse Stall Mats Video
Interlocking Stall Mats Video
TOP FEATURES
Interlocking tiles makes for easy cleaning
Easy to assemble, Pre cut component pieces
Interlock the tiles together and use
Install on compacted crushed stone or similar
Durable rubber stall matting
3/4 inch thickness heavy duty for horses
Custom sizes available
Made in USA
Use Types
Horse Stall Mats, Horse Barn Mats, Horse Barn Aisle ways, Stall Mats Interior
Horse Stall Mats Kit 3/4 Inch x 10x12 Ft.
Horse Stall Mats Kit 3/4 Inch x 10x12 Ft.. This horse stall mat kit is 10x12 ft in size and has been rated one of the best quality stall mats on the market by a nationally-recognized horse magazine. This horse stall mat is made from durable 4x6 ft x 3/4 inch thick rubber mats that are water jet cut into interlocking stall mats that make up the components for this kit.
Interlocking Rubber Horse Stall Mats

The water jet cut interlocking design of the stall mats provides the tightest fitting rubber horse mats possible. The mats are made in the USA and feature a non slip diamond top surface pattern designed for durability and a long wear life. These stall mats feature a flat bottom surface which increases cleanliness in the stall. One large benefit of interlocking tiles within a horse stall is that the interlocking tile flooring is much easier to clean than non interlocking mats.

These stall mats are designed to provide maximum quality and longevity and require no adhesive for installation, simply lay the horse stall mats down on any hard flat and level surface and interlock the mats together for a perfect fit. For ease of installation, be sure to keep and use the instructional diagram as each mat is intended for a specific placement within the kit and does not share identical interlocks with other similar mats within the kit. It may be helpful to layout the mat kit in advance of moving the mats into the stall to determine proper interlock alignment and kit orientation.

The stall mats are made from 100% recycled rubber content and feature a 12 year limited warranty.

Use this stall mat product for horse stalls, aisle ways, trailer floors and grooming areas. Horse Stall Mats 10x12 ft Kit. Kits are offered in an assortment of other sizes up to 16x20 ft. Custom sizes are also available.

These 3/4 inch thick tiles have a thickness tolerance of +/- .045 inch.

Optional shims are available.

After interlock, the assembled dimensions of the Horse Stall Mats 10x12 Ft Kit is 9 Ft 10-5/8 Inches x 11 Ft 10 Inches.
Maintenance
Hose off to keep clean. Use neutral Ph cleanser.
Shipping
Ships via freight delivery on pallets.
This Product Ships Freight Only.
Please review our shipping disclaimer.
ANSWERS
Product Questions:
Q: i need a floor for an outdoor kennel, approx. 10' x 12'. looking at your 3/4'' kit. i don't want the dog's feet to get hot. i would be ok gluing a thin top layer of lighter color to this mat, as long as it is also water-repellent (not absorbent) and UV resistant. unfortunately, the only ''colors'' you seem to have are still mostly black. What do you recommend? thanks?
A: Great question, perhaps our Staylock perforated tiles would be good also. Colored rubber is very expensive. UV stable rubber is in 2x2 ft patio tile types.
Q: Do you offer 10x15 or 10x30 stall mats? We have two 10x15 stalls. Price?
A: We do offer custom kits. Please contact us for a quote.
Q: How much does each section weigh
A: Each mat within the kit weighs about 105 pounds.
Q: Can you purchase a stall mat kit in the size of 12 x 12? Thanks, Deb
A: Yes, we do offer a 12x12 kit. Please see the following: https://www.greatmats.com/horse-stall-mats/stall-mats-12x12-kit.php
Q: My stall is 12x12, do you have this package size. Also, I'm located is Oswego, IL. Do you have a distributor near me? I would rather pick up and not pay high shipping cost.
A: We do offer a 12x12 stall mat kit. Please reach out to us at 877-822-6622 for more details.
Q: Is shipping included with the advertised price?
A: No, the product price does not include the freight shipping charges.