Best Gym Flooring Material Types and Options
By Kim Butler Created: July, 2017 - Modified: March, 2023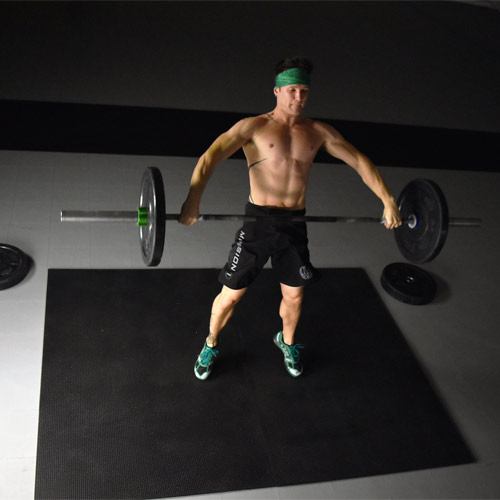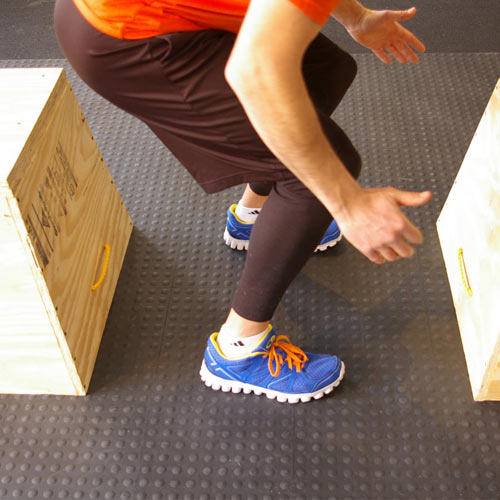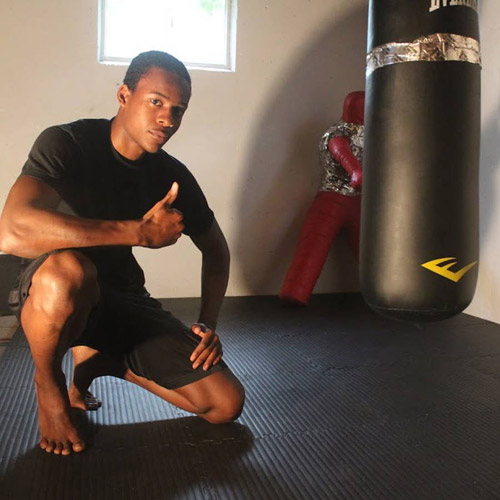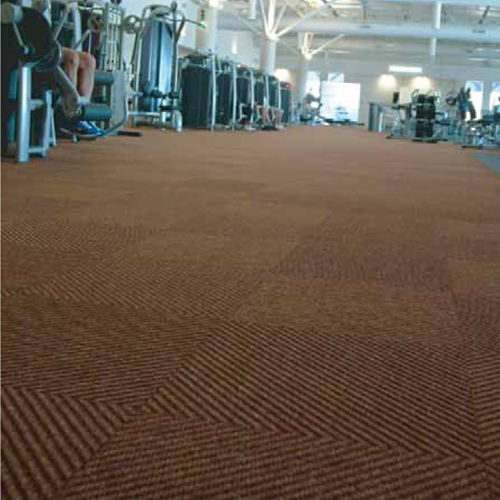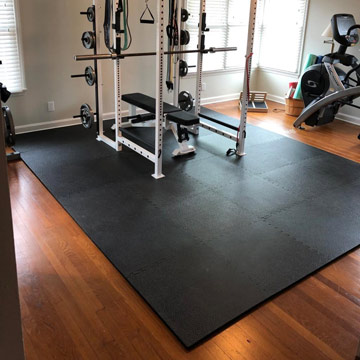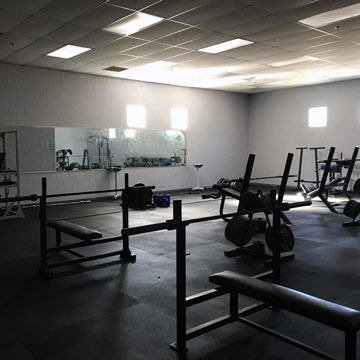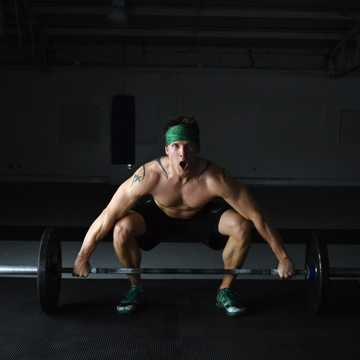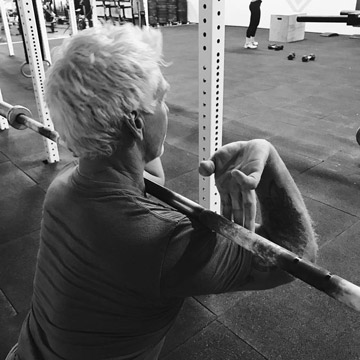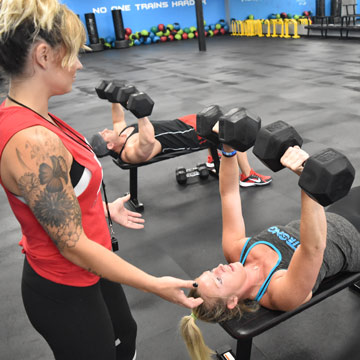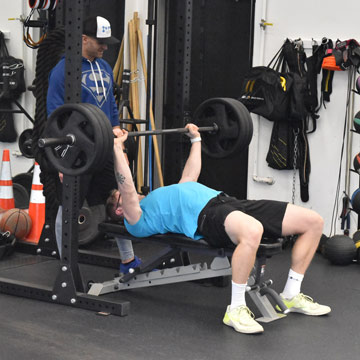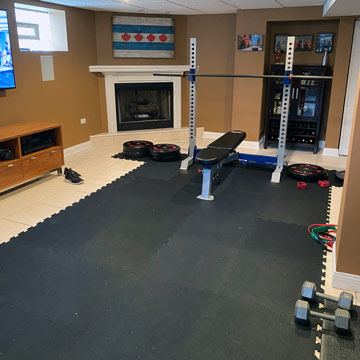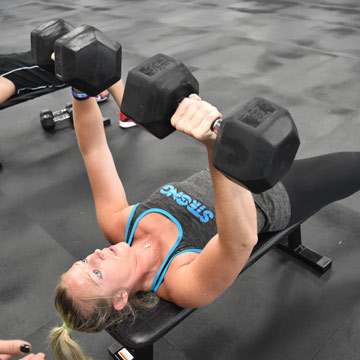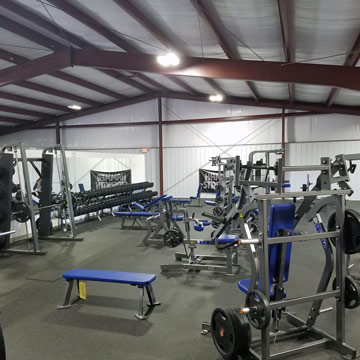 So you want to take your fitness quest to the next level and outfit your own home gym? Having a dedicated space for weightlifting, High Intensity Interval Training (HIIT), P90X or Yoga can help you stick to your fitness goals and make your workouts more convenient.
Whether you are starting with new construction, repurposing an existing space, or renovating an area in your basement, it is best to start from the ground up by making sure you select the best
gym flooring material
for your needs. Existing home flooring is rarely appropriate. Wood, carpet, vinyl and laminate can splinter, shred, dent, and may be slippery. Suitable flooring for home gyms includes interlocking foam and rubber floor tiles and mats, rolled rubber, plyometric rubber, plastic tiles and carpet tiles.
Start your planning by asking yourself a few questions:
What kind of fitness equipment will you be putting on the floor?
Will you be moving equipment around? Treadmills and elliptical machines can weigh several hundred pounds.
What kind of exercise will you be doing?
Yoga... Zumba... Weightlifting? Dumb bells or deadlifts? Will you be dropping weights?
Do you need something portable? Are you a renter or planning to move, or is this a dedicated exercise space for the long term?
Assess your Location
Is it wet or dry?
What is the existing floor - carpet, wood, concrete, or something else?
Rubber Gym Flooring Material for Weightlifting and Exercise Machines
If you are primarily interested in weightlifting or exercise machines, rubber is one of the most popular options. Unlike most foam, rubber is tough enough to protect the floor underneath from heavy equipment like treadmills and weight racks, and from dropping weights.
Rubber gym flooring material won't be compressed by heavy equipment, or damaged by moving equipment. It is relatively affordable, very durable, and pretty easy to install.
The challenge with rubber floor installation is the weight. Tiles are lighter weight, but rolled rubber results in fewer seams. Because rubber is heavy, it tends to stay in place, so adhesive is generally unnecessary except for maybe some double sided carpet tape around the the perimeter of your space. Another benefit is that rubber will deaden sound, whether from a noisy elliptical machine or dropping weights. Rubber is also easy to keep clean, with regular vacuuming and a damp mop. With proper care, rubber will perform effectively for decades.
One example of rubber tiles is the American-made
interlocking rubber tile
.
The 2x2 foot tiles are popular for home gyms and easy for homeowners to install. These tiles are available in several thicknesses, with 3/8-inch being the most popular choice for home gyms. Tiles are made and shipped from Wisconsin. Geneva tiles are made from a combination of recycled scrap rubber and virgin rubber gym flooring material, keeping millions of pounds of tires out of landfills, and qualify for Leadership in Energy and Environmental Design (LEED) points in five different categories. These tiles have low odor and carry a 5 year manufacturer's warranty
For even lower cost, go with a
rolled rubber floor
. Rolls come primarily in 4 foot widths, with lengths from 10 to 25 feet, and up to 200 feet. Again, the 8 mm thickness is available, along with 1/4-, 3/8-, and 1/2-inch thicknesses. Using rolled rubber will result in fewer seams, giving your space a custom look, and can be laid over concrete, ceramic tile, or any smooth, hard surface.
A popular type of gym flooring amongst body builders and power lifters is
horse stall mats
. They are designed to protect the joints of horse weighing a thousand pounds or more, so what are a few dropped weights?
On the plus side, these are affordable, and readily available locally, which eliminates shipping costs. Since rubber is heavy, shipping can add a substantial cost to what is otherwise an affordable gym flooring material.
On the down side though, horse stall mats are designed for horses. Horses who aren't too particular about odor. Stall mats can have a strong odor, somewhat akin to rotten eggs or asphalt. Some people have success with washing the mats, or airing them out in sunny locations, but there is no sure fire way to make the odor go away.
Stall mats are also heavy (commonly around 100 pounds each) and can be cumbersome to move, especially down narrow basement stairways.
Stall mats can also vary widely in thickness. It can be hard to find two mats that are exactly the same, even after digging through a whole stack of mats at the farm supply store. The uneven appearance of seams can be unattractive. Thinner mats may not protect the floor or your weights completely from drops during olympic lifts, so many powerlifters and bodybuilders also use plywood underlayments in addition to stall mats.
While rubber is durable, it doesn't add much cushion for aerobic activities like zumba, cardio activities, tumbling, grappling or floor exercises. The one exception is plyometric rolled rubber which can be a good, affordable option, offering enough cushion for a safe cardio workout, whether it is HIIT, P90X, Tae Bo or ''Sweatin' to the Oldies.''
This highly shock absorbent gym flooring material is available in 4 foot wide rolls starting at lengths of 25 feet. 3/8 inch, 1/2-inch, and 8 mm are standard thicknesses. While less dense than standard rubber, plyometric rubber still comes with a 5 year guarantee.
Foam Gym Flooring Material for Home and Cardio Gyms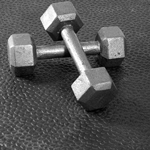 EVA Foam is an affordable option for cardio workouts. Foam is not a good choice for serious weight lifting as it will dent, may not decompress, and may cause weights to bounce back, which could be dangerous. However, foam won't break the budget for a simple home gym with a few machines, light weights, where you want to do cardio activity or yoga.
Less expensive than rubber, it is also less durable and won't withstand dropped weights or heavy exercise equipment. Since it weighs less, however, it is also a cheaper gym flooring material to ship, easier to install, and is durable enough for many home applications.
Foam mats are readily available at big box retailers, mainly in black or mixed packs of bright primary colors. But for thicker, more durable mats in a wider range of single colors, check the big box stores websites or a specialty flooring company like Greatmats.
Foam gym flooring material is available in different hardnesses. What's available at your local retailer will probably be soft - a standard hardness best for multi use areas. High hardness foam tiles are better for karate and aerobic activities, specifically standing and kicking drills. There are softer martial arts mats for home Mixed Martial Arts (MMA), judo and grappling with a durable tatami no-burn surface that provides grip for groundwork with enough cushion for takedowns and throws.
Foam types of gym flooring can be used with specialized treadmill mats to protect the foam.
Plastic Gym Flooring Material for Basements and Carpeted Areas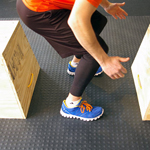 Another option is plastic flooring material, which can protect flooring and offer cushioning at the same time. Unlike foam or rubber, some plastic tiles can be used on top of existing carpeting without the risk of the tiles separating or sinking into the carpet pile at the seams.
StayLock Bump Top tiles are an example of plastic gym flooring material that is durable like rubber, with the cushion of foam. These tiles are made from soft PVC and are flexible and pliable, yet non-absorbent. The underside of each tile has little feet that elevate the tile above the floor surface, providing cushion but also airflow beneath the tile, an important feature if you are using them in a damp basement area.
For intense aerobic workouts like P90X, Crossfit and Hip Hop Dance, soft PVC gym floor tiles can provide superior cushioning and durability. They are tough enough for light and medium weight lifting and are easy to clean and disinfect.
Carpet Gym Flooring Material for multi-purpose areas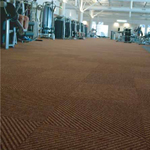 Carpet tiles can be a good compromise in a multi use room. They offer the cushion and warmth of carpeting with the convenience of modular types of gym flooring. The surface of gym carpet tiles is more durable than residential carpeting, and damaged tiles can be replaced. Some carpet tiles, however, can be ruined in basement floods, take on odors, or become unsanitary due to absorption of sweat and other bodily fluids.
There are a lot of gym floor materials on the market. Take some time to think about how you will train. Find a reputable retailer, and ask questions. Do your own research; read product reviews; and make sure you order some free samples to get an actual feel for a product.
Once you choose and install your floor, then the real work begins!