Car Show Display Flooring - Options and Ideas
By Paige Cerulli Created: April, 2018 - Modified: April, 2023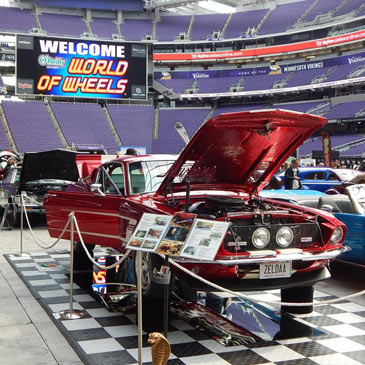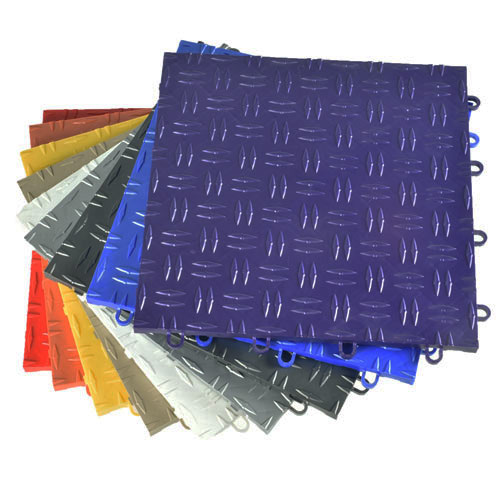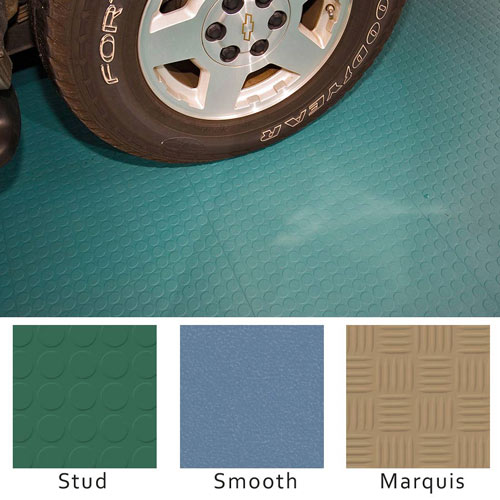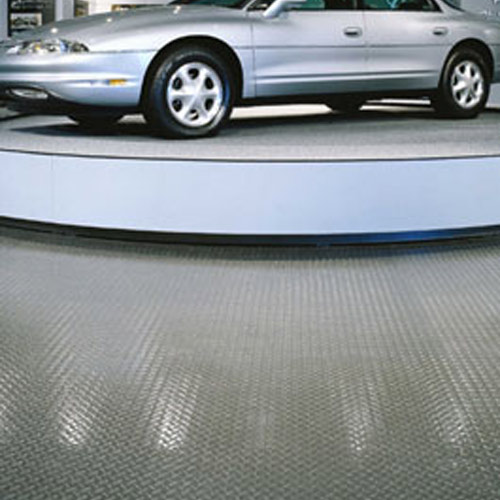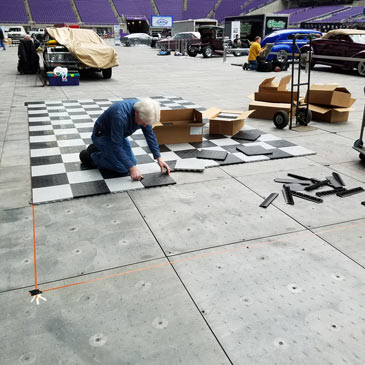 Choosing your auto show flooring is a decision that requires just as much care and thought that goes into preparing your cars for the show. A great flooring will draw attention to your car, complement your car's colors, and create an atmosphere that draws people in.
But how do you choose the perfect car display flooring? We've outlined some considerations to think about.
Considerations When Buying Car Display Flooring
How do you tell what flooring is the best for car shows? You'll want a flooring product that offers the following features:
Aesthetic Offerings
Your custom car show flooring needs to be unique, eye-catching, and made up of colors that beautifully complement your car. Chances are you already have an idea of what you want your flooring to look like.
At Greatmats, we offer many different products that come in a large variety of color options. Because some of these products are tiles, you can create eye-catching patterns that enhance your floor, making for an impressive appearance.
Give some thought to the colors that you want in a floor, and just what you want the finished product to look like.
Installation Methods
You'll find that auto show flooring is available in a few different designs - tiles and flooring rolls being the most common. Each option offers different benefits when it comes to installation.
- Tiles generally interlock together, and most of the time you don't need any adhesive. You usually won't need any professional installation either, and can dry lay the tiles on most flat, hard surfaces. One of the major benefits of these tiles is that they can often times be disconnected and removed, so the entire floor is portable. Should you want to leave the tiles in place longterm, many are designed to handle that type of use as well.
- Flooring rolls can be installed temporarily with tape, and they're also suitable for long-term installations when paired with adhesive. Because the rolls are large, you'll generally need multiple people to help with the installation. Many of our flooring roll products are intended for showroom floors where they won't be removed and transported on a regular basis.
Think about the installation method that would be best for your needs. Do you anticipate needing to remove and transport the flooring regularly, or are you looking for something to be left in place long-term? If you're traveling to car shows, then choose a floor that can be quickly installed with minimal hassle. This will save you on setup time, and it's an investment that you'll appreciate on busy car show days.
Maintenance
Your car should be the center of your attention, and you don't want to spend any more time maintaining your car show flooring than you have to. Look for products that are low-maintenance and that can be swept down, hosed off, or mopped after a show. You'll want to avoid products that need to be refinished, polished, or that require any other intensive treatments.
Durability
Durability is obviously important in custom car show flooring. After all, the flooring will see heavy traffic - both in terms of vehicles and foot traffic - and it needs to be able to withstand significant weight and wear.
But remember that the flooring's durability won't just affect how long it can last - it will also reflect on the flooring's appearance. Flooring designed to conceal scuffs, or that is equipped with a durable wear layer, will look new for a longer period of time than flooring that doesn't have these features.
There are other factors, like cost, that will factor into deciding which auto show mats are right for you. We've included some of our most popular auto display floor tiles and products below.
Garage Floor Tiles Diamond
Combining portability with a durable tile, our Garage Floor Tiles are a great car display flooring option. These auto display floor tiles are affordable, highly durable and can withstand a 10,000-pound load. They snap together for a quick and easy installation, and are one of the easiest flooring systems to disassemble and re-assembled as needed. They're lightweight and conveniently sized for easy transportation. Border and corner ramped edging is even available to create a finished island installation.
Choose from 8 striking colors and 2 surface patterns (
diamond
and
flat top
) to get the exact look that you desire. Consider alternating tile colors to create a beautiful pattern that displays your car in style.
Greatmats even offers
snap together carpet topped tiles
that will interlock uniformly with the Garage Floor Tiles to create a seamless walk way around your show floor. Keep in mind the carpet tiles are not designed for automotive use, however, so if you choose to use this option, you'll want to wait to install the carpet tiles after you've parked your car on your garage tiles.
Tuff Seal Floor Tiles
If you want a wide selection of colors to choose from, then consider our
Tuff Seal Floor Tiles
. These tiles are available in 15 beautiful colors, as well as in Stud, Smooth or Marquis surface textures. Both stain and chemical resistant, these tiles are built to last. They even offer anti-fatigue properties, making your show flooring more comfortable.
These portable car show mats are designed to be easy and fast to install, saving you valuable time in your car show prep. A hidden interlock design holds the tiles together tightly, creating a unified surface that won't separate. There's no adhesive required, and you can repeatedly remove and then reinstall the tiles.
LonPlate Commercial Vinyl Roll
The
LonPlate Commercial Vinyl Roll
is a commercial grade vinyl flooring that offers an eye-catching and striking steel plating. This tough vinyl is skid resistant, and the steel plate embossing helps to camouflage both scuffing and wear, so your auto show flooring continues to look great, even with significant use. This sophisticated flooring is also microbial resistant, and is ideal for heavy-duty applications. Please note that this flooring is suitable for permanent installations only, as it requires a glue down installation and seam sealing by a professional.
Planning Your Custom Car Show Flooring
The secret to a great display? It's carefully planning out your car display flooring. Not only do you want flooring that can stand alone and accommodate spaces of different sizes and dimensions, but you'll also want a floor that complements your car in terms of color and style.
Individual tiles are often the best solution if you're traveling to different shows, because they're easy to transport and install, and you can change the dimensions of the floor simply by adding or removing tiles. They also give you the most versatility in terms of how you design the colors of your floor. Here are a few ideas to get you started.
Solid Color:
Solid color floors are simple to create. There's little planning involved; just pick a color that complements your car and get started.
Checkerboard Pattern:
Want something that stands out a little more? Buy your tiles in two different colors and create a checkerboard pattern. This is a highly popular option for car shows, since it's a little flashier than a single-colored floor, yet doesn't detract from your car.
Borders:
If you buy tiles in two different colors, you can create a solid colored floor in the center, and can add a contrasting colored border of tiles to the edges. This can be helpful since it draws attention to the edges of raised tiles, which can help to keep people from tripping. Done well, this design can nicely frame your car. You'll also want to invest in ramped edges, if available, to make a smoother, safer transition onto and off of your flooring.
With careful planning, you can create car display flooring that shows your vehicle off in the best light possible.