What Kind Of Flooring Can You Put Over Carpet?
By Lisa Hobbie Created: February, 2021 - Modified: July, 2023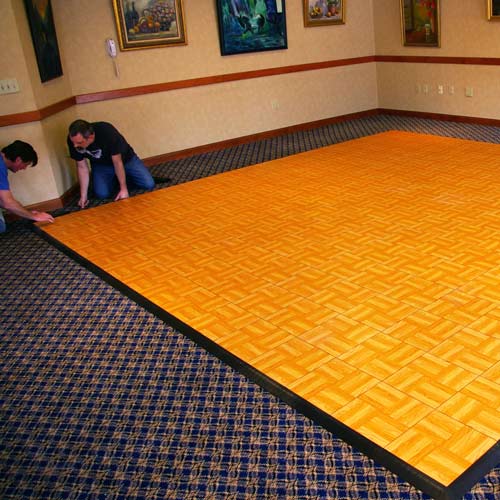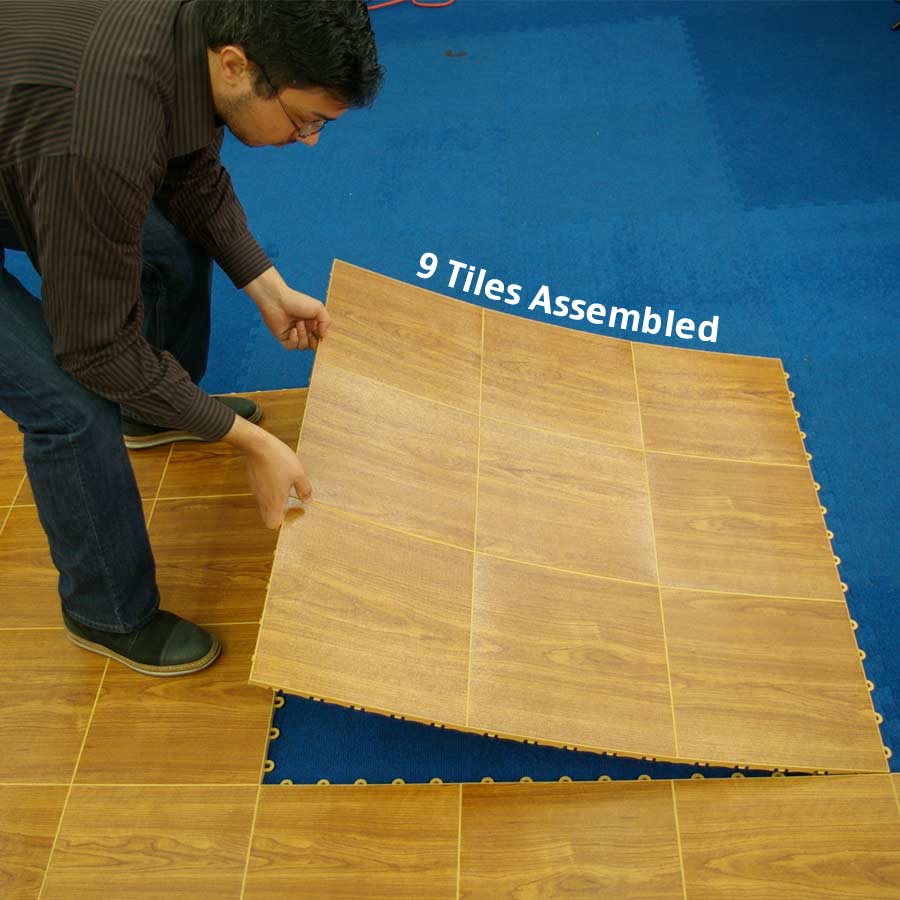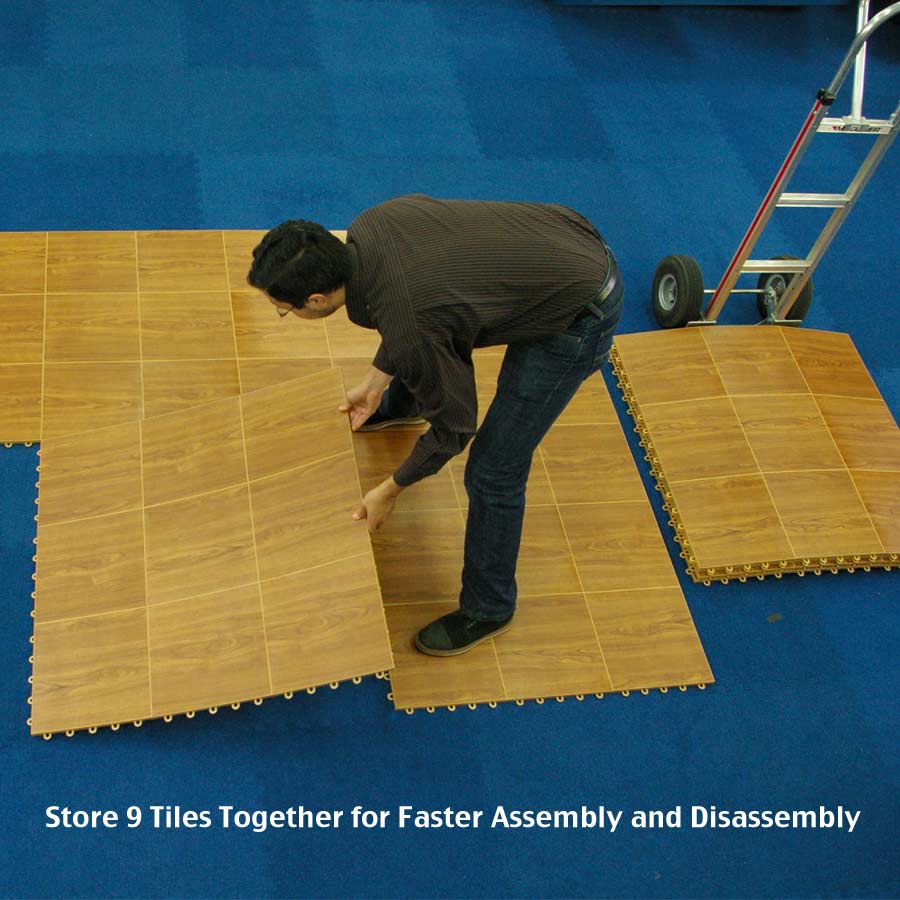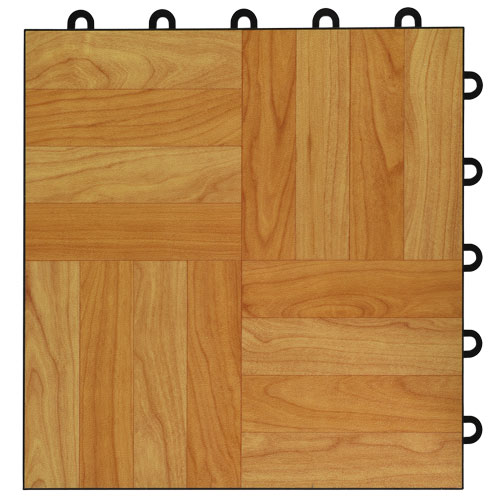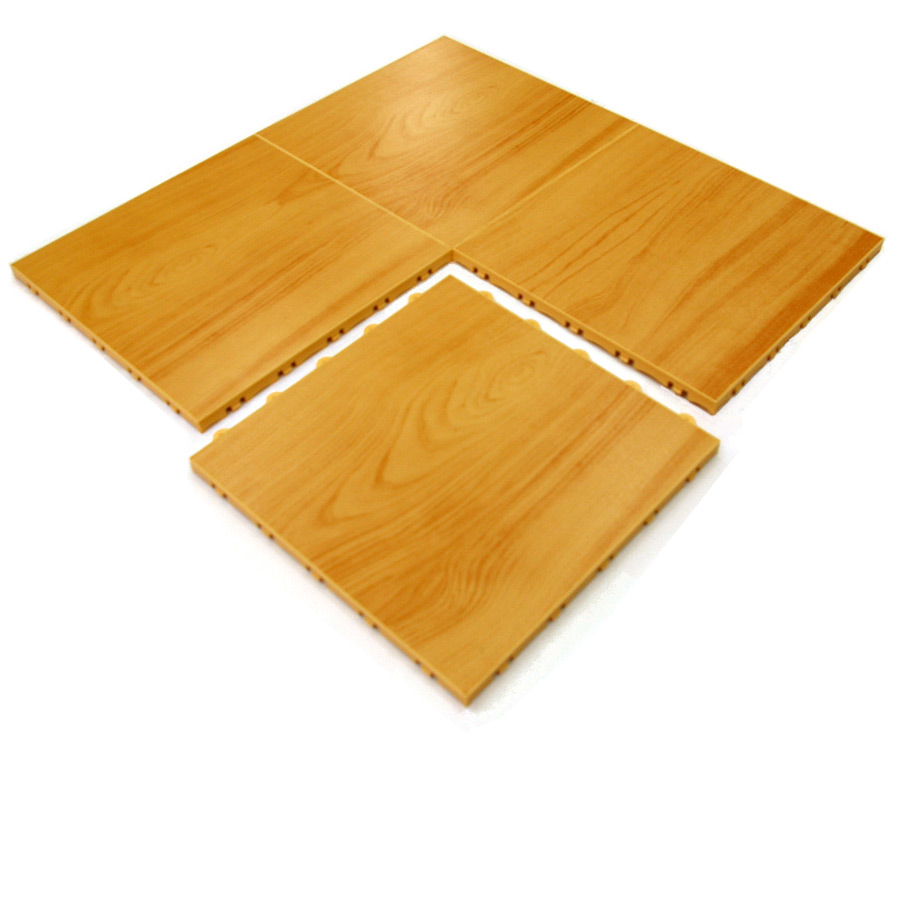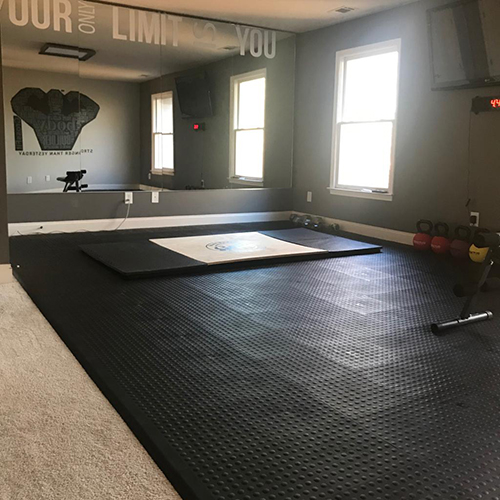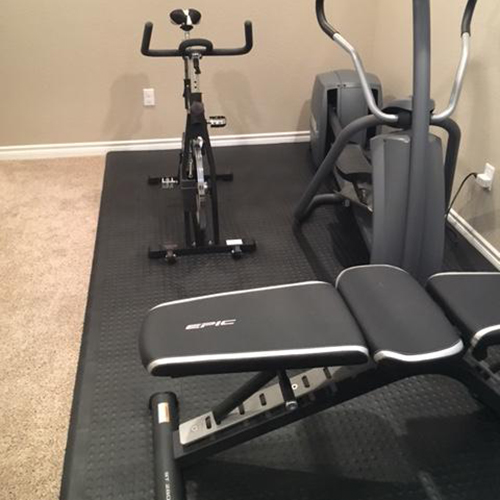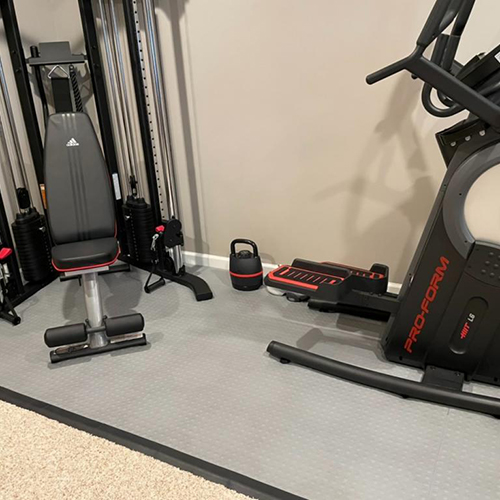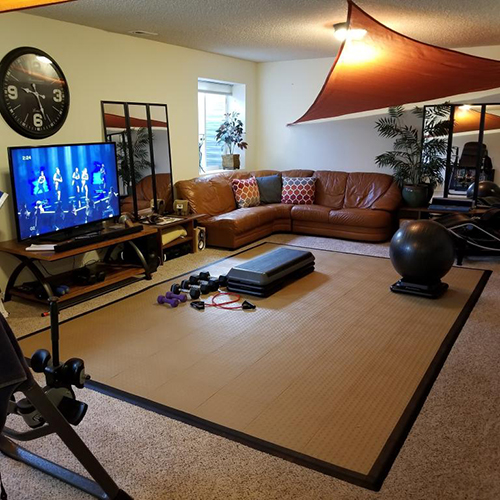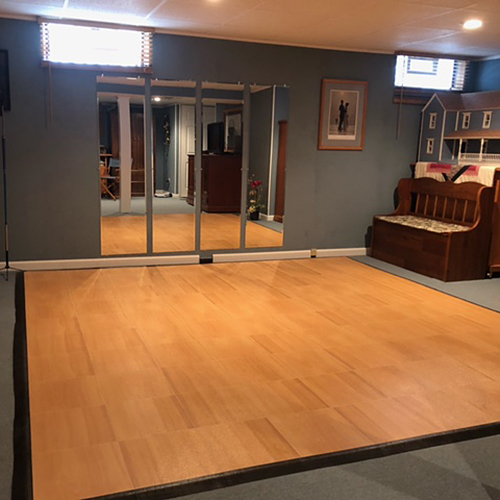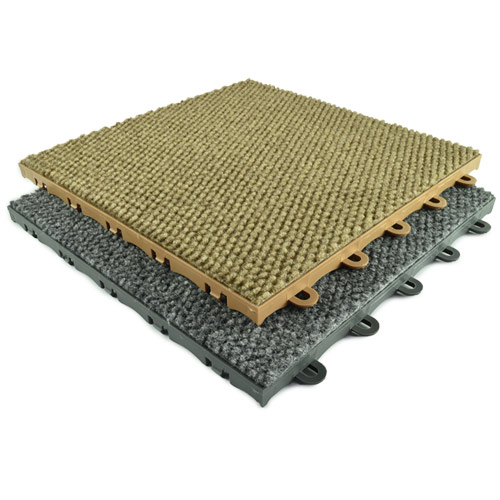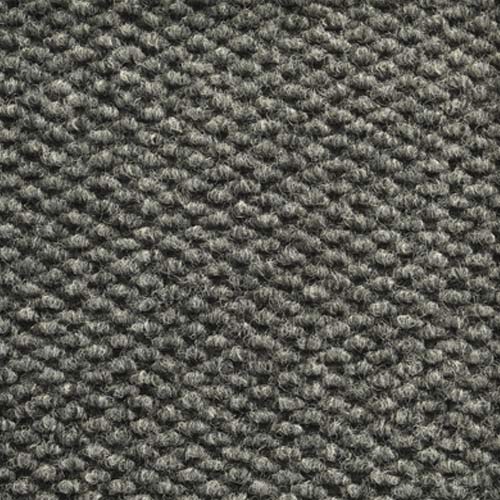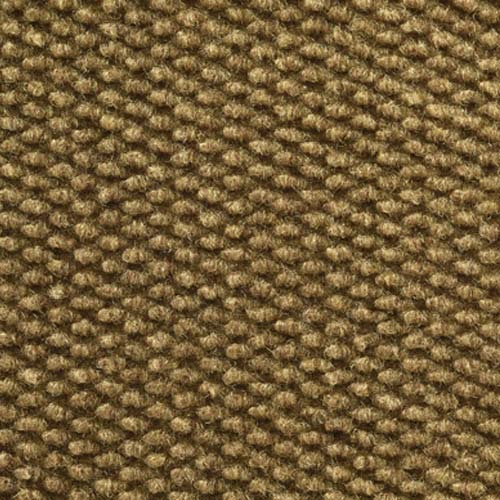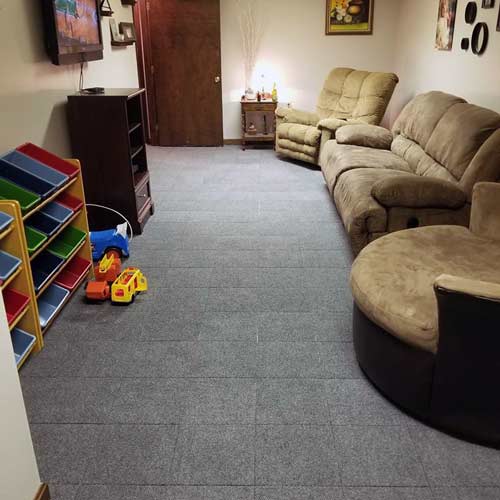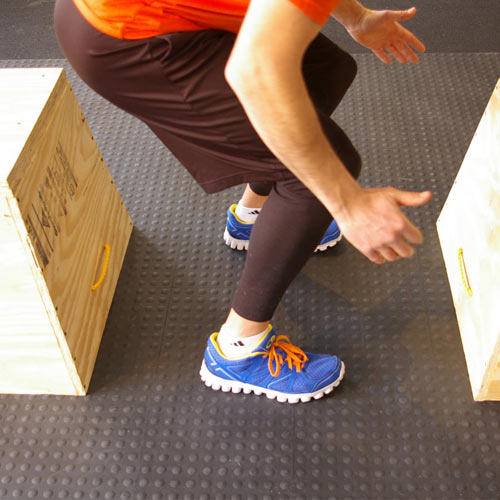 Although there are numerous flooring solutions that can be installed over carpet, the best products for these applications are floating floor tiles with a raised plastic base. These products present a way to put carpet over carpet in an affordable, easy, diy manner. Modular plastic flooring over carpet is also a way to create a wood, stone, or tile floor appearance if you select a product with a vinyl laminate surface.
There are many times and situations that call for installing flooring over an existing carpet. Whether transforming a space into a party room or banquet hall needing a dance floor, whether renting an apartment or home with an existing flooring that you want to put carpet over temporarily, or if you want to add a home gym to your house and wish to put some protective flooring over an existing carpeted floor to exercise on. Regardless of the reason why you are considering flooring over carpet, Greatmats offers a solution. You can put carpet over carpet (modular, but not peel and stick), plastic flooring over carpet (raised base), dance floors over carpet, and more.
What Is The Best Carpet Over Carpet Option?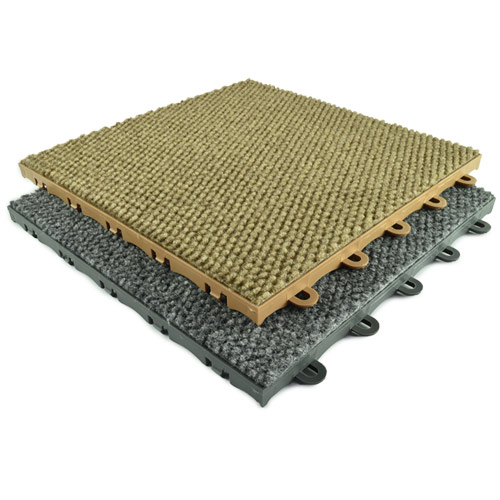 Modular Square Carpet Tiles
are probably one of the most durable and versatile carpeted products available at Greatmats. Perfect for areas such as basements, these tiles offering a carpet-over-carpet installation option are made from recycled materials and designed to handle high roll loads. Designed and manufactured using the highest quality construction, they are also great for cold spaces as they reduce transmission of cold temps from a subfloor by way of the layer of air between the subsurface and the carpet square.
These carpet modular square tiles are easy to snap together without padding or adhesive. It's also a breeze to remove the tiles for temporary installations or to check subfloors. And the raised plastic base keeps the tiles from sliding atop the existing carpet.
This product is made in the USA and can be used for a wall-to-wall or island installation. If used for an island installation – meaning connecting the carpet tiles in the middle of the room away from the walls – consider installing border edging pieces on them for an attractive, finished configuration and to reduce the chance of tripping over the edge of the flooring system.
This option for carpet over carpet provides an excellent value. It's not hard to see why this is a great choice for a temporary or permanent installation.
What Are The Options For Plastic Flooring Over Carpet?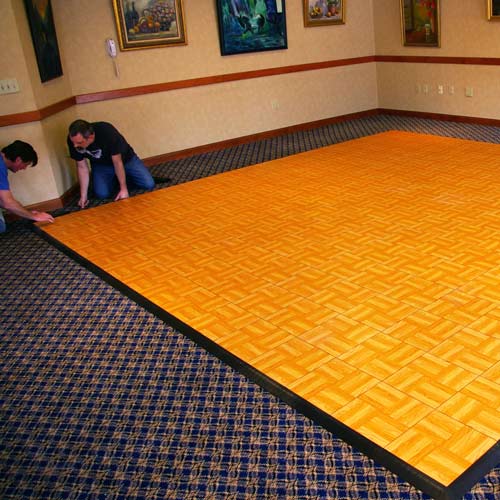 EZ Portable Dance Floor
works well when looking for plastic flooring over carpet in an area needing a dance floor that can be installed, removed, and reinstalled many times.
These dance floor tiles interlock and provide a professional looking floor that works for indoor and temporary outdoor use. It is robust and durable enough to hold up to most types of shoes - even high heels. There are many different wood finishes to choose from, offering a look to compliment about any design or color preference.
Although the plastic-based flooring is lightweight and portable, the tiles' secure, locking fit offers the appearance of a permanent dance floor. Also, with its commercial-grade vinyl top surface, it is suitable for virtually any setting.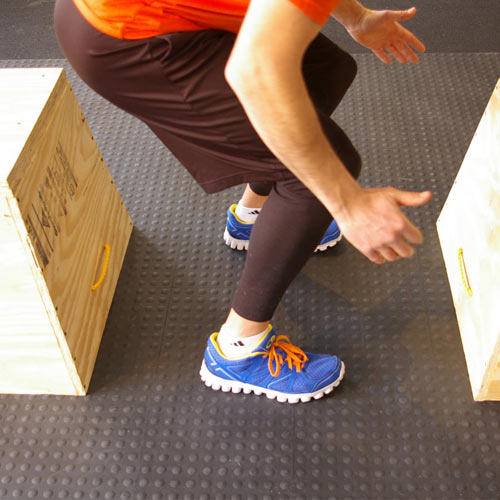 StayLock Tile Bump Top
is a great option for plastic flooring over carpet in a basement or workout room setting. Each tile is 1 by 1 foot - providing 1 square foot of coverage. It features a bump top surface texture that prevents slipping and falling during jumps, squats, and other fitness moves.
This product is really tough like rubber, but it provides a softer cushion that resembles a firm foam. This tile is constructed using durable and flexible PVC, and it can quickly and easily be installed over carpet or other surfaces, like cement, concrete, or other smooth subfloor without any special underlayment. The design provides a tight, virtually seamless fit that will not unintentionally separate.
This product is waterproof and resistant to acids and oils. If used in a fitness or gym setting, the tiles provide superior cushion and support for any level and intensity, including aerobic workouts!
The surface top texture of this plastic flooring over carpet also provides excellent ergonomic benefits and anti-fatigue properties, as well as aesthetic appeal.
For a similar product with a different top texture,
Staylock Tile Orange Peel
is an excellent exercise room flooring with an orange peel surface texture.
Greatmats - for carpet and plastic flooring options over the carpet
If you have a room or space in your home or commercial setting that has a carpeted floor, you may want to know what your options are to install new carpet over it, without having to worry about the headache of removing the old carpet. Specifically, you may be asking yourself if you can lay new carpet flooring or plastic flooring over carpet.
If selecting flooring to install over carpet is on your to-do list, allow Greatmats to go to work for you. There are a number of top notch, attractive options available, from those highlighted to many more - all of which provide an excellent mix of quality, performance, and affordability. When it comes to flooring, Greatmats offers the best with a wide array of colors, textures, thicknesses, and styles to choose from. From carpet, PVC, and foam/rubber to various laminate options, Greatmats has so much to choose from.
With a wide variety of flooring solutions to consider, superior quality, and years of satisfied customers backed by countless positive reviews, warranties, value, and knowledgeable staff, you can be confident in your purchase when it's made at Greatmats!